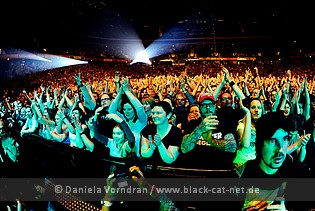 König- Pilsener- Arena, Oberhausen, Germany
23rd January 2015
Die Fantastischen Vier & Lary

In celebration of their 25th anniversary the band released their ninth studio album with the title 'Rekord' (Record) in October 2014 and started the likewise titled tour in December 2014. Not only is the album very successful by reaching the first position in the German charts quickly after the release and being rewarded with gold, but most of concerts of the tour 'Rekord 2014/2015' in the German speaking countries are sold out. And so it was not surprise at all that the König-Pilsener-Arena was completely sold out on this evening with 12,000 guests.
Lary

LARY is a project around the German singer and fashion model Larissa Sirah Herden who actually grew up in the Ruhr area but lives nowadays in Berlin. After finishing her studies in media and cultural sciences she lived a while in New York gaining first performance experiences as street musician. Back in Germany she was guest musician for German musicians like CURSE and CHIMA. In 2012 the German musician JAN DELAY shared her self- produced video 'Bedtime Blues' she had put online. Since then some TV-, Radio stations, magazines became aware of the talented singer and also spread her music. This resulted in invitations to perform at the Bread & Butter Opening 2013 on the same stage with her idol NINA HAGEN and being supporting act for FLO MEGA and DIE FANTASTISCHEN VIER. Her first album 'Future Deutsche Welle' (Future German Wave) based on the Neue Deutsche Welle (New German Wave) of the eighties was launched in 2014. The album title implies a kind of new music genre by combining German Pop with elements of Rock, Blues, Soul and Electro. Another band member of this project is the Australian drummer William Russel. Live LARY is supported also by a musician playing keyboard and guitar.
http://futuredeutschewelle.de
/
https://www.facebook.com/LARYSAYS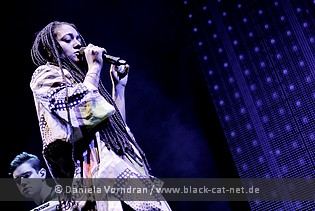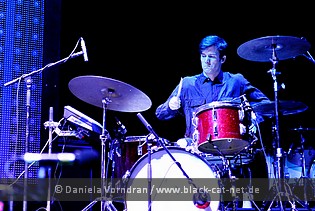 Music & Performance

Smudo of DIE FANTASTISCHEN VIER introduced LARY and stressed that the audience should give the singer a big applause as she actually came from Gelsenkirchen - another city of the Ruhr area like Oberhausen. When LARY entered the stage my first thought was "Why is she wearing an oversized pyjama on stage?". Besides this unflattering outfit with the Mondrian like design her long Rasta pigtails with which she did some head-banging every now and then were surely an eye-catcher. Well, I better leave it to this as it is girly stuff and more important should be the quality of the show. It started quite interesting and the singer convinced with a good vocal quality, but already with the second song she destroyed the good impression as she performed a cover version of the RAMMSTEIN song 'Engel' (Angel). I wish she hadn't done that. After this song she presented further songs of her first album like, 'Kryptonit', 'Propeller' and 'Problem'. Personally I was quite torn between feeling confused about the crude mixture of styles and somehow liking some parts of it, liking her singing quality but finding some of her lyrics platitudinous. Of course this is a problem when the lyrics are in your native tongue and cannot be ignored then. Anyway most part of the audience liked the show and thus applauded after each song.
Rating
Music: 6
Performance: 7
Sound: 9
Light: 7
Total: 6.5 / 10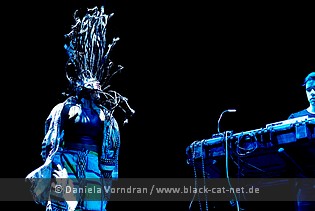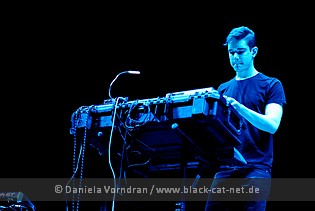 Die Fantastischen Vier

The first performance with this band name took place in a former Kindergarten in Stuttgart, Germany, on a self-built stage made of euro-pallets. This was back then in summer 1989. DIE FANTASTISCHEN VIER (The Fantastic Four), or abbreviated as FANTA 4, are founded by Michael Bernd Schmidt aka Smudo, Thomas Dürr aka Hausmeister (Caretaker) Thomas D and Michael Beck aka Michi Beck or Dee Jot Hausmarke (Own brand). Producer and fourth member of the band is Andreas Rieke aka And.Ypsilon. The band is one of the first Rap formations which made Hip Hop with German language Sprechgesang popular. Especially when they entered the German charts in 1992 with their hit single 'Die da!?!' and attracted attention nationwide. Nevertheless many people thought that this band will be a one hit wonder as the comical lyrics of this song and the appearance of the guys was almost an invitation to underrate them. But as we all learnt, the naysayer got it all wrong and the band proved with many following hit singles, successful albums and tours that they are no one hit wonder but just the opposite. The FANTAS made the German Hip Hop socially acceptable and this surely mainly because they created songs with witty and smart lyrics without the inflationary use of f- words or other offences. And they demonstrate as well that Hip Hop does not only mean songs of angry, hateful and frustrated people but can be party music that brings you in a good mood. For their musical achievements the guys were awarded with multitudinous prizes. All four members have successful solo projects as well.
https://diefantastischenvier.de
/
https://www.facebook.com/DieFantastischenVier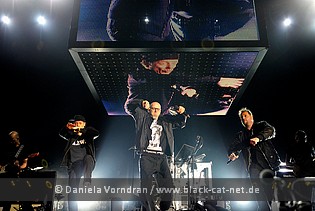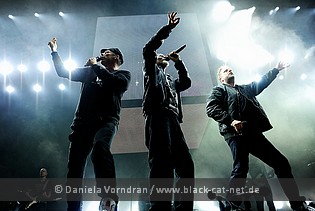 Music & Performance

During the short stage rebuilding I had the chance to take a look at the audience to find out that there were a lot of people in my age, but also younger ones and then there were some parents with their kids of 10 or 12 years. The show started with the instrumental intro of 'Die vierte Dimension' (The fourth dimension) and what looked like half transparent mesh slats emerged as LED slats forming screens for the show animations and kind of display to show every now and then the guys and members of the live band in a bigger size. There was also a massive LED cube on stage which was lifted when the 'curtains' were opened. So when the curtains opened all eyes were focused on stage where the live band was, expecting the FANTAS to come on stage as well, but to the surprise of the most of us Smudo, Thomas and Michi entered a smaller stage opposite the main stage, the instrumental song faded into the second song and the guys started immediately to party. After this song Thomas, Smudo and Michi walked through the crowd and headed towards the main stage but took their time to shake some hands and greet some of the audience who were close to them on their way across the venue. I have to say I was really surprised how close the band is still to their fans and still have no awe or fear of contact. This makes them really winsome for sure.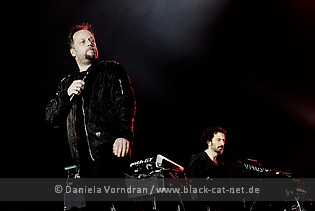 Entering the main stage then the party went on. It didn't take long and almost everybody was up their seats and was moving and dancing like the audience on the ground floor. And the FANTAS were moving and jumping as well, always interacting with the people and so it was plain to see that everyone enjoyed himself. Besides I have to mention that the light show was really excellent. Though most of the songs were songs to dance, jump and party to, there were some more contemplative ones like the song of Thomas D 'Liebesbrief' (Love letter) or the song 'Gott ist mein Zeuge' (God is my witness) performed very passionately by Thomas D. But Smudo has his solo as well with the song 'Smudo in Zukunft' (Smudo in the future) where he was rapping so incredibly fast that it made you gasp and this performance was rewarded with cheering, whistling and shouting his name of course. With such a long career and nine studio albums it is surely not a problem to put together a good mixture of songs at a concert and thus they presented us a well-balanced choice of old songs and some of their new album. After 'Typisch ich' (Typical me) they addressed to the audience and asked them to take their mobiles or cigarette lighters out of their pockets and to make light during the next song. This was definitely an impressive view: a sea of stars which was shown also on the LED slats.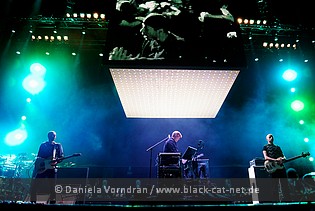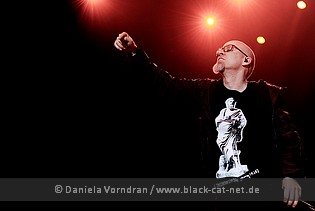 And this created a perfect atmosphere for the laid back song 'Tag am Meer' (A day at the sea). Then the live band was introduced (Markus Kössler - bass, Florian Dauner - drums, Lillo Scrimali - keyboard, Roland Peil - drums and Markus Birkle - guitar). At this point the guys had performed 23 songs and I reckoned that the show ends now and maybe there will be an encore. But I was wrong. Michi, Smudo and Thomas D still had the energy to perform further five songs and rock the place before they left the stage for a short moment only to return and present an encore of three songs before they left for good. And what they left was an exhausted but very happy audience.
Setlist

01. Die vierte Dimension
02. 25
03. Disco
04. Und los
05. Die Stadt, die es nicht gibt
06. Heute
07. Danke
08. Locker bleiben (only the first verse and chorus)
09. Yeah yeah yeah
10. Buenos Dias Messias
11. Das Spiel ist aus
12. Lass sehen
13. Dicker Pulli
14. 45 Fieber
15. Sie ist weg
16. Single
17. Liebesbrief (Thomas D song)
18. Gegen jede Vernunft
19. Gebt uns ruhig die Schuld (den Rest könnt Ihr behalten)
20. Einfach sein
21. Smudo in Zukunft
22. Typisch ich
23. Tag am Meer
24. Gott ist mein Zeuge
25. Du mich auch
26. Der Picknicker
27. Was geht
28. Ernten was wir sähen
---
29. MfG
30. Populär
31. Troy
Rating

Music: 10
Performance: 10
Sound: 10
Light: 10
Total: 10 / 10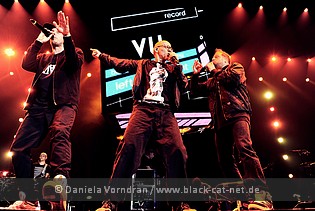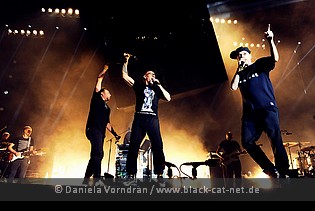 All pictures by Daniela Vorndran (
http://www.vorndranphotography.com
/
http://www.facebook.com/blackcatnet
)