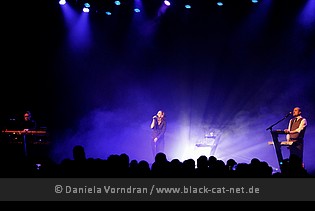 Theater am Tanzbrunnen, Cologne, Germany
20th February 2015
Alison Moyet - The European Minutes Tour 2015

Alison is a real multi-talent, moving between different musical genres like Punk Rock, Pop, Chanson or Blues. First playing in various unknown bands during the early eighties, she soon was looking for musical partners to found her own musical project. Together with ex-DEPECHE MODE member Vince Clark she founded YAZOO becoming famous already with the first single 'Only You'. After two albums, both split up in 1983 and Moyet started a solo career.
The first album 'Alf' occupied British charts for a full year. For her second album 'Raindancing' she received her third Brit-Award. After several solo albums, Vince Clark and Moyet were on tour as YAZOO in 2007 after 25 years since their split. In September 2013, she was on a successful tour with her UK Top-5 album 'The minutes' and now she returns to Germany. The original dates were scheduled for November and had to be postponed. Now, Alison is back and she is playing in three German cities: Cologne, Munich and Berlin. Today, it was our time in Cologne.
http://www.alisonmoyet.com
/
https://www.facebook.com/AlisonMoyet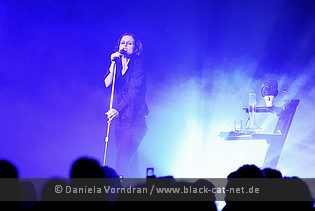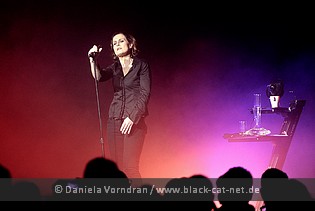 Music & Performance

Alison Moyet's current tour is supporting the release of her latest album, 'The Minutes', and it brings her back to electronic roots. Scheduled for Friday evening in Cologne, many people had troubles to arrive in time due to difficult traffic situation. And starting in time at eight without a support act made several people missing the beginning of her show. Very sad since the show was great from first to last second. During the last years, Alison lost a lot of volume visually and she is looking absolutely fantastic. Herr voice in comparison did not lose a scrap. She still sounds amazing, live maybe even more amazing than on records. In her past, she celebrated big success as solo artist but also with pop duo YAZOO together with Vince Clark. And so, the setlist on that evening did not only contain her own songs, old and of course many from the current album, but also several YAZOO hits, much to the excitement of the audience. But as she said during the set, she does not only want to present a Karaoke show of her songs and so, many pieces were electronically reworked and some of her own songs nearly sounded like YAZOO.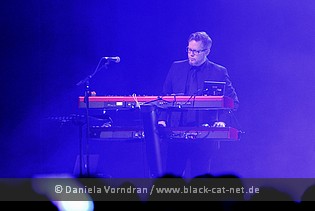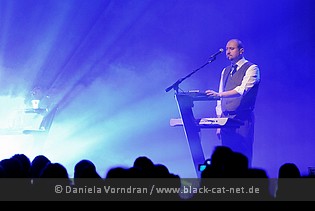 The concept of the show was quite sparse, typically electronic with Alison in the middle and her co-musicians on synthesizers and keyboards on left and right side. Also the accompanying light show was quite reduced. The show was mainly based on Alison's voice and well, did I mention already? She sounded great and around 800 listeners were excited. Already for the opener, 'Horizon Flame', she set a high standard for what's to come. Her vocal performance was really outstanding and besides that, she was absolutely likeable, chatted a lot with the audience in-between the songs and presented her little knowledge in German language, causing lots of laughs since it was probably things she learned in her first German lessons. Really sweet! As second song, already a YAZOO piece followed, 'Nobody's Diary', and set the frame for the whole concert – alternating many own songs with famous YAZOO pieces. Another highlight was the stripped version of 'Ordinary Girl', as well as the haunting rendition of 'This House', sending shivers down your spine.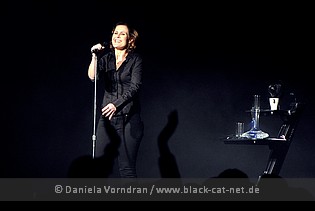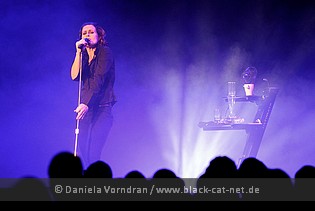 She was simply perfect but in all her perfection, she also stayed human, proven by a little story accompanying the song 'Filigree'. She told that she once was in cinema to see an art movie with not so many dialogues. And while the cinema got emptier, she stayed until the end and finally embraced all the beauty of the film. And that's what the song was about. From the start to the end, this concert was great when we talk of musical and vocal qualities. Lighting design supported the whole stripped down concept and the sound was great too. Finally after about ninety minutes, Moyet introduced the final song, YAZOO's 'Don't go', making her fans totally excited by bringing them back to the early eighties. Alison Moyet and her two companions really proved that a perfect concert needs not big show elements. If you still have a chance to see her during the tour, hurry and buy a ticket. It's really worth it!
Setlist

01. Horizon Flame
02. Nobody's Diary (Yazoo song)
03. When I Was Your Girl
04. Ordinary Girl
05. Changeling
06. Remind Yourself
07. Is This Love
08. Winter Kills (Yazoo song)
09. Falling
10. Filigree
11. Only You (Yazoo song)
12. Apple Kisses
13. This House
14. All Signs of Life
15. Right as Rain
16. Waiting (My Robot Friend cover)
17. Love Resurrection
18. Situation (Yazoo song)
---
19. Whispering Your Name (Jules Shear cover)
20. All Cried Out
21. Don't Go (Yazoo song)
Rating

Music: 10
Performance: 10
Sound: 8
Light: 9
Total: 9.5 / 10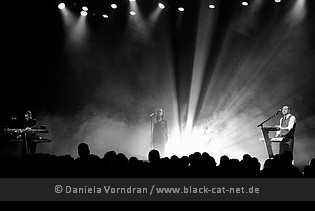 All pictures by Daniela Vorndran (
http://www.vorndranphotography.com
/
http://www.facebook.com/blackcatnet
)