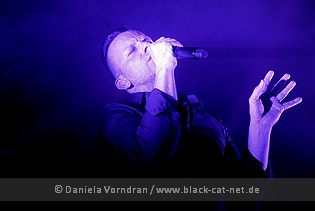 Live Music Hall, Cologne, Germany
21st March 2015
Camouflage, Solar Fake & Black Nail Cabaret

On their successful "Greyscale" tour 2015 for the promotion of their same-named album that was just released this year, the band also stopped in Cologne and delighted their fans at a nearly sold out show.
Black Nail Cabaret
Hungary is not really known for Alternative/ Electro bands or musicians. With this duo it could be changed. Founded in 2008 this female project consists of Emke (Emese Illes-Arvai, vocals) and Sophie (Sophie Tarr, keyboards). The sound can be described as sombre/ dark Synth Pop or Pop Noir. BLACK NAIL CABARET itself describes it sound as Synth Noir. Just in this year the second album 'Harry me marry me bury me bite me' was released.
http://www.blacknailcabaret.net
/
https://www.facebook.com/bncband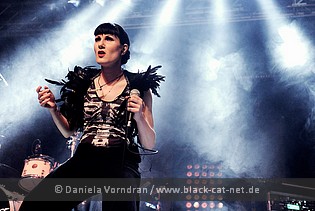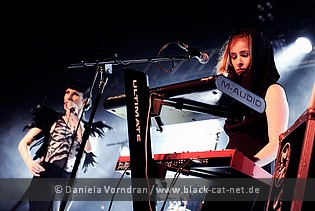 Music & Performance
The concert day in Cologne started really early since there was a party scheduled after the concerts and all three bands had to be finished at ten. And so, BLACK NAIL CABARET entered the stage already at seven when the hall was only half filled. As mentioned, Emke and Sophie play dark and gloomy Synth Noir and especially Emke's sombre, seductive voice sticks in your head while Sophie is rather inconspicuous behind her keyboard. The playing time sadly was rather short, just enough to present six songs. But in fact you should really check this band out. Emke already worked together with Daniel Myer's ARCHITECT, lending her voice to some songs, and with those pieces she impressed a lot. Final song 'Satisfaction' is definitely sticking in your ears and when the duo left the stage, people rewarded them with lots of applause. Seems people liked it!
Setlist
01. Hair
02. Dora
03. Let me in
04. Blonde
05. Lovely girl
06. Satisfaction
Rating
Music: 8
Performance: 7
Sound: 7
Light: 7
Total: 7.2 /10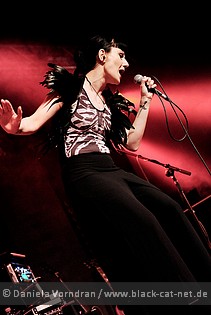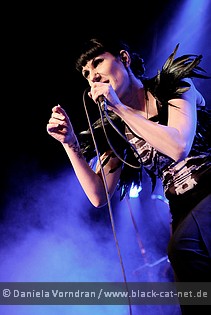 Solar Fake

In 2007 Sven Friedrich, also known as head of DREADFUL SHADOWS and ZERAPHINE, founded another side project where he could focus more on the Electro Pop sound. For live appearances he engaged Frank on the keyboards. Already one year after founding SOLAR FAKE the first album was launched. The second album, released in 2011, was critically acclaimed, entered the German Alternative Charts (DAC) and several songs were frequently played on the dance floors of the Alternative/ Gothic clubs. Several appearances on festivals, concerts and performances as supporting act followed. SOLAR FAKE is poppy sound paired with the distinctive voice of Sven Friedrich. Second man on stage currently is Andre Feller.
http://www.solarfake.de
/
https://www.facebook.com/SolarFake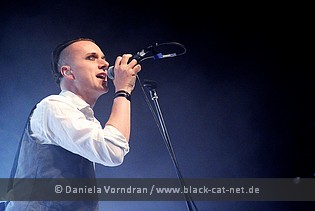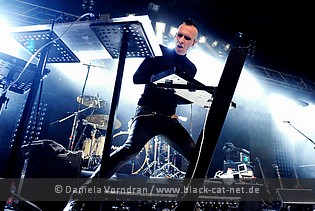 Music & Performance

Right on time I arrived at the venue when the band just performed the first song. The venue was not completely full by now but Sven made it pretty fast to put the audience into a good mood. Somehow this man is Mr Sunshine, seeming to enjoy so much to perform and this spirit translates to the people. And thus it is no wonder that already a lot of people were dancing and moving to the songs. Also his deep voice charms the audience. No doubt Sven Friedrich is one of the top ten voices of the Independent/ Gothic music business you can always recognise. The show was over in a flash but it was only a short set list of course. But of course we didn't have to miss a cover version of a popular song. On this evening it was a song of TALK TALK. Once more Sven Friedrich proved that he really has a talent for interpreting a song of another band/ musician.
Setlist

01. I hate you more than my life
02. Face me
03. No apologies
04. Here I stand
05. More than this
06. Under control
07. Where are you
08. Such a shame (TALK TALK cover)
09. Reset to default
Rating

Music: 9
Performance: 9
Sound: 8
Light: 7
Total: 8 / 10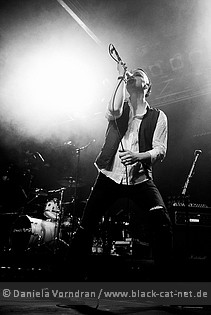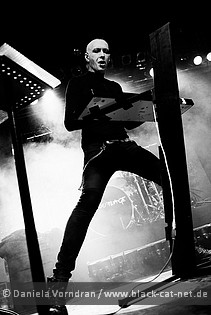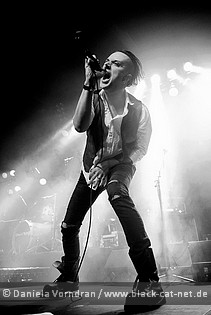 Camouflage

Starting as a four piece German band under the name LICENSED TECHNOLOGY in 1983 soon one member left and the remaining band members renamed 1984 the band into CAMOUFLAGE. Its song 'The great commandment' entered high positions in the charts worldwide in 1987, followed by its hit single 'Love is a shield' in 1989. If you like DEPECHE MODE and Synth Pop music there was no way to avoid this band. And even if you don't know any other songs of this band, you surely know these two songs as they were and are still aired frequently on the radio and at discotheques where Synth Pop music is played. What was a blessing was a curse at the same time, as apart from these two songs the band couldn't make it to get more attention with its following albums at least not in the commercial domain. But with its 8 albums CAMOUFLAGE steadily built up a loyal fan base, mainly in the Independent/ Gothic scene.
http://www.camouflage-music.com
/
https://www.facebook.com/camouflagemusic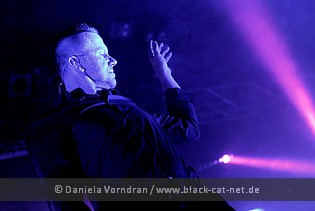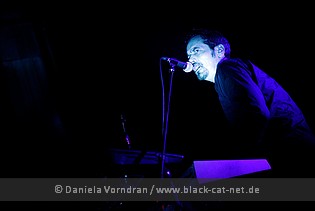 Music & Performance

Soon after the rebuilding time the intro started with a voice from the playback while the stage was still dark. But finally the guys entered the stage accompanied by the loud cheering of the fans. In no time CAMOUFLAGE got the audience dancing, moving, clapping, singing along and cheering. The chemistry was just right and so the singer Marcus didn't need to ask much to make the crowd interact with him. He himself was dancing as well while he performed very intensively. The choice of colours for the light show was dark with mainly blue, green and purple and I'm sure the photographers were cursing a lot, but together with the videos, that were shown at some songs, it created an amazing atmosphere underlining the mood of the songs perfectly. In contrast the sound was not so agreeable. But this is just the problem with this venue. You have only the choice between a good view on stage but then dealing with sound issues or you are standing in the back of the venue, enjoy the good sound but can hardly see anything going on stage.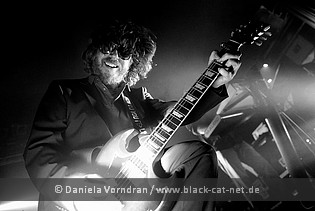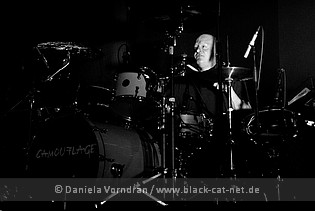 The set list was a nice mixture of songs from the new album and older one. While at the older songs you could clearly hear the influence of the sound of the early DEPECHE MODE you recognise that the band stepped out of the shadow of the mighty DEPECHE MODE and developed its own sound. Not being familiar with the albums of CAMOUFLAGE I had to reduce my prejudices as well and found the music surprisingly catchy. Nevertheless I experienced a DEPECHE MODE phenomenon on a smaller base when the people waved their arms at 'The great commandment'. The other hit single (Love is a shield) of the early days was presented then as culmination of a superb concert.
Setlist

01. Laughing incl. Intro
02. Passing by
03. That smiling face
04. I'll follow behind
05. If….
06. Misery
07. In the cloud
08. We are lovers
09. Leave your room behind
10. Suspicious love (E-set)
11. Handsome
12. You turn
13. Shine
14. The great commandment
---
15. End of words
16. Me and you
---
17. Love is a shield
Rating

Music: 9
Performance: 9
Sound: 8
Light: 8
Total: 8.5 / 10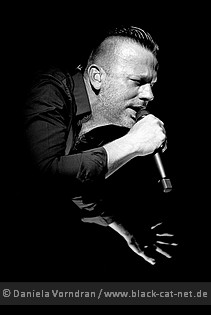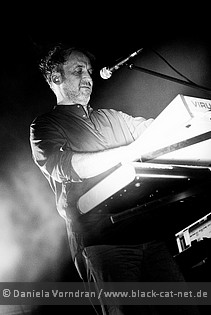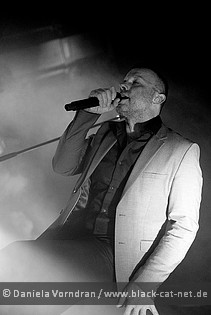 All pictures by Daniela Vorndran (
http://www.vorndranphotography.com
/
http://www.facebook.com/blackcatnet
)