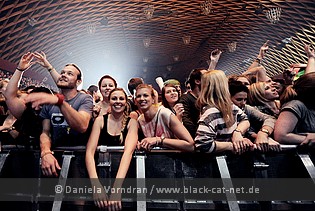 Halle Münsterland, Münster, Germany
9th April 2015
Deichkind

A show of DEICHKIND just means party, including beer shower and bumping beats. Surely, the Hamburg based band is one of the best German live acts and their shows are always a big celebration. Lots of people usually are heading to the concerts and so, the show in Münster was of course sold out, like so many others…
Who does not know DEICHKIND? With their hits 'Onkel Willibald will baden', 'F(or)EVER' and 'Hauptsache Hüpfburg', the band balanced or ignited the cravings of a whole De-generation, depending on the angle of society you watch from. While DEICHKIND's music team fuses panpipes with punk, guitar with gabba, drum beats with can beer into incredible sounds on an astoundingly high level, a stage show is created by a hundred talented tinkerers in a cave labyrinth, a few kilometres underneath the Jinping dam and far away from cosmic background noises.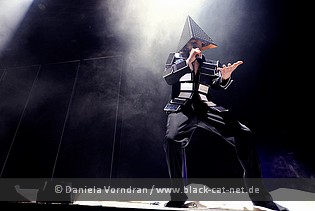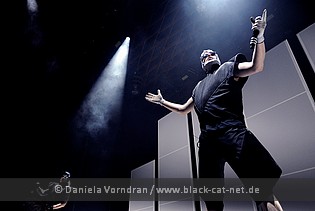 The firmly fixed DEICHKIND symbols "Pyramide", "Müllsack" (engl. Bin bag), "LED", "Zitze" (engl. Tits) and "Fass" (engl. Barrel) have become the semiotic corner pillar of a cultural cosmos which calls all narcisstic individualisation tendencies comfortably to a halt. At the same time, the text generates an intellectual horizon which can be even put up with by the angsty generation Y like a super warm blanket. Tits. Almost meaningless cluster of cells can be synchronised by the perfectly aligned music through subtle oscillations with the ominous world soul so that you will experience a feeling that only a few of the chosen ones will experience even though numerous commercials claim otherwise: peace. Now, Kryptic Joe (Philipp Grütering - MC, Beats), Ferris Hilton (Ferris MC - MC, DJ Phono), Porky (Sebastian Dürre - Bass, MC), Perla, Itzi, Strichi and Svennidemmi are back with a new album in 2015, named 'Niveau Weshalb Warum'. And of course, this record is accompanied by a new live show.
https://www.facebook.com/Deichkind
/
http://www.deichkind.de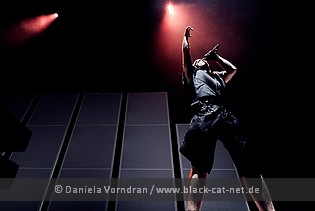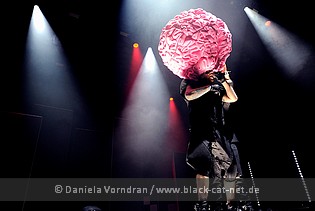 Music & Performance
As it is very typical for a DEICHKIND show, the audience of the band – at least when attending their shows – is as mad as the band itself. You saw people dressed in garbage bags wearing pyramid hats, anything painted with glowing colour. Just like during the last show of the b and I saw in 2012, there was no supporting act but videos shown before the gig to warm the audience up. Mainly, this were strange hip-hop videos. But finally with the last video, RAGE AGAINST THE MACHINE's 'Killing in the Name of', the audience already freaked out. The song faded and the intro started at short past 20:30. Along to 'So'ne Musik', the band appeared on stage, wearing their usual glowing pyramid hats. The show following now was more a big party than a usual concert, with more requisites than in a theatre, lots of different outfits and a great choreography. So i.e. along to the second song, 'Denken Sie groß', the actors on stage wore big pink hats looking like huge brains. Later on along to 'Leider geil', the song title was flying in big silver letters over the stage.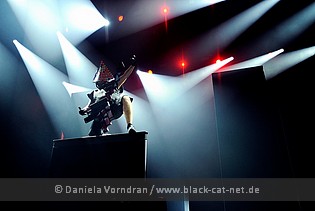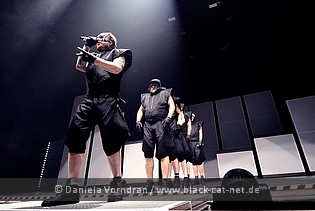 There was no instrument visible on stage, the music was presented from tape and all band members delivered the vocals along with it. Also the stage design was extraordinary, there were several moving stage elements in different sizes, being used as podiums, walls or projection screens. The show was not only music and party, there was a lot of action on and off stage. For example, there was a polonaise through the audience, led be Ferris MC. It is kind of tradition that there is a Rubber raft tour through the audience along to 'Hovercraft' and of course, this show made no exception. But the show is not only party and fun, there is also a true message in many songs. Songs are riddled with social criticism, like in 'Bück dich hoch' of the very new single, 'Like mich am Arsch'. Like already during the earlier tours, there was also a ride back in time with songs like 'Komm schon' or 'Bon Voyage'. And of course there is again a ride in a beer barrel across the fans. Business as usual and at the same time of course a great party for anyone.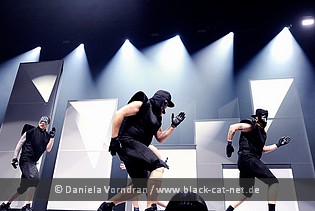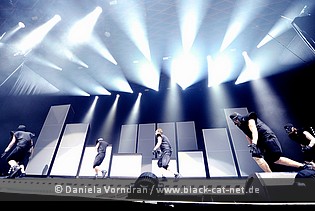 The party mood was culminating with 'Remmidemmi' as final song when from a rubber boat confetti was spread into the audience while the band members wearing just some underwear, jumping on a trampoline and are waving flags. Mission accomplished, party for everyone!
Setlist (maybe not right order)

--Intro--
01. So'ne Musik
02. Denken Sie groß
03. Mehr als lebensgefährlich
04. Naschfuchs
05. Befehl von ganz unten
06. Like mich am Arsch
07. Bück dich hoch
08. Hoverkraft
09. Hauptsache nichts mit Menschen
10. Leider geil (Leider geil)
11. Powered By Emotion
12. Porzellan und Elefanten
13. Was habt ihr?
14. Egolution
15. Die Welt ist fertig
---
16. Oma gib Handtasche
17. Arbeit nervt
18. Luftbahn
19. Illegale Fans
20. Komm Schon!
21. Bon Voyage
22. Roll das Fass rein
23. Niveau Weshalb Warum
---
24. Hört ihr die Signale (with a snippet of The Power… more )
25. Prost (with Dizzee Rascal - Bonkers Sample)
26. Limit (with Eric Prydz - Pjanoo Sample)
---
27. Remmidemmi (Yippie Yippie Yeah)
--Outro (Selber Machen Lassen)--
Rating

Music: 7
Performance: 10
Sound: 8
Light: 9
Total: 8.5 / 10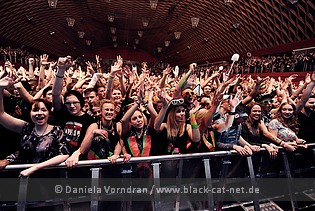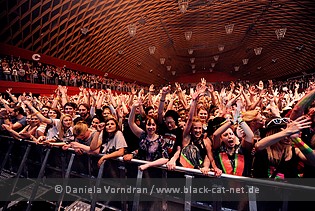 All pictures by Daniela Vorndran (
http://www.vorndranphotography.com
/
http://www.facebook.com/blackcatnet
)