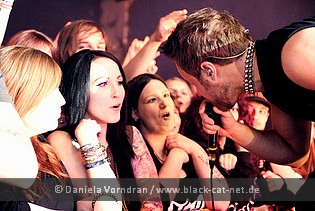 Sputnikhalle, Münster, Germany
18th April 2015
Emil Bulls, Annisokay & Tenside
They are the opposite of what is considered typically German and precisely because of that one of the embodiments of the South-German music scene. Like no other band do EMIL BULLS from Munich stand for incorruptible underground spirit. Since already nineteen years the band is delivering fresh, sweeping sounds without repeating themselves. Now, the Bavarians prepare for their next coup with their current record 'Sacrifice to Venus' which was released on 8th August 2014 via AFM records and is followed now by the second part of their tour. As support act for their show in Münster, ANNISOKAY and TENSIDE were accompanying them.
Tenside
The party started with TENSIDE from Munich/ Bavaria. The Metal band consisting of Daniel Kuhlemann(vocals, guitar), Michael Klingenberg (guitar), Max Weishaupt (bass) and Florian Schönweitz (drums) was founded in 2004. Since its foundation, TENSIDE released five studio albums, recorded several video clips and played more than 300 concerts and festivals throughout Europe. The band's latest album is called 'Nova' and was released in July 2013 via Recent Records. For the vocal recordings, the band had help from EMIL BULLS singer Christoph von Freydorf as extra vocal producer. This cooperation might be reason for they support slot at the current EMIL BULLS tour.
http://www.tenside-music.de
/
https://www.facebook.com/TENSIDE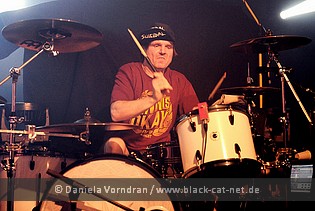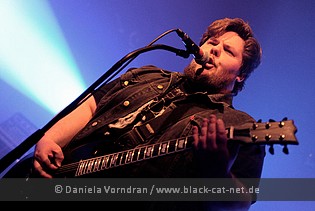 Music & Performance
I had seen the band already in 2012 at the Devilside Festival in Oberhausen and back then, they did not really convince me. It is hard to categorize the band playing a mix of Modern Metal, Metalcore, Melodic Death Metal etc… or how they simply call it, they play Metal. TENSIDE entered the stage at eight and already at that time the hall was packed and people celebrated the band from the very beginning. There was really a great mood in the hall. Even though the set contained to real highlights, the band warmed up the crowd really well and got lots of applause after their short gig.
Setlist

01. Intro
02. Here and Now
03. At the Top of the Tide
04. Reborn
05. Creator
06. Dead or Alive
07. Where we belong
08. Nothing will Remain
09. This is Reality
Rating

Music: 6
Performance: 7
Sound: 7
Light: 6
Total: 6.5 / 10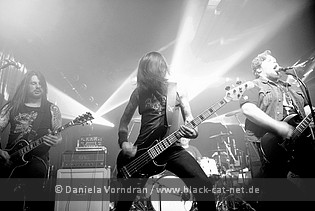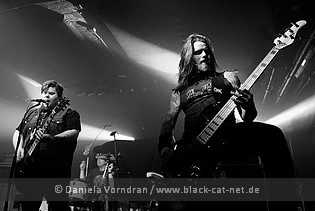 Annisokay
ANNISOKAY is a quite new band from Halle/ Germany, founded in 2011. In 2014, the band signed with the independent record label SPV / Long Branch Records and released their debut album 'The Lucid Dream[er]' in May 2014. They video for 'Sky' already got more than 300,000 views on YouTube and was followed by more stunning videos. Just in March 2015,. ANNISOKAY released their new album 'Enigmatic Smile'. In cooperation with their booking agency Kingstar Music and their management Monster Artists the band supported music acts like SILVERSTEIN, BLESSTHEFALL, ESKIMO CALLBOY and played huge festivals like VAINSTREAM ROCKFEST and SUMMER BREEZE and is now touring with EMIL BULLS after they already shared the stage with CALLEJON earlier this year. ANNISOKAY consists of Dave Grunewald (shouts), Christoph Wieczorek (clean vocals / guitar), Norbert Rose (bass), Daniel Herrmann (drums) and Philipp Kretzschmar (guitar).
http://www.annisokay.com
/
https://www.facebook.com/annisokay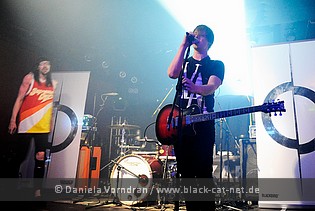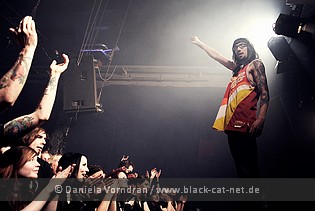 Music & Performance
ANNISOKAY really seem to have a great fan base already and when the guys entered the stage in Münster, people immediately started screaming and jumping. The band is already kind of veteran to the live scene and delivers an unrelenting performance, very powerful from the start. Especially shouter Dave with his strange hair cut hits your attention. He always comes very close to the audience and when he was standing at his podium I always feared he would hit his head at the spot lights being mounted just above him on the low ceiling. His shouts in comparison to Christoph's clean vocals (reminding me in combination with the music a lot of LINKIN PARK) worked very well. The whole show was really energetic showing a close contact to their fans. The fans celebrated had and there were also circle pits spotted. If this show did not warm up the audience for the headliner, I don't know which band should do…
Rating

Music: 7
Performance: 9
Sound: 7
Light: 6
Total: 7.3 / 10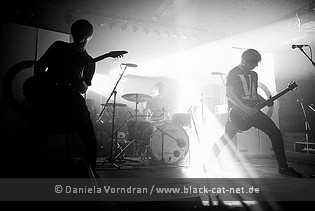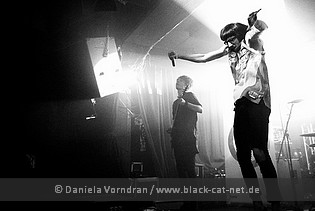 Emil Bulls
Munich Alternative Metal band EMIL BULLS was already founded back in 1995 and consists currently of Christoph v. Freydorf (vocals), Stephan "Moik" Karl (guitar/ backing vocals), James Richardson (bass/ backing vocals) and Andy Bock (guitar/ backing vocals). The drums on stage are delivered by Manu Lotter. 'Sacrifice to Venus' is their eighth record and is released accordingly on the eighth of eight. A number in lying position creates the symbol of infinity by the way – a term that couldn't fit better to the emotional musical universe which comes in the form of 'Sacrifice to Venus'. Like no other German band EMIL BULLS radiate with international flair without conforming to popular US-sounds. They are free spirits who tell their own charismatic story. And yet it was the ravenous energy and strong personality of the band which turned the rock world upside down – huge marketing hypes or bought campaigns are alien to EMIL BULLS. 'Sacrifice to Venus' was produced in close partnership with Dan Weller's Christoph von Freydorf (Enter Shikari, Young Guns, Berlin) und mastered by Alex Kloss (Time Tools Mastering Studio, Hannover).
www.emilbulls.de
/
https://www.facebook.com/EmilBullsOfficial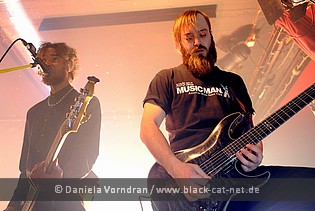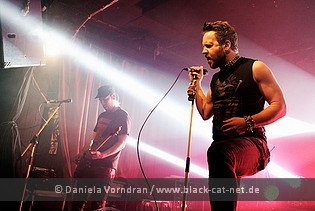 Music & Performance
For nearly twenty years, EMIL BULLS deliver great albums and never stood still. And also their live shows were always a powerful experience. When the five guys entered the stage of Sputnikhalle, the venue was packed. I think it was not declared as sold-out, but definitely there did not many people fit in anymore. People started screaming when the intro, 'The Crown and the Ring' from MANOWAR, sounded through the speakers. Already during the very first songs, singer Christoph came down from stage and climbed the security fence and was singing from there, being held by the fans. When he hurt a girl in the front row later with such an action, he excused several times and handed a beer over and gave the girl a hug. I think she was happy after all… Once more, EMIL BULLS proved their live qualities. Musically, they delivered a perfect show and Christoph's vocal performance was close to perfect. Besides, the band controlled the audience any time. And of course people followed the command for a "Wall of Death". The floor turned into a big boiling pot. One of the audience's favourites surely was 'Not Tonight Josephine' from the 'Oceanic' album (2011) where people loudly sang along. But well, they sang along every song and really knew the lyrics!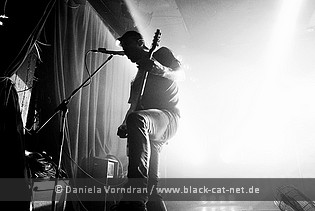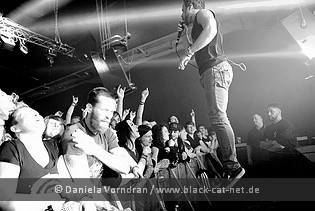 Soon, you could also spot several crowd surfers, taking care for even a bigger party mood. With 'Smells Like Rock 'N' Roll' the band of course presented also a beloved classic and during 'When God Was Sleeping' people were loudly singing along. 'Between the Devil and the Deep Blue Sea' followed, marking the last song. Really? Of course not and the encore bloc to follow was really impressive. All in all, the band presented three encore blocs with two songs each. The ballad 'I Don't Belong Here' opened the second encore and was kind of a little break before the show gained up speed again. 'Man or Mouse' brought the power back as second-last song and finally the very last song, 'World Apart', sounded through the hall. In a rain of confetti, the show finally ended and people were more than happy and exhausted after a fantastic concert.
Setlist

01. Intro - The Crown and the Ring (MANOWAR)
02. Hearteater
03. The Most Evil Spell
04. The Way of the Warrior
05. Pants Down
06. Here Comes the Fire
07. Not Tonight Josephine
08. Lava
09. No Hay Banda
10. Smells Like Rock 'N' Roll
11. Rainbows and Butterflies
12. Ad Infinitum
13. (Wolfsstunde Intro) When God Was Sleeping
14. Between the Devil and the Deep Blue Sea
---
15. The Age of Revolution
16. The Jaws of Oblivion
---
17. I Don't Belong Here
18. Nothing in This World
---
19. Man or Mouse
20. Worlds Apart
Rating

Music: 8
Performance: 9
Sound: 7
Light: 8
Total: 8 / 10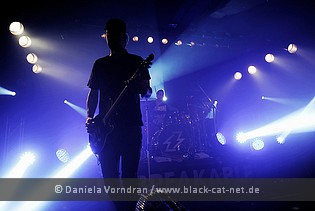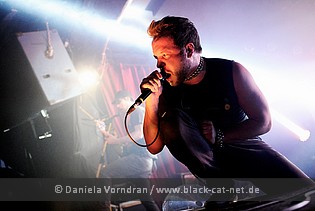 All pictures by Daniela Vorndran (
http://www.vorndranphotography.com
/
http://www.facebook.com/blackcatnet
)