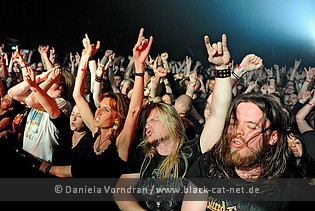 Mitsubishi-Electric-Halle, Düsseldorf, Germany
25th April 2015
Blind Guardian & Orphaned Land

Fantastic adventures into other worlds through time and space - carried by well-known harshness and new shenanigans. An adventure which will not only take the listeners into other dimensions filled with tyrants, gods and the Holy Grail but which also allowed the band to travel to their own past. On the new epos 'Beyond the Red Mirror' BLIND GUARDIAN forge a bridge between yesterday and tomorrow and start at the point they left their protagonist of their timeless master piece 'Imaginations from the Other Side' behind 20 years ago. BLIND GUARDIAN are on an extensive Europe tour from April to June in order to present 'Beyond the Red Mirror' live, supported by special guest ORPHANED LAND.
Orphaned Land

ORPHANED LAND began as a death/ doom metal band with folk elements back in the 90s before shifting to their present state of folk metal. However, this is not typical folk metal in the vein of the black metal tinged harmonies that are heard from heavy hitters like KORPILKANNI or PRIMORDIAL. ORPHANED LAND recently have moved towards a more unifying sound and theme of their music- touching quite a bit on middle eastern influences with tons of percussion and other exotic instruments, not just flutes and violins or keyboard-sounding instruments with heavy churning guitars. Indeed, one could consider ORPHANED LAND the enigmatic take on Folk Metal as MELECHESH is to black metal. The latest album 'All is One' was out in 2013, followed in summer 2014 by the 10th anniversary edition of 'Mabool', originally released in 2004. ORPHANED LAND is Kobi Farhi (vocals), Chen Balbus (guitars), Idan Amsalem (guitars), Uri Zelcha (bass) and atan Shmuely (drums).
http://www.orphaned-land.com
/
https://www.facebook.com/OrphanedLandOfficial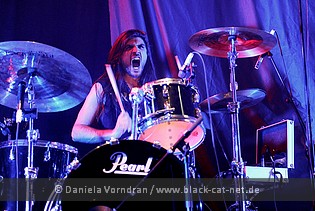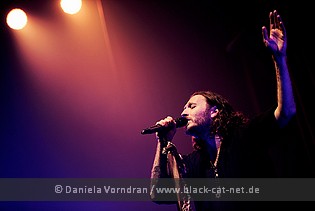 Music & Performance

The Israeli band ORPHANED LAND entered the stage a little after the announced time of 19:15 but was welcomed with big applause. Seems there were lots of fans in the audience. First thing hitting your eyes is that Kobi somehow looks like Jesus. But as he said later in the set himself, he of course is NOT Jesus. ORPHANED LAND had nearly 45 minutes time for their set and started with the little song of the latest studio album, 'All is One'. The new album is indeed perfect for stage presentation and the crowd was with the band from the first moment and soon joining in the "hey hey" screamd of Kobi. Their music is a complex mix of Metal and Folk with lots of exotic and oriental elements giving their kind of Metal a very special touch. You just have the feel you need to join in a belly dance when listening to their music. In fact they were a well-chosen special guest and warmed up the audience very well.
Setlist
01. All Is One
02. The Simple Man
03. Barakah
04. The Kiss of Babylon (The Sins)
05. Brother
06. El Meod Na'Ala
07. Sapari
08. In Thy Never Ending Way (Epilogue)
09. Norra El Norra (Entering The Ark) + Ornaments Of Gold
Rating

Music: 8
Performance: 8
Sound: 7
Light: 7
Total: 7.5 / 10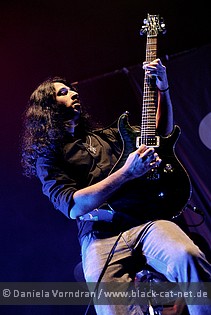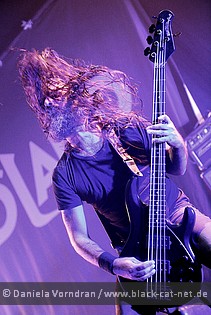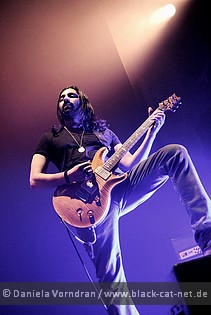 Blind Guardian

BLIND GUARDIAN are one of the German top metal bands, starting in the 80s under the name LUCIFER'S HERITAGE, playing melodic speed metal. Later when changing their name into BLIND GUARDIAN, they changed their sound into a more symphonic way and became one of the biggest German metal bands in the 90s. Following the release of 'A Twist In The Myth' in 2006, it has become awfully quiet around veteran formation BLIND GUARDIAN; concerning new studio activities for a new full-length. Instead they were involved with soundtrack work and contributed a special surprise to the video game 'Sacred 2 - Fallen Angel'. But at the end of July 2010, the long wait for fans was finally over with the release of the new album 'At The Edge Of Time', bringing the band back nearer to their musical roots and satisfying those, not entirely satisfied with the aforementioned last album or its predecessor. It again took nearly five years for the band to release another album. 'Beyond The Red Mirror' saw the light of day in January 2015. BLIND GUARDIAN today consists of Hansi Kürsch (vocals), André Olbrich (guitars), Marcus Siepen (guitars) and Frederik Ehmke (drums). The band was supported on stage by additional keyboard and bass.
www.blind-guardian.com
/
www.facebook.com/blindguardian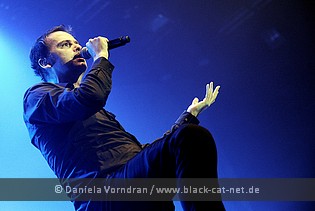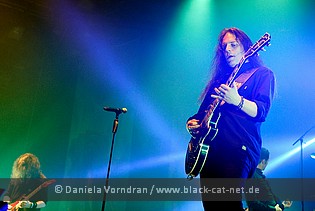 Music & Performance

My first and last contact with BLIND GUARDIAN was in 2010 in support of their album 'At The Edge Of Time'. Now there is a new release, a new tour and of course a new chance to see them live, playing in a very crowded hall in front of several thousand people. Once more BLIND GUARDIAN were taking us with them on a journey through fantastic and mythic world of legends. So to say they have written the in-official sound track for the Lord of the Rings movies… long before they even existed. The four guys from Krefeld / Germany supported by an additional bass and keyboard player just started powerful with 'The Ninth Wave' and also the fans were singing along any line from the very start. Fans really just know what they want when attending a BLIND GUARDIAN show. The want to sing-along, scream, raise their hands into the air and have a good time. The setlist on this Saturday evening was leading the fans through a thirty year-long history with old classics but also new songs from the latest album. You really got what you wanted, orchestral monsters like 'Wheel of Time', acoustic interludes or the raging 'Majesty' from 1988. As you might expect it was the classics the fans loved most.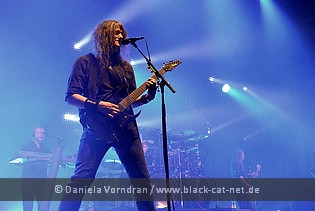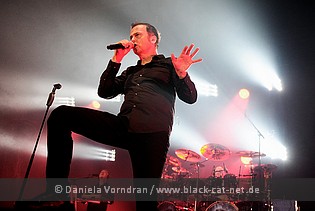 The fans knew exactly what to do, where to scream a song name, where to sing and where to clap without need to tell them. It all culminated at the band's hymn 'The Bard's Song' being included in the encore bloc. All GUARDIAN fans surely enjoyed the journey through Middle Earth during the evening making the night great and moody. The stage setting itself missed out any smoke o fire effects. Instead it shows kind of mythic baroque mirrors with fake flames in them and huge backdrops showing mythic mountain scenery. Additionally, there was a well-composed light show added. The band, bathing in the light, showed a lot of joy in being on stage. Hansi presented a great vocal performance and had always very close contact to the audience, speaking a lot with his fans. As Hansi furthermore told during the show, the concerts of the tour are recorded. So we can probably look forward a live DVD of the tour. It is safe to say that people really enjoyed the concert and got what they could wish for. Happy and sweaty people were finally leaving the place with memories of a great concert.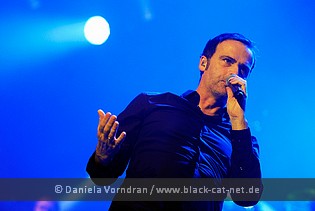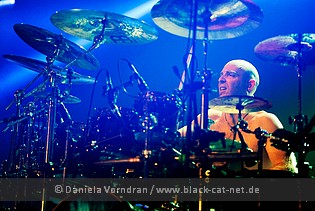 Setlist
01. The Ninth Wave
02. Banish from Sanctuary
03. Nightfall
04. Fly
05. Tanelorn (Into the Void)
06. Prophecies
07. Lost in the Twilight Hall
08. Miracle Machine (Acoustic)
09. Lord of the Rings (Acoustic)
10. And Then There Was Silence (Acoustic)
11. And the Story Ends (Acoustic)
---
12. War Of Wrath
13. Into the Storm
14. Twilight of the Gods
15. Valhalla
---
16. Wheel of Time
17. The Bard's Song - In the Forest
18. Mirror Mirror
---
19. Majesty (Not written on the actual setlist, played by crowds request)
20. At the Edge of Time (orchestral outro)
Rating

Music: 9
Performance: 10
Sound: 8
Light: 9
Total: 9 / 10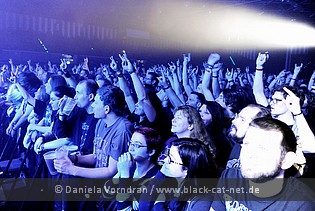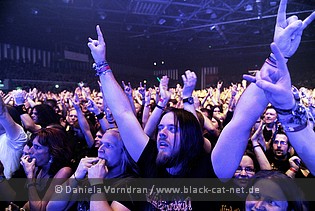 All pictures by Daniela Vorndran (
http://www.vorndranphotography.com
/
http://www.facebook.com/blackcatnet
)