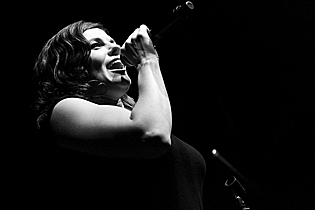 LKA Longhorn, Stuttgart, Germany
22nd December 2006
Die Happy, Itchy Poopzkid

In the year 2000, there was hardly a day passing without DIE HAPPY's song "Supersonic Speed" played by some radio station or on some music channel in Germany; nearly every teenager or person interested in pop/rock music knew them, or at least this one song. The album of the same name, their first long player with really professional production, brought them relatively high chart entries in Germany and was the key to their success. Nowadays it has become a little quieter around the band from Ulm/Germany, though they are still quite successful. I had already seen, or plain-spoken heard them at the South Side Open Air Festival in 2001, where they played at about 11 in the morning. This evening I was curious to see them perform at a much better and more adequate time of day, and also was looking forward to their support band - ITCHY POOPZKID - of which I had previously already heard quite a lot of good things. The Longhorn in Stuttgart was well filled with fans of all ages and styles, and with a little delay the good-humoured guys from ITCHY POOPZKID entered the stage.



ITCHY POOPZKID

The German Pop-Punk band with the tuneful name ITCHY POOPZKID has been existing for over five years now. After quite a lot of indefatigable touring and three self-distributed CDs they got signed by Sony BMG. And in 2005 their first full-length album appeared, being entitled "Heart to believe". Certain similarities to well-known Pop/Punk-Rock groups such as BLINK 182, GOOD CHARLOTTE or SUM 41 are undeniable, but the three guys don't seem to take this too serious and are simply having fun making their music. This March their second studio work will be available in the record stores called "Time to Ignite". ITCHY POOPZKID are Sebastian "Sibbi" Hafner (guitars, vocals), Daniel "Panzer" Friedl (bass, vocals) and Tobi Saikov (drums). http://www.neu.itchypoopzkid.de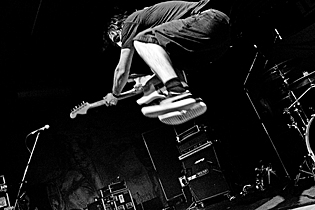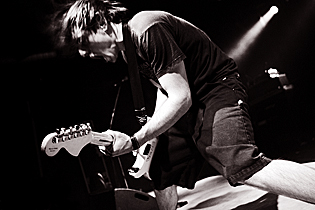 Music
The band from Eislingen an der Fils play a quite entertaining melange of Punk and ordinary Pop/Rock sounds - nothing really innovative, but they are acquitting themselves quite well, and you surely don't get easily bored listening to their songs - at least not when they are performed live. As the band only consists of three guys, it is really impressive how much energy they can produce on stage. Sibbi and Panzer are both contributing live vocals, and they are taking turns on guitar and bass every time changing their positions in front of their audience.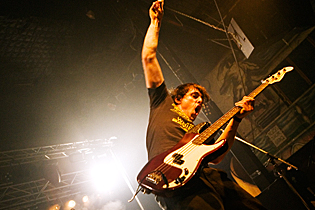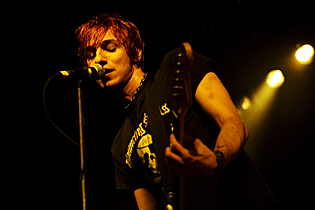 Performance
ITCHY POOPZKID are absolutely fun on stage. Though they are only three guys, and their appearance does not contain any gimmicks or show elements, they manage to just blow you away with their power and good-humoured performance. Both Sibbi and Panzer were talking to the fans quite a lot and joking around with them. And they were indefatigably jumping and running around on the stage floor, for me it was such a pleasure to watch them.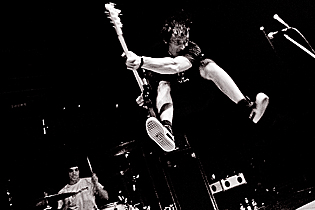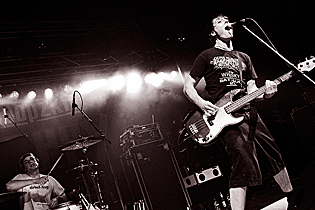 Rating
Music: 7
Performance: 9
Light: 8
Sound: 7
Total: 7.8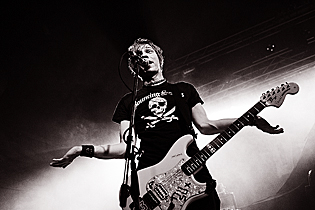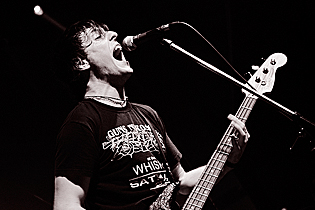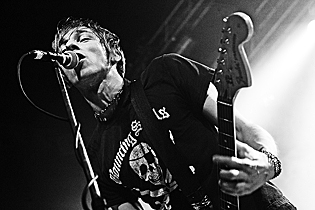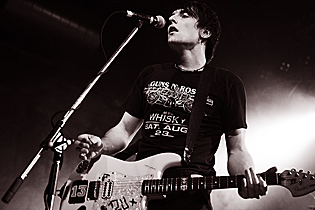 DIE HAPPY

In the year 1993 DIE HAPPY has been founded by Thorsten Mewes and two other guys, who have in the meantime left the band; after some searching, Marta Jandová was affiliated as a vocalist. She had just come to Germany from Czech and hardly spoke a word in German. One year later they recorded a first four-track demo called "Better than nothing", followed by their first full-length album "Dirty Flowers" in 1995. After many concerts and just as much work they got a contract with BMG Ariola. In the meantime they have released some albums and singles. Marta Jandová is also active as a solo artist, these days (exactly on 9th February) she took part in the Bundesvision Song Contest together with OOMPH! (Just a remark: the won the contest!). The band's latest output is the album "No Nuts No Glory". DIE HAPPY are Marta Jandová (vocals), Thorsten Mewes (guitars), Ralph Rieker (bass) and Jürgen Stiehle (drums). http://www.diehappy.de/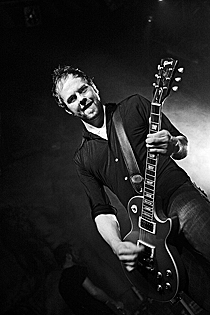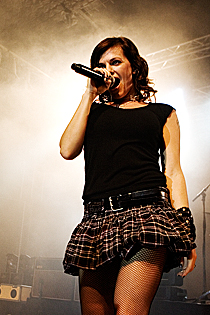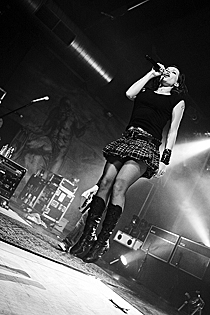 Music
Concerning the music the bands were playing, I must admit that I preferred ITCHY POOPZKID this evening, though DIE HAPPY's sound surely was more sophisticated, but also a little more common - and did not really meet my taste. The group around the charismatic and congenial vocalist Marta Jandová was playing modern Pop/Rock, not bad, but in the end - at least in my opinion - nothing really new and it was getting boring after a while. Their lyrics are dealing with topics like relationships and human behaviour, but are also striking some critical notes.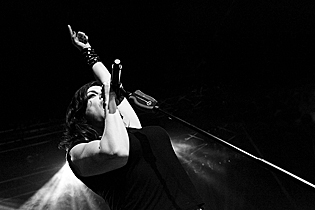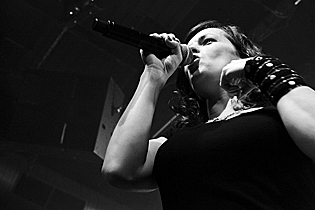 Performance
Marta, though being quite tiny concerning size, is an unbelievable live wire. Together with her band mates she delivered a really good show. Dressed in a very short skirt and fish net stockings, she came on stage seemingly in a very good mood, and managed with ease to drag along the audience. She talked a lot to them, inviting the fans to sing along and jump and put their hands into the air, cheering each song. One moment she was singing with her strong and impressive voice, just lost in the music, than she jumped around from on side of the stage to the other, again and again fooling around with Thorsten and Ralph. Their sound is for sure not my favourite one, but when it comes to making a fantastic performance, DIE HAPPY are the right choice.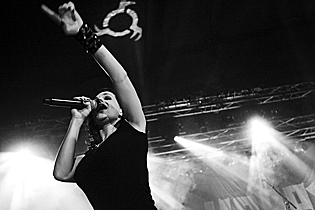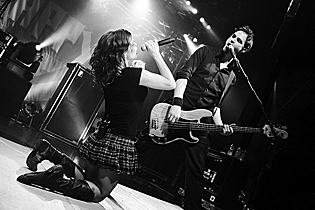 Rating
Music: 6
Performance: 8
Light: 9
Sound: 8
Total: 7.4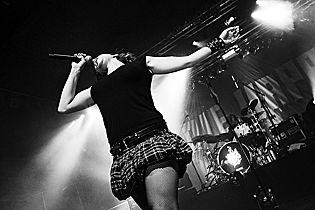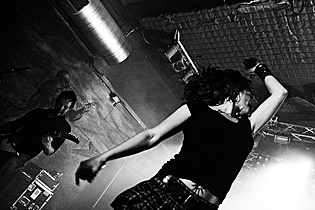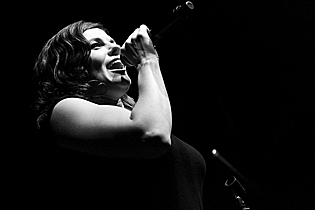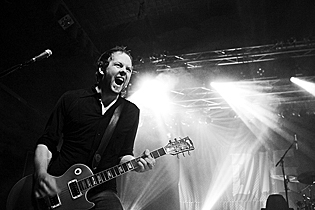 Pics by Ruth Gräbeldinger
{jos_sb_discuss:17}