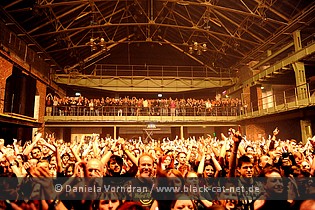 E-Werk, Cologne, Germany
21st October 2015
Apocalyptica & Tracer

If you have ever seen APOCALYPTICA live on stage you know that their shows are real fun. It is crazy to see them bang their heads and shake their hair to metal songs while playing the cello. The tour along to the release of the band's latest album, 'Shadowmaker', was originally planned for spring but was postponed to autumn. Finally, the time had come to see the band live in Cologne, where they were supported by Australian TRACER.
Tracer

Stoner Rock band TRACER is coming from Adelaide, Australia. With two independent releases, the band grabbed first attention before they released the first real album, 'Spaces In Between', in 2011. In the following year, TRACER won the "Best New Band" in the Classic Rock Roll of Honour Awards. In 2013, Tracer released their second album, 'El Pistolero'. TRACER already toured Australia and Europe on many occasions. 'El Pistolero' even entered the BBC Rock album charts on position 10. Before they will tour Europe later this year as headliner, they are supporting APOCALYPTICA on their "Shadowmaker" tour. TRACER consists of Michael Brown (guitar, lead vocals), Jett Heysen Hicks (bass guitar, backing vocals) and Andre Wise (drums).
http://www.tracer-band.com
/
https://www.facebook.com/tracer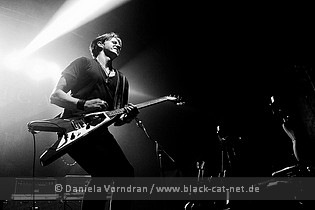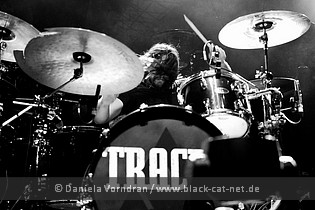 Music & Performance

It was sharp at eight when TRACER entered the stage. The concert was not sold-out, but still the hall was very well filled already when the men from Down Under were up to start their show. I must say that the audience's reactions were very reserved. There was not so much all pause and even the band's call for some clapping was only answered by a few. I heard that the band also had problems on other locations to enthuse the audience. The released albums, and also the latest one 'Water For Thirsty Dogs', received good critics, but I think supporting APOCALYPTICA was maybe not the best choice since the audience expects something completely different. I am sure on their upcoming tour they will be much more celebrated.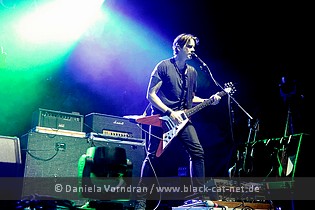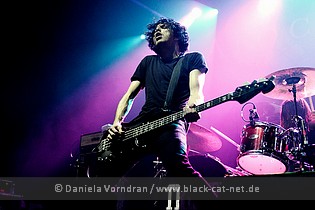 At least their powerful songs have the potential for it. At the end, the big tour with APOCALYPTICA might be the chance to get at least a few more fans since the audience is much bigger than they are used to.
Setlist

01. Too Much
02. We're Only Animals
03. Water For Thirsty Dogs
04. There's A Man
05. Astronaut Juggernaut
06. Devil Ride
07. Us Against The World
Rating

Music: 7
Performance: 6
Sound: 6
Light: 7
Total: 6.5 / 10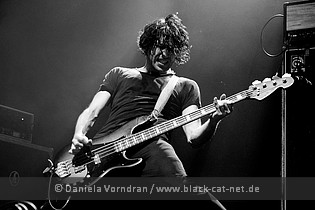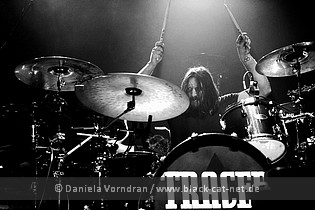 Apocalyptica

The four classically-trained cellists have rose to a major force in today's popular music. They attempted to fuse together the seemingly disparate worlds of classical music & hard rock and they were lucky. They created a style, blasting out every genre borders and which is commonly referred to as Cello Rock. The 1996 release of the debut 'Apocalyptica plays Metallica by four cellos' made a quick rise in the scene and the band became well-known overnight so to speak. Some years - and also some line-up changes - later that band has toured half the world, received several major music awards, worked together with artists such as German "punk godmother" Nina Hagen or Corey Taylor (SLIPKNOT) on the prior single to their album 'Worlds Collide', released in September 2007. After the 'Wagner Reloaded' album (2013) and tour, APOCALYPTICA are now back with their eighth studio album 'Shadowmaker'. APOCALYPTICA currently is Eicca Toppinen (cello), Paavo Lötjönen (cello), Perttu Kivilaakso (cello), Mikko Sirén (drums) and currently on vocals Frankie Perez.
http://www.apocalyptica.com
/
https://www.facebook.com/Apocalyptica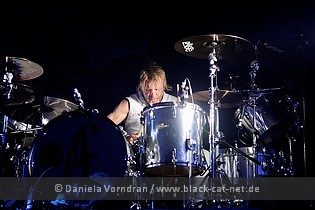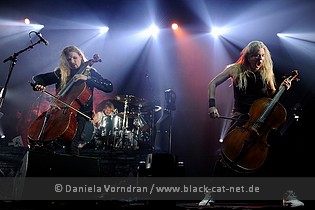 Music & Performance

It was sharp at nine when the lights went down, the intro sounded through the hall and you could only see the huge backdrop until finally the four men entered the stage. The first two songs, 'Reign of Fear' and 'Grace', were played by cello only. Cellos were and are the base of APOCALYPTICA's music. But every now and then, there are also songs with vocals. For the new album, APOCALYPTICA for the first time in band history engaged a steady singer, Frankie Perez. His time came with the third song, 'I'm Not Jesus', originally sung by Corey Taylor. Soon it was clear that fans were only waiting for the evening's headliner. From the start, they were clapping along, screaming or singing, if there were lyrics. The presented setlist contained a lot of songs from the current album 'Shadowmaker'. In-between, the one or another gem from the past was included, like the METALLICA cover of 'Enter Sandman', always a highlight at APOCALYPTICA shows. Another highlight in Cologne was surely 'Bittersweet', being quite unusual without vocals. Even though they had Frankie on board, the band decided to play thing song with cello and drums only. Brave decision, but it worked very well.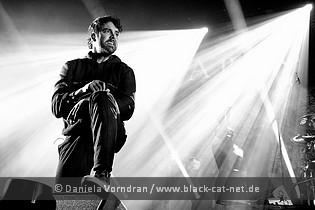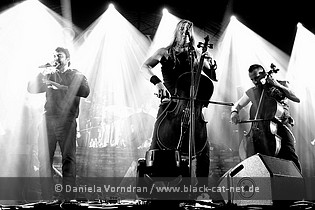 As you know and love it, APOCALYPTICA rocked the house and I am always surprised how they handle their cellos. It looks crazy when they play with full power while bang their heads. I always wonder how they manage not to pinch their long hair between bow and strings. Of course the set contained also and extended drum solo for which Mr. Sirén used a second drum kit even. Besides own songs and the usual Metal covers (METALLICA, SEPULTURA), there was also time for some real classic with Grieg's 'In the Hall of the Mountain King' ending the main set. With two additions, the band finally waved goodbye to their fans. It was a great show with very good sound and of course a great light show. What I found really interesting for a tour of such a big band: APOCALYPTICA are constantly changing their setlist. Not very common nowadays. If you have a chance to attend one of the band's shows, go! Highly recommended even if you are not into Metal music.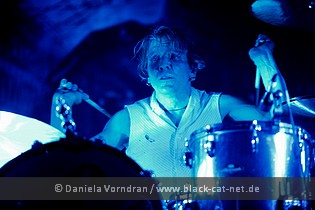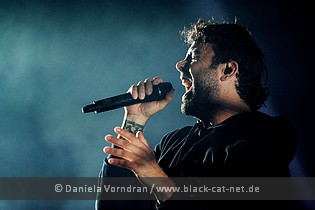 Setlist

01. Reign of Fear
02. Grace
03. I'm Not Jesus (voc)
04. House of Chains (voc)
05. Not Strong Enough (voc)
06. Enter Sandman (Metallica cover)
07. Inquisition Symphony (Sepultura cover)
08. Bittersweet
09. Harmageddon
10. Hope, Vol. 2 (voc)
11. Riot Lights
12. Shadowmaker (voc) + Drum Solo
13. Hole in My Soul (voc)
14. Ludwig - Wonderland
15. Refuse/Resist (Sepultura cover)
16. Seek & Destroy (Metallica cover)
17. In the Hall of the Mountain King (Edward Grieg cover)
---
18. I Don't Care (voc)
19. Dead Man's Eyes (voc)
Rating

Music: 8
Performance: 9
Sound: 8
Light: 9
Total: 8.5 / 10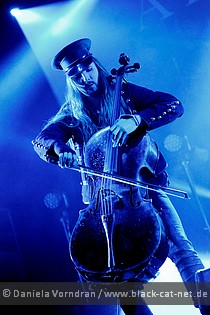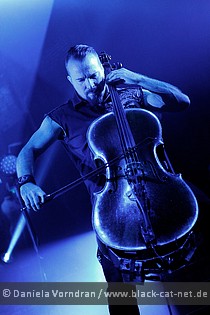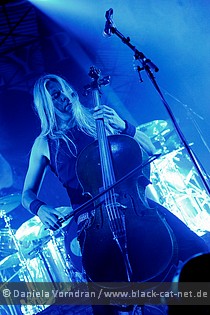 All pictures by Daniela Vorndran (
http://www.vorndranphotography.com
/
http://www.facebook.com/blackcatnet
)