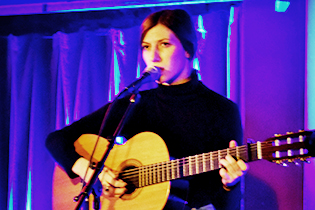 Studio 672, Cologne, Germany
19th April 2016
Aldous Harding

ALDOUS HARDING from the shores of the far-away New Zealand is currently playing small club shows in Europe for the very first time and enchanting the tiny crowds with her charm and beautifully emotionalising folk music or as she enjoys calling it, Acid Folk.
Only with a guitar and a wine of glass on stage, the petite, gorgeous lady started her set in Cologne at half past 8 in the evening. Only a handful of people, around 30, gathered together in the basement of Cologne's Stadtgarten called Studio 672 to listen to the young songwriter carefully. This did not kill the vibes at all but made the show the more intimate and special. It is actually astounding how much one can do with only a mouth and a guitar if one is innovative enough. And Aldous Harding is just that. Already during the first song she was pulling weird faces in order to reach the pitch she had set for the song and at the end of the song she was sort of whistling a sound that was to resemble the sea which took the audience to the shores she had come from. A peculiar, out of this world atmosphere had been created which would not end until the last song.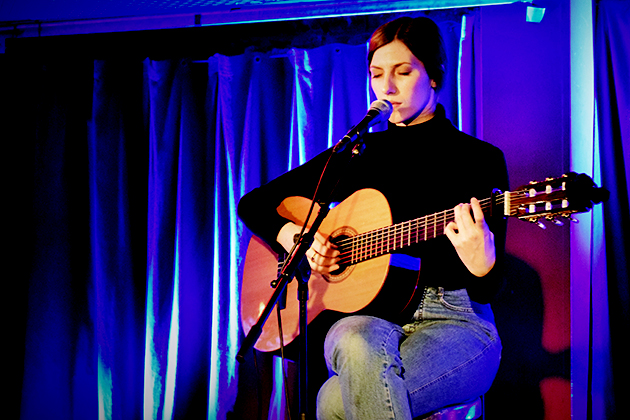 Due to the cosy atmosphere, some fans decided to sit down on the ground with their beer and wine and make themselves as comfortable as possible which added to the familiarised atmosphere. Aldous would not stop making remarks how she was both, happy to perform in Cologne but also scared that people would not receive her music well. But they did - there were some devoted fans in the crowd who knew all the new songs, much to the surprise of the young female artist. The songs 'Hunter' and 'Stop Your Tears' were received particularly well and were probably those which came the closest to being danceable – in general, the Aldous Harding show was so intense and calm that one was just their with one's mind, drifting away with her peculiarly throaty yet high-pitched voice to a world where the body is of secondary importance.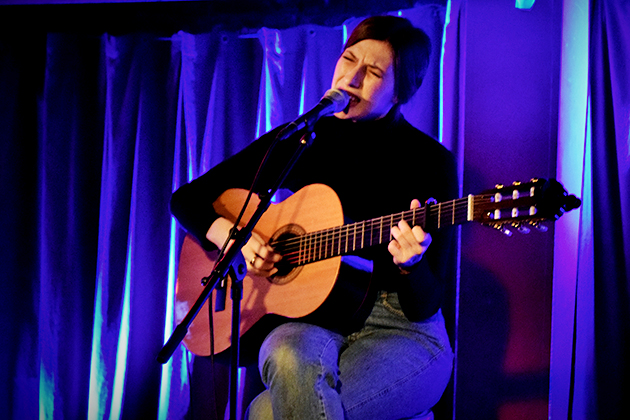 Her talent has not gone unnoticed and so she proclaimed that she would be recording her new album in London in the summer with no one else but John Parish who has already worked with artists like PJ HARVEY before. The set lasted for an hour and at the end of it, she was swarmed with an enthusiastic wave of applause which signalled that she would always be welcome in the cosmopolitan Cologne area.
http://www.aldousharding.com
/
https://www.facebook.com/AldousHarding
Rating

Music: 8
Performance: 8
Sound: 8
Light: 8
Total: 8 / 10
All pictures by Franziska Göbel