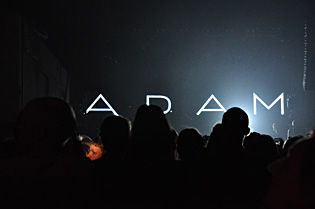 Kesselhaus, Munich, Germany
6th May 2016
Adam Lambert & Eveline

It was a marvellous spring day and I Prepared myself for the way to Munich to see - at least for myself - a quite different concert. ADAM LAMBERT did himself the honour of playing one of his only three appearances in Germany this night in Munich.
Eveline

EVELINE are quite a young project from Berlin / Germany. Lisa Kögler and Jan Eric Markert have studied both music and work with each other only for about two years. Their aim is, according to own words, to leave the well-worn borders of the pop music genre.
http://www.weareeveline.com
Music & Performance

Shortly after 8:30 PM it became night in the Kesselhaus in the best sense of the word. EVELINE, in live appearances consisting of singer Lisa Kögler, Jan Eric Markert and the guest musicians, Lukas Just (saxophone / guitar) and Henrik Hoelzen (drums) entered the stage. Indeed, the lighting was so bad that one did not really see a lot of the show other than one stood directly in front of the stage. If Lisa wouldn't have been dressed in white, one would probably have seen nothing at all. Therefore I was a bit sorry for the audience in the sold-out Kesselhaus, especially since the music which was presented was really worth hearing. The interlude was accepted by the fans rather well, people danced together keenly and applauded. With the classically qualified voice of Lisa and the saxophone and piano company they made something quite special out of danceable pop. After half an hour the young Berliners said goodbye and made the stage free for ADAM LAMBERT.
Rating

Music: 7
Performance: 6
Sound: 7
Light: 3
Total: 6 / 10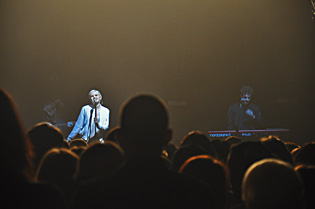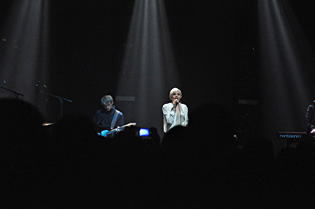 Adam Lambert

ADAM LAMBERT is an US-American singer, songwriter and musical actor. He was known by his participation in 2009's American Idol where he reached the second place. Since 2012 he has also appeared over and over again with the British band QUEEN and has even accompanied them on several tours. As a solo artist he has published his third album in 2015 which carries the title 'The Original High'. Up to now, Lambert has sold more than 5.4 million sound carriers and received already some honouring.
http://www.adamofficial.com
Music & Performance

Finally after 45 minutes it was time for the evening's highlight: The lights in the Kesselhaus darkened and on the canvas behind the stage the gigantic letters A, D, A and M appeared, before Adam himself entered the stage. He was accompanied by a band and two dancers who supported him with their performance vigorously. The light show met all the wishes, just as the choreography - everything was thought out perfectly. His absolutely easy to remember voice came across always very expressional and the audience was sent into raptures from beginning. Beside his own hits he also successfully covered other songs, as for example 'Mad World' or also 'Let's Dance' from DAVID BOWIE. People keenly danced together, sang along and nodded their heads. Partially even disco feeling arose.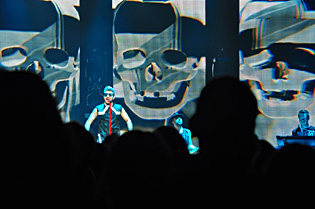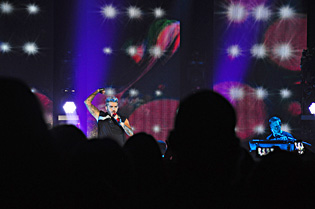 ADAM used longer instrumental phases twice to change clothes and to lead the fans through the show in a new, unusual outfit. And every time again the audience in the sold-out hall was eager to follow his advices. In the middle of the concert he insisted on telling something and on thanking his fans. Finally, Munich was the end of his current tour. For this final show, his fan club has organised a nice poster action which impressed the singer obviously. Then after a nearly two hours the concert came to an end and the visitors, still in dancing mood, started happily their way home. For my taste the whole presentation was a little bit too perfect: Not even the smallest detail was left to, nothing was changed spontaneously what I found a little sad, because Adam Lambert really has talent and could make more out of it! Anyway the audience has liked it all-over and this is the most important.
Setlist
01. Evil In The Night
02. For Your Entertainment
03. Ghost Town
04. Welcome To The Show
05. Runnin' / Chokehold / Sleepwalker
06. Underground
07. Rumors
08. Lucy
09. After Hours
10. Mad World (Tears For Fears-Cover)
11. Whataya Want From Me (Pink-Cover)
12. Another Lonely Night
13. The Light / The Original High / Never Close Your Eyes
14. Let's Dance (David Bowie-Cover)
15. Shady / Fever
16. If I Had You
---
17. Tresspassing / Another One Bites The Dust (Queen-Cover)
Rating

Music: 9
Performance: 8
Sound: 8
Light: 9
Total: 8.5 / 10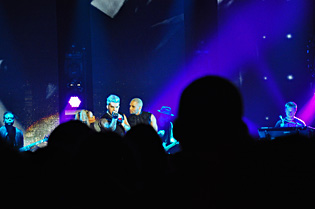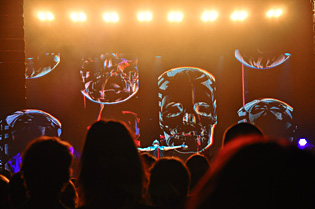 All pictures by Erika Knepper (
www.facebook.com/erikaknepper
)