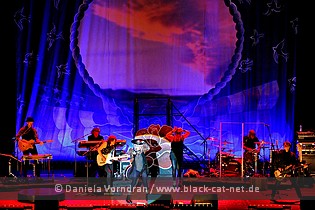 E-Werk, Cologne, Germany
2nd July 2016
Cyndi Lauper & Neil Thomas

Finally I had the chance to see the Pop icon of the 80's live who is now touring with her new album 'Detour'. And I was really thrilled to find out about her live singing qualities, especially the old songs. Due to the soccer game on that evening the show was not sold out, respectively I heard that many people sold their tickets on short notice in order to watch soccer on TV.
Neil Thomas

There is not much information to find about this young musician, not to be mistaken by another British musician with the same name. Yes, he has already a website and a Facebook profile. The biographical information in the latter is: "Neil was born. Now he does music. One day he'll have a fatal accident." and that's all. Only on warnermusic.de you learn that he once learnt a bit guitar playing by his mother, that he won with his rapping mate an award, did a world tour and then decided to write and compose songs. Furthermore he learnt to play the drums and took further guitar lessons. In February 2016 his first EP 'Home' was released and can be purchased via Bandcamp, where you can also buy two songs from 2010 or you can buy the download version at iTunes or Amazon.
http://www.neilthomasmusic.com
/
https://www.facebook.com/noisyneilthomas/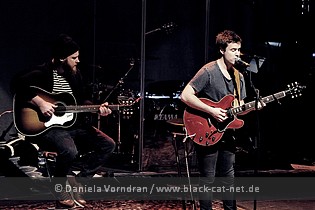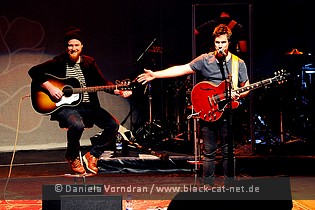 Music & Performance

After entering the stage Neil, who was accompanied by Ben Jones on the acoustic guitar, introduced themselves to us as JIMI HENDRIX cover band. Well, of course that was a joke. But what this winsome singer - songwriter presented, was a bunch of nice songs. Probably one or two more up-tempo songs would have drawn more attention on his performance but it is not an easy task to be opener for a musician like CYNDI LAUPER, more so as she doesn't tour that much in Germany. Furthermore acoustic shows as opener are always a bit tricky as usually not much is happening on stage. Anyway I enjoyed the short performance as the songs were nice enough to make me wish the people around me would be more quit. Also he presented them in a likable mixture of excitement and joy when he introduced his songs with little background stories. As he later told me, they only had one rehearsal for the show. Well, I think he and Ben did a pretty good job and for this most of the audience gave applause for each song.
Setlist

01. Close to your heart
02. Easy on you
03. The record
04. The closer I get
05. Angel
06. Last kiss goodnight
07. Home
08. Night owl
Rating

Music: 8
Performance: 8
Sound: 9
Light: 7
Total: 8 / 10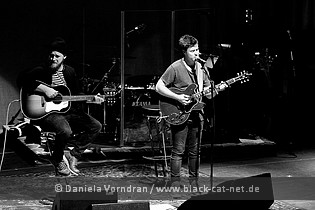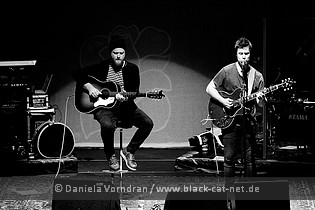 Cyndi Lauper

A lot can be told about this extraordinary artist. It could fill a book. Awarded with Grammy, Emmy and Tony awards, she has reached a lot in her career that spans more than 30 years. Before she had her international breakthrough as solo artist, she sang in several cover bands and founded the band BLUE ANGELS with which she produced songs that were inspired by the fifties and sixties. The Punk and Post Punk era then made it easier for her as woman in the Rock / Pop business to express herself in a way she liked. In the eighties she and MADONNA were outstanding Pop icons, both very self-confident, autonomous and provoking female musicians. But while MADONNA provoked and celebrated her success mainly by playing the sex sells card, CYNDI did it with the lyrics of her songs like 'She bob', which was banned at several radio stations in the USA and her taking a stand for the LGBT people, women's rights, the fight against AIDS/ HIV and overall the fight for equality. Besides being a singer - songwriter, she also worked as an actress, performed at the musical version of the 'Three penny opera' on Broadway, wrote the score for the musical 'Kinky boots' and not long ago she became New York Times bestselling author with her autobiography. With her new album 'Detour' she released 11 studio albums, 11 compilation albums, 33 singles and a live DVD. Most of her albums and singles were awarded with silver, gold and platinum worldwide.
http://www.cyndilauper.com
/
https://www.facebook.com/officialcyndilauper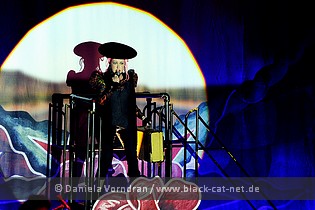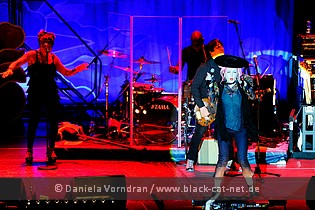 Music & Performance

Fitting to the time her career started, the music from the playback before the supporting act and her show was all of the 80s. Meanwhile more people arrived and according to the musical career of CYNDI LAUPER that spans more than 30 years I was not the oldest person in the audience. The rebuilding time including the last sound check didn't take long and finally the show began with CYNDI LAUPER's band members entering the stage, taking their positions and starting to play. Suddenly you could see the silhouette of CYNDI standing on a stage riser in the background with her back to the crowd, a hat on her head and a suitcase in her hand as an allusion to the cover of her new album. And then the spotlight was on her, she turned around, climbed down and walked forward. I like to mention the curtain in the background: coloured in a kind of grey-blue with some flying birds and a circle in the middle it looked a bit kitschy at first sight. But later you learned that not only several pictures were displayed in this circle but also some projections from CYNDI on stage in different angles. Also it was remarkable that the drum set was behind glass walls; this to lower the clangour. Actually I only know her first three albums which were more of the Pop genre but on this evening I experienced other aspects of her musical range.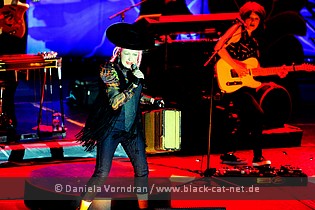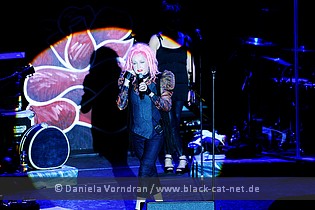 In a way I found it very American with the Country, Blues and Rock style, a kind of back to the roots while her music in the 80s was more serviceable for the European market. But by stating this I don't want to express that I didn't like the sound of her songs now as CYNDI LAUPER has the magic touch for giving these genres her personal signature. This has of course also to do with her recognisably voice. I was pretty amazed that she has a fantastic live singing quality regarding the fact that with the age the ability to sing in the high vocal range decreases. And although her dressing style doesn't look that dramatically any more like back in the eighties, it is still far from ordinary - she is still unusual with her cotton pink dreadlocks, the tight leather pants, the knee high boots, the leather vest, all in black and then a blouse that is the only hint to Country/ Western style with its big puffy sleeves. Also time still has been good to her as she just doesn't seem to age so much. Of course she doesn't look like in her twenties anymore but unlike a woman in her sixties. And thus it is no wonder that she dances and rocks on stage like a young woman. Between the songs she always had a little story to tell about her childhood and youth where she and her family listened mainly to the songs that inspired her to do the actual album with all the covers of songs that had a deep impact on her.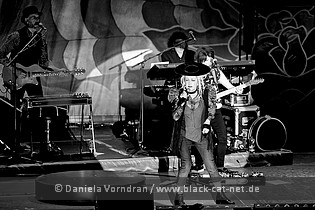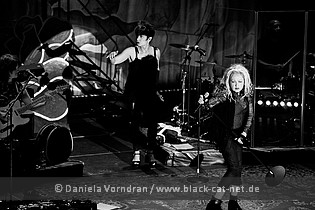 Or how it came that she founded the 'True Colour Fund' as she always had a deep feeling for equality and thus supports the LGBT community. In all what she was telling she showed to be a very warm- hearted, empathic, witty and smart person who shows a big interest in her environment. She even knew what this venue was before it became a location for concerts and events. Between the 'new' songs she performed of course her hit singles and the audience proved to know the lyrics by heart when they sang along with CYNDI. Not only is she a fantastic singer but she played for a short sequence flute and for her live version of 'I drove all night' the Appalachian dulcimer. My first personal highlight was her singing the PRINCE song 'When you were mine' as it is not only a cover version I love so much but with regard to his dying not long ago it brought tears to my eyes while I as well was singing along with the crowd. The members of her live band, mainly the same age as CYNDI, proved to be very experienced and excellent musicians with a great joy of performing. But sadly after ten songs the show ended. We got one encore with the last song being my second highlight of the evening as it gave me goose bumps all over when she sang 'True colours' completely acoustic with no (!) instrument accompanying her.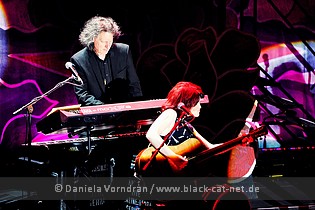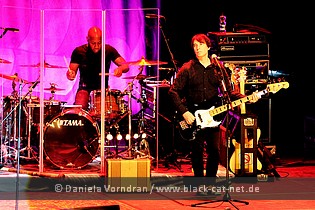 But despite the incredible fantastic show it was much too short for my taste and that was the only disappointing thing on that evening. Anyway if she is touring in my area, maybe together with the very much by me appreciated JOE JACKSON again, I will be at it.
Setlist

01. Funnel of love (WANDA JACKSON cover)
02. She bop
03. Heartaches by the number (RAY PRICE cover)
04. I drove all night (ROY ORISON cover)
05. The end of the world (SKEETER DAVIS cover)
06. Walking after midnight (PATSY CLINE cover)
07. I want to be cowboy's sweetheart (PATSY MONTANA cover)
08. You don't know
09. When you were Mine (PRINCE cover)
10. Money changes everything (THE BRAINS cover)
---
11. Time after time
12. Girls just want to have fun
13. True colours (acoustic)
Rating

Music: 10
Performance:10
Sound: 9
Light: 8
Total: 9 /10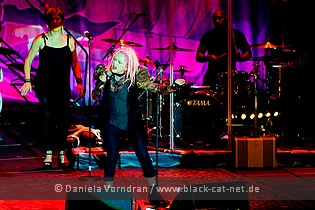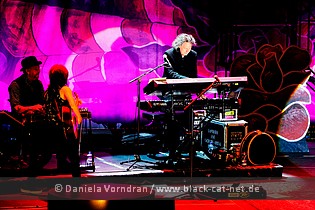 All pictures by Daniela Vorndran (
http://www.vorndranphotography.com
/
http://www.facebook.com/blackcatnet
)