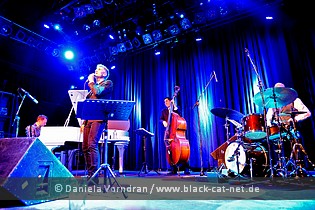 Zeche, Bochum, Germany
13th July 2016
Curtis Stigers

Curtis Stigers has one of these voices which you recognize under thousands. His talent is far beyond writing nice pop songs. He is deep into jazz and blues as well. So Bochum was now on his tour plan and we were looking forward which kind of music he will play.
Curtis Stigers is an American jazz vocalist, saxophonist, guitarist, and songwriter. Stigers appears on the Dawson's Creek soundtracks. In his solo career he has popularized tunes such as 'I Wonder Why', which reached No. 5 in the UK Singles Chart and No. 9 in the United States Billboard Hot 100 charts in 1991 and 'You're All That Matters to Me', which reached No. 6 as the follow-up single in the UK. In 2006, Stigers participated in the BBC Television show 'Just the Two of Us', where he sang with journalist Penny Smith. He was one of the soloists at a concert celebrating the MGM musical, during the 2009 Proms season. His song 'This Life' is used as the intro for the American show Sons of Anarchy. He also covered 'John the Revelator' for the Sons of Anarchy's season 1 finale. Since 2001, Curtis Stigers started a new career as a jazz singer, with positive critics. He is known for jazzy versions of pop songs, as well as performing and recording jazz standards, and composes new songs too.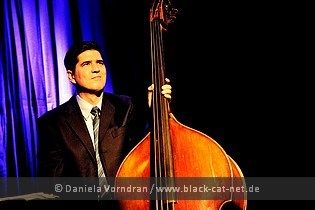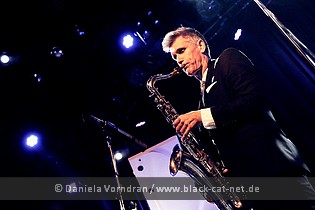 But mostly Stigers is busy. The energetic singer/ songwriter/ saxophonist regularly barnstorms concert halls, festivals and clubs everywhere from Moscow to Manhattan, accompanied one night by his quartet, another by big band or orchestra. He has released new work nearly every year since he started recording, frequently collaborating with his musical heroes. Along the way, this musician who began his career playing standards in a Boise hotel lobby while moonlighting as drummer in a punk rock band has redefined the constitution of contemporary jazz.
"I was the kid who worshipped songs and the musicians who made them,"
he remembers.
"Back then, pop radio played everything from Aretha Franklin to Led Zeppelin, Marvin Gaye to Willie Nelson. I loved it all."
With Hooray For Love, his latest release for the Concord Jazz label, Stigers continues to fulfil a promise made to a younger version of himself: a commitment to artistic growth, and to bringing new tunes to the Great American Songbook.
http://curtisstigers.com
/
https://www.facebook.com/CurtisStigers/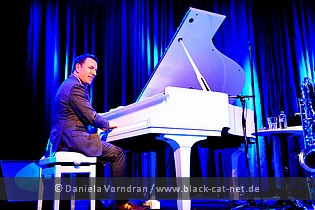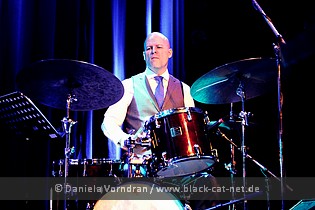 Music & Performance

The equipment let us know that we will get a jazz evening. A big white piano, contra bass, and drums. Curtis entered the stage we a saxophone. He started the set with a Randy Newman song and this was the beginning of a wonderful mix of songs from his heroes (also Bob Dylan, Joe Jackson or Billy Joel) and songs from himself. Already after the 2nd song he introduced the band. These musicians were Paul Wells (drums), Cliff Schmitt (contra bass) and Matthew Fries (piano). 'You're All That Matters To Me' was the first song which for sure everyone knew. As well the people who haven't followed his latest releases. This was the second hit single from his first album in 1992. 'Hooray For Love' was the title track of his latest album. As he said an album full of love songs, after he had written so many depressive songs in the years before. After six songs there was a break of 15 minutes. A new fresh start with Elvis' 'That's All Right Mama'. At the end of the song he sang also different lines from other Elvis songs. All songs Curtis performed from the other artists; they were all played in a -let me call it- Curtis typical and special version. 'Living Without You' was dedicated to all the persons we have lost alone in 2016. So many great musicians and also the important persons in our personal life. Curtis also lost a very good friend.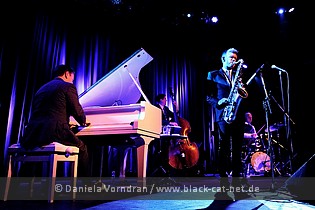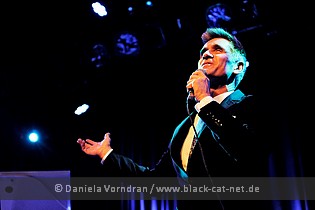 'Swingin' Down At 10th & Main' was a tribute song to Curtis one and only mentor Gene Harris. Nearly at the end we have got his big hit singles 'I Wonder Why' when everyone could sing along. During the whole show Curtis involved his audience in the concert. With his kind and charming way he brought an extra note to the performance. Believe me this special rock, pop, jazz and blues star is worth to see more than once.
Setlist

01. I'll Be Home (Randy Newman)
02. You Have Got The Fever (Curtis Stigers)
03. She's Got A Way (Billy Joel)
04. You're All That Matters To Me (Curtis Stigers)
05. Hooray For Love (Curtis Stigers)
06. My Babe (Willie Dixon)
07. That's Alright Mama (Elvis Presley)
08. You Inspire Me (Nick Lowe)
09. Things Have Changed (Bob Dylan /Film 'Wonder Boys')
10. Living Without You (Randy Newman)
11. Swingin' Down At 10th & Main (Curtis Stigers)
12. You Don't Know What Love Is (Curtis Stigers)
13. Fools In Love (Joe Jackson)
14. I Wonder Why (Curtis Stigers)
---
15. Bye Bye Blackbird (Curtis Stigers)
Rating

Music: 9
Performance: 8
Sound: 8
Light: 7
Total: 8 / 10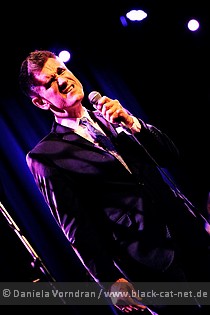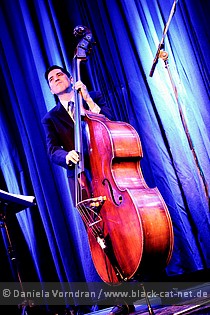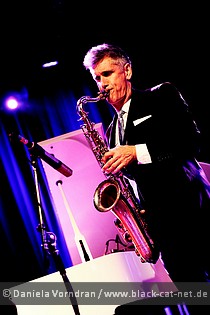 All pictures by Daniela Vorndran (
http://www.vorndranphotography.com
/
http://www.facebook.com/blackcatnet
)