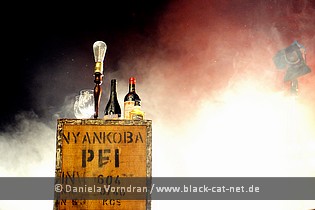 Tanzbrunnen, Cologne, Germany
9th August 2016
Damien Rice, Hanna Leess

Concerts of DAMIEN RICE are something very special. Sounds like an empty phrase, but it isn't. His melancholic song meditations, his guitar play, his unique voice, his poetic and heart-warming lyrics and his devoted fans make an evening with him a mass for the pure and sheer power of song writing. Probably the most surprising fact with his success is the case that he never made it easy for his fans. Since the beginning of his solo career beginning of the millennium, he just released three albums. With '9', the so far latest album was released in 2006. After the album and some exhausting touring years it became quiet around Rice. So this show in Cologne was now a great chance to see this special artist once more on stage and around 4,000 fans followed the call to Cologne.
Hanna Leess

HANNA LEESS is an experimental folk singer born in Norwalk, Connecticut, United States. She lives in Berlin, but before she lived in California, and before that in Boston. Hanna writes all of her own material, and plays various instruments, but mostly guitar. Her debut album produced by Tom Osander, former DAMIEN RICE's percussionist, is being finished while she tours across Europe and the US.
http://hannaleess.com/
/
https://www.facebook.com/hanna.leess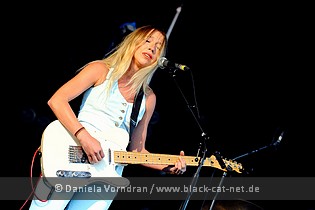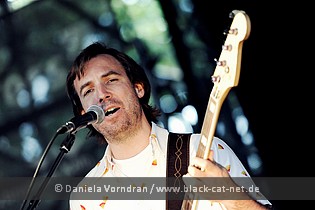 Music & Performance

Located on the left hand side of the stage, HANNA and her band featuring percussionist and producer Tom Osander did it the low profile way. Their somewhat dark songs with a somehow feeling good rhythm gained the sympathy of the crowd after every song. The perfect guest band to DAMIEN RICE. No wonder. Osander began playing with DAMIEN in 2000 and over the next several years recorded both the RICE's albums 'O' and '9'. After finishing their show, Hanna joined the crowd giving way CDs and enjoying the contact with the public
Setlist

01. Rain Makes the Rainbow
02. I Don't Suppose
03. Grown Stone
04. Just Can't Stay
05. Flippers
06. Playing Pretend
07. My God Knows How To Cry
08. Invisible Moon
Rating

Music: 8
Performance: 6
Sound: 8
Light: Daylight
Total: 7.3 / 10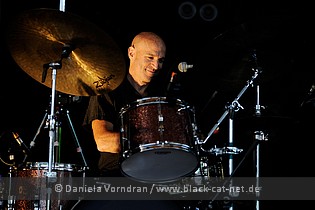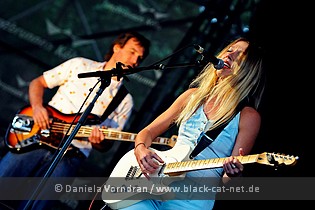 Damien Rice

DAMIEN RICE (42) is an Irish singer-songwriter, musician and record producer who plays piano, guitar, percussion and clarinet. RICE began his musical career in the late 1990s with 'Juniper', a rock group of moderate success. He left the band after a foundered album project caused by Polygram politics. In 2001 ,after a roaming period in Italy working as a farmer and busking as a street performer, he returned to Ireland to begin a solo musical career. Since 2002 he has collaborated with many other musicians and released three studio albums: 'O' (2002), '9' (2006) and 'My Favourite Faded Fantasy' (2014). Many of us discovered him and got in love with his beautiful songs because many of them have appeared in numerous films and television episodes.
http://www.damienrice.com
/
https://www.facebook.com/damienrice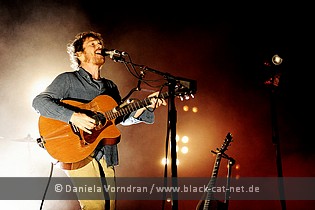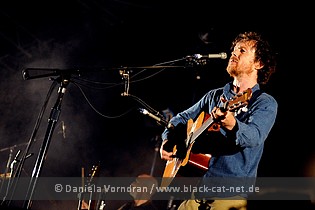 Music & Performance

A cold summer sunset at the Tanzbrunnen open air venue. A pill of umbrellas accumulated at the entrance. Lights went out. "Just keep it nice and sad" was his way of saying "hello" after playing the first song 'The Professor & La Fille Danse' part in English and part in French. DAMIEN knows about melancholy. "Some people go for a massage to relax, other to concerts, in which the artists are more depressed than they are" he said. It was just him with his guitar. 'Delicate' was the second song to come. We were floating in the misty smoke. Were we enjoying sadness? Yes we were. DAMIEN likes to talk about his songs and the feelings behind. It's an invitation to his world of love and fear of loss , loneliness and doubt. He tortures himself with questions about finished relationships and how things would have been if… The third delivery was 'Long long way' from his last album. A song about love which chorus "not enough" gives a tone of desperation. DAMIEN seems not to give up on that feeling and starts sampling and looping his voice, adding different harmonies and sounds and guitar strings and sounds and noise and more.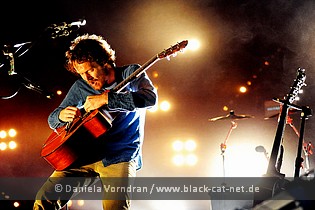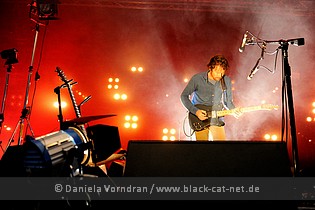 'Not enough' was a looping desperation. Far away from the studios and producers DAMIEN seems to be keen on expressing himself with powerful and sometimes chaotic musical elements. 'The Blower's Daughter' was the seventh song. We all wanted to hear that song so bad and he did it beautifully and we sang like children. "I can't love myself. So please do…" he said. DAMIEN left the stage after 'It Takes a Lot to Know a Man' to return with HANNA LEESS and her band. They played 'Volcano'. Hanna's voice sounded beautiful. I really liked DAMIEN RICE with a band! The closure was 'When doves cry' from PRINCE. Brilliant!
Setlist

01. The Professor & La Fille Danse
02. Delicate
03. Long Long Way
04. Accidental Babies
05. Coconut Skins
06. Amie
07. I Don't Want to Change You
08. The Blower's Daughter
09. I Remember
10. Colour Me In
11. It Takes a Lot to Know a Man
---Encore with Hannah Leess and band---
12. Volcano
13. When Doves Cry (Prince cover)
Rating

Music: 9
Performance: 8
Sound: 8
Light: 7
Total: 8 / 10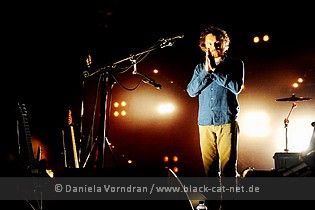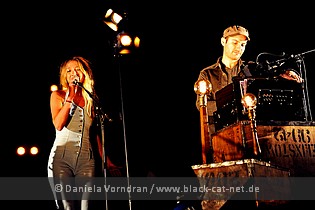 All Pictures by Daniela Vorndran (
http://www.vorndranphotography.com
/
http://www.facebook.com/blackcatnet
)