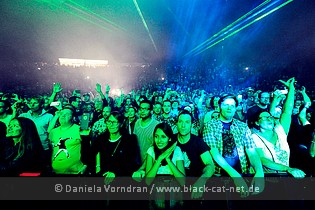 Amphitheater, Gelsenkirchen, Germany
9th September 2016
Chemical Brothers & James Holroyd

I remember being twenty, driving my car on a sunny summer day, 'Galvanize' blasting from my speakers. These are awesome memories and tonight, I will revive them at the Amphitheater Gelsenkirchen, a beautiful open air venue where THE CHEMICAL BROTHERS are going to play their only concert in Germany. The weather is great, as is the atmosphere as the sun is slowly setting on this warm September evening that starts with a set by the supporting DJ JAMES HOLROYD.
James Holroyd

JAMES HOLROYD opens up as supporting DJ. Based in Manchester, he has been resident DJ in renowned clubs since the early nineties. His first works included a mixture of funk, house, and hip hop from which he has developed a unique style with a distinct flow that keeps the body moving. Connect with JAMES HOLROYD on Facebook
https://www.facebook.com/james.holroyd.3
.
Music & Performance

JAMES HOLROYD hits the deck at around eight o'clock. He usually warms up for THE CHEMICAL BROTHERS so he knows the game. Unfortunately, there are no lights whatsoever during the first twenty minutes of his set and people are not to engaged at first. Sound quality is good though and the set JAMES HOLROYD plays matches the atmosphere, with a mix of house and funk evolving from laid back and relaxed to faster rhythms and deeper basses people start dancing to. Finally, lights are flashing up as well as the set reaches its climax and ends to welcome THE CHEMICAL BROTHERS after around seventy minutes. It is a solid performance that would have benefited from using more light and adding some volume and fierceness to the set.
Rating

Music: 8
Performance: 6
Sound: 7
Light: 6
Total: 6.7 / 10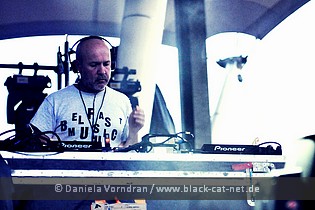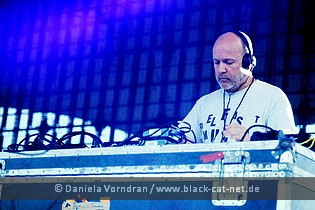 The Chemical Brothers

From their first record 'Exit Planet Dust', released back in 1995, to the latest album 'Born in the Echoes' from last year, THE CHEMICAL BROTHERS have gained huge popularity and moved thousands of feet. The duo's members, Tom Rowlands and Ed Simons, originate from Manchester where they start playing sets in the eighties. Their style, a mixture of big beat, trip hop, acid house, and techno, defines a whole dance music genre, providing people with sounds we also know from acts such as THE PRODIGY and FATBOY SLIM. THE CHEMICAL BROTHERS increase their success over the years, reaching out to growing audiences with hits like 'Setting Sun', 'Hey Boy Hey Girl', 'Do It Again', and 'Galvanize', working with Noel Gallagher in the nineties or rapper Q-Tip on their album 'Push the Button' from 2005 and also their latest release. They have released eight albums so far and are known for their terrific live shows. Check out their website
http://www.thechemicalbrothers.com/
and do not forget to visit them on Facebook
https://www.facebook.com/ChemicalBros/
.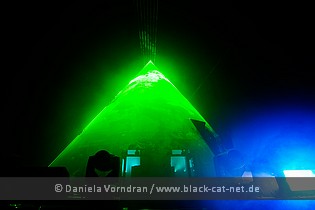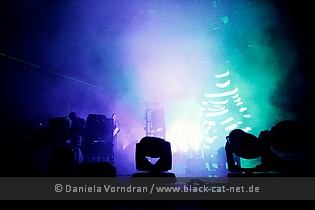 Music & Performance

It is crowded in the Amphitheater Gelsenkirchen and people are waiting expectantly for THE CHEMICAL BROTHERS to hit the decks waiting in the middle of the stage. Fog machines are already running and clouding the view, while spotlights, lasers, and strobe lights are soon to create an erratic atmosphere. After a twenty-minute delay (they probably wanted to wait until it is really dark) and a considerably long intro of about six to seven minutes, Tom Rowlands and Ed Simons finally enter the stage. The crowd greets them with frenetic applause and whistles. THE CHEMICAL BROTHERS start their set with the hit 'Hey Boy Hey Girl', complete with green lasers, more fog, and video projections. People are dancing and singing under the dark sky and do net get the chance to take a breath as the dynamic set unfolds. THE CHEMICAL BROTHERS have chosen a range of old classics and hits mixed well with new material ('Sometimes I Feel So Deserted').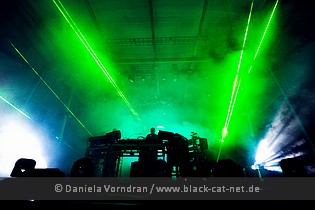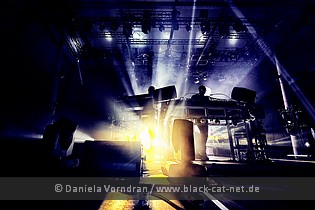 During their ninety-minute set, THE CHEMICAL BROTHERS vary between different transitions from song to song and mixing medley. This way, they turn 'Don't Think', 'Under the Influence', and 'The Test' into a creative mix that is visualized perfectly by two giant robots with laser eyes and video screens that appear on the stage. Although the duo is barely seen behind their decks the crowd cheers and dances and is having a fantastic time. I am greatly entertained myself and watching the stage and the moving crowd from above when I hear the first "don't hold back" coming from the speakers. Moments later, thousands of people erupt in sheer ecstasy when THE CHEMICAL BROTHERS play 'Galvanize', their greatest hit here in Germany. 'King of the Beat' follows and after three more songs the show sees its finale with 'Block Rockin' Beats'. Unfortunately, there is no encore as it is already close to eleven - curfew time for open air shows. And what a terrific show it has been! My personal highlight was 'Saturate' with all its musical range and versatility. I also enjoyed the acid house elements throughout the set, screeching and echoing into the night sky.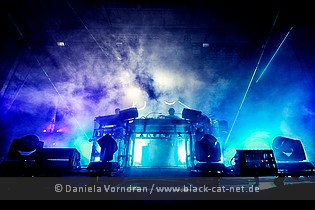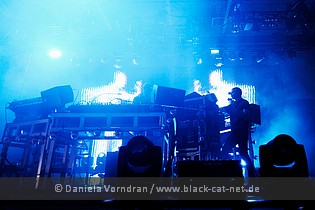 I am deeply satisfied but my ears are ringing. The sound has been clear and crisp but I would have appreciated a slightly lower volume. Nonetheless, it has been a remarkable and exhausting night with THE CHEMICAL BROTHERS and I am looking forward to seeing them another time. And 'Do It Again'.
Setlist

01. Hey Boy Hey Girl
02. Sometimes I Feel So Deserted
03. Chemical Beats
04. Do It Again / Get Yourself High / Direct Buki
05. Go
06. Swoon
07. Star Guitar
08. EML Ritual
09. Acid Children
10. Setting Sun
11. Out of Control
12. It Doesn't Matter
13. Saturate
14. Elektrobank
15. I'll See You There
16. Got Glint?
17. Escape Velocity
18. Don't Think / Under The Influence / The Test
19. Galvanize
20. King of the Beats
21. C.H.E.M.I.C.A.L.
22. Song to the Siren
23. Leave Home
24. Block Rockin' Beats
Rating

Music: 9
Performance: 8
Sound: 9
Light: 10
Total: 9 / 10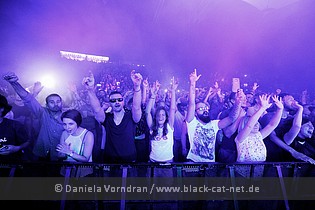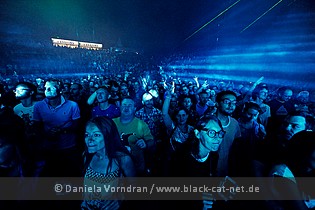 All pictures by Daniela Vorndran (
http://www.vorndranphotography.com
/
http://www.facebook.com/blackcatnet
)