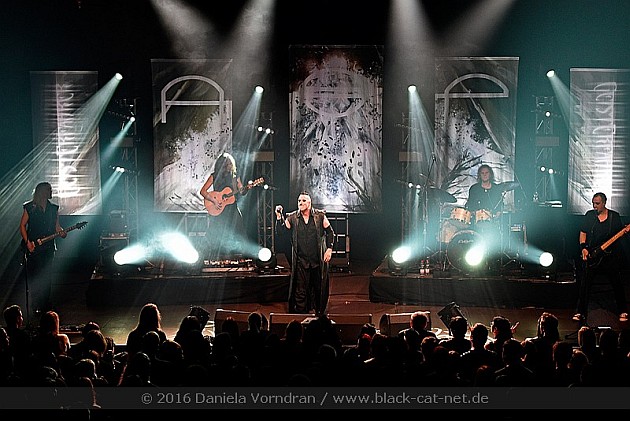 Huxleys Neue Welt, Berlin, Germany
23rd October 2016
ASP & Burn

ASP is an institution in the so-called "Gothic World". Nobody who has ever been a member of the dark scene hasn't been accompanied by their songs that were and are a fixed highlight of nearly every Gothic event.
The German band, founded in 1999 in Frankfurt am Main by Alexander "Asp" Spreng (vocals) und Matthias "Matze" Ambré (guitars), has published 10 albums, their first in 2000. Ambré left the band in 2011 and was replaced by Lutz Demmler. They band is well known for their critical point of view about society, e.g. for their boycott of the Wave Gotik Treffen for political reasons. Due to the current political developments, ASP announced that they would play only socio-critical songs. I guess that this was maybe one reason for the concert hall being only two thirds full. The guests were nearly all members of the Gothic subculture of all ages and styles.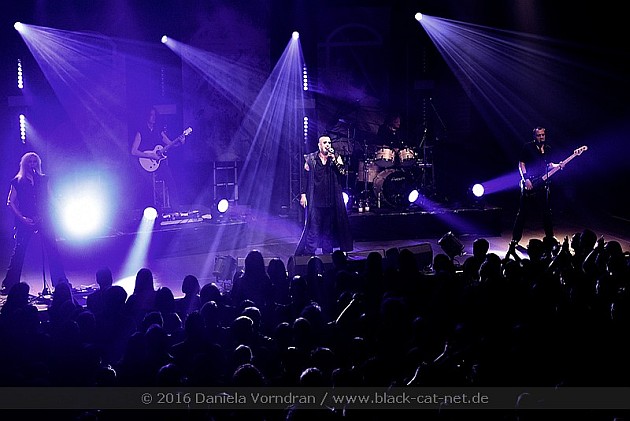 Burn

BURN was founded in 1996 in Münster, Westphalia. They published albums in 2011 and 2012. In 2013, they separated, but there was a reunification later, although some members changed, e.g. the guitarist Sven Krachten left the band. BURN today consists of Felix Friberg (vocals, guitar), Christian Wischer (guitar), Markus Düring (bass) and Jörg Schwaer (drums). Their new album, 'Ein Monument aus Gold', was out in October 2016. Since we have had trouble with the traffic we did most most of their concert. But a quick survey between the visitors showed us that their music didn't gain the hearts of many visitors, most of them were waiting impatiently for ASP. The band got still got some applause and was recommended for their musicians, although there was some criticism for the singer's performance of the high-pitched sounds what might be caused by the fact the he caught a cold.
http://www.burnmusic.de
/
https://www.facebook.com/burnmusicdotde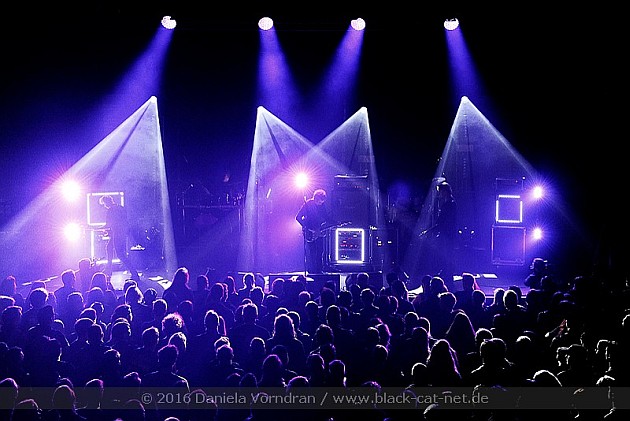 ASP

When Alexander Spreng appeared in the middle of blue spots, the audience gave him a frenetic applause. "Ihr schönen Menschen, macht Euch keine Sorgen, alles wird gut" ("You beautiful people, don't worry, all will be fine") he greeted his fans before talking about the criticism about the decision to play only critical songs. He opened the concert with 'GeistErfahrer'. The sound and lights on this evening were as excellent as the performance of the band. There was a little discussion with one visitor who cried "Verschwörungstheoretiker!" ("theorist of conspiracy") when Alexander talked about the power Google has. At the fourth song, 'Eisige Wirklichkeit', we could enjoy an amazing light show together with a nice rhythm and the audience singing the chorus. At the fifth song ('Tiefenrausch'), Alexander complained that the Gothic subculture is about to die and gave a little homage to Johnny Cash's 'Man in black' saying that he would wear black as the colour of mourning until the world has become a better place.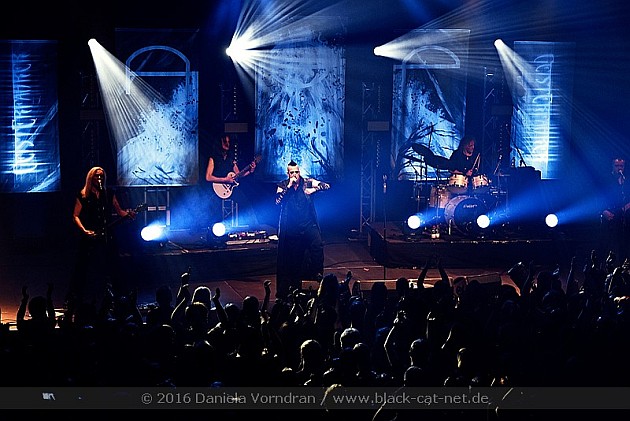 For me, the sixth song, 'Weichen(T)stellung' was one of the highlights of the evening. Alexander said that music had made him a better person and he performed this song, "an armour against the cold of the world",, with extreme passion and a beautiful gentle voice. The audience went mad at the song 'Ich bin ein wahrer Satan' with its powerful rhythm and the red lights. The next song, a cover of a Konstantin Wecker song ('Sage nein' – 'say no'), was one of the most beautiful songs of the evening. "I'll try not to embarrass him", Alexander promised and he did hold the promise! After finishing the last regular song, the public was crying for one of the band's greatest hits: 'Ich will brennen' ('I wanna burn). But it was not until the second encore that ASP performed the song, giving it a political touch with a speech against the burning of people and books.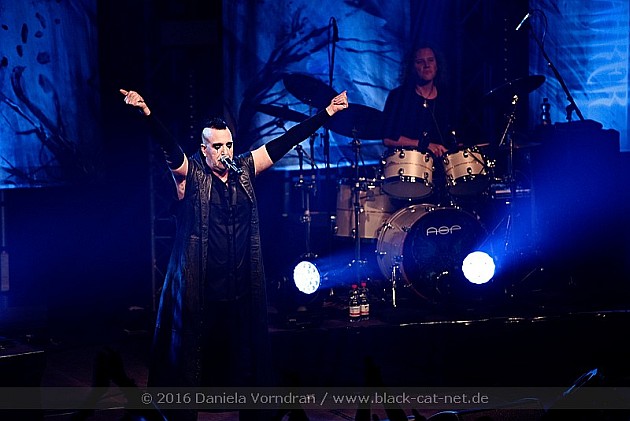 The band left the stage accompanied by standing ovations. It was a great show and a magical evening at Huxleys Neue Welt.
http://www.aspswelten.de
/
https://www.facebook.com/AspsWelten
Setlist

01. GeistErfahrer
02. Wer sonst?
03.·Wanderer
04. Eisige Wirklichkeit
05. Tiefenrausch
06. Weichen(T)stellung
07. FremdkörPerson, erstens
08. Der Strom
09. Das Kollektiv
10. Carpe Noctem
11. Biotopia
12. Ich bin ein wahrer Satan
13. Sage nein! (Konstantin Wecker cover)
14. Schwarzes Blut
15. Denn ich bin der Meister
16. Danach
---
17. Finger weg! Finger!
18. Werben
---
19. Rücken an Rücken
20. Ich will brennen
Rating

Music: 10
Performance: 9
Sound: 10
Light: 9
Total: 9.5 / 10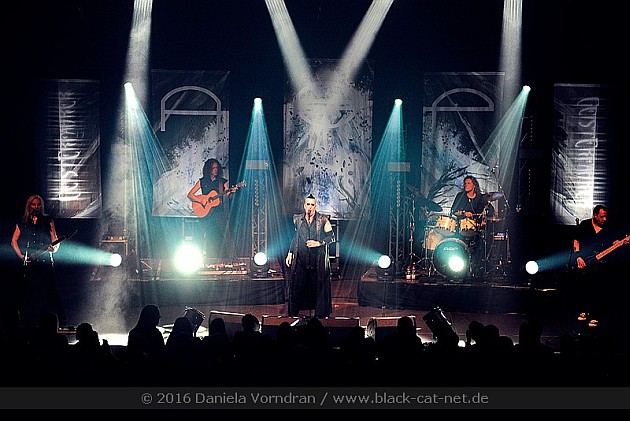 All pictures from the show in Dortmund by Daniela Vorndran (
http://www.vorndranphotography.com
/
http://www.facebook.com/blackcatnet
)