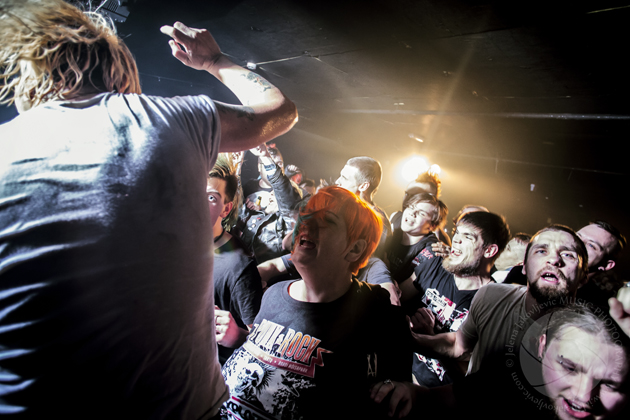 Rock Club Tapper, Tallinn, Estonia
30th November 2016
The Casualties

The American street punk band THE CASUALTIES played a legendary first concert for their Estonian fans! Rock Club Tapper was filled with excitement, jumps, moshing, screams, jokes, beer, great music and great fun!! Many describing it later as the concert of their lifetime!
The evening could not be any better with Jorge, Rick, Jake and Marc delivering 200% and first of all being friends with each fan. I don't have info how Jake's evening ended up as Jorge sold him to the winner of one game, together with the award of 100 Mexican Pesos and the t-shirt which none wanted to buy... Happy fans and a great setlist of 21 songs from various albums were trademarks of the evening. The setlist included songs from 'Chaos Sound' (2016), 'On the Front Line' (2004), 'For the Punx' (1997), 'Die Hards' (2001), 'Resistance' (2012), 'Underground Army' (1998), 'Under Attack' (2006), and 'We Are All We Have' (2009). The biggest surprise of the evening and the biggest award for the fans was an invitation to share the stage with THE CASUALTIES for the last song. It took less than a second and the stage was crowded, Jorge climbed next to drums, and Rick and Jake melted with the crowed – a perfect moment for the song 'We Are All We Have'. I am sure THE CASUALTIES will be back!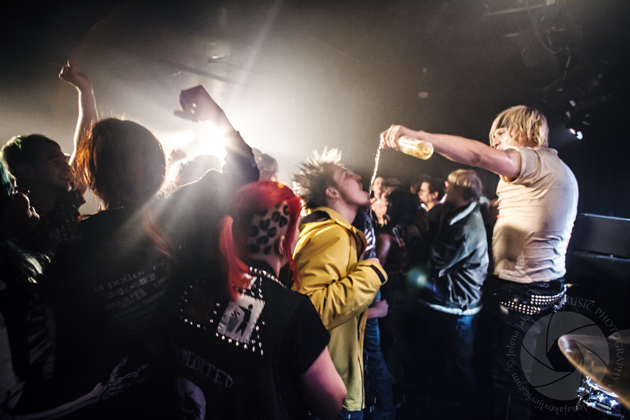 THE CASUALTIES are Jorge Herrera (lead vocals), Rick Lopez (vocals, bass), Jake Kolatis (vocals, guitar) and Marc "Meggers" Eggers (drums). Check THE CASUALTIES web page, go and have fun at the next concert (North America tour in January), and listen the new album 'Chaos Sound'.
https://www.facebook.com/TheCasualties
. With the best wish to make an awesome interview, the final call for the bus came (there was less than five hours left to sleep before their morning trip to Russia) so I made just a quick random chat with Rick in the backstage. He is really a cool guy! Somehow we started to talk about his tattoo which is connected with his father, and then I was like, oh wait, can you repeat that? I'll turn on camera... So here it is:
https://youtu.be/dCXDpU9hbrk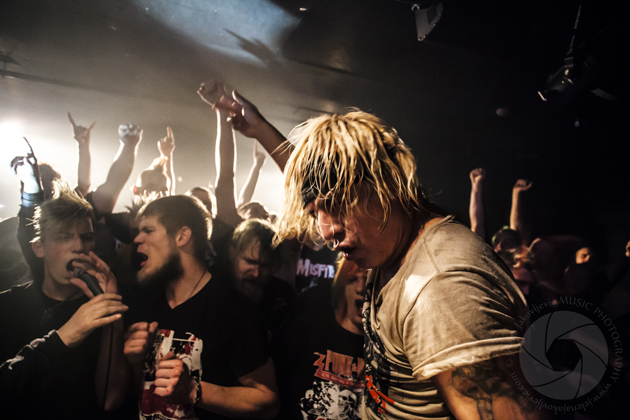 Setlist

01. Chaos Sound
02. Tomorrow Belongs To Us
03. Unknown Soldier
04. Chaos Punx
05. Punk Rock Love
06. Criminal Class
07. Running Through The Night
08. Made In N.Y.C.
09. Media Control
10. Resistance
11. Unemployed
12. Punx & Skins
13. Police Brutality
14. My Blood. My Life. Always Forward.
15. System Failed Us... Again
16. Rejected And Unwanted
17. For The Punx
18. Get Off My Back
19. Riot
20. On City Streets
21.We Are All We Have
All photos by Jelena Jakovljevic (
Facebook
)