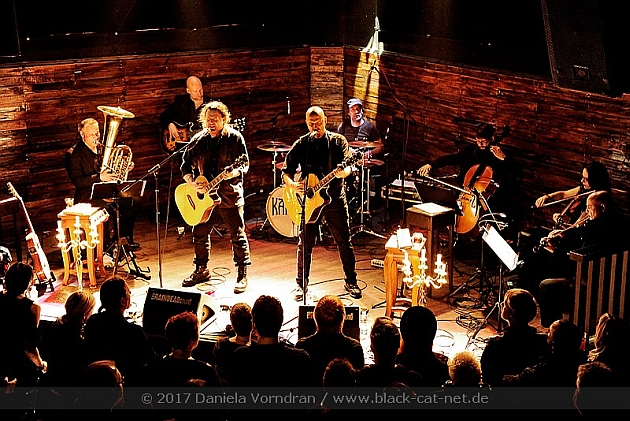 Rockpalast, Bochum, Germany
13th January 2017
Die Kammer & Pauline Paris

Did you have a stressful week/ day with a lot of tiresome and annoying duties? Then going to a concert of DIE KAMMER is definitely the perfect cure and a great opener for a weekend. After such a show your mood will be brightened up for sure. As my week wasn't much fun at all I was very pleased to see the guys again and listen to their music.
Pauline Paris

The French singer / songwriter started to perform - if I understood her French biography right - in 2009 mainly in the Parisian area before she started touring as well. With her lyrics she loves to tell stories where her heroes are involved. As musical influences she names NINA SIMONE, SCREAMIN' JAY HAWKINS, EDITH PIAF, CATHERINE RINGER, BILLIE HOLIDAY, PARIS COMBO, CLAUDE NOUGARO, BORIS VIAN, TOM WAITS amongst others. Up to now she has released three albums. Furthermore, she took part in creating the musical comedy 'Marlaguette' that was inspired by a children's book by Marie Colmont. Besides singing she plays also the acoustic guitar. Usually she performs with her band consisting of Rafael Leroy (bass / contrabass), Marc Bizzini (piano / accordion), Martin Seigneur (drums). But on this evening she was only accompanied by her bass player.
www.paulineparis.com
/
https://www.facebook.com/Pauline-Paris-13089844641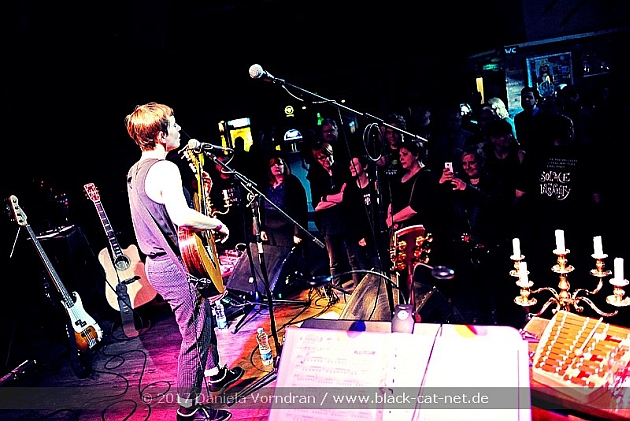 Music & Performance

For the first song PAULINE PARIS entered the stage alone and greeted the audience in English apologising that she doesn't speak German. From the second song on she was accompanied by her bass player Rafael Leroy. Already at the first song I just wondered how such a strong voice can come out of such a petit lady. And indeed I was reminded of EDITH PIAF, "the sparrow from Avignon", who was also a short person with a remarkable voice. As the songs were in French she introduced them by telling the audience in short and often in a humorously way what the songs are about. And although most of us didn't understand a word of the lyrics, her winsome personality and the music itself caught the attention of most of the audience. One of the last songs she introduced to us was about sex and actually PAULINE asked the audience to join her when she imitates the noises of an orgasm but hardly anyone dared to and therefor it was a bit embarrassing but also quite funny.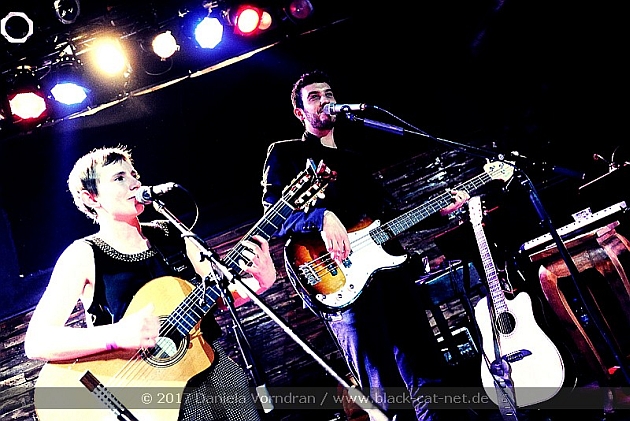 Setlist
01. Aux Armes Paname
02. Un Pour Deux
03. Moureuse
04. Serguei
05. Comedie
06. Jack
07. La Fille A Papa
08. X
09. Susanna
10. La Grand Roue
Rating

Music: 8
Performance: 8
Sound: 9
Light: 7
Total: 8 / 10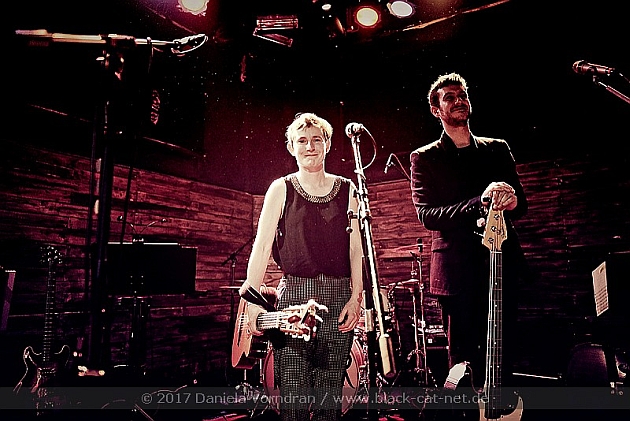 Die Kammer

This project was founded in December 2011 by the singer Marcus Testory, ex member of CHAMBER and Matthias Ambré, former member of ASP. In April 2012 Oliver Himmighoffen, another former member of ASP joined the band as drummer and Dirk Klinkhammer as tuba player. The first concert took place at the Wave Gotik Treffen in May and a couple of weeks later, Matthias Raue, a film composer, was introduced as a new member, playing the violin and viola. The band was then completed with the cellist Tabea Müller (currently on hiatus for family affairs) and violinist Aline Deinert. Soon after Matthias Raue joined the band, the first single 'The orphanage' was released and already in October its debut album 'Season I: The Seeming and the Real' was launched. In the course of the two days open air festival in Cologne, in order to celebrate the 15 years anniversary of SCHANDMAUL, DIE KAMMER was supporting act amongst VERSENGOLD, LYRIEL and FIDDLERS GREEN in 2013. Including 'Season III: Solace in Insanity', released in 2016, the band has launched, as the name of the album implies, three albums. Like the band's name indicates the music is purely acoustic in the old singer / songwriter tradition. The lyrics contain sarcastic, humorous, melancholic, morbid and a tongue- in- cheek charm elements.
http://www.die-kammer.com
/
https://www.facebook.com/diekammer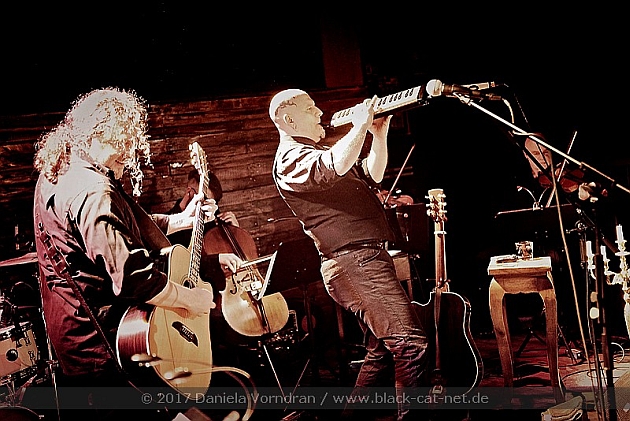 Music & Performance

The small stage of the Rockpalast was packed when the complete band around Marcus Testory and Matthias Ambré took its position. And on this evening the audience could welcome some new members: Harold Nardelli (tuba), Benni Cellini (cello) also known as member of LETZTE INSTANZ and Anja Eberlein (viola). How small the stage was could be observed when Harold and Ingo had to take care that they don't collide with their instruments. After the third song, Marcus greeted the audience and announced the Rockpalast to be a chamber tonight. As most of the people know the band and the songs already quite well they danced and sang along right from the beginning. For me it was quite remarkable that Oliver played the drums on this evening in a more Rock sound way instead of the usual minimal drum sound. It fitted quite well though and gave the performance more drive and power. Also DIE KAMMER didn't perform the songs like at their former shows but had some surprises at hand. 'Gingerbread heart' was played in a reduced setting with Marcus and Matthias playing their acoustic guitars only accompanied by the strings. For 'Mirror', Pauline joined them to sing a duet and we learnt that they got to know her 1.5 years ago when they were working on 'Season III' and in return contributed to her album, too.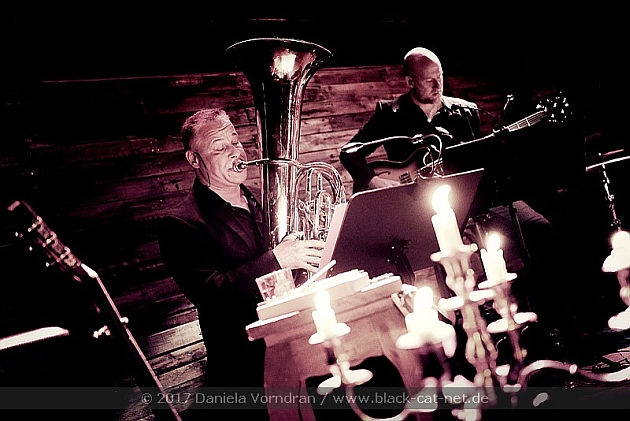 Another surprise was Casi from RROYCE singing 'The orphanage' with them. The new band members fit in very well in the setting and everybody apparently enjoyed to perform on this evening. The fans were also in high spirit and thus it was no wonder that everybody shouted for an encore after the main set. And so the band returned. For 'Love for life' Marcus told us about the background of the making of this song: they had invited a group of fans, who pledged on the album, for the background chorus. Everybody enjoyed a great time on that day in the studio for the recording. When they just left the studio they heard about the terrible assassination at the Bataclan theatre in Paris and were in a shock. So this song had now an even more important relevance for them all. For 'Fairy on the wire' PAULINE joined them once again for the duet. And at the second encore containing one song she and Rafael appeared both for the background singing. No more songs could be performed as shortly after the concert the venue was opened as discotheque. However we all enjoyed another wonderful concert evening with good music, funny little stories and lots of laughter and singing along.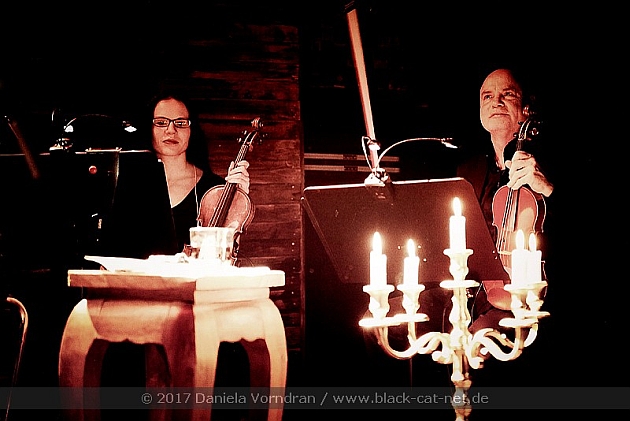 Setlist

01. Intro
02. The line of last resistance
03. Fate / Illusion
04. Auld weeping willow
05. Intoxication intravenous
06. Gingerbread heart
07. The grand graveyard of hopes
08. Mirror (with Pauline)
09. The seeming and the real
10. Sophie's circus
11. The orphanage (with Casi)
12. Praying mantis
13. Slipping around the corner
14. Endangered memories
15. Sinister sister
16. Carnival of the peculiar
---
17. Love for life
18. Sedlaczek
19. Fairy on the wire (with Pauline)
---
20. Black as coal
Rating

Music: 10
Performance: 10
Sound: 9
Light: 8
Total: 9.8 / 10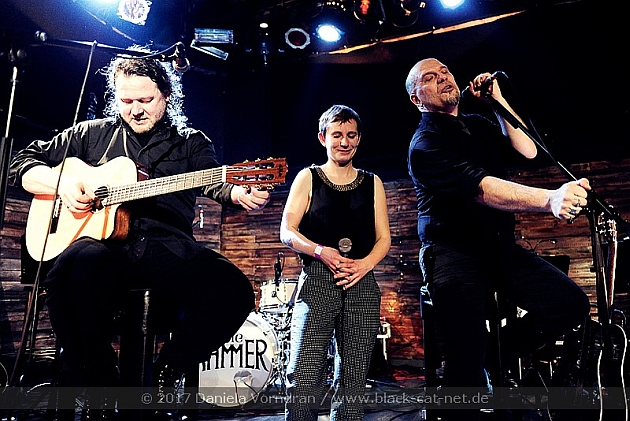 All pictures by Daniela Vorndran (
http://www.vorndranphotography.com
/
http://www.facebook.com/blackcatnet
)