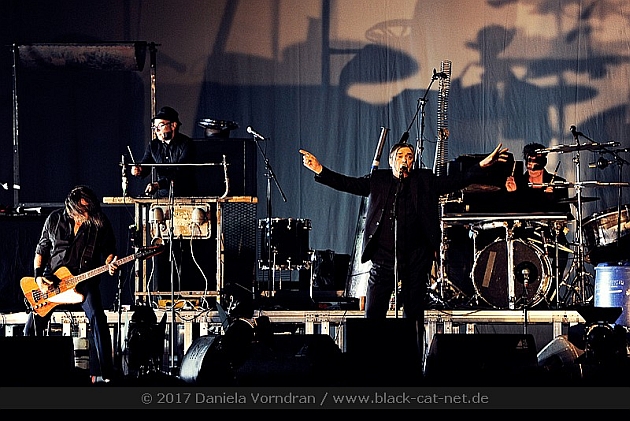 OsnabrückHalle, Osnabrück, Germany
18th January 2017
Einstürzende Neubauten

A few days prior the prestigious gig at the brand-new Elbphilharmonie in Hamburg, EINSTÜRZENDE NEUBAUTEN started their mini tour at the OsnabrückHalle in Osnabrück in the north of Germany. Of course this was also a test run for their landmark show in Hamburg but also a great chance to check out NEUBAUTEN in an area which they didn't gave a visit since 1991.
As a little treat all visitors of the 1991 show of EINSTÜRZENDE NEUBAUTEN at the former Stadthalle Osnabrück were granted free entry to the 2017 show – as long as they still had the old ticket stub and presented it at the doors! Unlike the Hamburg show and another gig in the Netherlands, the Osnabrück concert was not completely sold out but the completely seated venue looked pretty packed, anyway. The OsnabrückHalle is a pretty classy and posh surrounding for a band which once emerged from the Punk scene and which was known for its anarchic, noisy and provoking performances. For quite some time, EINSTÜRZENDE NEUBAUTEN have moved on from the underground avant-garde of the very early days to today's feuilletons and illustrious bohemian world. Many fans in the crowd tried to maintain an alternative touch, though, and were exclusively dressed in black with many band shirts here and there.
https://neubauten.org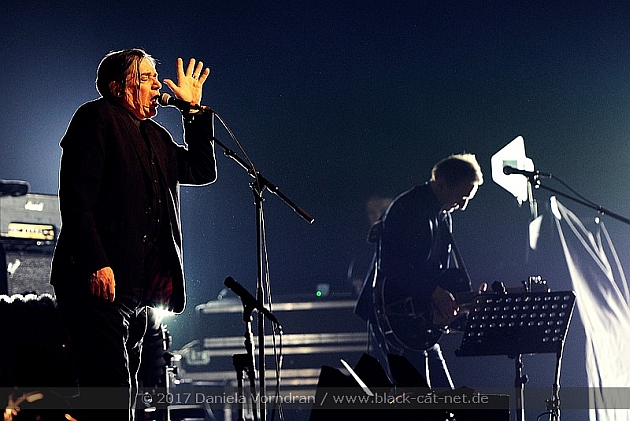 Music & Performance

EINSTÜRZENDE NEUBAUTEN started with no support act at all, which probably would have been a little odd anyway in such a non-Rock surrounding, and simply entered the stage silently to launch the show with 'The Garden'. Singer and mastermind Blixa Bargeld was of course in the centre, on his right hand Alexander Hacke on the bass guitar, on his left guitarist Jochen Arbeit, in the back percussionist N.U. Unruh and his weird "building centre products turn into music instruments" equipment and drummer Rudolf Moser. Inconspicuously in the rear left was Felix Gebhard, who replaces long-time member Ash Wednesday on the keyboards for the current gigs. The band seemed very focussed, stern and grave and apart from a short hello neither Blixa Bargeld nor his fellow band members addressed the crowd in any way, even though the audience welcomed the classic 'Haus der Lüge' with loud screams. This song is one of the few EINSTÜRZENDE NEUBAUTEN tracks which you might describe as some sort of hit. At least it was a major Indie hit after its release in 1989 and a standard at most alternative clubs in Europe. Without regard to fan faves and underground hits, EINSTÜRZENDE NEUBAUTEN were never a hit factory, so it is of course pure tongue-in-cheek irony that they call their current programme, and a respective collection to be released in February, 'Greatest Hits'.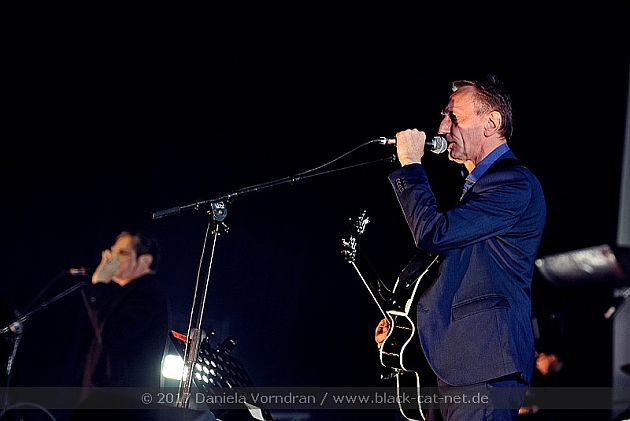 So the bulk of the set was anything but hits, never mind chart hits. There simply are no hits! But instead there's an intense, mind-stimulating and mesmerising two-and-a-half hour performance which is a rollercoaster of moods and atmospheres, and more like a theatre play than your standard Rock show. Of course! It's NEUBAUTEN, after all. And the show is all about lyrics and music, NEUBAUTEN forgo any fancy video screenings or other high-tech stage frippery. EINSTÜRZENDE NEUBAUTEN are somewhat old-fashioned and analogue, they have their infamous self-made, customized, garbage-becomes-instruments which is not only tonally extraordinaire but also visually splendorous when in action. These items are of course N.U. Unruh's area of expertise, although all band members joined at one point or another in fabricating "natural" sounds with this weird sonic equipment. There were various metal sheets and pipes, PVC tubes , large barrels, masses of wire coils, empty plastic containers, midi triggers, air compressors, a guitar being played with a vinyl record, a spinning jet turbine treated with metal sticks, a crackling first-aid sheet and last but not least metal pieces falling slowly out of some sort of a dredger bucket.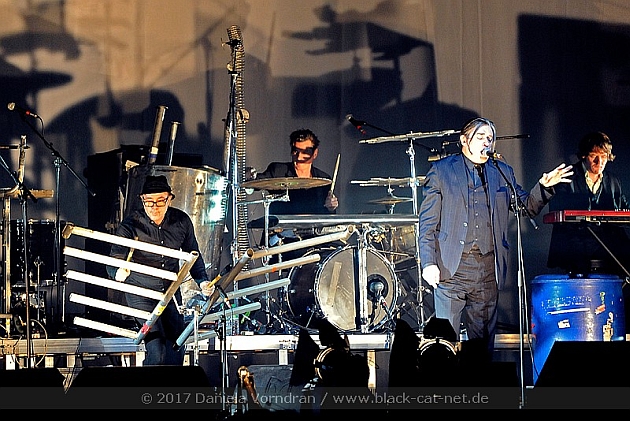 It may look like the ingredients for absolute noise and pandemonium on paper but NEUBAUTEN left the days of pure cacophony behind to give way for a more restrained, more subtle and more delicate approach. It's really ironic that one of the noisiest bands ever evolved to dandy-ish connoisseurs of hushed and silent moment. It's all about the little things now and not just earth-shattering drills. 'Silence Is Sexy', as one of the song titles suggests, and in fact this very song was one of the highlights of the night. It was fascinating to see almost entire crowd being silent and concentrated at the moments, e.g. when the band completely stopped for 30 seconds of no sound at all, only to pick the music up again after Blixa Bargeld's cigarette exhalation as cue for continuing the song. Yes, he was allowed to smoke on stage at this strictly non-smoking venue, and, well, *almost* the entire crowd as two or three idiots decided to ruin the experience for everyone by shouting song requests during those breaks...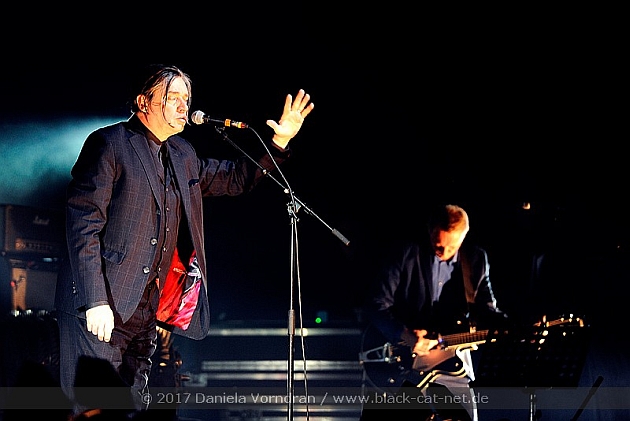 But that was just the little drop of bitterness in an otherwise perfect night. And while Blixa Bargeld began the performance distanced and cold he came out of his shell after a few songs. At one point he stopped a song because the PVC tubes used for percussion didn't sound right, and he explained to the audience that standard PVC tubes from hardware store have the musical note E and that they would need something else right now so that the roadies had to rebuild the tubes. From that point on hew was happy to share jokes and anecdotes between songs or to pick on the hecklers who insisted on screaming song requests throughout the show. "You must be the guys who got free admission because of your 1991 tickets, and probably you didn't see us live since, did you?" Well, no-one should wait more than 25 years to see EINSTÜRZENDE NEUBAUTEN live, just grab any chance and go!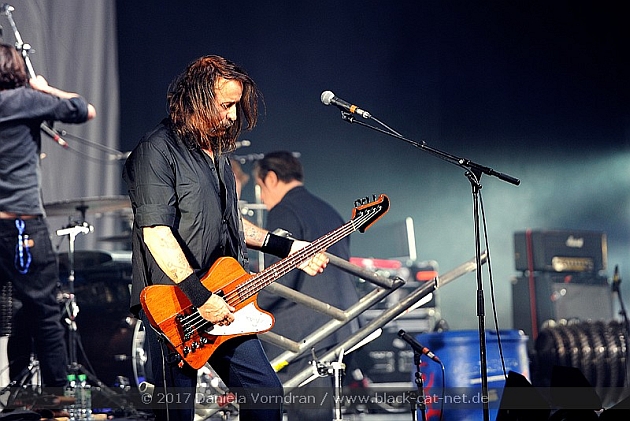 Setlist

01. The Garden
02. Haus der Lüge
03. Let's Do it a Dada
04. Nagorny Karabach
05. Dead Friends
06. Unvollständigkeit
07. Youime & Meyou
08. Die Befindlichkeit des Landes
09. Sonnenbarke
10. Halber Mensch
11. Sabrina
12. Susej
13. Silence is sexy
14. How did I die
---
15. Ein leichtes leises Säuseln
16. Die Interimsliebenden
17. Total Eclipse of the Sun
---
18. Salamandrina
19. Redukt
Rating

Music: 10
Performance: 10
Sound: 10
Light: 8
Total: 9.5 / 10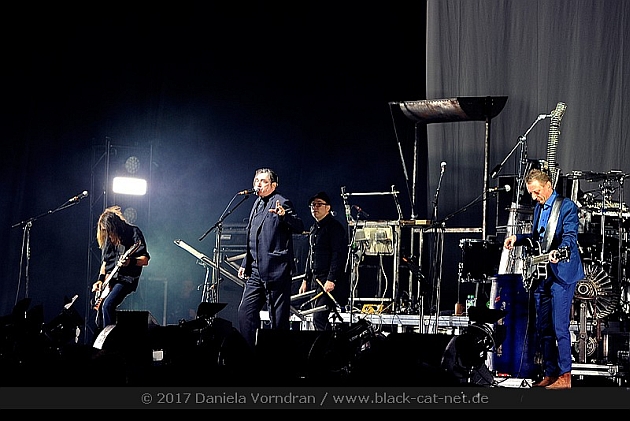 All pictures by Daniela Vorndran (
http://www.vorndranphotography.com
/
http://www.facebook.com/blackcatnet
)