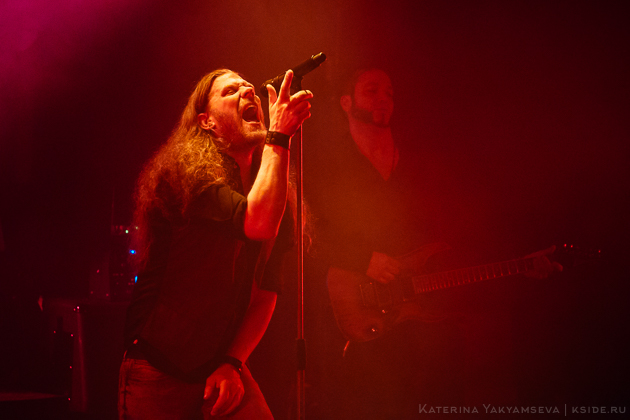 Opera Concert Hall, Saint Petersburg, Russia
19th February 2017
Diary of Dreams

DIARY OF DREAMS, the German darkwave band, played in Saint Petersburg on February, 19. The special atmosphere was felt at the door of the club: the expectation of something triumphant and grandiose enveloped all who came to see the show. Well, it was really an exceptional and beautiful performance.
DIARY OF DREAMS played without support. When the band appeared on stage, the audience´, not hiding delight, greeted the musicians. Adrian came out to the fans, like a real king. His appearance was accompanied by the dim lights in the back of the stage which first allowed to see only the outline, and when the frontman walked to the microphone, the hall froze, looking at him with wide eyes. DIARY OF DREAMS set the tone for the event from the very beginning, from the very first composition: the musicians were bold, forthright and energetic. In the dark velvet light, the band looked mysterious and luxurious, the room was drowned with the synthetic cold moonlight.
The setlist for this evening included the most favourite songs which the audience knew by heart. However, people were listening with bated breath, eagerly soaking up every sound. Gloomy lyrics combined with a lyrical mood of the musicians produced the desired effect. The group told stories about the made mistakes and the broken hearts. DIARY OF DREAMS played smoothly and they were open with the audience. Opera concert club was at the mercy of shadows, sadness and beautiful metaphors. Although familiar to all material the performance had a lot of novelty. Adrian's voice remains familiar, but sounded somewhere tougher or deeper, so the lyrics in the songs could be read as the other truths. Between the band and the hall, there was no barrier: the listeners weren't fans, they were just friends who share the sweetness of victory and the bitterness of failure with each other. Intoxicated by music, related by beauty, the audience and the musicians were like one big family united by a common impulse and feelings.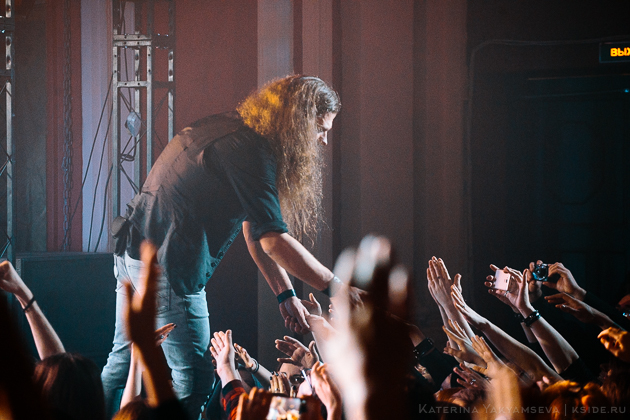 Unfortunately, all good things fly quickly, the concert time is over. Musicians could continue all night, and the audience was ready to listen forever. The show in St. Petersburg was brilliant, the musicians gave everything a hundred percent and before they left the stage, Adrian said: "we love you to death", doubtless, it is the mutual love.
Setlist

01. Malum
02. Chemicals
03. the Wedding
04. Reign of Chaos
05. Sinferno
06. O Brother Sleep
07. King of Nowhere
08. Soul Stripper
09. Giftraum
10. False Affection False Creation
11. She and her darkness
12. Grau im Licht
13. Buttefly: Dance!
14. Haus der Stille
15. Dogs of war
16. Lebenslang
17. the Plague
18. Endless nights
19. Undividable
20. the Curse
21. Amok
22. Kindrom
23. Ikarus
All pictures by Ekaterina Yakyamseva