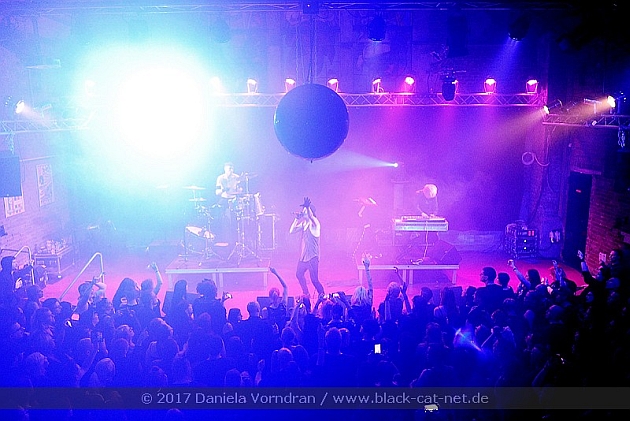 Kulttempel, Oberhausen, Germany
17th April 2017
Aesthetic Perfection, William Control & Empathy Test

It's been quite a while I have seen AESTHETIC PERFECTION live. Thus I couldn't resist to apply for writing about this show. Also I was looking forward to seeing the supporting acts again, WILLIAM CONTROL and EMPATHY TEST, who already convinced during earlier tours with other bands.
Empathy Test


EMPATHY TEST is a London based Synth Pop / Electronic project founded in 2013 by Isaac Howlett and Adam Relf. While the latter is responsible for the production, Isaac performs together with the live musicians Christina on drums and now Sam on keyboard. With the just on the 21st April 2017 released single, the duo has launched three singles/ EPs. The music of this duo has been featured by Vice on HBO, MTV's Catfish, XFM, KCRW, BBC Introducing, Clash, Idolator, Earmilk, PopMatters and many more. EMPATHY TEST is also busily touring in Europe, apart from its own concerts, alongside MESH, AESTHETIC PERFECTION, VNV NATION and appeared on diverse festivals among others the Wave Gotik Treffen in Leipzig. As an independent and unsigned band the launch of the first album 'Safe from harm' is planned on the 23rd June 2017 via PledgeMusic. https://www.empathytest.com / https://www.facebook.com/empathytest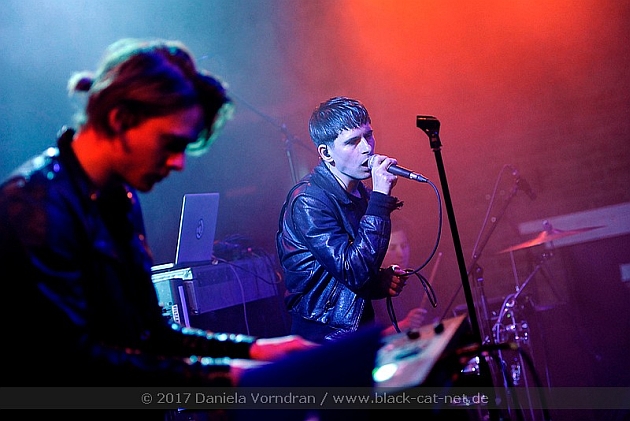 Music & Performance

I have seen already the band last year when it was supporting act of MESH and was already taken by the nice Synth Pop songs. The only thing I was missing for the live appearance was some faster songs as the presented songs were quite mid-tempo. That hasn't changed so much yet and therefor it is more music to listen to and sway a bit but not to dance to. The new keyboarder was introduced by Isaac after a song and commended Sam to have learned nine songs within a week. The B-side of the new single 'Vampire town' and the single itself 'Bare my soul' have been presented but couldn't be bought at the merchandise stand yet.
Rating

Music: 8
Performance: 8
Sound: 9
Light: 7
Total: 8 / 10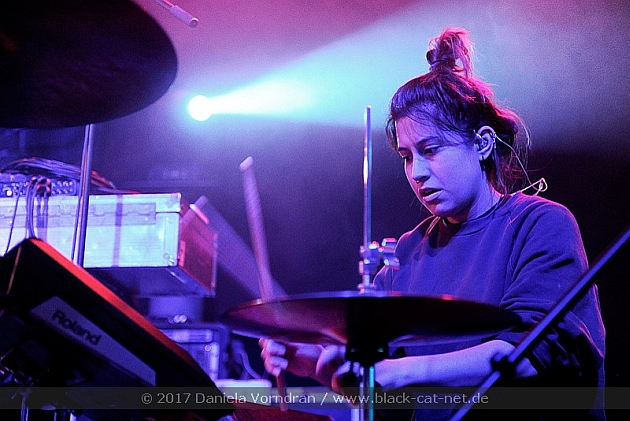 William Control
The Seattle, US, based artist Wil Francis, also known as singer of AIDEN, founded this side project in 2008. WILLIAM CONTROL has released four albums, two acoustic albums, an EP, two live albums/ DVDs, and an album split into four separate EPs ('The Pale', 'The White', 'The Red' and 'The Black'). The music can be described as a mixture of Darkwave / Synth Rock / Synth Pop. Apart from this the band made soundtrack contributions to the horror films 'Saw V', 'Underworld - Rise of the Lycans' and 'Underworld - Awakening'. Wil Francis is also an author and has released a trilogy of novels which sold out right after the launching. http://williamcontrol.com / https://www.facebook.com/williamcontrolofficial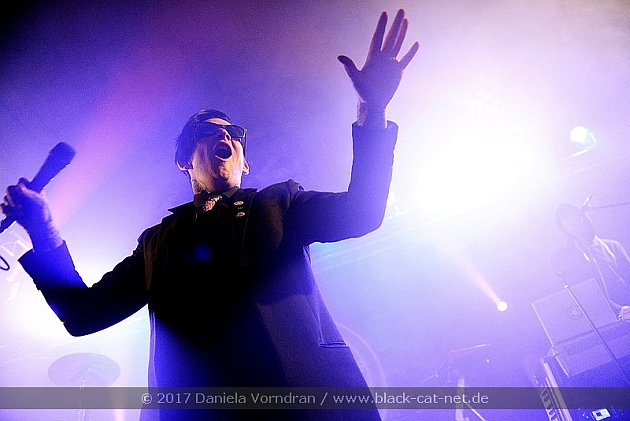 Music & Performance

Three years ago I had seen WILLIAM CONTROL for the first time at the Pluswelt Festival in Krefeld. And though the choice for this band seemed to be a bit strange among all the more EBM / Aggrotech / Industrial bands on that day it quickly emerged that WILLIAM CONTROL quickly won the audience over. After the opening act now the music sped up distinctly. Wil was accompanied by two keyboarder with one also singing the backing vocals and a drummer. Wil, a mixture of a tattooed Rockabilly and elegantly dressed dandy definitely is eye candy. And to top it all he has a great stage presence with an air of being flippant and charming at the same time and also a good vocal quality. Actually you could call him a limelight hog who loves great gestures. He continuously invited the audience to interact. And the people danced and partied with the band. The keyboarder in front of the stage, who sang the backing vocals, rocked as hell, too.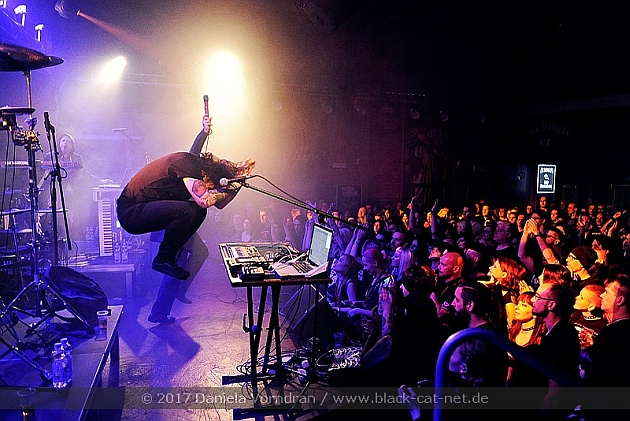 The choice of songs worked really well and this performance was a proper warm up of what was coming next. Before the band left the stage Wil introduced himself, thanked the audience for coming and partying with them on the last day of Easter holiday. Furthermore he expressed his gratitude towards Pluswelt Promotion for bringing the band again to Germany. Hopefully it will not take too long to see this promising band again.
Setlist

01. The monster
02. Confess
03. Beautiful loser
04. Analog flesh in a digital world
05. All I need
06. Knife play
07. Price we pay
08. Razors edge
09. I'm only humans sometimes
Rating

Music: 8
Performance: 9
Sound: 9
Light: 8
Total: 8.5 / 10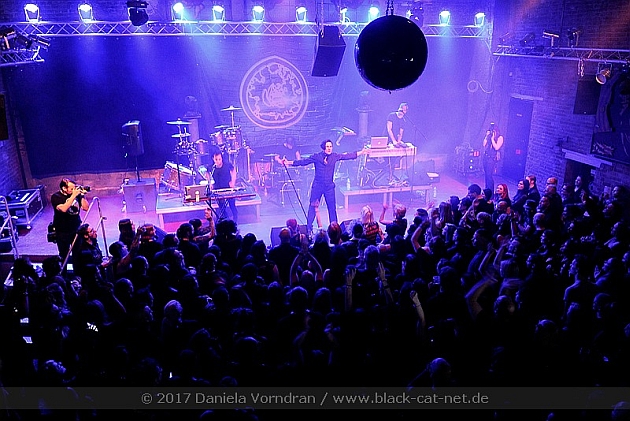 Aesthetic Perfection
Founded in the year 2000 in Hollywood by Daniel Graves, AESTHETIC PERFECTION became an inherent part of the Aggrotech / Alternative / Future Pop genre. Touring alongside COMBICHRIST in the USA and Europe, COVENANT, MESH, as well as performing frequently on diverse festivals, the band made it to have sold out shows and constantly gaining a growing fan base. Furthermore AESTHETIC PERFECTION built up a reputation for making sublime remixes for other bands and musicians. Up to now five albums and ten Eps / singles were released. For live appearances Daniel is supported by Elliot Berlin (for European shows) / David Dutton (for US shows) on keyboard and Tim Van Horn on drums. AESTHETIC PERFECTION is known for fulminant live shows. http://aesthetic-perfection.net / https://www.facebook.com/aestheticperfection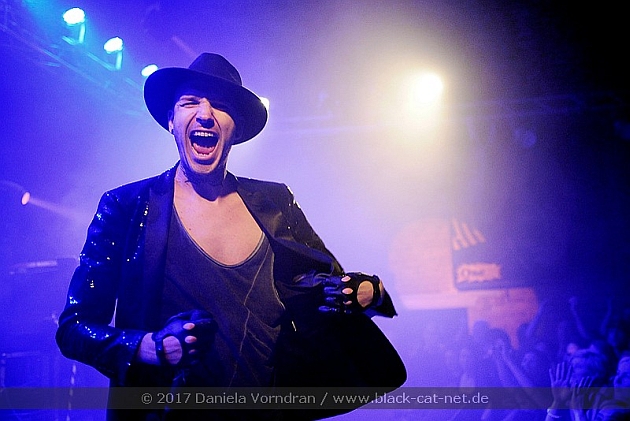 Music & Performance

The show started with an instrumental intro and first Elliot and Tim appeared on stage, took their position before mastermind Daniel entered the stage under a big applause and without losing any time the party started. By the time the band started the venue was nearly sold out. Daniel appeared in a jacket with black sequins and a stylish hat which was a contrast to the not so spectacular trousers and shirt. However he and his band mates were in great spirit and delivered an energetic show so that nobody in the audience stood still. Elliot switched between his two keyboards and climbed up the rack of one of the them while apparently Tim was warmed up after a short while, as he finally got rid of his hoodie. Apart from the already well known older songs also the new single was performed which worked very well live.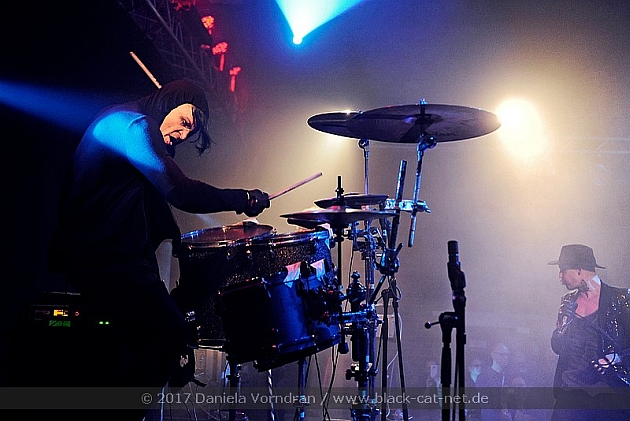 Although Daniel refrained from his great gestures and posing he nevertheless convinced with his vocal abilities that ranges from screaming, growling to clear singing and his charismatic stage presence itself. And once again AESTHETIC PERFECTION raised the roof. After the show the fans, who haven't left the venue directly (as it was the last day of the Easter holidays), had the chance to meet all the musicians at the merchandise stand, chat with them, get autographs and take photos as well.
Rating

Music: 10
Performance: 10
Sound: 9
Light: 8
Total: 8.9 / 10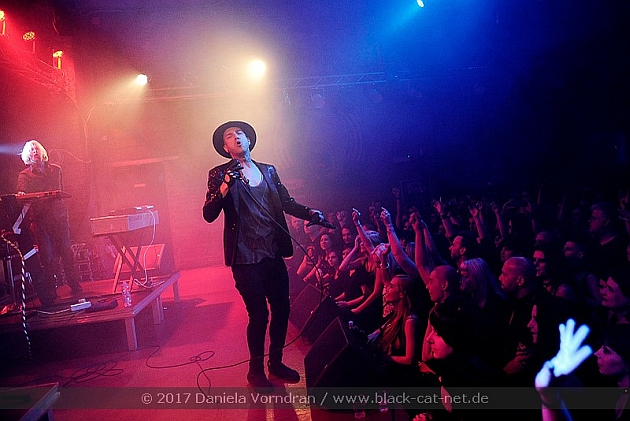 More on
Aesthetic Perfection
,
William Control
&
Empathy Test
All pictures by Daniela Vorndran (
http://www.vorndranphotography.com
/
http://www.facebook.com/blackcatnet
)