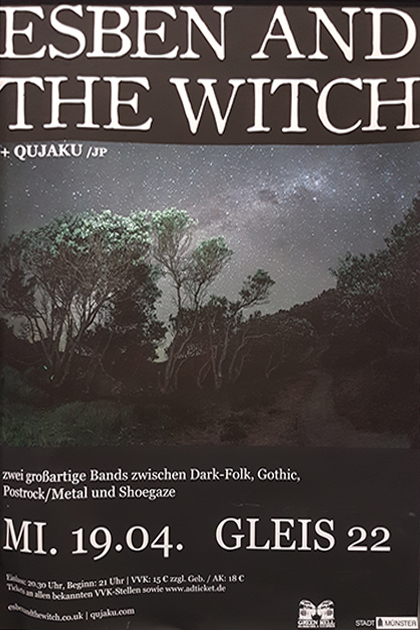 Gleis 22, Münster, Germany
19th April 2017
Esben & the Witch, Qujaku

British group ESBEN & THE WITCH just embarked on a short tour in continental Europe and I was happy that they started their tour in my hometown Münster, Germany. Having established themselves as a highly individual act and an excellent reputation as an outstanding live force, ESBEN AND THE WITCH have honed their songwriting skills to the sharp crystalline edge that now manifests itself clearly on 'Older Terrors'. Beauty, emotion, and musical depth celebrate a glorious wedding on these tracks. You are herewith invited to join this aural feast.
Qujaku

But before ESBEN & THE WITCH entered the stage it was time for the Japanese Noise Rock band QUJAKU to set the tone for the night. Founded in Shizuoka, Japan, in 2015 under the name THE PIQNIC, the quartet changed their name to QUJAKU last year and released a first EP called 'Keiren' on the label So I Buried. And their dark, psychedelic sound proved to be a perfect opening for ESBEN & THE WITCH! http://www.qujaku.com/ http://www.facebook.com/Qujaku-346412282159781/
Music & Performance

The band was already on the shaded stage for a few minutes and people were wondering if it's still a sound check or already part of the performance. It could have been in fact both! The band was motionless and every now and then there was a sound or noise from their instruments. After a while the noises accumulated and swelled to a roaring but slow wall of sound, similar to what bands like SIGUR ROS or THE SWANS have to offer but much rawer, darker and with a somewhat Japanese feel to it. The tracks were particularly long and in fact QUJAKU apparently played only two songs in total - both songs from their 'Keiren' EP in extra-long versions. A pretty demanding experience but which was really worth it!
Setlist

01. Keiren
02. Shinonome
Rating

Music: 7
Performance: 7
Sound: 8
Light: 6
Total: 7 / 10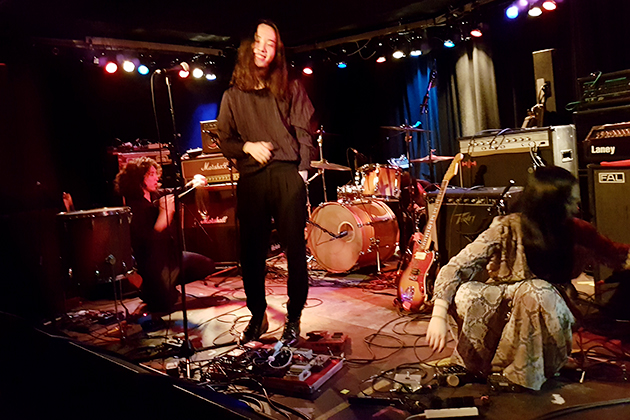 Esben & the Witch

Formed in 2008 in Brighton, the famous seaside resort on the southern coast of England, Rachel Davies (vocals, bass), Thomas Fisher (guitar), and Daniel Copeman (drums, electronics) produce a sound which is significantly less sunny than their home town. Named after a Danish fairy tale, the music of ESBEN & THE WITCH is right in the middle of several worlds without being fully part of one of them. The darkness of their sound has a peculiar Goth touch, the slow and heavy songs with distorted soaring riffs also have Drone and Doom Metal elements and it's not only the over-length of their tracks which makes you think at times of a gloomy, twisted version of Prog Rock. ESBEN & THE WITCH have been compared to a number of classic acts, from THE CURE and SIOUXSIE & THE BANSHEES to PJ HARVEY and MY BLOODY VALENTINE to THE GATHERING and THIS MORTAL COIL. Quite a variety which just confirms that ESBEN & THE WITCH are between all worlds. http://esbenandthewitch.co.uk / https://www.facebook.com/esbenandthewitch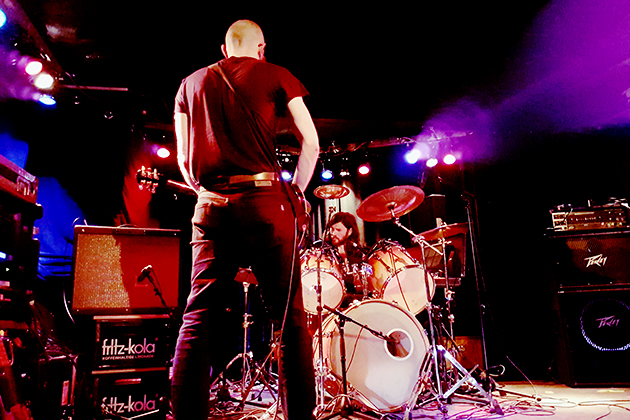 Music & Performance

The British band seems to really like the city of Münster in Germany as this year's gig was already the third time the trio played here. Such efforts would deserve a bigger crowd than the about 100 people who turned up for this show but after all ESBEN & THE WITCH is no "easy" band which would appeal to the mainstream of the scene. This time the band was here to present material from their 2016 album 'Older Terrors' and started the performance with 'Sylvan', also the opener of the said album. Live it almost hits the 15-minute mark, quite bold for a concert opening but the other songs do not fall short compared to it, if you allow me the pun. ESBEN & THE WITCH pack so many ideas in a single song, certain other bands would probably make a 10-song album out of them. There's an immense, monolithic sonic power although ESBEN & THE WITCH allow their songs many subtle, quiet moments and at times near-silence. This just adds to the intensity and it is amazing that the band transports this live absolutely effortlessly. The not so big crowd had the advantage that people were actually attentively and mindfully listening to the music, and in particular Rachel Davies' impressive voice. She has a voice and stage presence which just suck you in!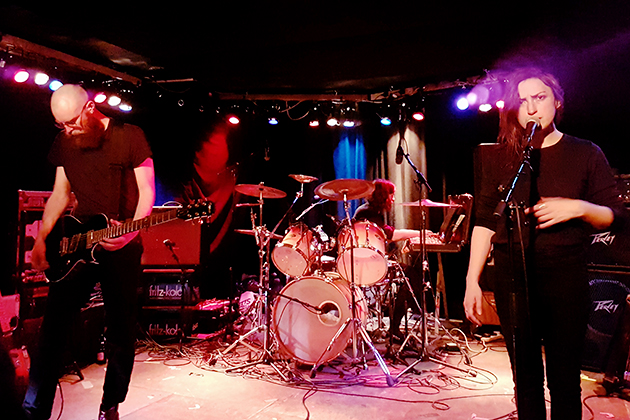 Besides songs from their latest album ESBEN & THE WITCH also featured some older songs, of which 'The Fall of Glorieta Mountain' from their second album was arguably the highlight of the performance. An epic and ambitious dark drama among other epic dark dramas poured into song form! After circa 70 minutes ESBEN & THE WITCH finished their rollercoaster ride of droning noise and silent, fragile moments but returned to play a single-song encore with 'Marching Song', one of their early singles and with five minutes rather a quickie in the ESBEN & THE WITCH cosmos. A perfect choice, and I'm not sure if the audience could have handled another atmospheric slow-motion fest with 10+ minutes. Listening closely to the aural intensity coming from these talented three people might be a little exhausting in the long run, and you either get into it or you don't. I for one was carried away by the intensity of ESBEN & THE WITCH live while some casual concert-goers seemed rather be a little bored. This band is simply not for everyone but if you like cascading, brooding soundscapes with quite some depth you shouldn't miss ESBEN & THE WITCH!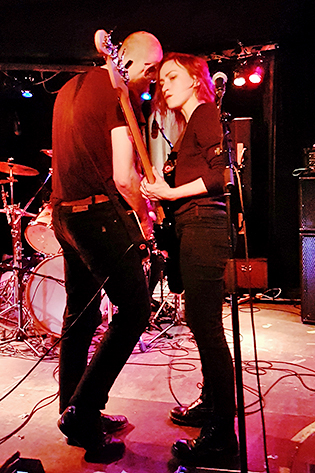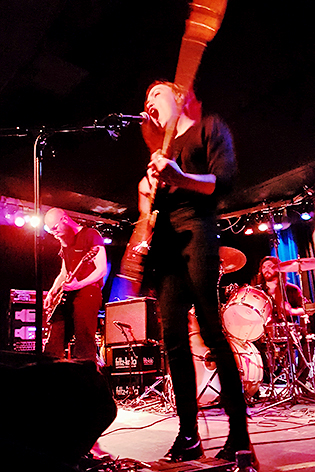 Setlist

01. Sylvan
02. Dig Your Fingers In
03. Making the Heart of a Serpent
04. No Dog
05. Dull Gret
06. The Fall of Glorieta Mountain
07. The Wolf's Sun
08. The Jungle
---
09. Marching Song
Rating

Music: 9
Performance: 9
Sound: 8
Light: 7
Total: 8.3 / 10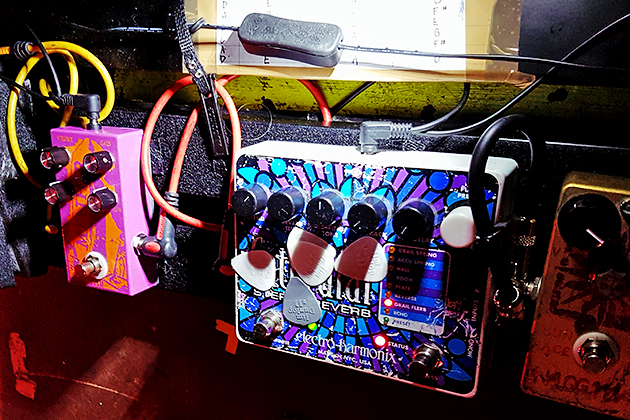 More on
Esben & the Witch
and
Qujaku
Pictures by Meike M.