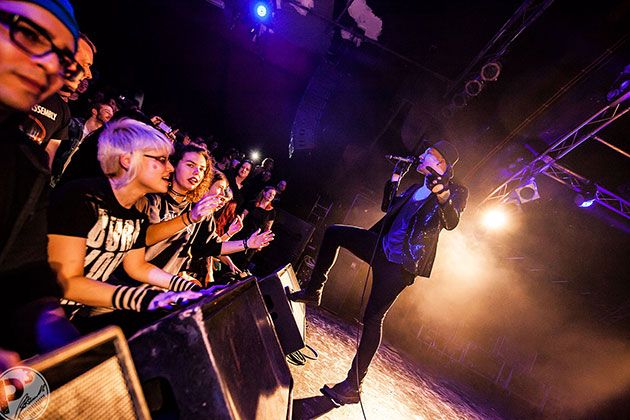 Markthalle, Hamburg, Germany
22nd April 2017
Aesthetic Perfection – "Industrial Pop Tour" – Support: William Control & Nyxx

The last days was typical April – rainy, sunny, windy, cold, rainy, sunny, windy… This weather isn't very comfortable for a good mood, but I was so excited to see the crazy guys from AESTHETIC PERFECTION again, that no shitty weather or my broken car can destroy my happiness.
Nyxx

NYXX from L.A. had the chance to get the party started and began at about 8:30pm. The girl did this very well. In the venue weren´t too many people at the beginning, but NYXX performed like a real rock star. I will never forget the moment when she came on stage. She was smiling and saying "Hi I'm NYXX" and then she started with a glance and her song 'Nightmare'. Oh my goodness! I had never heard something from NYXX before but in this moment I was knowing I´m going to hear and see her as often as I can in the future. She´s cute, very sexy, her style is really hot and her voice goes deep. There were no instruments at the stage - all music was playback, only her voice was live. Yes this is irritating in the first moment, especially when you hear a drum set playing.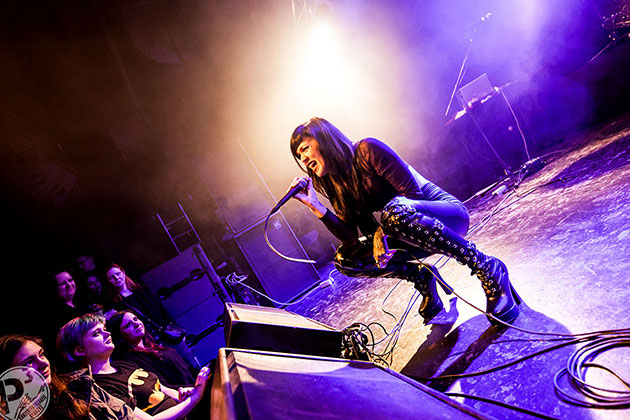 But NYXX has so fantastic charisma and voice that you don´t need nothing more on stage. She was dancing so hot, that mostly of the boys in the crowd were overreacting. She was playing six songs, had one shot and made a performance on very high high-heels. Respect girl - you are cool! https://www.facebook.com/nyxxdady/ / http://www.nyxxnyxxnyxx.com/
Setlist

01.Nightmare
02.Wicked
03.Powerful
04.Blindsided
05.Noose
06.Diabolical
Rating

Music: 10
Performance: 10
Sound: 10
Light: 10
Total: 10 / 10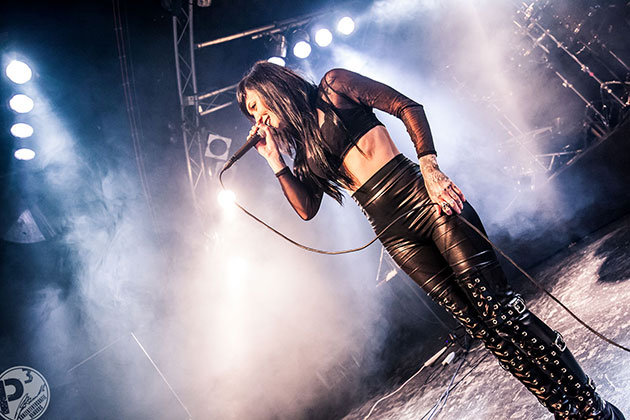 William Control

After a little break and a short line-check the stage went dark and WILLIAM CONTROL came on stage and starting his show with 'The Monster' where the crowd immediately began to scream. That was an outstanding moment because I haven't heard this band ever before. The magic between the band and the audience caught me and I was jumping with the crowd, too. William himself reminds me of Ian Curtis of JOY DIVISION mixed with some Joker attitude. The show was outstanding. His musicians made an awesome job and he is a real "stage hog " with a politely way to speak. He was dancing and screaming and he did crazy acrobatic things with his microphone like swirling it around his neck back and forth. Wil was accompanied by two keyboarders who also sung the backing vocals and a crazy drummer. His set was full of hits like 'When The Love Is Pain' or 'Knife Play'. One of the keyboarders reminded me a little bit of Tim Burtons "Beatlejuice" and I like Tim Burton very much. This guy rocked as hell, too. It was a superb show, only the drummer was a little bit lost in the lightshow.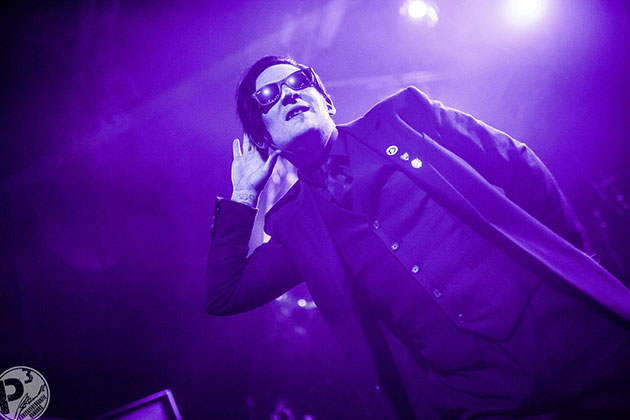 At the end of the show, William said wise words: "please, go to the merch and buy some stuff, support the scene. We all should work together, bands and bands, crowd and bands. We are living in the same scene, we shouldn't fight. Thank you to AESTHETIC PERFECTION for the chance to be here at this fantastic tour. And Germany I love you. The land of fantastic clean backstages with showers, warm food and great people." Thank you Mr. William!!! https://www.facebook.com/williamcontrolofficial/ / http://williamcontrol.com/
Setlist

01. The monster
02. Confess
03. Beautiful loser
04. Analog flesh in a digital world
05. All I need
06. Knife play
07. Price we pay
08. Razors edge
09. I'm only humans sometimes
Rating

Music: 10
Performance: 9
Sound: 10
Light: 8
Total: 9 / 10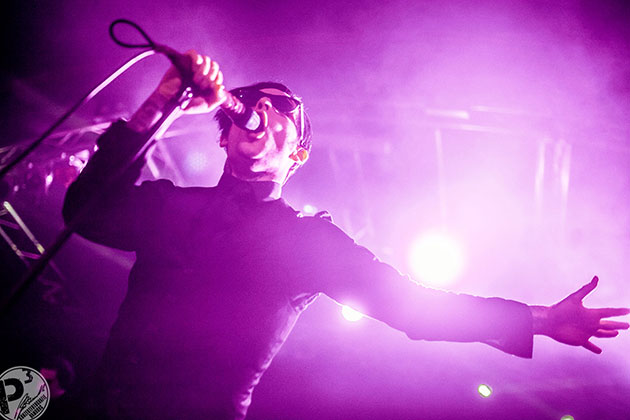 Aesthetic Perfection

The crazy boys from AESTHETIC PERFECTION were back in Hamburg. What a feeling. I was standing in der third row and the air was full of vibrations when the music started playing. At first, Elliot Berlin and Tim van Horn came on stage. Some notes later, Daniel Graves came in a shiny, glittering and shimmering jacket and an hut. He was screaming and singing and a mix between both. It was typical Daniel Graves, it was typical AESTHETIC PERFECTION. Latest with the second song 'Antibody', everybody was in a fantastic mood. Daniel was jumping on the stage, Elliot made a great show on the keys. But here was the same problem that we know from WILLIAM CONTROL - the light. There was not enough light in the background so nobody was able to see the great performance of Tim van Horn or Elliot Berlin very well. The show itself was a great mix of old and new songs. Daniel was dancing and singing his ass of and everybody was screaming. At the last song, Elliot came to the front of the stage, gave his keyboard to the hands of a girl in the first row and played on it. A very special and nice idea.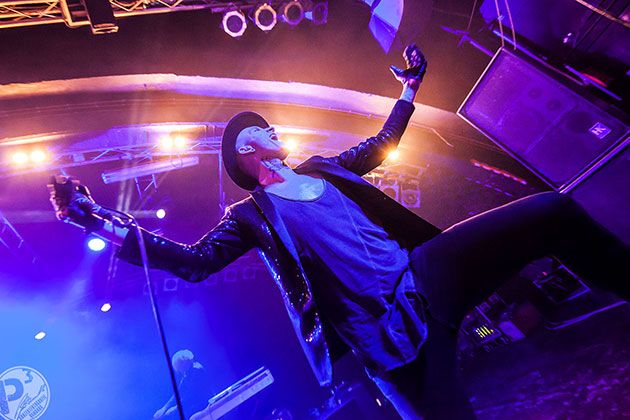 Besides, something was new in the show: Tim stood all the time at the drums. What a great and special performance. Thank you guys for this awesome and special moment, the fantastic evening and the very good chosen line-up. I hope you´ll come back soon. https://www.facebook.com/aestheticperfection// http://aesthetic-perfection.net/
Setlist

01. Spilling blood
02. Antibody
03. Inhuman
04. The Siren
05. The ones
06. Never enough
07. Love like Lies
08. Lax
09. Dark Half
10. The great Depression
11. Spit it out
Rating

Music: 10
Performance: 9
Sound: 10
Light: 9
Total: 9 / 10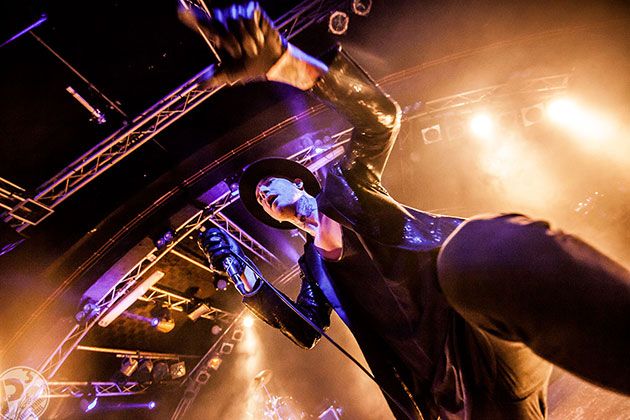 More on
Aesthetic Perfection
&
William Control
All Pictures by Jan Termath (http://www.profound-passion.com/)