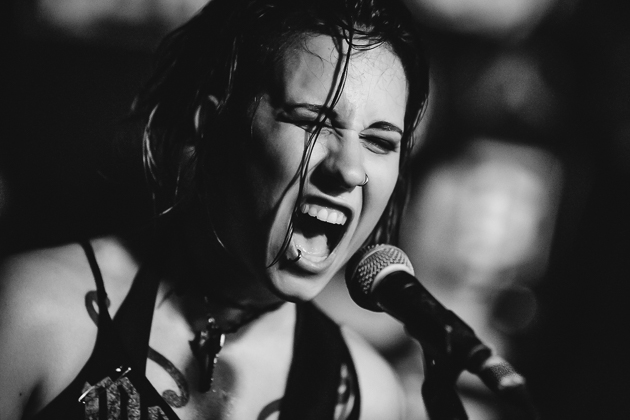 Tommy-Weisbecker-Haus, Berlin, Germany
11th May 2017
Barb Wire Dolls & Zerfall

BARB WIRE DOLLS, formed 2010 in Crete, Greece, is a female-fronted five-piece Rock/ Punk band. After playing over eight hundred shows in 25 countries, BWD can consider themselves as the real working class heroes of alternative music being always in touch with their fan base.
BARB WIRE DOLLS' line-up is as follows: Isis Queen (vocals), Pyn Doll (lead guitar), Remmington Pearce (rhythm guitar), Iriel Blaque (bass) and Krash Doll (drums). In 2015, after seeing the band live in Los Angeles, Lemmy Kilmister himself offered the band a record deal and the band signed with his record label Motörhead Music. "Lemmy told me to never compromise, to give 100% at every show, and to never change for anyone or anything. I'll remember his advice forever. It's the highest honour to have his faith in you." singer Isis Queen said. Just right now the band is on the way to release their second album by Motörhead Music called 'Rub My Mind'. https://www.facebook.com/barbwiredolls / https://www.facebook.com/zerfallostpunk.de
Supporting act for the evening was the Punk band ZERFALL founded 1983 in East Berlin. So being on stage at the Tommy-Weisbecker-Haus was like playing in front of a home crowd. And the crowd knew only too well about the fact that the band is serving Pfeffis (a green peppermint liqueur) during their gig.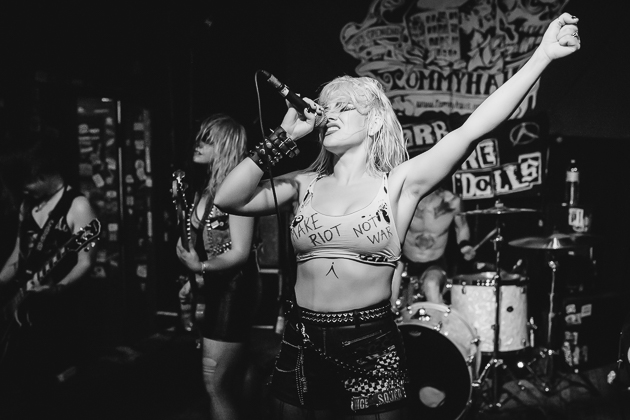 Music & Performance

For the gig in the Tommy-Weisbecker-Haus in Berlin, BWD performed most of the new songs from the announced album. So this was really new stuff for the band but also for the audience. The "Schicksaal" Club is a perfect venue for bands like BWD, dark and dusty, hot and sweaty but packed with friendly people having a more or less political background (Tommy Weisbecker was killed by a policeman in the year 1972). BWD started the gig with 'Heart Attack' from the album 'Desperate', their first album by Motörhead Music. The energy they released on stage with the mixture of wave punk, grunge rock or thrash-metal flourished directly and set the crowd on fire. Front singer Isi Queen is indeed one of today's best female live performers. With 'Call Me', the band started to play new songs from the upcoming album. 'Back In The U.S.S.A.' with clear politically charged statements is from my point of view a self-runner and a candidate for the charts. 'Back In The U.S.S.A.' was consequent followed by the song 'Revolution' ("'cause I want to start a revolution - it's the solution - it's evolution - it's a revolution") and finally finished by 'We Are Champions' claiming loud by the whole crowd.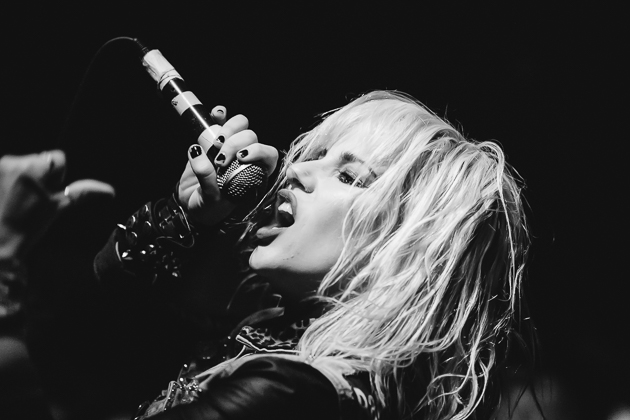 BWD played at least one more song. With 'World On Fire' the maximum of energy and power was definitely reached - an unbelievable night! And the new album: Highly recommended!
Setlist

01. Heart Attack
02. Blind To Your Misery
03. Call Me (new)
04. If I Fall (new)
05. Walking Dead
07. Desert Song (new)
08. I Will Sail
09. Contract (new)
10. Where Mountains Drink The Wine (new)
11. Back In The U.S.S.A (new)
12. Revolution
13. We Are Champions (new)
More on
Barb Wire Dolls
All Pictures by Chris W. Braunschweiger (https://www.facebook.com/ChrisWBraunschweigerPhotographie)