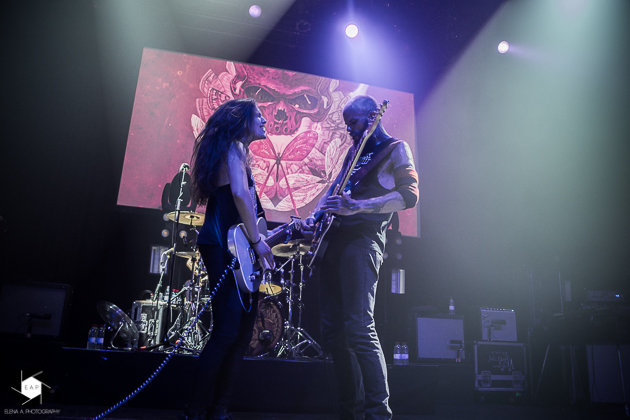 Rockhal, Esch-sur-Alzette, Luxembourg
19th June 2017
Baroness, Impure Wilhelmina

The four-piece band Baroness is currently on festival tour. Despite this tour, they aren't afraid to play in small halls like the Rockhal Club. This is not their first time in Luxembourg. They visited the Grand-Duchy in 2013 and had a successful gig in the den Atelier in Luxembourg City. This time, they brought support from Switzerland: Impure Wilhelmina.
Impure Wilhelmina
IMPURE WILHELMINA
was founded in 1996 in Geneva and has been in business for over 20 years now. The quartet has already released four albums and on the 7th of July they will release their next album 'Radiation'. Despite the warm weather, the band managed to warm up the few people who made it to the Rockhal on Monday evening. It was noticeable that the people didn't know the band and so they looked very hard at them. Despite of the heat and the small, sceptical audience, the band stayed cool and calm and played their set confidently. The stage presence was there, but not as energetic as the main act. This is to forgive, because there was a lot of talent in their songs but you could tell that they still are a local band. Though, I think that IMPURE WILHELMINA won some fans after this evening.
Rating

Music: 7
Performance: 6
Sound: 7
Light: 8
Total: 7 / 10
Baroness
Gradually more people found their way into the Rockhal to see
BARONESS
. At about 9.30 PM BARONESS came on stage. The energy of the band was really present and so it came that some of the few people moved a bit more than before. Although the band had less audience than a few days before at the Graspop Festival in Belgium, they didn't mind and provided a good performance as well as a good concert. The band started with the song 'Kerosene' from their current album 'Purple', which is the main focus on this tour. Later, the band also played songs like 'Shock Me' and 'If I Have to Wake Up (Would You Stop The Rain)?' On the whole, it was a cosy evening which was really pleasant despite the warm temperatures. The first band entertained the early arriving people while BARONESS gave the crowd what they really wanted: a good show and good music.
Rating

Music: 9
Performance: 8
Sound: 9
Light: 9
Total: 8.8 / 10
All Pictures by Elena Arens