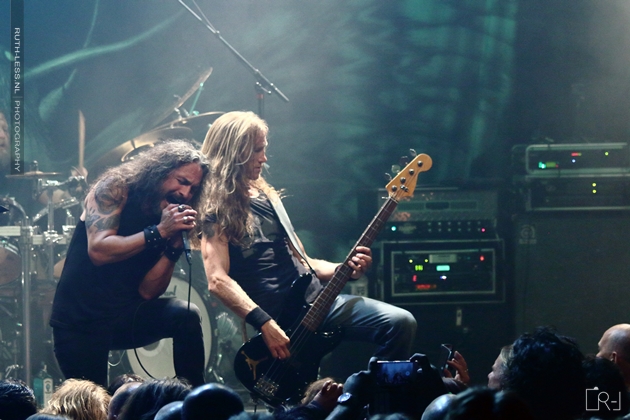 Dynamo, Eindhoven, The Netherlands
8th July 2017
Death Angel, Vicious Rumors, Razend & Disquiet

DEATH ANGEL are back in the Netherlands to bring some California sun and trash the stage. They are a welcome guest at venues and festivals in our country and the rest of Europe. This summer (and fall) they're touring Europe to promote their latest album 'The Evil Divide'. Warming up will be taken care of by no less than three support acts: trash metal colleagues VICIOUS RUMORS from the US are joining DA and from our own little country RAZEND and DISQUIET warm up the stage.
Disquiet

The melodic thrash metal band
DISQUIET
was founded in March 2000. After their first two demos ('Above the Law' in 2000 and 'The Plague' in 2002) numerous shows were played. Throughout the coming years continuous changes in the line-up and other setbacks resulted in years of silence. The band was re-established in 2008. Their three track promo 'Hate Incarnate' (2008) indicated a fresh start and got great reviews. Early 2012 the band launched its first full-length album 'Scars Of Undying Grief'. DISQUIET played at many stages from 2013 onwards, amongst others at one of the biggest metal festivals in the world: Wacken Open Air. Touring continued in 2014 mostly in Europe with
ARCH ENEMY
and
ANNIHILATOR
. In 2015 Frank van Boven joined the band started recording their new album 'The Condemnation' which was released worldwide January 2016 on Soulseller Records (Gorgoroth a.o.). With a UK tour (2016) and support acts for
DESTRUCTION
,
DEATH ANGEL
and
FLOTSAM AND JETSAM
, their success was prolonged. In 2017 the band started writing new material for their upcoming album. DISQUIET is Sean Maia (vocals), Arthur Stam (drums), Fabian Verweij (guitar), Menno Ruijzendaal (guitar) and Frank van Boven (bass). www.disquiet.nl / www.facebook.com/disquietofficial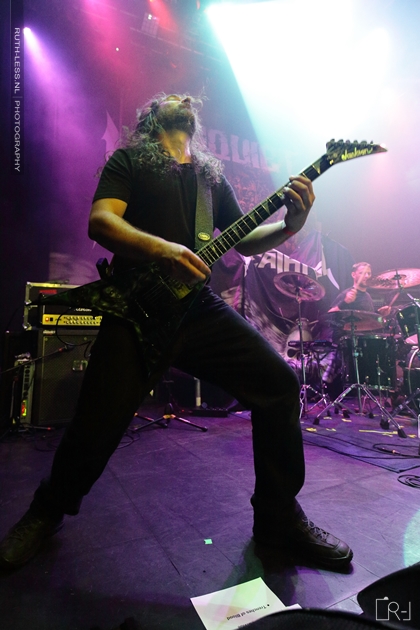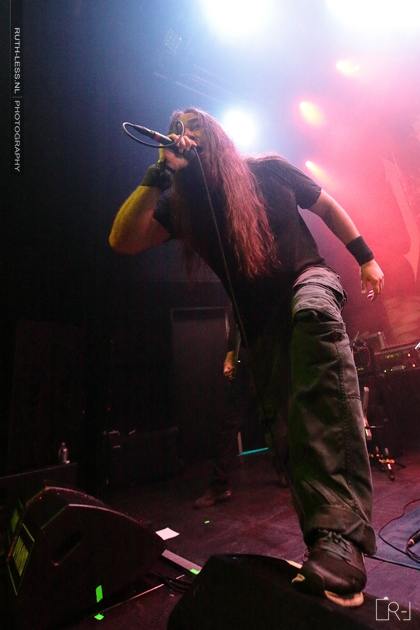 Music & Performance

Despite the early start at 7:30 PM, Dynamo already started to fill up nicely to see DISQUIET opening this loud evening. After a rocky start, the band seems to have found their own sound with the latest album 'The Condemnation' combining melodic trash metal with modern Metalcore influences. Vocalist Sean Maia doesn't need much of a warming up with some brutal vocals, while Fabian and Menno take care of the raging guitars and drummer Arthur keeps the pace. Never a dull moment as the band leave hardly any breaks throughout their short set, mostly work from their latest album with 'Ascending' and 'Condemnation' as well as some older work ('Killing Silence', 'Trenches of blood').
Setlist

01. Ascending
02. Condemnation
03. Killing silence
04. Indignation
05. The great divide
06. Trenches of blood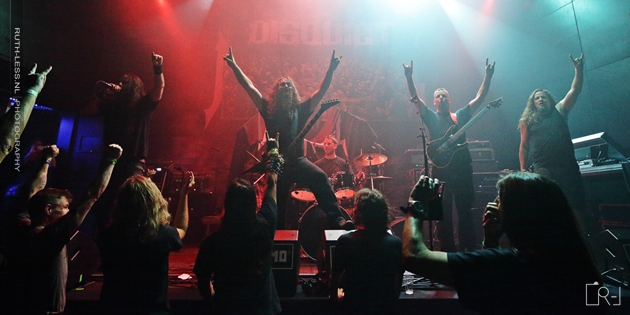 Razend

Dutch trash metal formation
RAZEND
(meaning 'Furious') was created from bands
ACROSTICHON
and
OUTBURST
in 2013. That year they recorded their first five song promo entitled 'White Goat'. Over the years, RAZEND shared the stage with amongst others Max & Iggor
Cavalera
,
TOXIK
,
MPIRE OF EVIL
,
SATAN
and
EVILE
. In 2016 RAZEND hit the studios again, resulting in 'White Goat II'. RAZEND is Corinne van den Brand (vocals), Arvid Kuipers (guitars), Jos van den Brand (guitars / backing vocals), Tijn van der Vloet (bass) and Tim Verheijden (drums). http://www.razendband.nl / www.facebook.com/razendband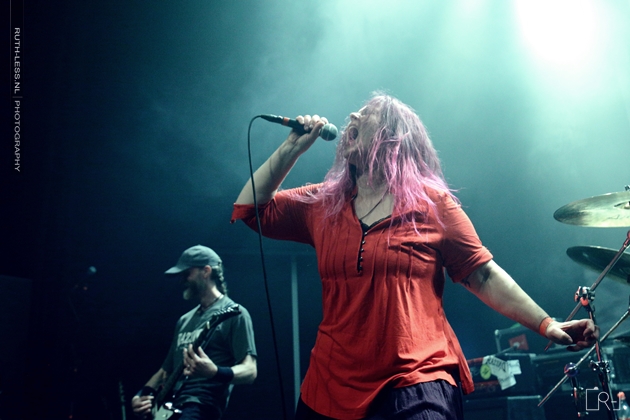 Music & Performance

Whoever was thinking that the second band would be softer on the ears because of a feminine touch was wrong. As vocalist Corinne grabs the mic, the front row almost literally leans back. Corinne and her men speed things up a little more; with high pitched vicious vocals – both clean and grunts - and catchy riffs from guitarists Arvid and Jos). Tonight's short set list is mostly comprised from their latest album with tracks such as 'Stop pressuring me' and 'girl in the mirror'. I will say no more: this band definitely does their name justice: Furious!
Setlist (incomplete)

Time
Stop pressuring me
Girl in the mirror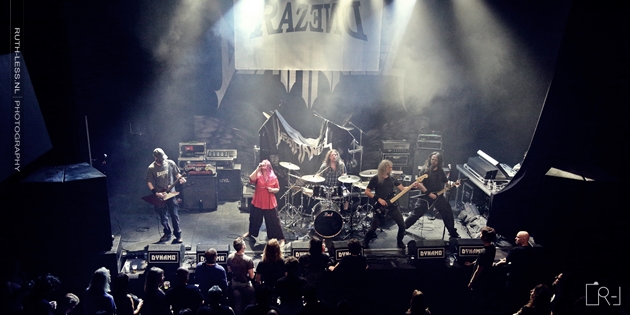 Vicious Rumors

VICIOUS RUMORS
is an American heavy metal band founded in 1979 in the San Francisco Bay Area, California. The band was conceived by founder & guitarist/ vocalist Geoff Thorpe, and the band has been actively recording and touring worldwide since their full-length recording debut in 1985. Their second album 'Digital Dictator' followed in 1988, with one of the best singers in heavy metal history, Carl Albert (
Villain
,
Ruffians
) and guitarist Mark McGee (
Overdrive
,
Starcastle
) along with Geoff Thorpe and Larry Howe. After several successful albums and numerous tours in and outside of the US, vocalist Carl Albert dies in a tragic car accident in 1995. The band was totally renewed in 2002 with different members, amongst others with Will Carrol (later with DEATH ANGEL). In 2005 those musicians (and the classic ones) appear on the 'Crushing the World' DVD that sums up various eras of VICIOUS RUMORS and offers audio-video footage of three unreleased tracks. In 2006 the album 'Warball' sees the light with an all-star line-up due to the return of Larry Howe together with two big names as vocalist James Rivera (
Helstar
) and guitarist Brad Gillis (
Night Ranger
,
Ozzy Osbourne
). But this was by far the end of line-up changes in the history of VICIOUS RUMORS. The band as an impressive list of 31 former members, with one of the last changes being the return of vocalist Brian Allen in 2017. VICIOUS RUMORS 2017 is Geoff Thorpe (guitars, vocals), Larry Howe (drums, vocals), Tilen Hudrap (bass, vocals), Gunnar DüGrey (guitars) and Brian Allen (lead vocals). http://www.viciousrumors.com / www.facebook.com/ViciousRumorsThisIsMetal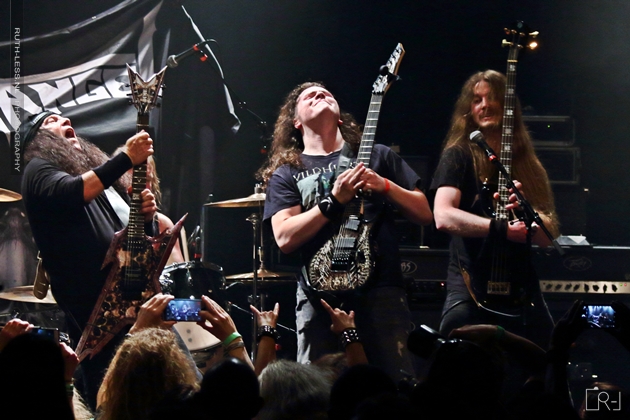 Music & Performance

Did anyone say vocalist Corinne of RAZEND did some high pitched vocals? Corrine, eat your heart out, vocalist Brian Allen must have thought. There's 38 years of heavy metal stage experience in some of these band members and it shows! Heads bang, pits get going and the audience eagerly goes along with some audience shout outs. Despite the recent (may 2017) change of frontman, the band seems a well-oiled machine, throwing those riffs and howling guitars at the audience. With 16 albums and the recent vocalist change (the last album, recorded with former (Dutch) vocalist Nick Holleman was released in 2016 titled 'Concussion Protocol') it will be no surprise that the set list shows great diversity. The 1988 album 'Digital Dictator' gets some special attention with the title song, 'Out of the shadows' and 'Worlds and Machines. Allen rolls his eyes and Thorpe hits those strings like there's no tomorrow, and the audience knew this was a good evening for some serious metal.
Setlist (incomplete)

Out of the shadows
Worlds and machines
Digital dictator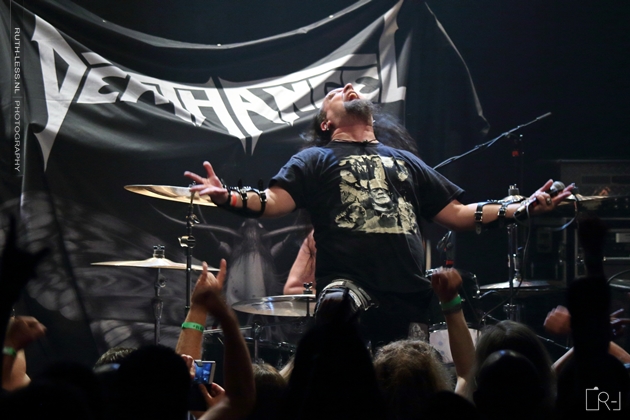 Death Angel

Among the youngest bands ever to storm the metal genre,
DEATH ANGEL
has come to be known as one of the most influential bands to emerge from the thriving Bay Area Thrash Metal Scene in the early 1980s. Their debut album 'The Ultra Violence' was released in 1987 with their drummer being just 14 years old. Death Angel was initially active from 1982 to 1991 and again since 2001. The band released eight studio albums, two demo tapes, one box set and two live albums. DEATH ANGEL released their very successful 7th studio album 'The dream calls for blood' in 2013, soon to be followed by a documentary DVD 'A Trashumentary' and live album 'The bay calls for blood – live in San Francisco' in July 2015. Never uninspired, the band released 'The Evil Divide' in 2016. DEATH ANGEL is Mark Osegueda (vocals), Rob Cavestany (guitar), Ted Aguilar (guitar), Will Carroll (drums) and Damien Sisson (bass). www.deathangel.us / www.facebook.com/deathangel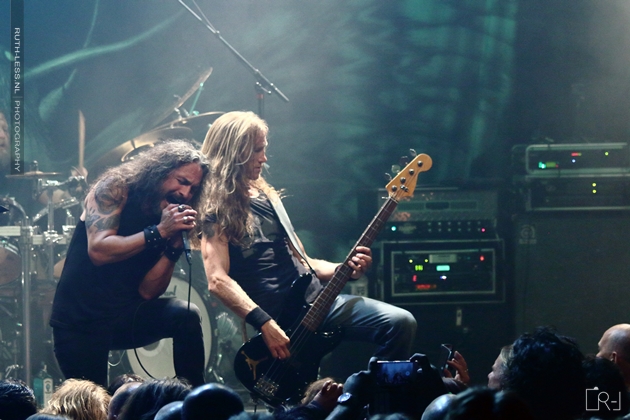 Music & Performance

Save the best for last as they say – despite the successful and pleasant efforts of the other bands this evening – they unfortunately pale in comparison to these trash metal legends. One can twist about musical performances, but there's a vibe or a charisma that simply not many bands in the genre can top. Enough flattering; let's go through the gig: it was loud, fast, furious and energetic, there where mosh pits and there was beer in the air. What more can one possibly want from an evening like this? With a respectable discography of eight albums, choices have to be made. This evening's set list was mostly hung up between the early days (The Ultra Violence - 1987) and last decade (The Dream Calls for Blood – 2013 and The Evil Divide – 2016) with songs such as 'Evil priest', 'Bored', 'Kill as One' and new additions 'Father of Lies', 'Lost' and 'The Moth' from 'The Evil Divide'.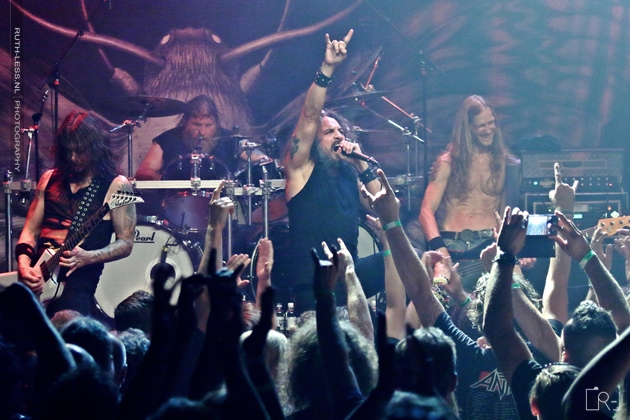 Encouraged by the eager audience, there's no end to DEATH ANGELS energy (and Mark Osequeda's between-song-stories) as they played song after song, and added a few more to the original set list just for fun. The best part: they will be back in our little country several times this year, so check out their tour schedule!
Setlist

01. The ultra-violence / Evil priest
02. Claws in so deep
03. Left for dead
04. Son of the morning
05. Father of lies
06. Caster of shame
07. Thrown to the wolves
08. Seemingly endless time
09. Breakaway
10. Lost
11. Falling off the edge of the world (black Sabbath cover)
12. Bored
13. Kill as one
14. Relentless revolution
15. The moth
All pictures by Ruth Mampuys (www.ruth-less.nl)