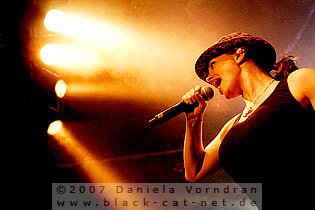 Kulturfabrik, Krefeld, Germany
30th March 2007
Die Happy, Disgroove


On Friday 30th March we went to the Kulturfabrik in Krefeld. DIE HAPPY was playing the only club concert 2007 in NRW with their Support DISGROOVE. This show in Krefeld was the second last of the 2007 tour. 2 Days before in Aschaffenburg (Germany) Marta Jandová broke down during the Song 'Breathing' and got herself some bruises. So we were pretty curious what the girl and the guys got for us. Before the Kulturfabrik opened its doors a long line was standing outside. Inside the venue we recognized that it was quite well filled but even more people could have found the way and should have. So much is gonna be told for now.
Disgroove


DISGROOVE was founded in Basel / Switzerland 2001 and consists of Philippe (vocals, guitar), Tobi (drums) and Franky (bass, since November 2006). They named the band after a Basel Night Club. For the 2nd time after 2005, they were booked as support for DIE HAPPY. And with their 2nd Album 'Three' (released in March 2006) they still follow their way after the debut album 'Down of Myself' from 2004.
http://www.disgroove.com/
/
http://www.myspace.com/disgroove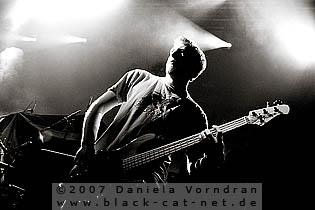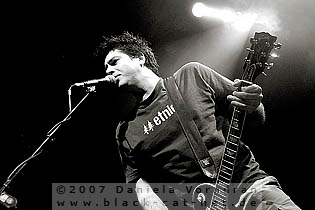 Music

The rough voice of Philippe sometimes remembered of the good old times of PEARL JAM or SOUNDGARDEN. DISGROOVE were presenting their songs emotional, honest, and powerful. A very compact and powerful trio with distinctive songwriting. Their set lasted about 45 minutes and was dynamically spiked with fat riffs. With 'Falling' they played a song that is still sounding in my ears.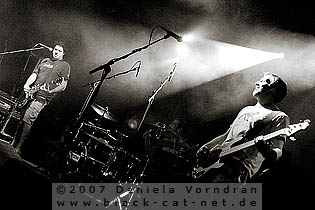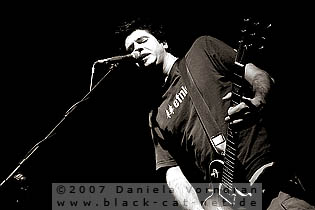 Performance

On stage the three guys had lots of fun. Hard beats and a clear sound showed very fast why DIE HAPPY are great fans of this band. It took three songs until drummer Tobi decided to put off his shirt. Franky looked a little pale after his flue he just went through. But anyway, he rocked! It was simply amazing how he played such a great bass till the end of that show where he was only able to show his tongue. The light show was quite good with lots of bright lights – not very common for a support act.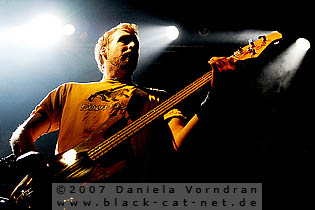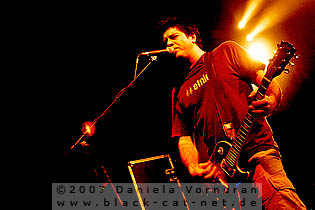 Setlist
01. Mass Confusion
02. Come Down
03. The Only One
04. The Sky Turns Black (extended)
05. Pay For What I Am
06. Your Blood
07. Falling
08. Down On Myself
09. Upside Down
10. Learn To Be Right
Rating

Music: 7
Performance: 6
Sound: 8
Light: 8
Total: 7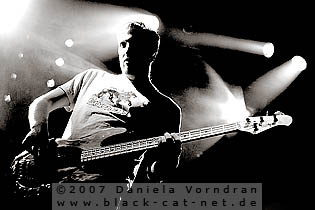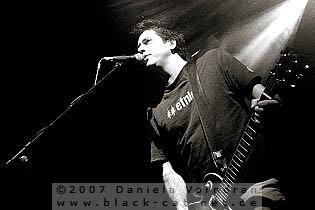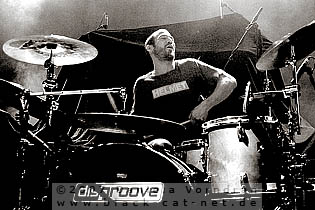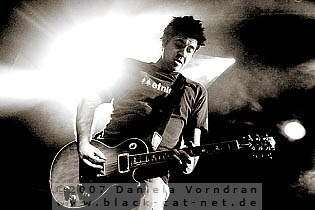 Die Happy


The history of the band is dating back to 1993 when they were founded in Ulm / Germany. Over 14 years they released five albums. Their first album 'Supersonic Speed' was released in 2001. Long before signing a record deal, DIE HAPPY had worked themselves through hundreds of live shows. After all, DIE HAPPY is the only band who has performed at every single festival in this country such as Rock am Ring, Rock im Park, Southside, Rock am See or Hurricane with P!nk in 2002. The band finally reached its height in 2002 when they were nominated for the ECHO award as "Best Alternative Band". With their current Album 'No Nuts No Glory' the band decided to break new ground: No keyboards, no computer and all songs were written by themselves. After a few changes, the band consists now of Marta Jandová (vocals), Thorsten Mewes (guitar), Ralph Rieker (bass) and Jürgen Stiehle (drums).
http://www.diehappy.de/
/
http://www.myspace.com/officialdiehappy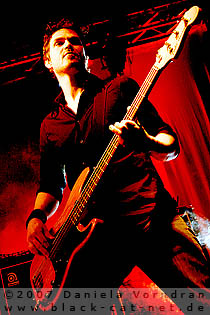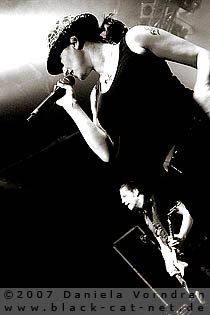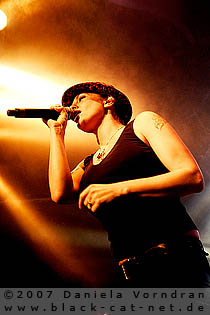 Music

Jürgen, Ralph and Thorsten entered the stage followed by front woman Marta in black trousers and a hat. Soon, every fan knew that she absorbed her accident two days ago very well. With the opener 'Big Big Trouble' followed by 'Addictive' they let the basses and drums moving at the crowd. From the first beat they were with the band. Playing 'Cherry Girl', no animation was needed to let the girls scream. Although a song later 'Love to Hate You', they instigate the crowd to override the gravitation: "Everybody jump!" Krefeld rocked! The first ballad 'Whatever' showed how front woman Marta was able to take control over her voice: in one minute a tornado and a few minutes later she let the sun out without loosing impact.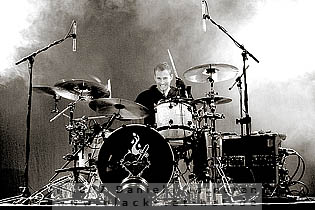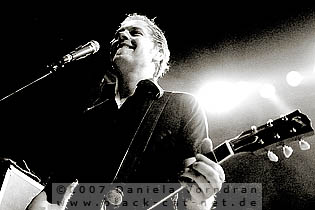 It went on with a medley consisting of 'Sleeping Time', 'Leaving You' and 'Go Fort It'. At the first notes of 'Extraordinary Me', the Kulturfabrik stood upside down. Before playing 'Breathing', Marta asked the people for a moment of silence and an emotional bond between them and the band existed. Back with 'Blood Cell Traffic Jam' and 'Big Boy' they rocked the hall again. 'The Ordinary Song' followed when Marta called to sing along – divided into two parts – one part for guitarist Thorsten and another for bassist Ralph. An unexpected extra large version moved into a big party. No signs of being tired but everybody knew by hearing the classic song 'Supersonic Speed' that the night was coming to an end. The band left the stage but came back for 'Slow Day' and than it was time for 'Goodbye' - a propriate finish for the show.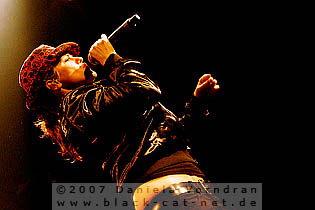 Performance

About 22 o'clock, the lights went down and the intro made everybody know that the party is started. At this night once again everybody saw why DIE HAPPY needs to play on stage and not only in the studio. During every moment they involved their audience into the show, by simply knowing what to do and when. Implacable drummer Jürgen pushed his folks and infected by Marta, also Ralph and Thorsten explored every part of the stage. As much as possible they searched for a personal contact to their audience. So after playing two hours, DIE HAPPY delivered a great show which deserved even more people. The sound was great and the light show spoke for it selves with its power and elegance. It was a great club concert and the combination with DISGROOVE was amazing. I cannot remember the time when I saw such good performance. It's long time ago. Now, the fans can look forward to the festivals and a lot of other bands should be prepared! Thanks for the show DIE HAPPY!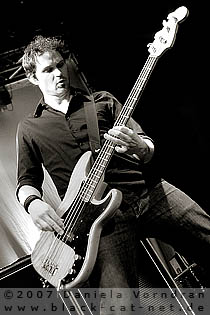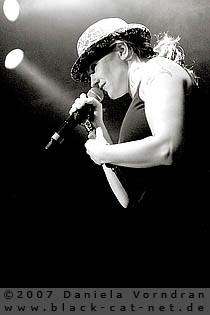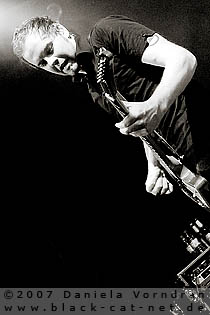 Setlist

01. Big Big Trouble
02. Addictive
03. Not That Kind Of Girl
04. Cherry Girl
05. Love To Hate You
06. None Of Your Business
07. Whatever
08. Sleeping Time / Leaving You / Go For It
09. Like A Flower
10. Extraordinary Me
11. Hello
12. Breathing
13. Blood Cell Traffic Jam
14. Big Boy
15. I Am
16. The Ordinary Song
17. Wanna Be Your Girl
18. Supersonic Speed
19. Rock´n Roll To Everyone (Cover Version 'Kiss')
--------------------------------------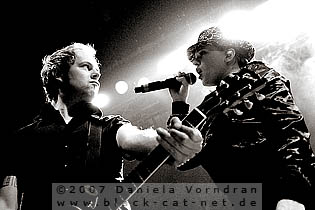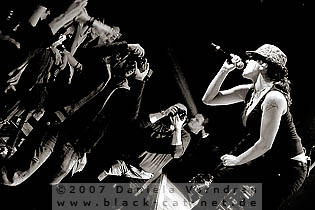 20. Slow Day
21. Goodbye
Rating

Music: 8
Performance: 9
Sound: 8
Light: 9
Total: 8.5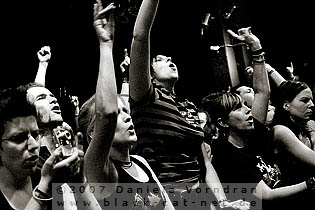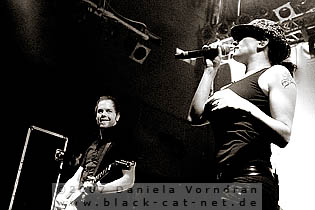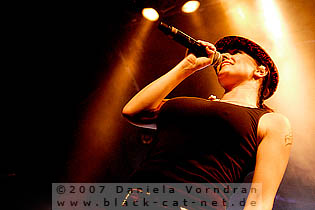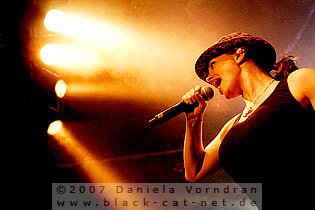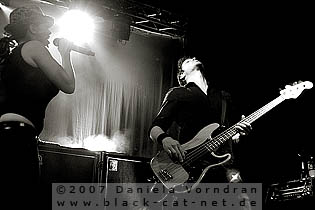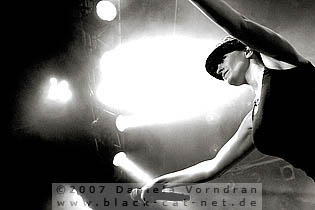 All pictures by Daniela Vorndran (
http://www.black-cat-net.de/
/
http://www.vorndranphotography.com/
)
{jos_sb_discuss:17}