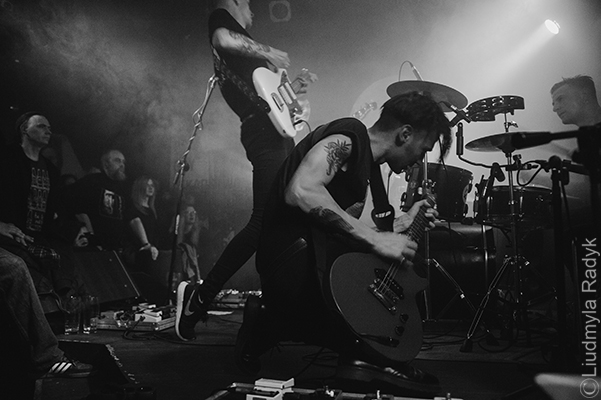 "Piękny Pies" club, Cracow, Poland
20th October 2017
Bleib Modern & Dehet Sinn

The music team from Cracow, "Unknown Pleasures", had pleased fans of rather "niche" specific music with a small event – a concert of Berlin and Munich based BLEIB MODERN with support of young musicians from Warsaw, DEHET SINN. Late October's evening was rainy and gloomy, right time for such kind of music, meeting friends and drinking some wine. The event which is organized by the guys from the "Unknown Pleasures" team - musicians from the band UNDERTHESKIN and DEATHCAMP PROJECT - is the reason for Cracow's Gothic people to "come out, come out wherever they are", to meet good old friends, listen to some "delicious" music and to dance afterwards to classy dark hits.
Dehet Sinn

This is a fresh band from Warsaw. Three guys with a girl on drums make some truly Polish Post-Punk sound with interspersing of Cold Wave in Polish language. They have one EP recorded so far. DEHET SINN is Kamil (vocals, guitar), Maciek (guitar), Czarny (bass) and Olga (drums). https://dehetsinn.bandcamp.com
Music & Performance

The newcomers had a real challenge to play before experienced Germans. Although, it was their first experience in Cracow, the bandmates did a great job on stage. I wouldn't say that they have made some innovation in their music, rather they are floating between Post-Punk sounds and trying to get closet to some Post Rock and melancholy, yet the sound is quite aggressive. Warsowians don't need to invent the wheel anew - they already have a strong vehicle to move on through music genre. It was obvious that the guys were a little bit nervous, but they managed to cope with it and perform energetically and densely. I was charmed by drummer Olga who was doing hell of a job!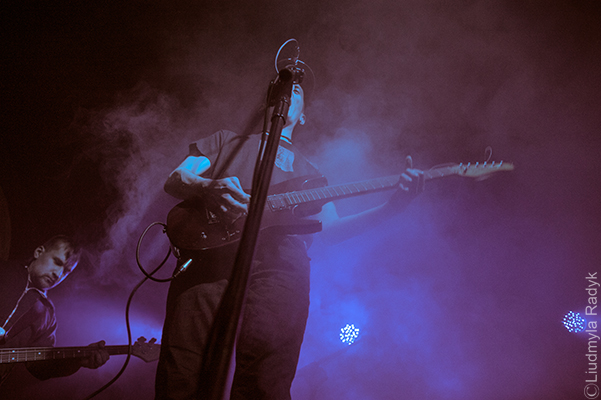 During the performance, the audience reacted very responsively. Listening to newcomers is always a wonder - impressions are always fresh and you never know what is going to happen on stage.
Setlist
01. Bezsennoś
02. Zakażoność
03. Za bardzo, za mało (Czerń i Biel)
04. Demon
05. Kolory
06. Miraż
07. Samotnie
08. Slołczyk
Rating

Music: 8
Performance: 8
Sound: 7
Light: 4
Total: 7 / 10
Bleib Modern

The band was formed in 2014 by Philipp Läufer. The Berlin based band, in the meanwhile, became a quintet with three albums on account: 'All Is Fair in Love and War' (2015), 'Vale of Tears' (2016) and 'Antagonism' (2017). Läufer and Co are balancing on the edge of total sadness and thoughtful Shoegaze, making things and attractive canvas out of Post-Punk and Cold Wave threads. They have played on biger festivals such as Wave Gothic Treffen and Nocturnal Culture Night already. BLEIB MODERN is Philipp Läufer (vocals, guitar), Vinz Eberlein (guitar), Peter Zeitner (guitar), Leo Beck (bass) and Thomas Schamann (drums). http://bleibmodern.bandcamp.com
Music & Performance

The atmosphere in the small club was already very hot after the support band and 20 minutes later,
BLEIB MODERN
had entered the stage. As fans got closer to the edge of the stage, viscous sounds of 'Dust' drew people into the foggy unknown. Reality melted down and the world stop to exist. The guys took fans with themselves for a dark ride.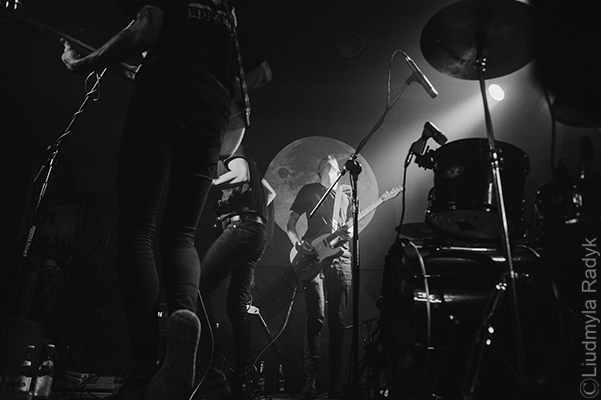 For an advanced music fan there were some familiar melodies and voice intonations - the bow of honour to JOY DEVISION and THE CURE. I felt very nostalgic, especially during the dynamic 'Nothing'. While playing 'Mirror', Philipp added acoustic guitar and we all made a journey in time. The musicians didn't talk that much between songs, no titles mentioned, no explanations, just short thanking, only music between audience and the band. All songs were complemented with longer introductions and codas, lots of solos. 'Wintermood' has put the entire club into the condition of trance and the music journey continued. Out of blue, the very angry and dynamic 'Leave Me' started without pause and the crowd started to dance. Afterwards, the vocalist said that there would be one more song and that's all. Last song was a truly ritual magic – 'Blue avowal' from the 2017 album 'Antagonist'. Long and loud applause and screams came after the band has left the stage... but a few minutes later one of organizers appeared on stage and made an announcement that BLEIB MODERN won't play an encore and that's the end. Later everybody joined the after-party and danced to the Dark Wave and some old electronic hits.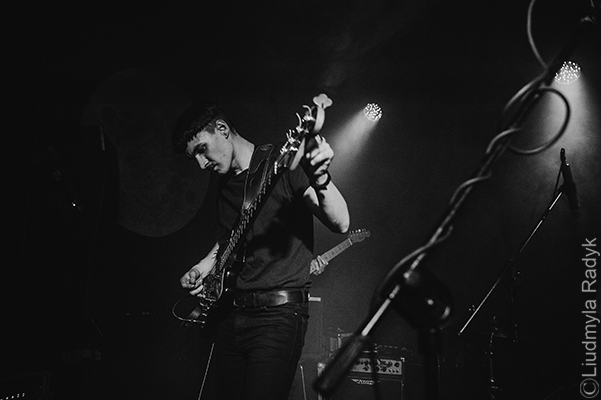 Setlist
01. Dust
02. Hate abuses me
03. Self loathing
04. Nothing
05. Mirror
06. Wintermood
07. Thinking of you
08. Leave me
09. Blue avowal
Rating

Music: 10
Performance: 10
Sound: 9
Light: 4
Total: 8 / 10
All pictures by Liudmyla Radyk