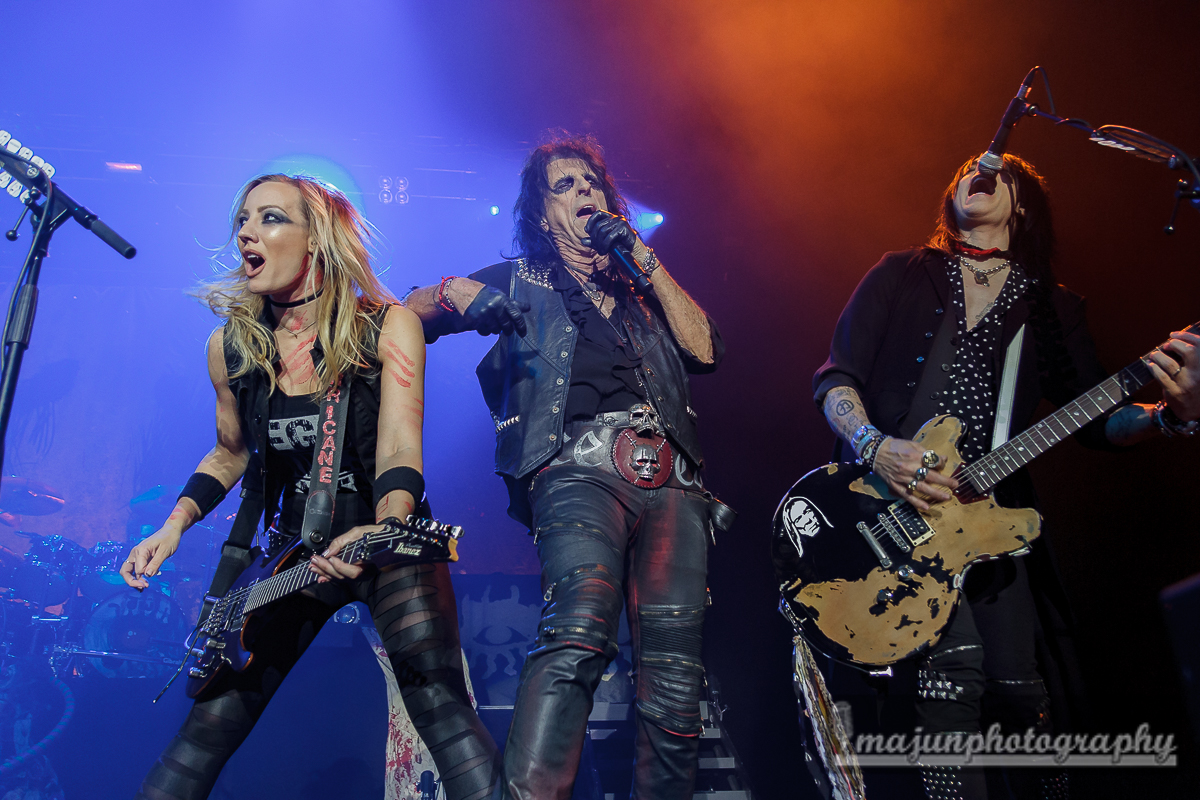 Königspalast, Krefeld, Germany
18th November 2017
Alice Cooper

Last Saturday evening, the Königspalast ("Royal Palace") in Krefeld turned into
ALICE COOPER
's personnel palace of nightmares and madness. The infield of the Königspalast was almost full, only on the stands were still some gaps left. COOPER himself had announced the evening as an "evening full of nightmares and insanity".
At 21:15, the curtain fell and the grand master of Horror Rock entered the stage and with 'Brutal Planet' and 'No More Mr. Nice Guy' he presented two highlights right at the start. During 'Billion Dollar Babies', the master spread bank notes in the audience which were, unfortunately, only props and no real money. ALICE COPPER's band consists of great musicians who know their craft very well. Guitarist Nita Strauss was not only an acoustic highlight, but also an eye catcher for the males in the audience. Her guitar solo was simply amazing; it was dedicated to the just passed away AC/DC member Malcolm Young and was welcomed in the audience with loud "Malcolm, Malcolm" chants. The next highlight followed short after: 'Poison' and a really good drum solo.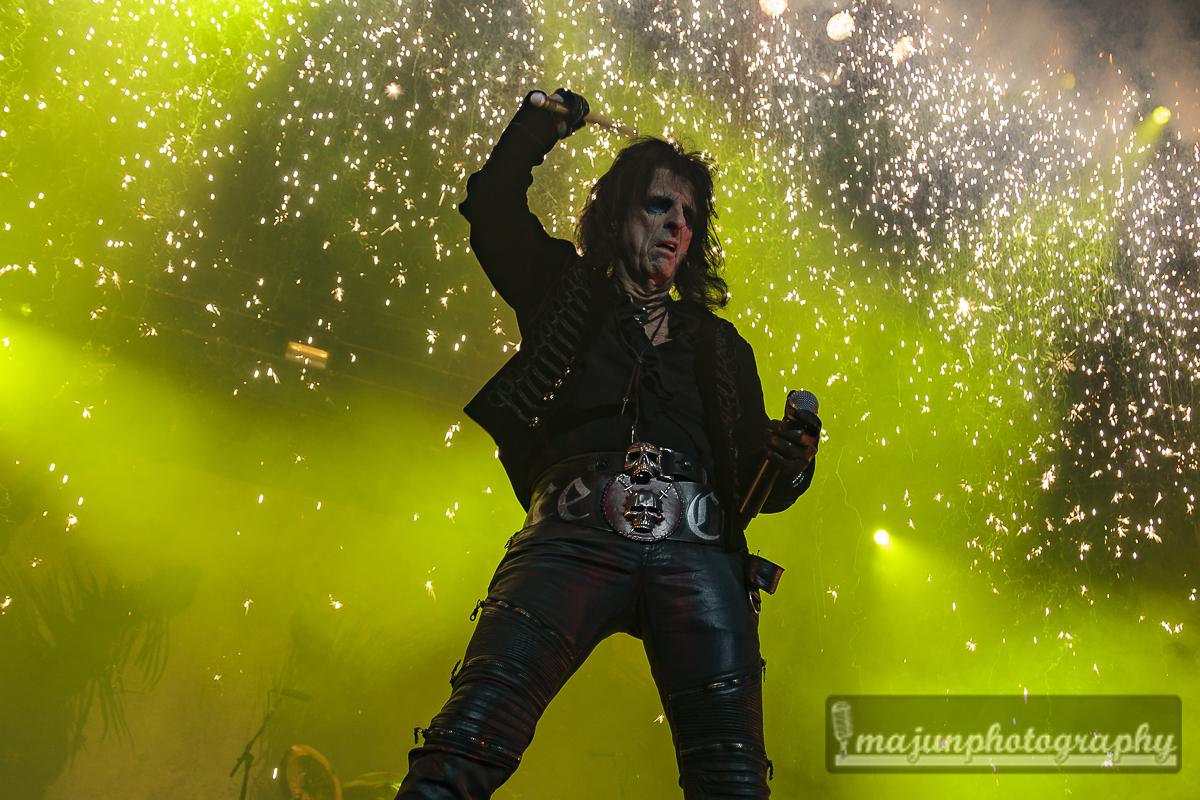 The whole evening was a concatenation of musical and visual highlights. Along to 'Feed My Frankenstein', i.e. a huge Frankenstein figure was staggering across the stage and during 'Killer', Mr. Cooper was beheaded. 'I'm Eighteen' finally was leading towards the end of the show. But of course, the master was not allowed to leave the hall without 'School's Out' which was played as encore. For is only concert in North-Rhine Westphalia, Cooper had a special highlight in stock: no one else than DORO PESCH was singing his biggest hit with him, mixed with parts of 'Another Brick in the Wall' by PINK FLOYD. Overall, there was nothing to moan about. The shows of ALICE COOPER are and will be an experience. You will get more Cooper in summer at Sparkassenpark Mönchengladbach, when Alice comes back with his Hollywood Vampires for an amazing open air show.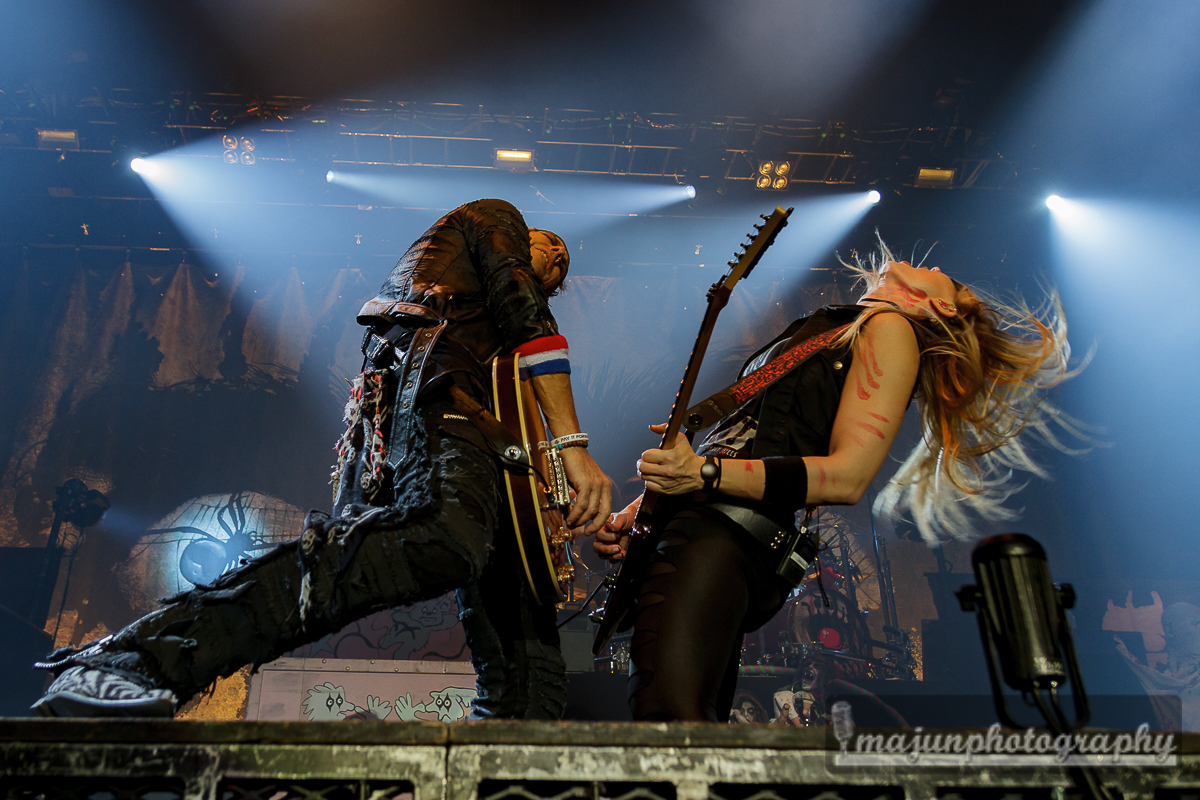 Setlist

00. Spend the Night intro
01. Brutal Planet
02. No More Mr. Nice Guy
03. Under My Wheels
04. Department of Youth
05. Pain
06. Billion Dollar Babies
07. The World Needs Guts
08. Woman of Mass Distraction
09. Guitar Solo (Nita Strauss)
10. Poison
11. Halo of Flies (incl. Drum Solo)
12. Feed My Frankenstein
13. Cold Ethyl
14. Only Women Bleed
15. Paranoiac Personality
16. Ballad of Dwight Fry (shortened)
17. Killer (partial, Alice gets beheaded)
18. I Love the Dead (partial)
19. I'm Eighteen
---
20. School's Out (with 'Another Brick in the Wall Part 2' snippet, with special guest Doro Pesch)
All pictures by Marc Junge