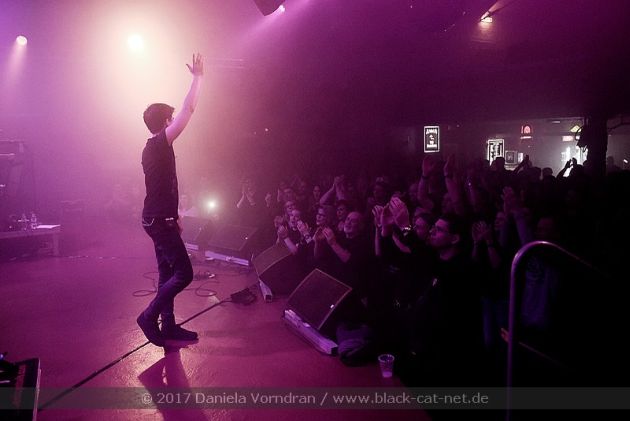 Kulttempel, Oberhausen, Germany
26th December 2017
Empathy Test & Adam is a Girl

After several journeys as support of bands like MESH, the young British Electro Pop band EMPATHY TEST started their first headlining tour through Germany. The opening show in Oberhausen made very clear: It won't be their last tour as headliners!
Adam is a Girl
But first
ADAM IS A GIRL
entered the stage. The Berlin-based duo Anja Adam and Alex Pierschel debuted with the album 'Of Daydreams and Nightmares' in 2013 and released several singles since then. Their sound is a curious hybrid of DEPECHE MODE and BJÖRK, the sort of modern Electro Pop fans of RÖYKSOPP and THE KNIFE will love. And fans of EMPATHY TEST, too, as it turned out. Completed by a guitarist, ADAM IS A GIRL had no problem in Oberhausen to draw the audience on their side in no time. http://www.adamisagirl.com / https://www.facebook.com/adamisagirl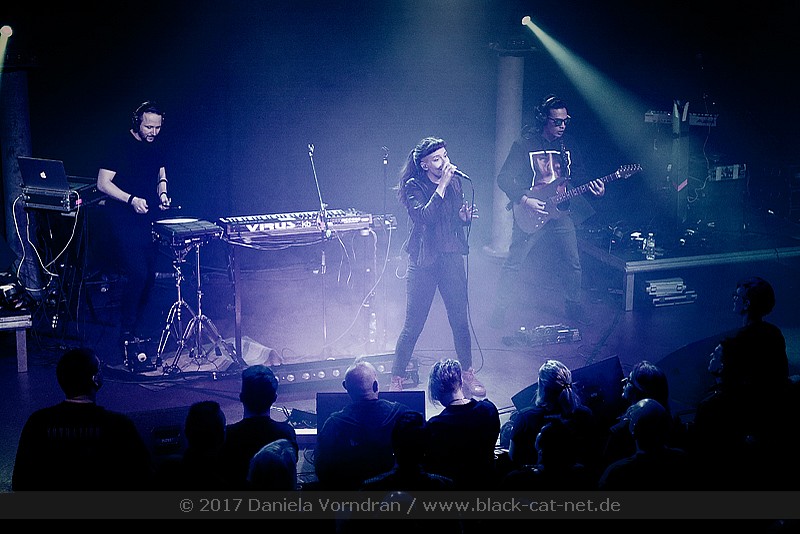 Music & Performance

The show had a slow, atmospheric start with 'World At Your Feet', speeding up with 'Shadows' and it was in particular the charming and lively performance of singer Anja Adam, who also played keyboards during a few songs, which brought a lot of energy to the show. The feedback from the crowd was a pleasant surprise, as everybody seemed to embrace the gig with open arms. Not a given for a support act, especially when most people are not too familiar with the music. At one point Anja Adam introduced 'Chase Her Down' by asking if anyone would already know ADAM IS A GIRL's new single - not a single person raised a hand or shouted "Yes!" - but the song went down well and got a roaring applause after it. Just like the rest of the gig!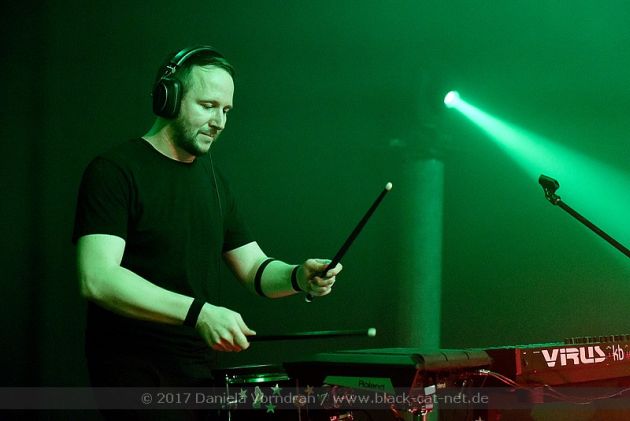 Very good band, very good live act, if you haven't heard about them yet you should definitely give them a listen.
Setlist

01. World At Your Feet
02. Shadows
03. Downstream
04. Daydream To Nightmare
05. Your Silence
06. Sky
07. Chase Her Down
08. Soldier
09. Salt
Rating

Music: 9
Performance: 9
Sound: 9
Light: 8
Total: 8.8 / 10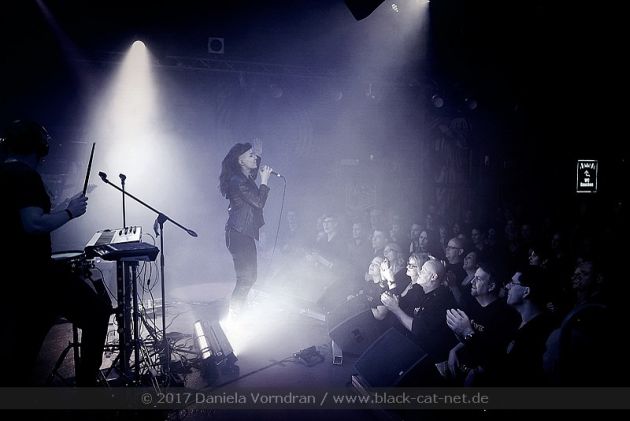 Empathy Test

The massive leap in popularity
EMPATHY TEST
has made recently is quite astonishing, and it feels as if they were only starting. But the story of the duo from London already began four years ago when childhood friends Isaac Howlett and Adam Relf started their mutual project to create their vision of electronic music influenced by 1980s Pop and Sci-Fi (their band's name is lifted from 1982's 'Blade Runner' movie, for example) as well as 1990s Indie bands and current underground Electronica. The result is lush, layered Synth Pop with a modern touch and heartfelt lyrics, which Howlett sings with his clean, ethereal and yearning vocal style, which is already a trademark for EMPATHY TEST. Releasing some EPs over the years with no support from a label, late 2017 saw eventually the release of not just one but two debut albums.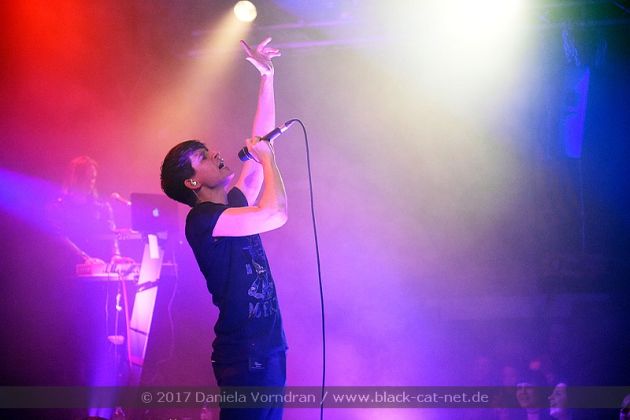 'Losing Touch' contains mostly the key tracks from the EPs, re-mastered and partially re-recorded, while 'Safe from Harm' contains more new material and is a bit mellower and more atmospheric. But both releases feature old and new songs and tell the story how EMPATHY TEST have evolved and refined their style over time. They also have evolved as a live act, and supporting bands like MESH, VNV NATION, COVENANT or AESTHETIC PERFECTION and gigs at the big festivals of the scene, like the Wave Gotik Treffen in Leipzig, did not only hone their strength as live performers but also bestowed them a multitudinous and very loyal fan base, in particular in Germany. If you have fans following you on the road when you just released your debut (well, debuts!) and just started your first headlining tour ever you've done something right! http://www.empathytest.com / http://www.facebook.com/empathytest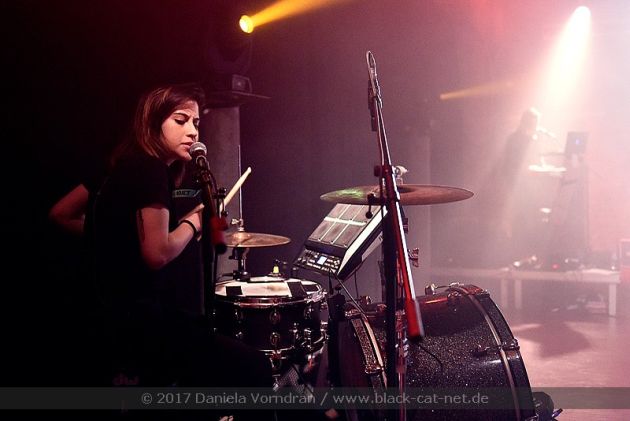 Music & Performance

Before EMPATHY TEST entered the stage you could overhear conversations like "Will you be in Hannover/ Dresden/ Hamburg, too?" in the crowd, and when the band made a quick start with 'Kerrilee' they were welcomed by a loud roar from the crowd. The Oberhausen gig was well attended but not sold out, and the audience was enthusiastic but could have been more active. Maybe Boxing Day is a bit a difficult date for a concert as many people are tired (and stuffed to the gills) at the end of the holidays? Anyway, after all the support slots EMPATHY TEST proved that they can master a 20-song strong headline gig. Even more than that, they seemed hungry and desirous for the experience!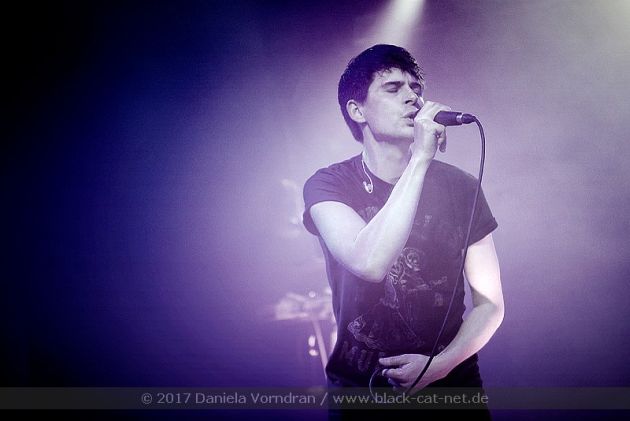 The band's live setup was a little different from the earlier times when they hit the road as other bands' support act. Just like during recent past, drummer Christina Lopez was not standing at a rack of electronic pads but sitting behind a complete drum kit with some added e-pads. As before, founding member Adam Relf was not part of the live line-up and Sam Winter-Quick took over the duties at the keyboards. Both were placed to the very edges of the stage to give singer Isaac Howlett as much space as possible. And he made good use of it! Constantly in motion, bending, bowing and roaming the stage, this skinny, small English lad sang his heart out during each and every song.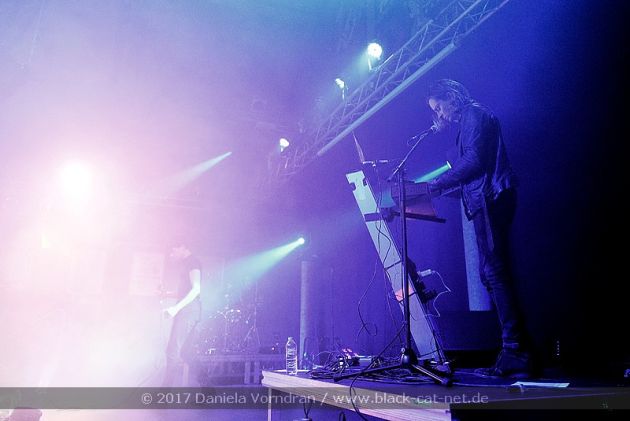 It's hard to pick out specific songs as highlights as every song was a highlight in its own right. However, 'Demons' and 'Losing Touch', which finished the main set, seemed to get the best response from the crowd. Personal favourites were 'Here is The Place', which ended the night, and 'By My Side' - two songs that feel like total heartbreak and weltschmerz but which also offer instant consolation with their uplifting melodies and soaring vibe. EMPATHY TEST have many songs like that, and it is surely part of their magic. Their music just rips into your heart and it actually feels very good...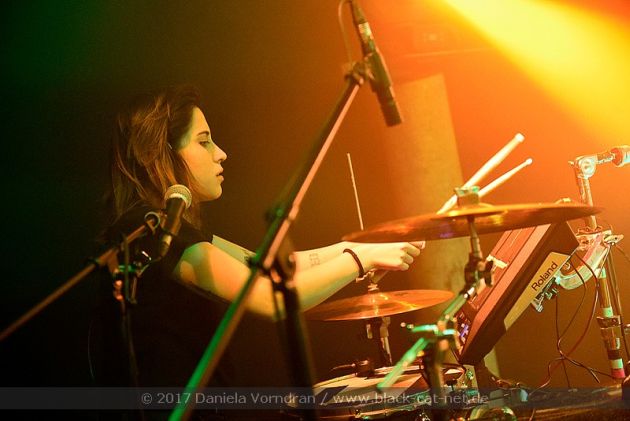 EMPATHY TEST have been a promising newcomer for long enough now. From now on they are starting to become one of the big names of the scene. I have no doubt about this! They are still a very young band, they already achieved so much and yet it feels just like the beginning of something even greater...
Setlist

01. Kirrilee
02. Last Night on Earth
03. Vampire Town
04. By My Side
05. Siamese
06. Firelight
07. All It Takes
08. Bare My Soul
09. Burroughs & Bukowski
10. Sleep
11. Seeing Stars
12. Where I Find Myself
13. Trampoline
14. Everything Will Work Out
15. Holding On
16. Demons
17. Losing Touch
---
18. Throwing Stones
19. Safe From Harm
20. Here Is the Place
Rating

Music: 10
Performance: 9
Sound: 10
Light: 8
Total: 9.3 / 10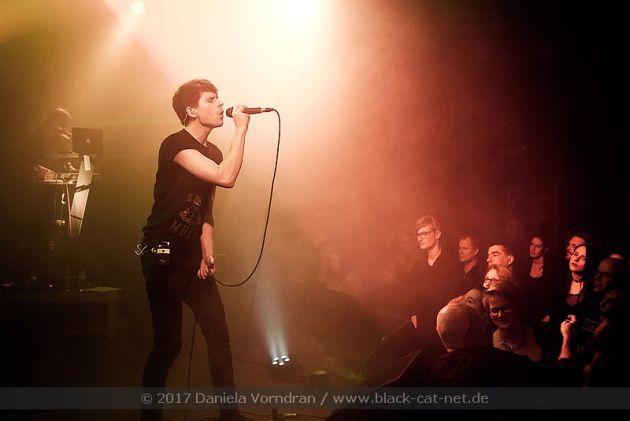 Further EMPATHY TEST dates
09 Mar 2018 - The Ruby Lounge - Manchester, United Kingdom
10 Mar 2018 - Ivory Blacks - Glasgow, United Kingdom
14 Mar 2018 - The Slade Rooms - Wolverhampton, United Kingdom
15 Mar 2018 - The Fleece - Bristol, United Kingdom
16 Mar 2018 - The Haunt - Brighton, United Kingdom
17 Mar 2018 - 02 Islington Academy - London, United Kingdom
13 Apr 2018 - Kasematten Festival - Halberstadt, Germany
14 Apr 2018 - Columbia Theatre - Berlin, Germany
15 Apr 2018 - Privat Club - Berlin, Germany
All pictures by Daniela Vorndran (
http://www.vorndranphotography.com
/
http://www.facebook.com/blackcatnet
)