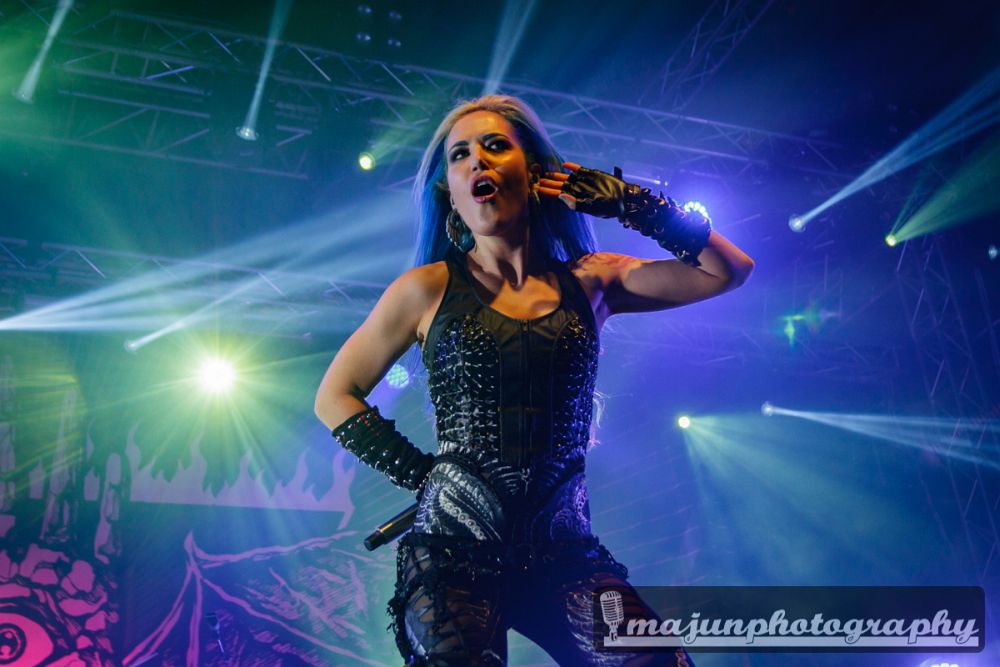 Turbinenhalle, Oberhausen, Germany
26th January 2018
Arch Enemy - "Will To Power" Tour 2018 - Supports: Wintersun, Tribulation and Jinjer

The concert year 2018 started with a bang for all fans of good old metal music: On last Friday night, the quite roomy venue Turbinenhalle was the place to go for roughly 3,600 metal heads, and they were in for a treat, as a total of four bands were awaiting them.
Jinjer
The Ukrainian band
JINJER
stems from the Donezk region and has received huge praise for their previous live appearances, and for their first album 'King of Everything', released in July 2016. Their musical style is best described by Metalcore with influences of death metal and progressive rock. https://www.facebook.com/JinjerOfficial / or http://jinjer-metal.com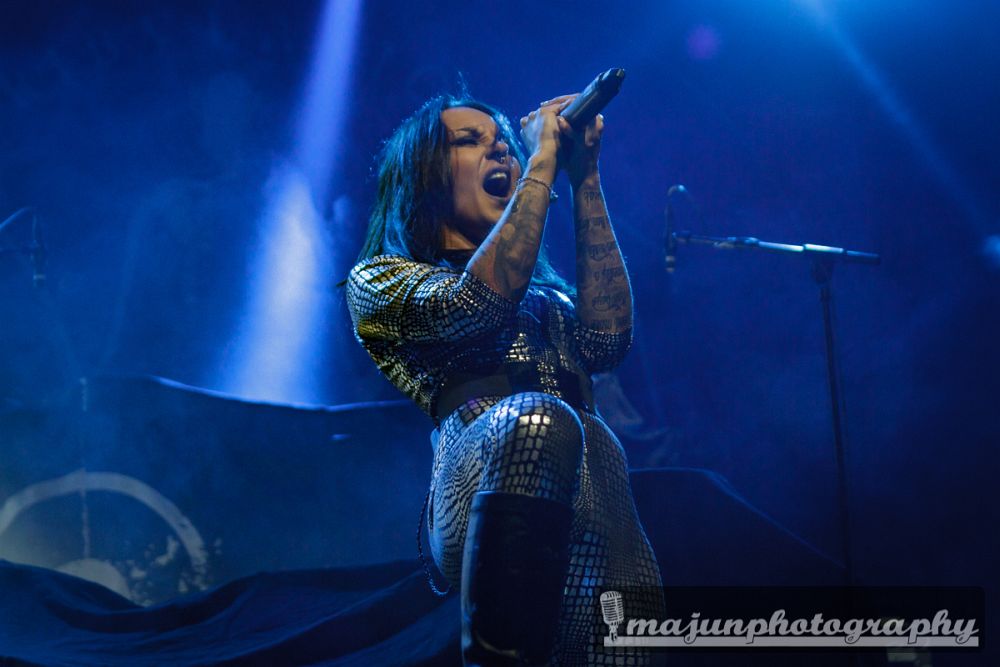 Music & Performance

JINJER were the ones to kick it off at 6.10pm. Normally I would have expected that only a few people would care to show up at this hour. It seems I clearly underestimated the crowd, as the place was already packed, although there seemed to be still an endless stream of people waiting for their entry through security. All those who arrived early enough certainly were not disappointed. JINJER singer Tatiana Shmailyuk displayed an incredible talent in her alternation between singing and growling, and the instrumental fraction delivered a breath-taking performance, as JINJERS compositions strike a good balance between a certain amount of musical complexity and neck-breaking groove. And Tatiana's silver bodysuit certainly did not fail to attract attention.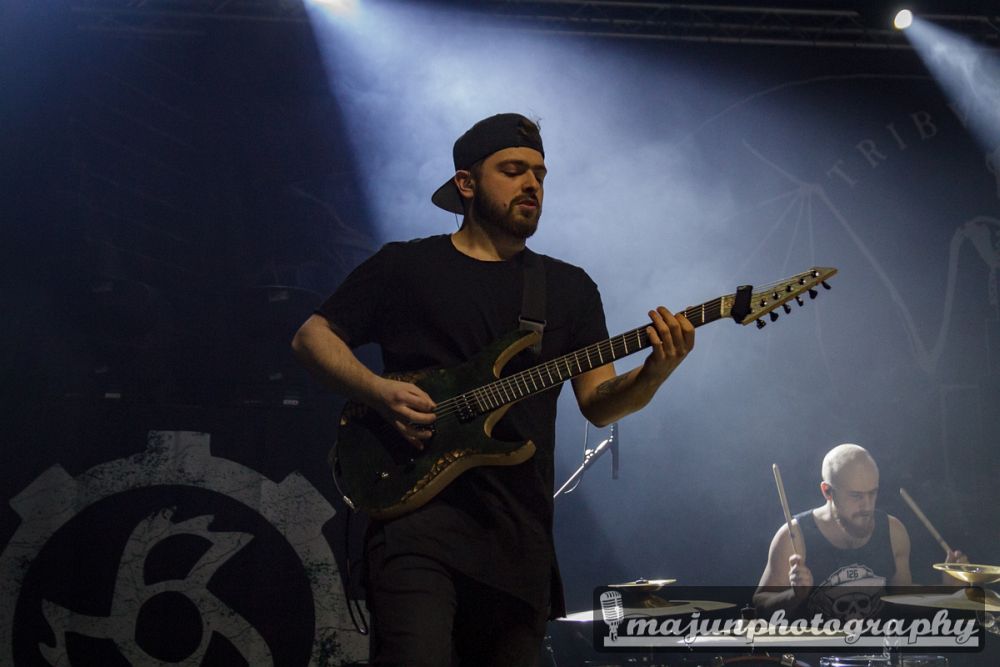 All in all it was a very entertaining set, which certainly has yielded JINJER lots of new fans. The 30 minutes flew by very quickly, something which you cannot say very often for opening acts.
Setlist

01. Captain Clock
02. Sit Stay Roll Over
03. I Speak Astronomy
04. Just another
05. Pisces
06. Who is gonna be the one
Rating
Music: 7
Performance: 8
Sound: 7
Light: 6
Total: 7 / 10
Tribulation
Next in line was the Swedish Gothic metal band
TRIBULATION
. As Scandinavia represents an absolute hotbed for the darker sides of Metal, TRIBULATION is an excellent example of this species, although they have embraced a more psychedelic rock style lately. The band goes way back to 2005, and they have released their fourth studio album called 'Down below' on the same night of this concert. Find out more about the band via www.tribulation.se or https://www.facebook.com/Tribulationofficial.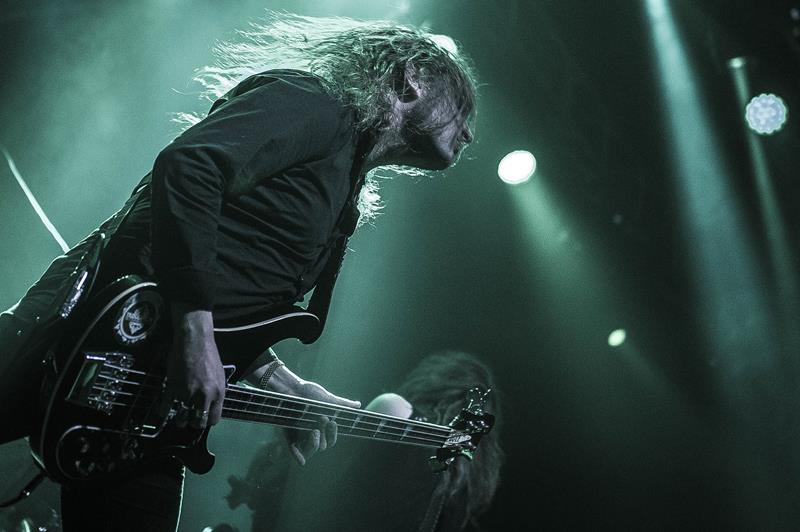 Music & Performance

The stage break was refreshingly brief, as it took only fifteen minutes for the band to appear. All band members were clad in black robes, wore long black hair, and had their faces whitened, so there was no mistake in what was awaiting the audience. TRIBULATION put on quite a show, with one guitarist dressed as a bat, and the other one as a skeleton. They were constantly moving around, back and forth and interacted with the fans. However, most people were probably in for a more aggressive metal style, so the audience's reaction was a little mute.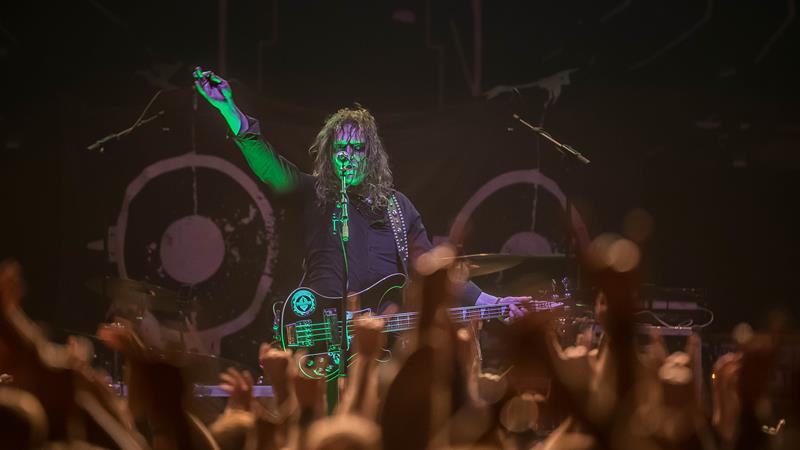 Setlist

01. Lady Death
02. Melancholia
03. The Motherhood of God
04. Suspiria de profundis
05. Nightbound
06. Strange Gateways Beckon
Rating

Music: 6
Performance: 7
Sound: 7
Light: 6
Total: 6.5 / 10
Wintersun
Spot no. three for this evening's line-up was reserved for the band
WINTERSUN
. Headed by the Finnish master mind Jari Mäenpää since 2003, WINTERSUN stands for Melodic Power Metal with some Folk influences. Some also call this style Viking Metal, and certainly the singer with his long blond hair falls into this category. Check out www.wintersun.fi or https://www.facebook.com/wintersun.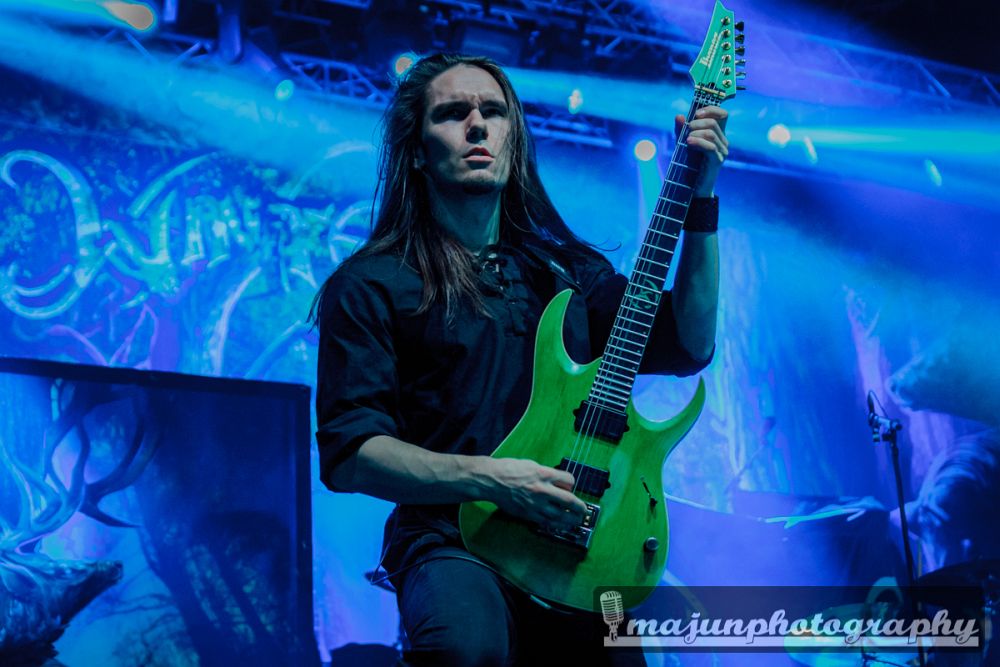 Music & Performance

WINTERSUN entered the stage to a majestic intro and started off with their 14-minute song 'Awaken from the dark Slumber (spring)'. Looking around I was surprised by how many people actually seemed to know the lyrics of the epic sing-a-long passages. Front man Jari was all energy, fired up the crowd with long screams of "Oberhausen", and extended his arms as if he were Ozzy Osbourne on steroids. This was all accompanied by the guitarists delivering their sewing machine-like riffs, moshing their heads in sync, and letting their hair fly in the gentle breeze of the ventilators. A little annoying was the camera man, who circled constantly around each band member to film the whole gig on-stage. However, the upside of that might be, that fans can probably expect a live DVD of this tour.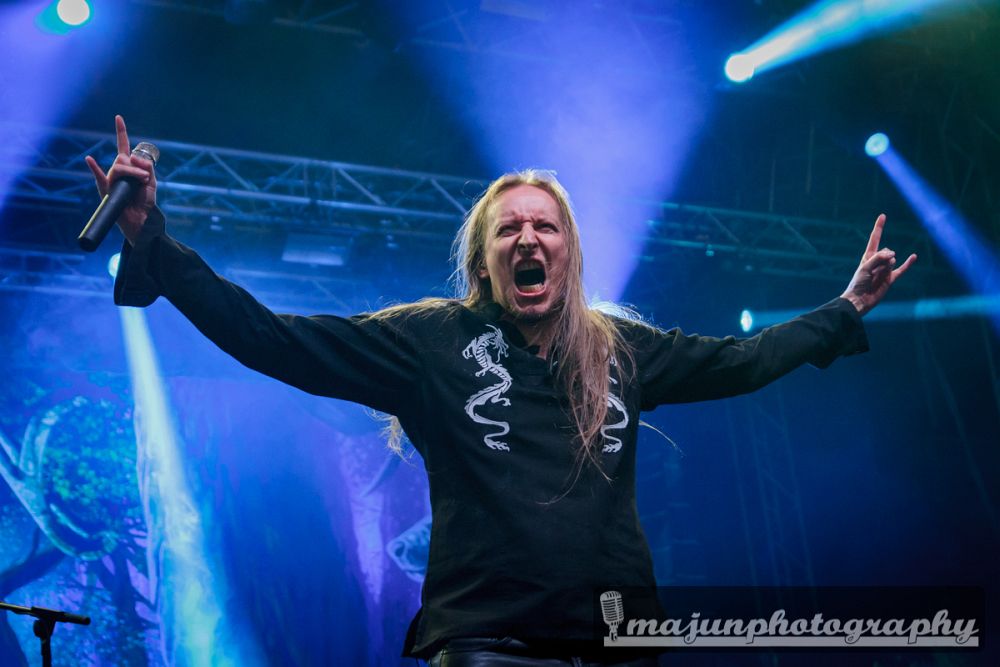 During the 60-minute set, the security men at the stage had to pluck the first crowd surfer from the hands of the audience. For my personal taste, the whole thing was a little too bombastic, but a large part of the crowd seemed to have enjoyed what they saw.
Setlist

01. Awaken from the dark Slumber (spring)
02. Winter Madness
03. Sons of Winter and Stars
04. Loneliness (Winter)
05. Battle Against Time
06. Time
Rating

Music: 6
Performance: 7
Sound: 7
Light: 8
Total: 7 / 10
Arch Enemy

If there is a torchbearer for Melodic Death Metal, it is certainly the Swedish band
ARCH ENEMY
. Their beginnings reach back into 1996, when former CARCASS guitarist Michael Amott teamed up with three other musicians and released the debut 'Black Earth'. Last summer they released their 10th studio album called 'Will to Power', which was the first album to fully feature new singer Alissa White-Gluz. Check out www.archenemy.net or https://www.facebook.com/archenemyofficial.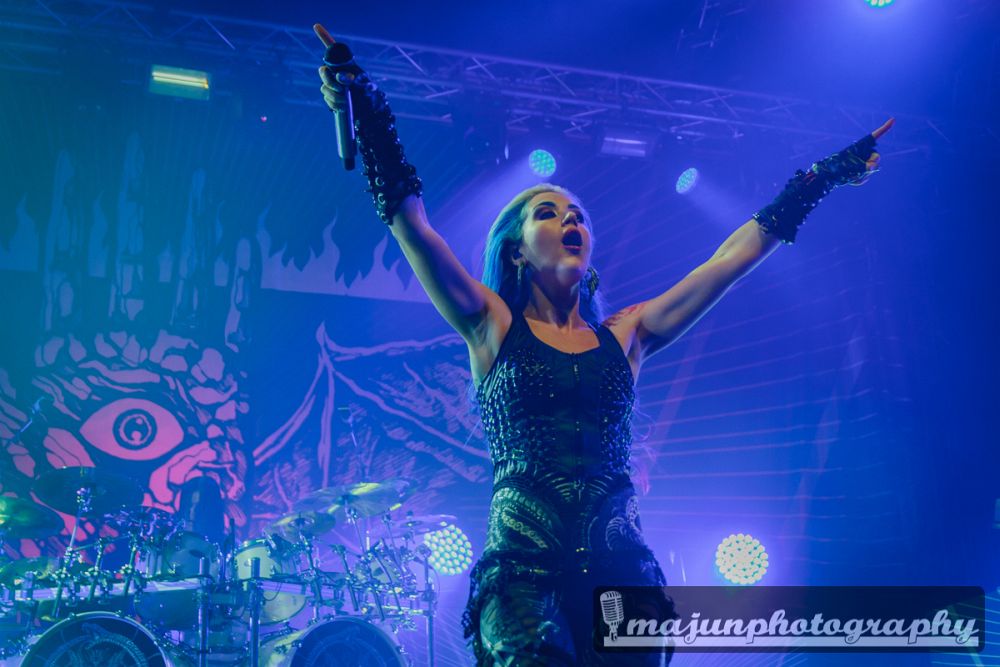 Music & Performance

Exactly at 9:30 pm the lights went dark and 'The Ace of Spades' from MOTÖRHEAD began playing. Then, accompanied by the intro song 'Set Flame to the Night', ARCH ENEMY entered the stage. With 'The World Is Yours' – the first single of their latest album – they unleashed their spectacular show. Especially singer Alissa exuded an unrelenting energy while running back and forth on the stage, banging her head with her trademark blond-blue mane, interacting with fans, all while singing and growling with real passion. Even a short lapse in the PA signal (the volume went low for a few seconds) could not throw the band off the track.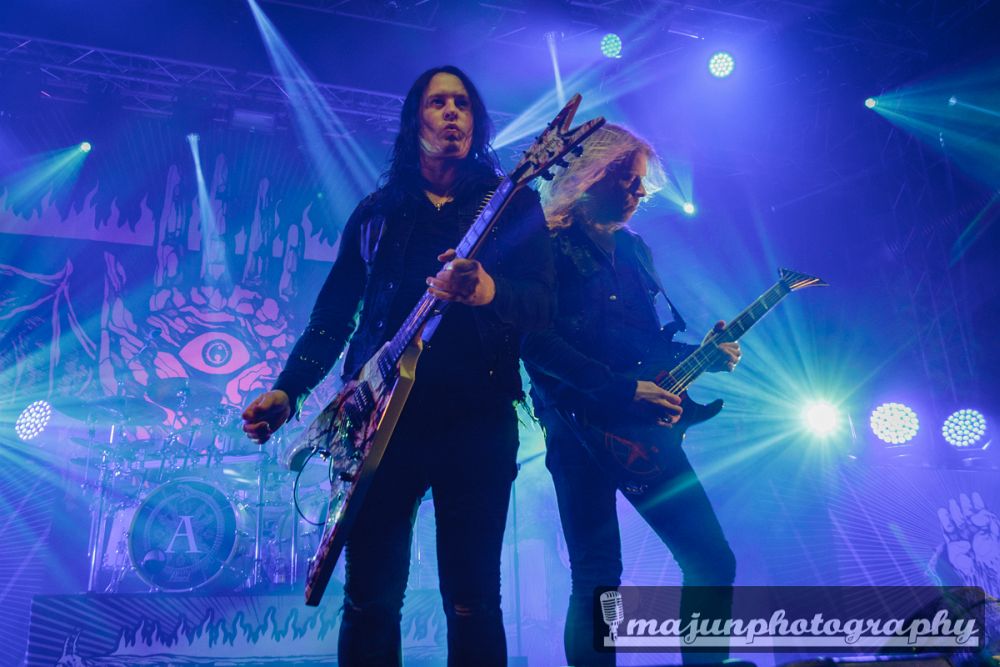 Especially songs with changes in speed like 'The eagle flies alone' showed the full musical potential of the band, and the groove sent a seemingly endless stream of crowd surfers in the direction of the stage. It was a perfectly choreographed show, solidly augmented with blistering light effects, which kept the fully packed Turbinenhalle thoroughly entertained for 1.5 hours. So by the time the outro notes of 'Fields of Desolation' faded, 3600 metal fans could head home with their ears ringing, knowing they once again witnessed that metal is still very much alive in 2018.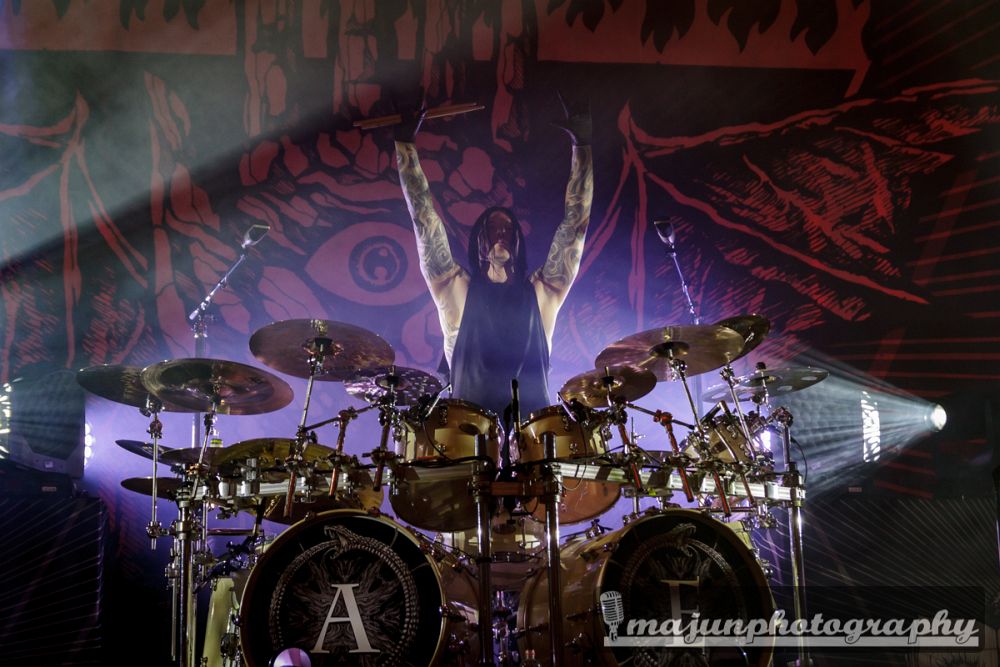 Setlist

01. Set Flame to the Night (recorded)
02. The World Is Yours
03. Ravenous
04. Stolen Life
05. The Race
06. War Eternal
07. My Apocalypse
08. Blood in the Water
09. You Will Know My Name
10. Bloodstained Cross
11. The Eagle Flies Alone
12. Dead Eyes See No Future
13. As the Pages Burn
14. Intermezzo Liberté (used as Interlude)
15. Reason to Believe
16. Dead Bury Their Dead
17. We Will Rise
---
18. Avalanche
19. Snow Bound (used as Interlude)
20. Nemesis
21. Fields of Desolation (Outro instrumental)
22. Enter the Machine (recorded)
23. Vox Stellarum (recorded)
Rating

Music: 8
Performance: 9
Sound: 9
Light: 8
Total: 8.5 / 10
All Pictures by Marc Junge except Tribulation by "Kommodore Johnsen" Andreas Gey