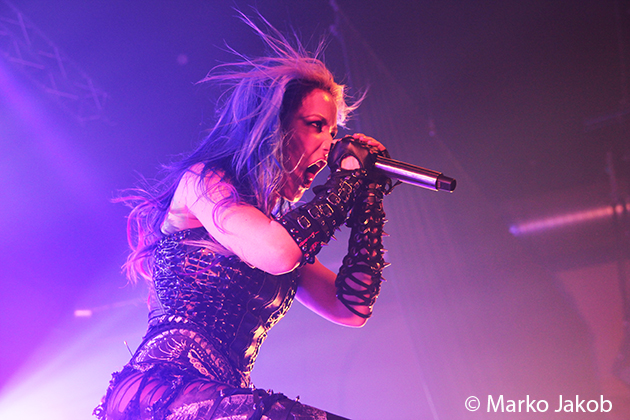 Huxleys Neue Welt, Berlin, Germany
5th February 2018
Arch Enemy, Wintersun, Tribulation & Jinjer

February started with a bang for all metal fans in Berlin. This hotly anticipated concert evening in the more than 100-year-old Club Huxleys Neue Welt had been sold out for weeks. With four great bands on the program, an evening of great music awaited.
Jinjer

Metalcore band
JINJER
hails from the Donetsk region in the Ukraine and was founded in 2009. Their previous live performances have garnered consistently positive reactions. Since 2016 they have been under contract with Napalm Records and have released three albums so far. In 2013 and 2016, JINJER was honoured as the best Metal Act in their homeland. https://www.facebook.com/JinjerOfficial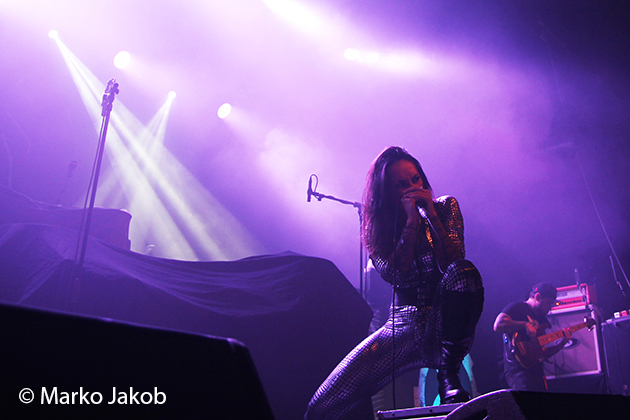 Music & Performance

At 6.15 pm JINJER took to the stage. Usually support bands in such an early slot are sparsely attended, but today that was different; Huxleys was already very well filled and those who had arrived early enough were not disappointed. JINJER singer Tatiana Shmailyuk performed in a cool silver outfit and wowed the audience with her solid singing and performance. All in all, it was a very varied set, alternating between fast and slower songs, and the band certainly gained some new fans with this show. The 30-minute performance seemed to pass way too fast and JINJER could have definitely played longer for this crowd.
Setlist

01. Captain Clock
02. Sit Stay Roll Over
03. I Speak Astronomy
04. Just another
05. Pisces
06. Who is gonna be the one
Rating

Music: 8
Performance: 8
Sound: 7
Light: 7
Total: 7.5 / 10
Tribulation

Next up was the Swedish Death Metal band
TRIBULATION
. The band was founded in 2001 under the name HAZARD, and the first album under the name TRIBULATION appeared in 2005. Their current album 'Down Below' reached # 33 on the German charts. https://www.facebook.com/Tribulationofficial.
Music & Performance

After a short 15 minute changeover, TRIBLUATION were next onstage. Although their long-haired image may be reminiscent of a 80s style metal band, their music is definitely contemporary, modern Metal.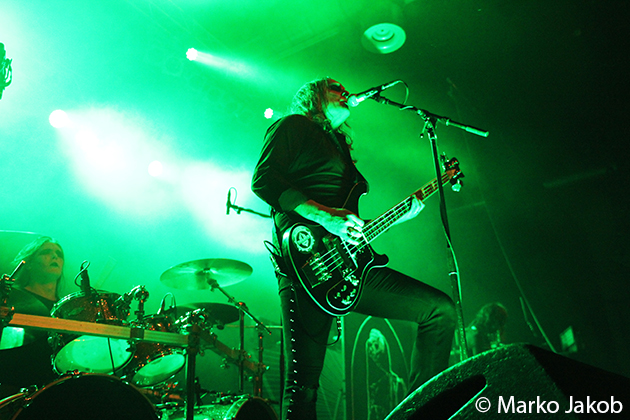 TRIBULATION delivered a really energetic show - constantly moving back and forth and interacting with the fans. The extremely cool poses of the guitarists was especially striking. With their androgynous look, at times they almost looked like pirouetting figure skaters - pretty exhausting over the whole duration of a concert! Overall a super concert with great sound. Their outro was the beautiful 'Across the Universe' by THE BEATLES.
Setlist

01. Lady Death
02. Melancholia
03. The Motherhood of God
04. Suspiria de profundis
05. Nightbound
06. Strange Gateways Beckon
07. The Lament
Rating

Music: 8
Performance: 9
Sound: 8
Light: 7
Total: 8 / 10
Wintersun

Next came the appearance of the Finnish melodic death metal band
WINTERSUN
. The band was founded in 2004 by former ENSIFERUM vocalist Jari Mäenpää. In 2017, the band released their third album 'The Forest Seasons' and thus landed on #1 on the Finnish charts. https://www.facebook.com/wintersun
Music & Performance

Third on the bill at Huxleys were WINTERSUN. The hall was now completely filled and as usual at Metal concerts, the atmosphere had turned boisterously good natured with lots of long hair blowing around in the cool-air fans. It was so warm that singer Jari even had to hold a fan for a moment in front of his face to get some fresh air.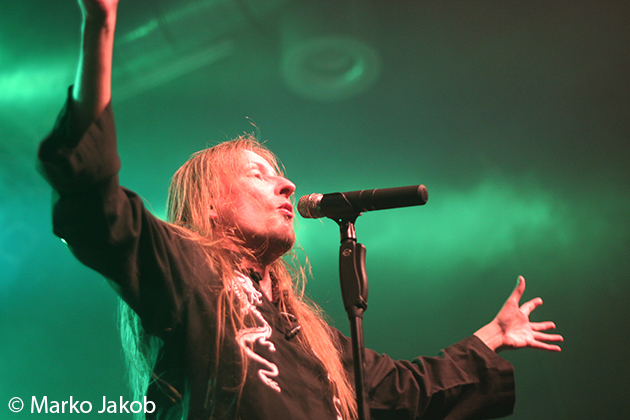 The band's sometimes very long songs were punctuated with some beautiful instrumental parts and clear guitar riffs. In addition, the singer convinced with an absolutely cool voice. The audience was totally satisfied with the performance and the band was absolutely happy with the response from the audience! The Finns' complete concert was being filmed, and it is hoped that it will be released to view somewhere, at least on DVD.
Setlist

01. Awaken from the dark Slumber
02. Winter Madness
03. Sons of Winter and Stars
04. Loneliness
05. Battle Against Time
06. Time
Rating

Music: 8
Performance: 8
Sound: 8
Light: 8
Total: 8 / 10
Arch Enemy

Swedish band
ARCH ENEMY
was founded in 1996 and has released 10 albums so far. In 2014 they released their studio album 'War Eternal', the first album with new singer Alissa White-Gluz. Alissa was previously singer of the Canadian Band THE AGONIST. Their current album 'Will to Power' from 2017 stormed to # 3 on the German album charts. https://www.facebook.com/archenemyofficial
Music & Performance

9.30pm exactly. Pitch dark in the hall. 'Ace Of Spades' by MOTÖRHEAD sounding from the speakers. A beautiful, huge backdrop adorns the background of the stage. And with the first notes of 'The World Is Yours' - the first single of ARCH ENEMY'S latest album - a spectacular show and a first class metal concert began.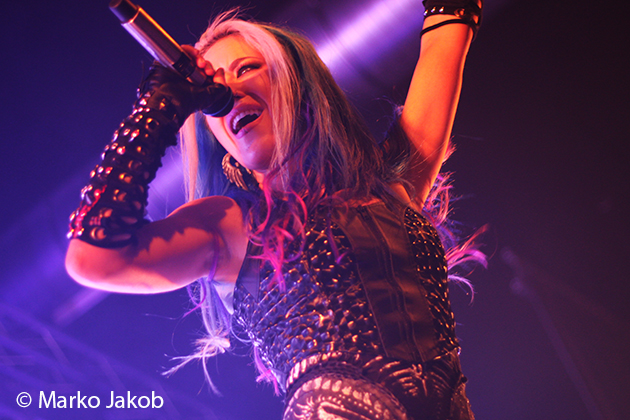 Singer Alissa seemed in particularly high spirits as she ran back and forth on stage, shaking her blue hair wildly and jumping several times artistically from the drum podium. It was a perfectly choreographed show, with great sound and brilliant lighting effects. Some fans even crowd-surfed throughout the concert. Many fans sang along during 'Dead Eyes See No Future'. Alissa asked how many of the visitors had been to an ARCH ENEMY concert before. Many hands went up and she also warmly greeted all those on their first experience. During the next song Alissa waved a huge flag and just before the encore drummer Daniel treated the audience with a cool solo. The mood was now at its absolute height and many fans in the front danced in a circle pit. This unforgettable concert ended shortly before 11pm and the band then bade farewell to the Berlin audience with the words "See you soon".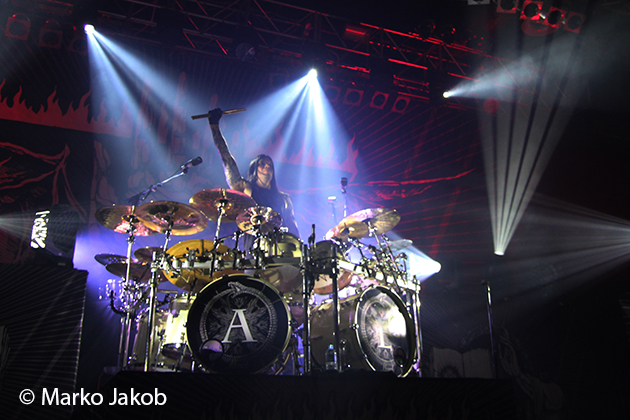 Setlist

01. Set Flame to the Night
02. The World Is Yours
03. Ravenous
04. The Race
06. War Eternal
07. My Apocalypse
08. You Will Know My Name
09. Bloodstained Cross
10. Dead Eyes See No Future
11. The Eagle Flies Alone
12. As the Pages Burn
13. Intermezzo Liberté
14. Dead Bury Their Dead
17. We Will Rise
---
18. Avalanche
19. Snow Bound
20. Nemesis
21. Fields of Desolation (Outro)
Rating

Music: 9
Performance: 9
Sound: 9
Light: 9
Total: 9 / 10
All pictures by Marko Jakob