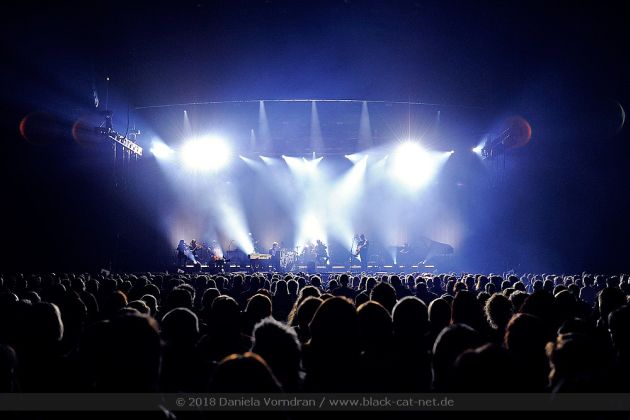 Lanxess Arena, Cologne, Germany
6th February 2018
A-HA - "MTV Unplugged Tour" - Support: Alexander Knappe

8,000 music lovers got together at the Lanxess Arena in Cologne for an acoustic evening with A-HA. The almost two-hour show allowed the fans to live a memorable experience with the synth pop heroes in an atmosphere that was almost meditative in their best moments.
Alexander Knappe

ALEXANDER KNAPPE
got known for his performances in the first season of the show X Factor in 2010. At an early age, Alexander, born in 1985, began to make music. But actually he wanted to become a professional football player and he wasn't far from it. But his big dream was destroyed by a cruciate ligament tear. At 19, he went to a casting of a local radio station which he won, giving him the opportunity to do his best in a recording studio. After gaining popularity at The X Factor, the German singer signed a contract with the Ferryhouse label. His first album was released in 2012, followed by another two in 2014 and 2016.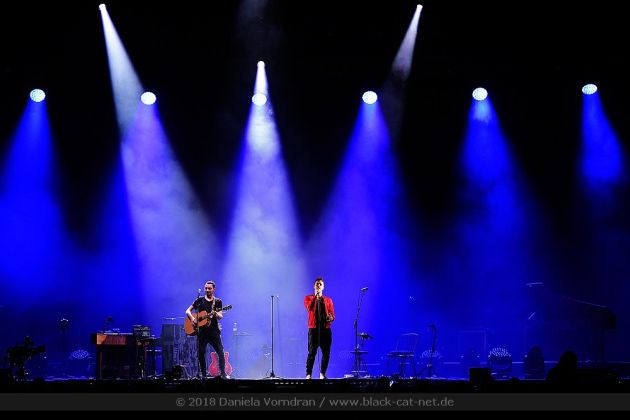 Alexander has been able to place three times in the charts so far. His 4th album, 'Ohne Chaos keine Lieder' (No chaos, no songs) will be released on April 20th. To be the opening act of a fully sitting arena is not an easy task as the energy flows quite differently than with a standing audience. At 20:10 Alexander and his companion guitarist came on stage with a smile in their faces and a handful of songs about life. It was a 30 minute performance taking the public to enthusiastic clapping and singing. http://www.alexanderknappe.net / https://www.facebook.com/KnappeAlexander
Rating

Music: 6
Performance: 6
Sound: 5
Light: 6
Total: 5.8 / 10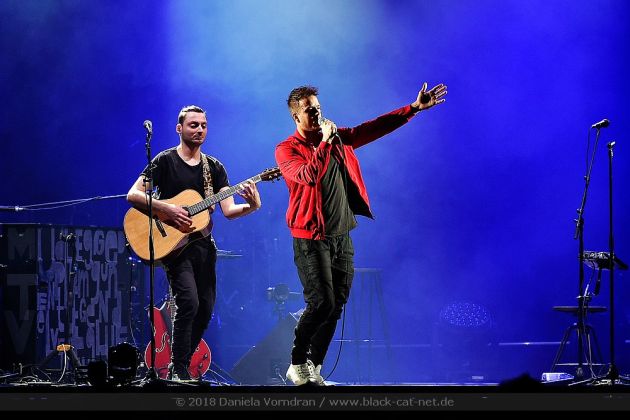 A-HA

A-HA
doesn't really need an introduction. This Norwegian trio has been successful on a worldwide scale for over three decades. But the band has had its share of problems, split-ups and re-unifications. A thoughtful Magne (keyboardist) reflects:
"After such a long time, a-ha have now become a band that simply continues from project to project. This turned out to be a very healthy approach for the three of us, because going acoustic also had the taste of a new project."
In December 2016, A-HA announced that they would go on a European acoustic tour in early 2017. In mid-June 2017, they recorded an MTV Unplugged special in the remote Norwegian island of Giske under close secrecy, with no phones or recording equipment being allowed into the studio. The CD, DVD, and Blu-Ray recordings were released in October 2017. There are only a few bands in the world who can look back on similarly close ties with the music channel MTV as a-ha. Alongside the likes of DURAN DURAN and YELLO, in 1985 a-ha were worldwide pioneers who immediately understood the power of the music video as both a narrative and commercial tool.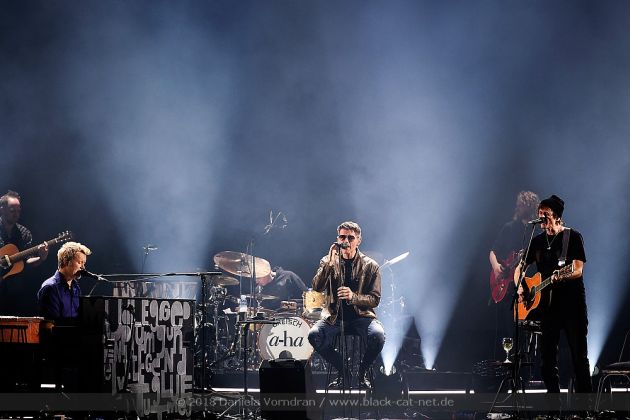 Steve Barron's classic 'Take On Me' clip is still a milestone of music video and in 2003 was voted by the MTV audience as one of the top ten best videos ever made. There have long been efforts by A-HA and MTV to organize an unplugged concert. The European acoustic tour was also renamed from "An acoustic evening with A-HA" to the "MTV Unplugged tour 2018". http://www.a-ha.com / https://www.facebook.com/officialaha
Music & Performance

Morten Harket (58), Pal Waaktaar-Savoy (56) and Magne Furuholmen (55) came on stage at 21:00. An ensemble of musicians surrounded the trio for an unusual but beautiful instrumentation - including cello, violin, viola, oboe, vibraphone and spinet - giving it an intimate, chamber music feel. A-HA played twenty songs in completely new arrangements. Songs were deconstructed and taken to a rebirth. Occasionally, a powerful choir rises from all the throats of those who stand there on the stage.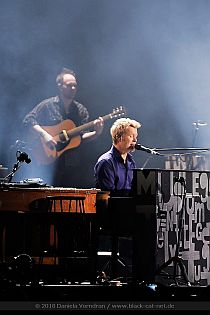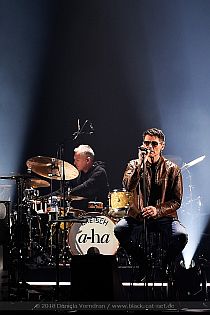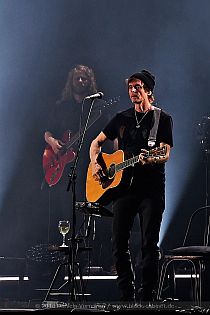 There are seven people on stage together with Harket, Waaktaar-Savoy and Furuholmen. The drums keep it together, and the bass roars like a storm. Yes, that's right, the bass is plugged in. But, honestly, who cares? Harket's voice is as delicate, floating and crystal clear as never before. The band took things extremely seriously. Having that said, Morten's concentration in the performance left very little for the interaction with the public. As a result, the public benefited profoundly, both in terms of microstructure (the new arrangements reveal so much of the songs' essences), as well as in that the overall dramaturgic arc of the show, which steadily built towards a climax that would astound even the most dedicated follower of the group. During the encore, A-HA would play ' "as usual" - their first and biggest hit to date, 'Take On Me'. But an unexpected chord change in the chorus and the skeletal arrangement not only allowed a new perspective on the song's lyrics, it also left the audience with tears in their eyes.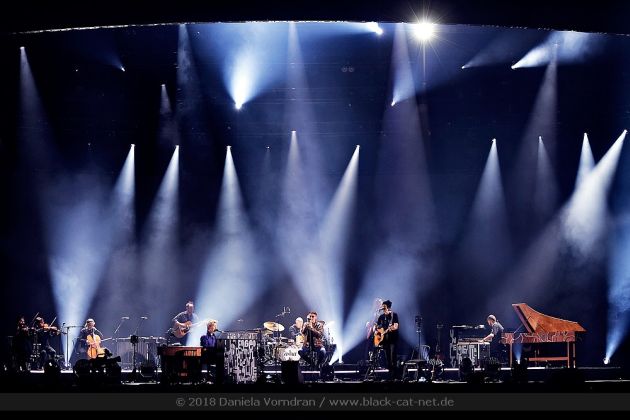 Morten Harket addresses the subject of subtlety: "The world of pop is a world where everything always has to be more than anything else." The MTV unplugged album released in 2017 created the basis for the best A-HA concert in a long time.
Setlist

01. This is Our Home
02. Lifelines
03. I've Been Losing You
04. This Alone Is Love
05. Forever Not Yours
06. Analogue (All I Want)
07. Manhattan Skyline
08. Foot of the Mountain
09. Stay on These Roads
10. Break in the Clouds
11. Memorial Beach
12. Over the Treetops
13. Living a Boy's Adventure Tale
14. Scoundrel Days
15. Summer Moved On
16. Hunting High and Low
17. The Sun Always Shines on T.V.
---
18. Sox of the Fox (Bridges cover)
19. The Living Daylights
---
20. Take On Me
Rating

Music: 10
Performance: 8
Sound: 9
Light: 9
Total: 9 / 10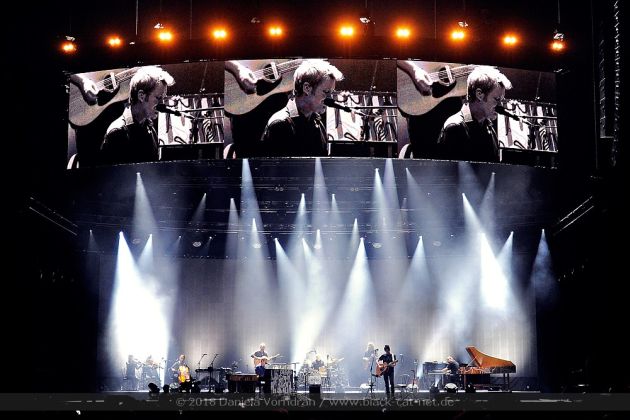 All pictures by Daniela Vorndran (
http://www.vorndranphotography.com
/
http://www.facebook.com/blackcatnet
)