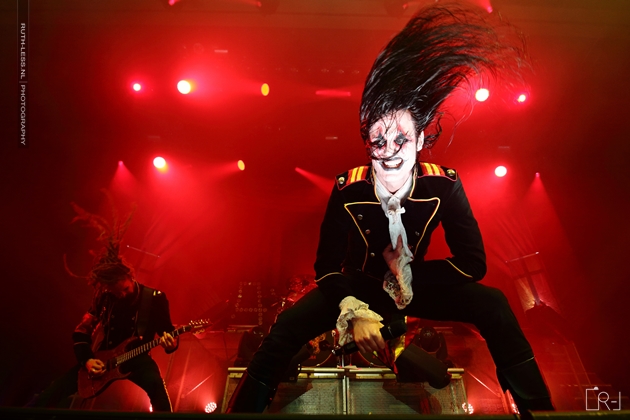 TivoliVredenburg, Utrecht, The Netherlands
13th March 2018
Avatar, Hellzapoppin Circus Sideshow, Old Kerry McKee

The Swedish band AVATAR has since its start 2001 grown to a melodic Death Metal formation of respectable size. Frontman Johannes Eckerström rules the stage with his clownesque make-up and tireless moves. He can perhaps best be described as a combination of Alice Cooper and Batman's Joker.
Besides that, Eckerström and his fellow musicians are highly skilled, which is proven by their excellent sound that has hints of SYSTEM OF A DOWN and RAMMSTEIN but most of all; their own sound. Support this evening is taken care of by HELLZAPOPPIN from the US; "a world renown theatrical ROCK-N-ROLL circus stunt-show where some of the deadliest stunts in live entertainment are performed to a LIVE audience with emphatic rock music". More support from OLD KERRY MCKEE, a one-man band from Gothenburg.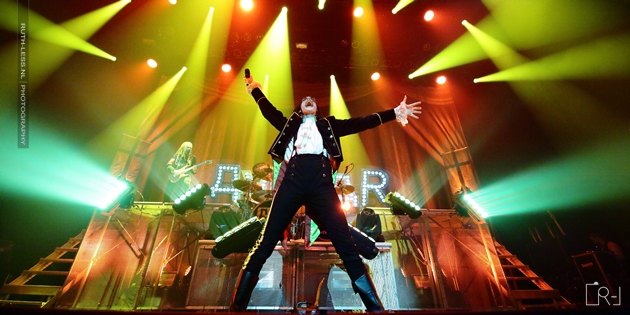 Old Kerry McKee

The one-man orchestra
OLD KERRY MCKEE
hails from Gothenburg and delivers rough and unpolished Americana-inspired Folk & Blues. By his side, a snare drum, an old record player and an acoustic guitar to keep him company through lyrics of love, death and loneliness. He started out in 2010 and released his first EP 'BlackBirds' one year later. In 2012 he released his album 'Wooden Songs', which got nominated for the "best Americana award" at the Swedish Manifestgalan along with FIRST AID KIT and THE TALLEST MAN ON EARTH. As his bio states: "The music may be dark, but the future looks bright for OLD KERRY MCKEE". www.oldkerrymckee.com / www.facebook.com/oldkerrymckee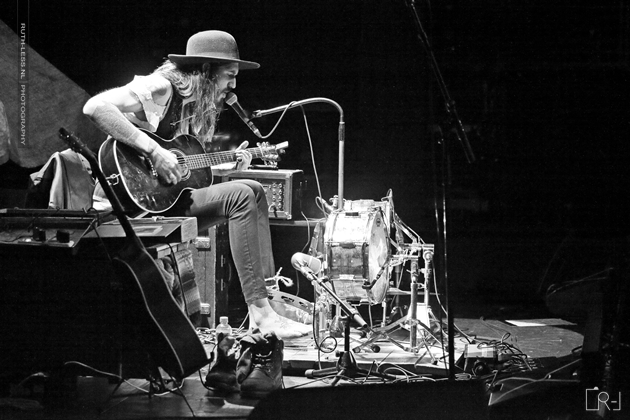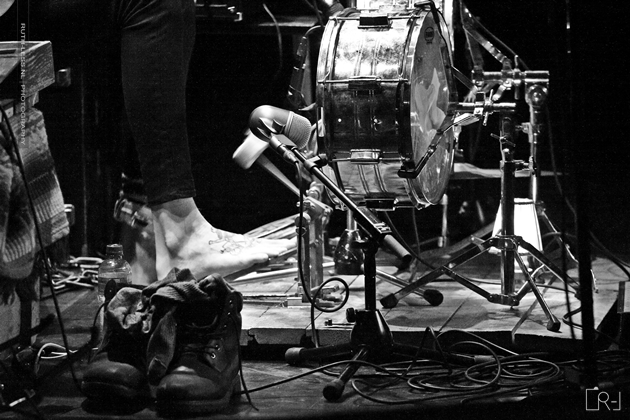 Music & Performance

Old Kerry McKee takes his time to get settled for his one-man-show; he carefully puts his instruments in place, starts his record player, takes off his shoes and puts a chain around himself. A rather remarkable quiet opener for an extravagant band like AVATAR. Then again, this would not be the first surprise of the evening. OLD KERRY MCKEE imperturbable enjoys himself and some of the audience (including myself) with some Americana style songs with a dark and gloomy edge. Meanwhile, the venue starts to fill up for today's headliner.
Setlist (incomplete)

These old shoes
Black birds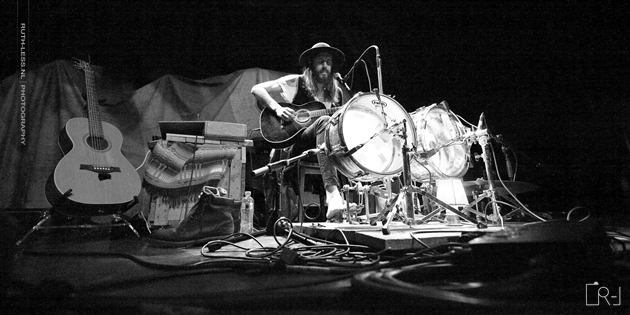 Hellzapoppin circus sideshow

They describe themselves as mavericks, trail blazers, rebels, rule breakers, outlaws... true uninhibited artists. Named after one of the most successful Broadway Musicals and Movie from the late 30's & 40's,
HELLZAPOPPIN
is a world renown theatrical Rock'n'Roll circus stunt-show where some of the deadliest stunts in live entertainment are performed to a LIVE audience with emphatic rock music. Born in December of 2008 originating in Dallas, Texas and later moved to Jacksonville, Florida. SEEN ON TV, Travel Channel, Discovery Channel and at Ripley's Believe It Or Not, Guinness Books of World Records and more! HELLZAPOPPIN CIRCUS SIDESHOW is Nik Sin (world's smallest escape artist), Ryan Stock, Short-E. Dangerously (half man daredevil), Amberlynn, Mikey 5 bucks and Bryce Graves (The Govna). www.hellzapoppin.com / www.facebook.com/hellzapoppincircussideshowrevue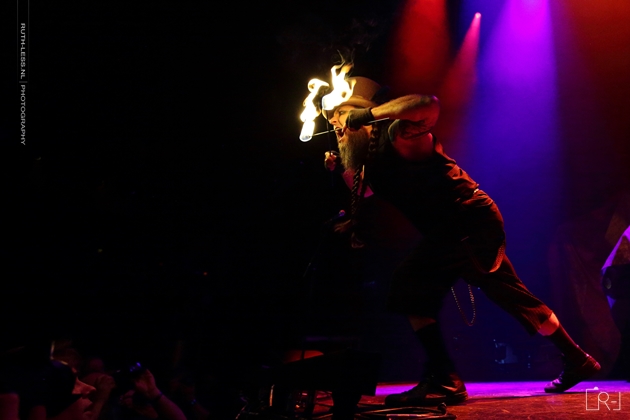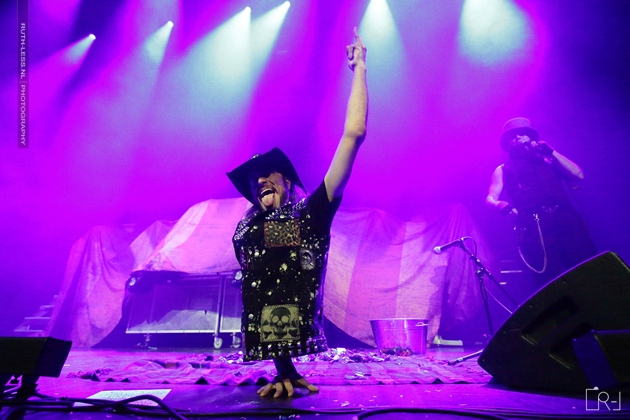 Music & Performance

HELLZAPOPPIN CIRCUS SIDESHOW certainly lives up to the expectations after reading their bio: Spectators will experience one of the world's last authentic circus sideshows with performances using the human anatomy and death defying stunts of mind over matter. Don't even blink during their support act, or you may miss out on another stunt, fire blaze, lawn mower, human oddity or curiosity! Nik Sin, Ryan Stock, Short-E Dangerously eat fire, breath fire, swallow swords, put nails through their heads and swing bowling balls on hooks through the face. Bryce Graves aka the Govna talks us through their show in an utmost entertaining way. How will avatar be able to top such outrageousness??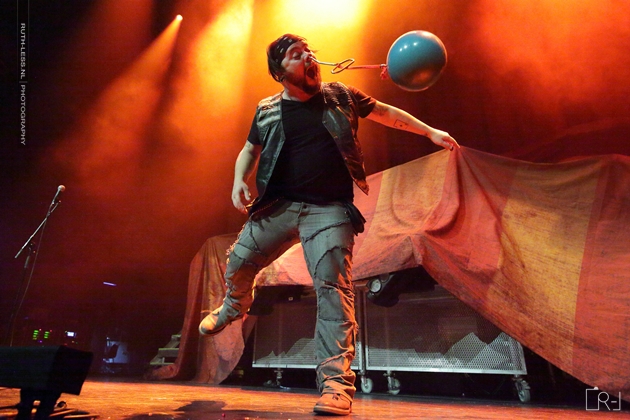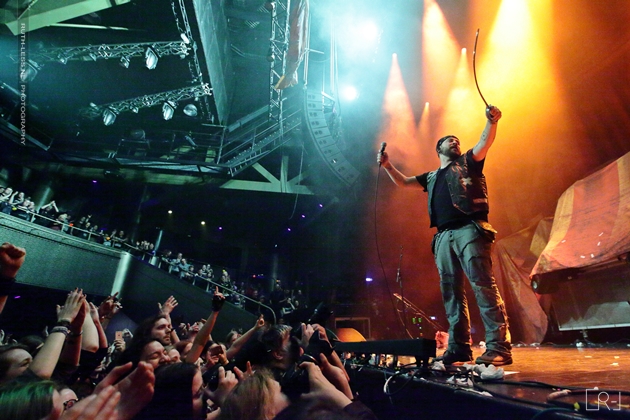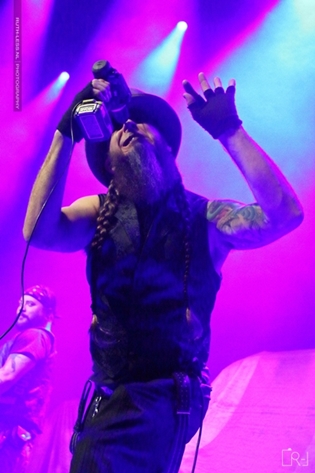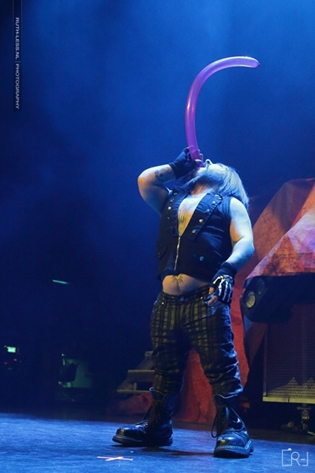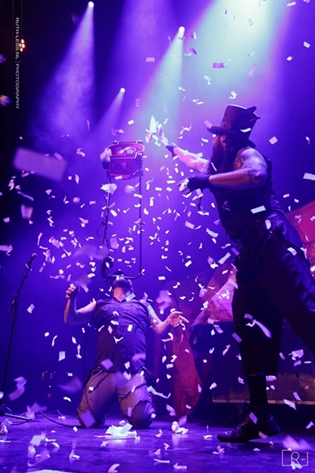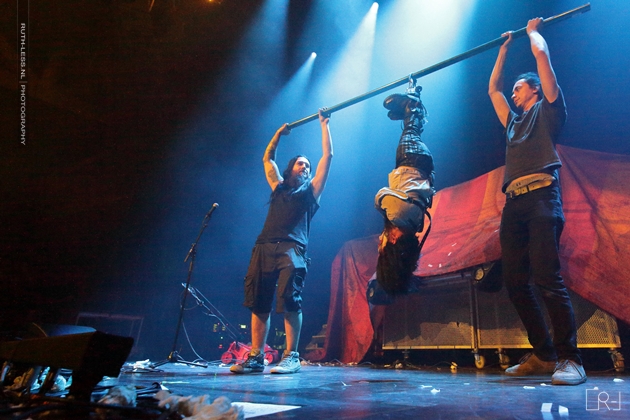 Avatar

AVATAR
is a Swedish metal band formed in Gothenburg in 2001 by drummer John Alfredson and vocalist Christian Rimmi as LOST SOUL. After several changes in line-up, AVATAR came into existence, made up by Johannes Eckerström (vocals), John Alfredsson (drums), Jonas Jarlsby (guitars), Tim Öhrström (guitars) and Henrik Sandelin (Bass). Their unique sound and looks developed over the years, the clown face paint introduced around 2012. Over the years the band released seven studio albums and played numerous festivals both supporting and headlining shows with a range of bands such as OBITUARY, LACUNA COIL, FIVE FINGER DEATH PUNCH and AVENGED SEVENFOLD. Their newest album, 'Avatar Country', is another concept album around the story of a king, who promises to uphold all values of heavy metal and keeping the genre alive and kicking. www.avatarmetal.com / www.facebook.com/avatarmetal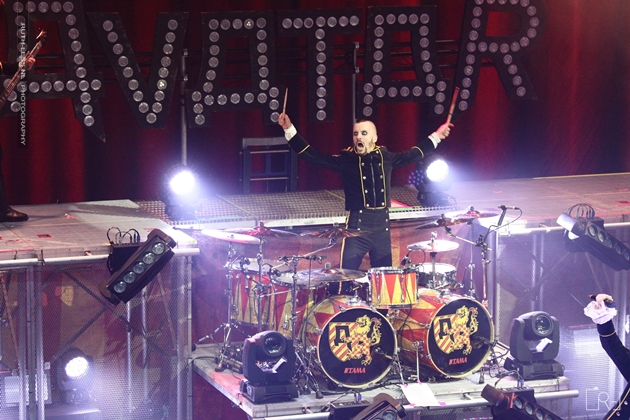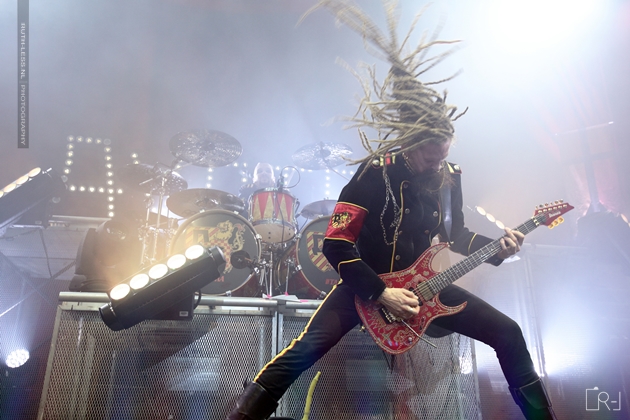 Music & Performance

The audience of TivoliVredenburg, some dressed up complete with avatar face paint, scream their lungs out when AVATAR takes off with their show. In style with their latest album, guitarist Jonas Jarlsby slowly arises from the stage behind the drum kit, dressed as the king, sitting in his royal chair. We start off with some songs from the latest album 'Avatar Country' which evolves all around a certain heavy metal king (all songs have "the king" in it). Next, we go back to some older work while front man Johannes Eckerström takes up his leading role as a vocalist, storyteller, presenter and true entertainer with 'Let it Burn' and 'Paint me Red'.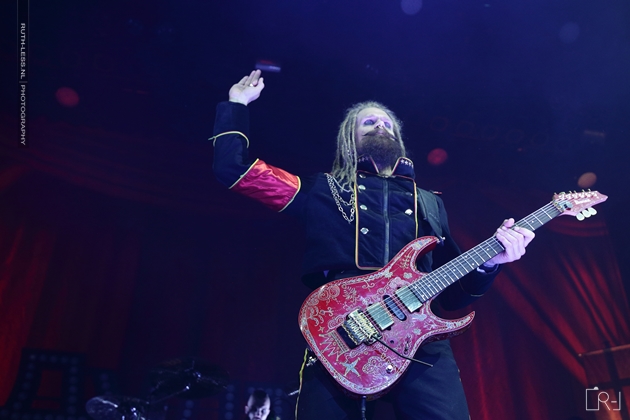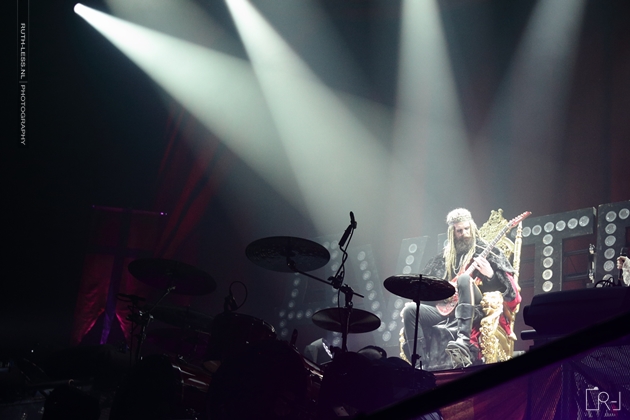 His vocals seem to have improved significantly since last time that I saw them live. If not their outrageous performance, their varied set list makes sure you will not get bored for even a second. From heavy metal to honky-tonk country rhythms, slipping in a lullaby in between, to rock n roll, via elevator music jazzy intermezzo's to straight out Gothenburg Death Metal ('War Song'). Johannes and his men seem quite thrilled with the enthusiastic audience and throughout the show the atmosphere is and stays highly energized. This awesome and entertaining evening ends with hailing the apocalypse while soap bubbles fill up the venue; what's not to like?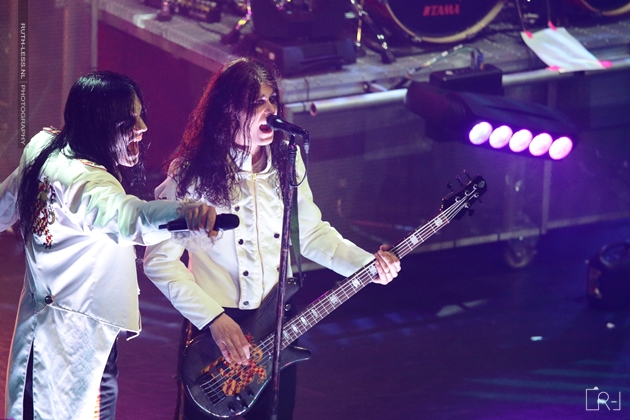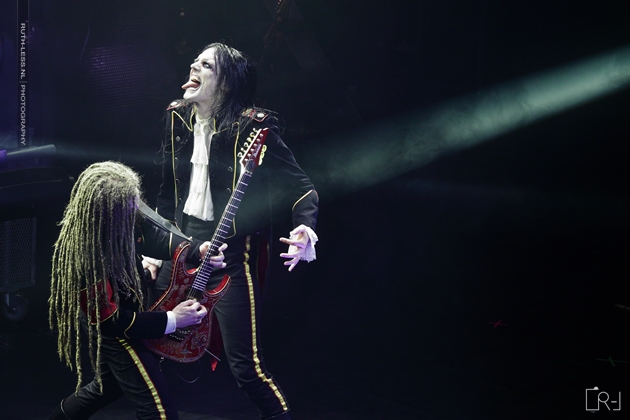 Setlist

01. Glory To Our King
02. Legend of the King
03. Let It Burn
04. Paint Me Red
05. King's Harvest
06. Bloody Angel
07. For the Swarm
08. The King Wants You
09. Puppet Show
10. Tower
11. The Eagle Has Landed
12. War Song
13. Raven Wine
14. Reload
15. Smells Like a Freakshow
16. A Statue of the King
17. The King Welcomes You To Avatar Country
18. Hail the Apocalypse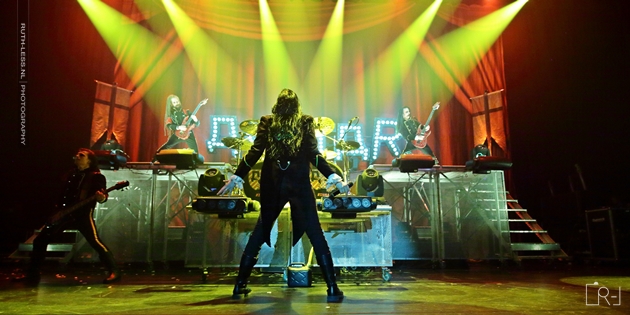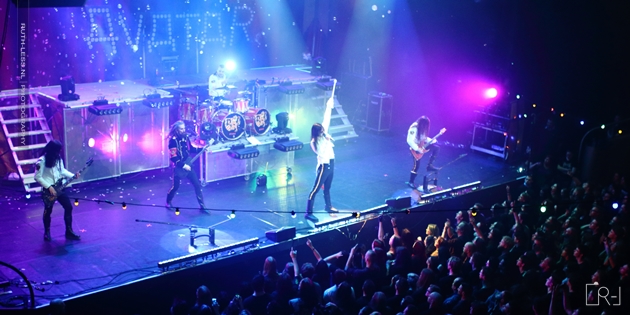 All pictures by Ruth Mampuys (www.ruth-less.nl)