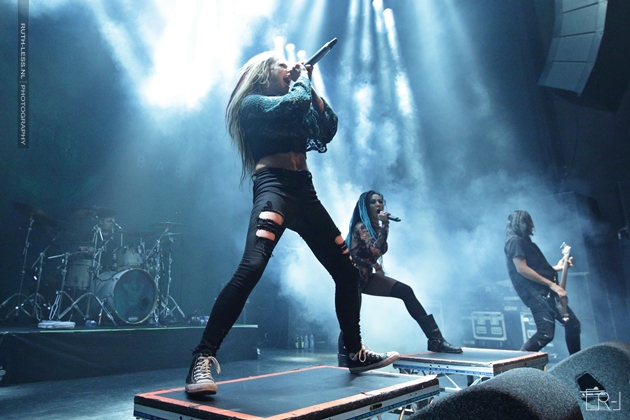 Gebr. De nobel, Leiden, The Netherlands
17th March 2018
Butcher Babies, Eyes set to kill, KLOGR

The shows of the BUTCHER BABIES have not gone unnoticed; Heidi Shepherd and Carla Harvey are well known for their vicious screams, hot looks code and explicit gestures. As part of their world tour on the occasion to promote their new album, 'Lilith', they also visit the Netherlands at Gebr. De Nobel in Leiden. Support this evening is from the Italian KLOGR and EYES SET TO KILL from the US.
KLOGR

KLOGR
(pronounced Key-Log-Are) is an Italian alternative metal band with progressive metal influences. The band's name is a tribute to a psycho-physical law (S=KlogR) developed in the 19th century by experimental psychologist Ernst Heinrich Weber and German philosopher Gustav Fechner. The band was formed in 2011, releasing their first album 'Till You Decay' that same year. The band cites METALLICA, ALTER BRIDGE, A PERFECT CIRCLE, TOOL, and ALICE IN CHAINS as their influences. Their latest album, 'Keystone', dates from 2017. Over the years, KLOGR has had several line-up changes, going from project band to a more steady line-up and back again. Early 2018 KLOGR returns with the release of a new video for the single 'Pride before the Fall' and the announcement of an extensive European Tour with American heavy metal band BUTCHER BABIES. KLOGR is Gabriele 'Rusty' Rustichelli (vocals, guitar), Pietro Quilichini (guitar), Rob Galli (bass) and Maicol Morgotti (drums). www.klogr.net / www.facebook.com/pg/klogr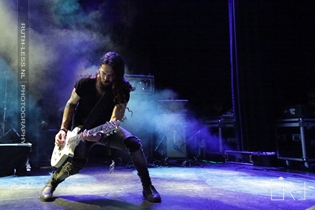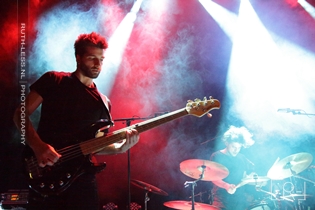 Music & Performance

KLOGR opens this evening for just a modest crowd, but fortunately that doesn't temper the enthusiasm of Gabriele and his men. In just half an hour they take us on a trip through their discography with songs from their latest album 'Keystone' (2017) as well as some older work such as 'Bleeding' from their 2012 album, 'King of unknown' (2013) and 'Draw Closer' (2014). It needs to be said, but you don't often get this quality of live music as an opening act: slightly predictable, but proper alternative rock with strong vocals and catchy guitars. And not unimportant; the band members seemed to enjoy themselves as well!
Setlist

01. Draw Closer
02. Technocracy
03. King Of Unknown
04. Pride Before The Fall
05. Prison of Light
06. Bleeding
07. Guinea Pigs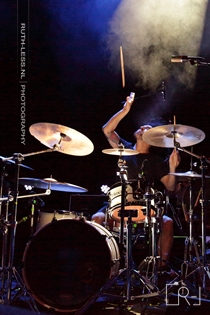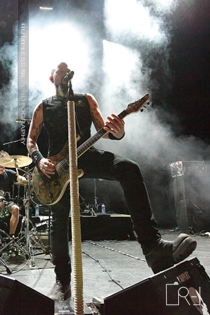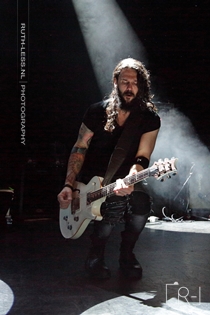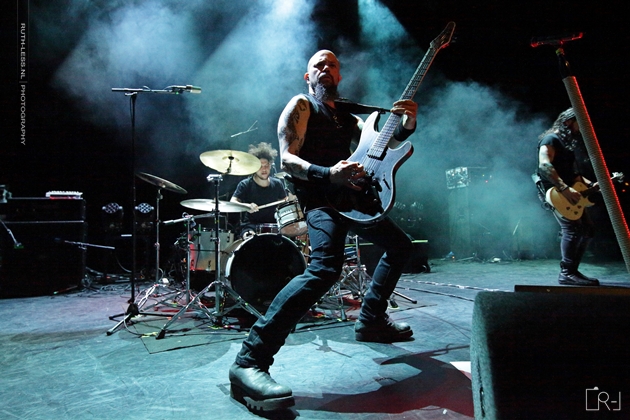 Eyes Set to Kill

EYES SET TO KILL
is an American post-Hardcore band from Phoenix, Arizona, United States. Sisters Alexia Rodríguez and Anissa Rodríguez, along with former vocalist Lindsey Vogt started the band in 2003. Lindsey Vogt departed the band in mid-2007 due to issues with management. Lindsey would go on to form a solo project, and eventually formed the band THE ATTRACTION. After Lindsey's departure, Alexia assumed her position as lead vocalist as well as guitarist. The band continued to play music, despite several more changes in line-up. In 2017, they released the single 'Break' from their latest self-titled album, which was released early 2018. EYES SET TO KILL is Alexia Rodriguez (Vocals / Guitars / Keys), Caleb Clifton (Drums), A.J. Bartholomew (Guitar) and Comron Fouladi (bass). www.facebook.com/eyessettokill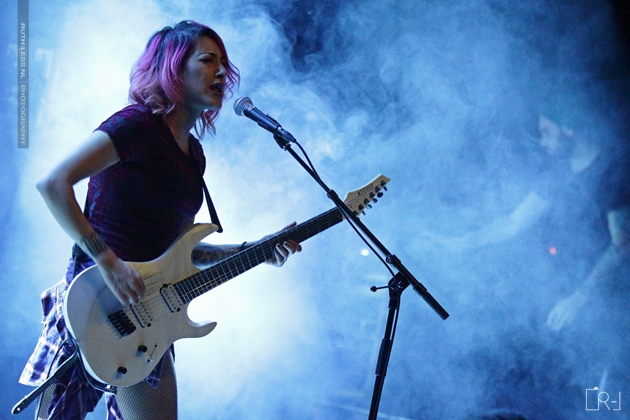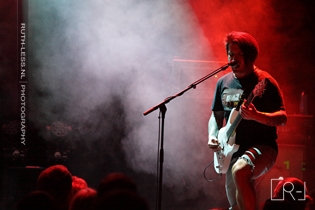 Music & Performance

Up next it is up to EYES SET TO KILL. Despite their youthful looks, this band has already been around for some time and it definitely shows in their stage confidence and energy. I must say that this emo post-Hardcore type of music is not really my cup of tea, but a bunch of front row fans clearly enjoyed themselves tonight. Alexia's vocals needed a little warm-up, being somewhat of a blend of PARAMORE's Hayley and the darker tones of GUANO APES' Sandra. In addition however, the grunts of guitarist AJ Bartholomew are absolutely brutal. All bands this evening seem to get along great during this tour, which is demonstrated when the men of KLOGR step in with some additional backing vocals. EYES SET TO KILL play some work from their latest self-titled album ('Break', 'Not sorry') and they pay some tribute to THE CRANBERRIES with 'Zombie'.
Setlist (incomplete)

Lost and Forgotten
Break
Zombie (The Cranberries cover)
Surface
Little Liar
Haze
Not Sorry
Infect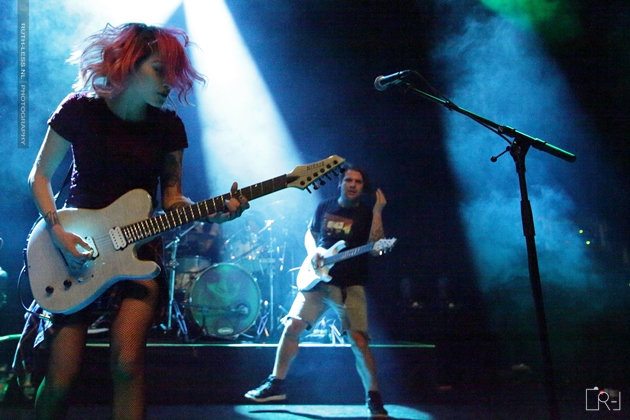 Butcher Babies

BUTCHER BABIES
are an American heavy metal band from Los Angeles, California, led by front women Heidi Shepherd and Carla Harvey. Hailing from the City Of Angels, BUTCHER BABIES aided in the jubilant revival of the Metal scene on the Sunset Strip. While gaining attention from several record labels the band signed a worldwide deal with Century Media Records in December 2012. Less than a year later, July 2013, they released their debut album GOLIATH. Followed by their highly anticipated sophomore head-banger, 'Take It like a Man', in 2015.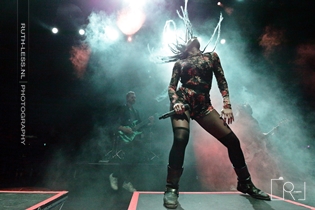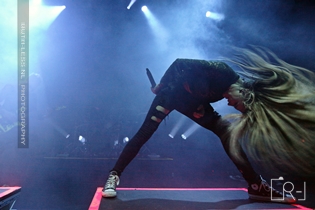 Over the years, BUTCHER BABIES have toured worldwide with bands like MEGADETH, ROB ZOMBIE, MARILYN MANSON, FIVE FINGER DEATH PUNCH, DANZIG, IN THIS MOMENT, CRADLE OF FILTH, BLACK LABEL SOCIETY, etc.; and played music fests including Mayhem, Download (UK), Hellfest (France), Knotfest (US & Japan), Hell and Heaven(Mexico), Rock on The Range, Louder Than Life, Aftershock, Welcome to Rockville, etc. The band recently released their third studio album 'Lilith'. BUTCHER BABIES is Heidi Shepherd (vocals), Carla Harvey (vocals), Henry Flury (guitar), Jason Klein (bass) and Chase Brickenden (drums). http://www.butcherbabiesofficial.com / www.facebook.com/butcherbabies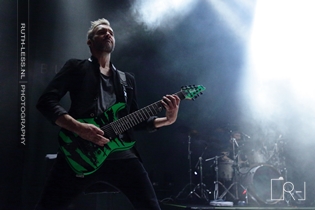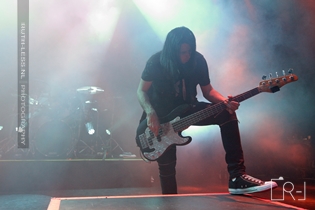 Music & Performance

To be honest, I did expect a bigger crowd this evening, but the floor and specifically the front row has nicely filled up when Heidi and Carla take over the stage with explosive energy on the tunes of 'Lilith' from their latest album. The vocals of these slim fit looking girls are simply brutal from the start, although I am quite sure this is not the only feature that attracted a predominantly male audience this evening. The BUTCHER BABIES' energy easily transferred to the crowd and soon after, we had a little pit going with some enthusiastic obvious first timers. Seems like the girls are doing a successful job converting office clerks to metal heads.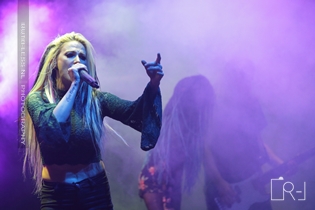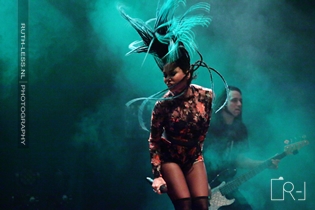 We go through their discography with both old ('In denial', 'Magnolia Blvd.' and 'Axe Wound') and new songs ('Pomona', 'Headspin'), blasting energy, raging riffs, aggressive grunts and sweet clean vocals. With the girls running and jumping around on stage, wind milling their long hair, the crowd did not get bored for a single minute. In between songs, there's also time for a little chat, a beer, some shots if jaeger and some sing-alongs ('Beer Drinkers & Hell Raisers'). Despite the band (formed by Henry Flury (guitars), Jason Klein (bass) and Chase Brickenden (drums)) doing an excellent job, their onstage presence simply fades compared to the unrivalled charm and aggression of the girls. The BUTCHER babies tell the audience that they're tired at the end of this tour, but that didn't keep them from going and we get a proper 4-song encore. What an evening!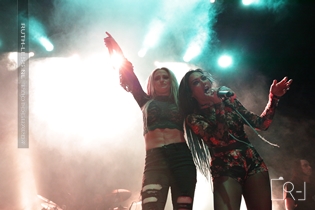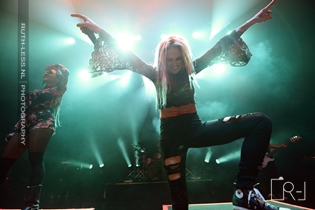 Setlist

01. Lilith
02. Burn the Straw Man
03. Monsters Ball
04. The Butcher
05. In Denial
06. The Huntsman
07. Korova
08. Igniter
09. POMONA (Shit Happens)
10. Gravemaker
11. Thrown Away
12. Beer Drinkers & Hell Raisers (ZZ Top cover) (followed by drum solo)
13. Headspin
14. Underground and Overrated
---
15. They're Coming to Take Me Away (Napoleon XIV cover)
16. Controller
17. Axe Wound
18. Magnolia Blvd.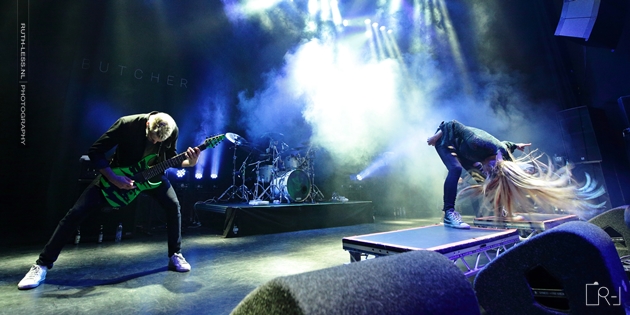 All pictures by Ruth Mampuys (www.ruth-less.nl)
See also (all categories):