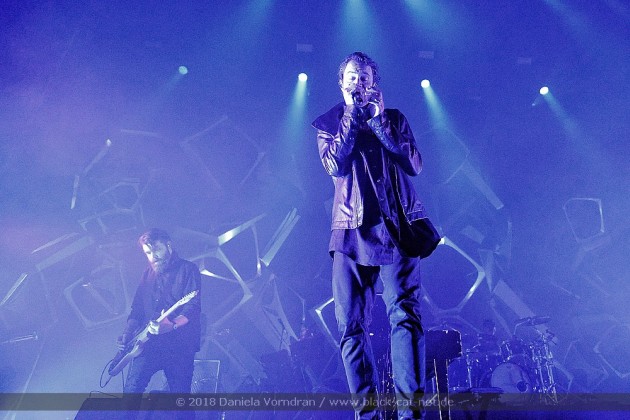 Halle Münsterland, Münster, Germany
24th March 2018
Editors & Public Service Broadcasting

In the very venue where THE ROLLING STONES performed their first German gig ever in 1965, EDITORS played probably their biggest headline gig of their German dates this spring. For the RoD team the show at the Halle Münsterland was the home gig as some of us live literally around the corner. A show not to be missed and it seemed that half the city was in EDITORS mode...
Public Service Broadcasting
For their "Violence" tour, EDITORS recruited a pretty interesting support act from London which already raised quite some attention in the UK.
PUBLIC SERVICE BROADCASTING
take the idea of concept albums to another level, in fact you could look at them at some sort of "concept band". The trio, that is multi-instrumentalists JFAbraham and Willgoose Esq. and drummer Wrigglesworth, play some sort of Art Rock/ Indie Rock which is almost exclusively instrumental but always has a strong narrative, anyway. For this, PUBLIC SERVICE BROADCASTING rely on speech samples from vintage footage such as old news reports, propaganda material, radio shows and so on.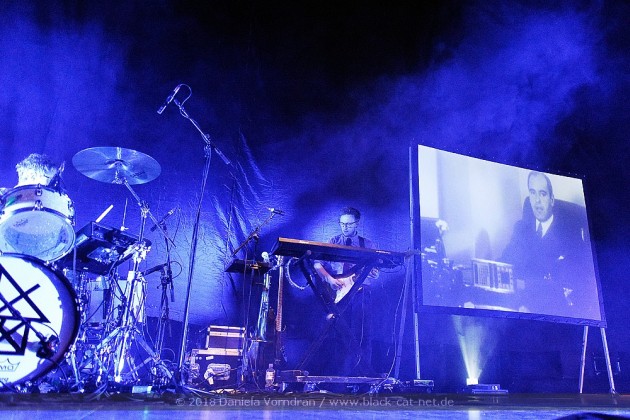 There's always a narration, e.g. their most recent album 'Every Valley' (2017) is a concept album on the rise and fall of the coal mining industry in Wales and the inherent struggles of the working class families of this famous mining area. PUBLIC SERVICE BROADCASTING do not just go through a vast quantity of audio footage to pick the needed samples but also do quite a bit of historical research on the matter they want to present. A pretty interesting approach, and thankfully the quality of the music doesn't fall behind. https://www.publicservicebroadcasting.net / https://www.facebook.com/publicservicebroadcasting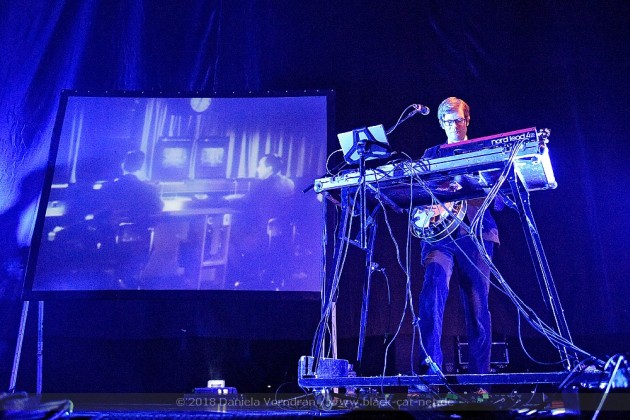 Music & Performance

PUBLIC SERVICE BROADCASTING were supposed to be on stage at 7:30 pm but due to technical difficulties, with the video screen as far as I could see, there was some delay. Finally the uplights were switched off and the stage lights switched on, and the band started with 'Theme From PSB'. It was a pleasant surprise that the huge crowd seemed to be pretty open-minded and curious, and the trio received a good reaction from this rather mainstream-ish crowd. It was fun to watch them switching between various instruments, and the music does have a trippy, psychedelic feel to it, which was supported by video clips on a screen in the middle of the stage. PUBLIC SERVICE BROADCASTING proved that they are more than just a bunch of guys who look like Oxford University graduates performing nerdy, top-heavy instrumental Art Rock.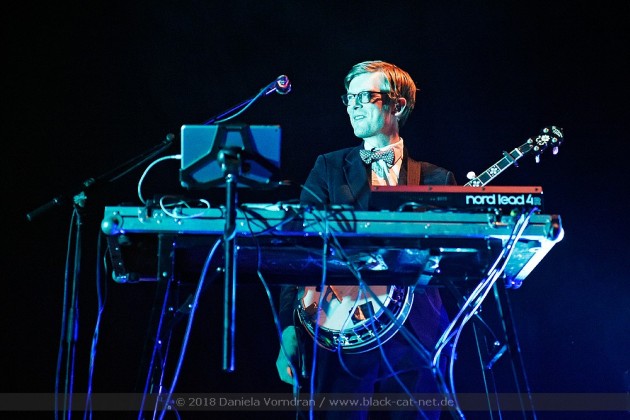 The music, and performance, is intriguing, invigorating and does have an emotional punch. However, it is hard to connect with a bigger crowd when there are no vocals at all. In a way, a human element is missing, and vocals are the key element to make a connection with an audience. And when you play a selection from all over your career the narrative arc of the concept album is apparently missing. PUBLIC SERVICE BROADCASTING solved the problem by playing their most compelling and most driving tracks, such as 'Spitfire' and 'Go'. A really good gig and I'm sure PUBLIC SERVICE BROADCASTING placed themselves on the checklist of many visitors that night. But I'm also quite sure that the full magic of PUBLIC SERVICE BROADCASTING would unfold fully only when they play in a smaller venue, with bigger screens and the volume cranked up a bit more.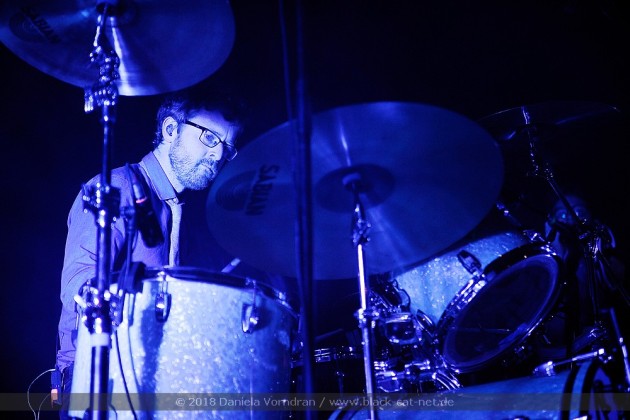 So what can you do? Go and see them at a club near you when they do a headline show!

Setlist

01. Theme From PSB
02. Korolev
03. People Will Always Need Coal
04. Progress
05. Go!
06. Spitfire
07. Gagarin
08. Everest
Rating

Music: 9
Performance: 9
Sound: 8
Light: 8
Total: 8.5 / 10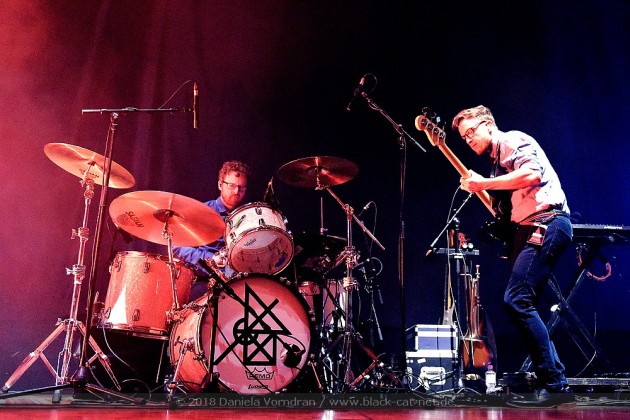 Editors

Do
EDITORS
still need an introduction? When Tom Smith (lead vocals, guitar, piano), Russell Leetch (bass guitar, synthesizer, backing vocals), Ed Lay (drums, percussion, backing vocals), Chris Urbanowicz (lead guitar), and Elliott Williams (keys, synthesizers, guitars, and backing vocals) entered the scene with their debut album 'The Back Room' in 2005 it was like a big but slow explosion. From the debut single 'Bullets', released in 1,000 copies on a small label, to their first appearance in the famous and iconic "Top of the Pops" show with their single 'Munich', EDITORS went from a local, word-of-mouth Post-Punk revival act to Indie Rock superstars with platinum quantity sales and a Mercury Prize nomination for 'The Back Room' in less than a year.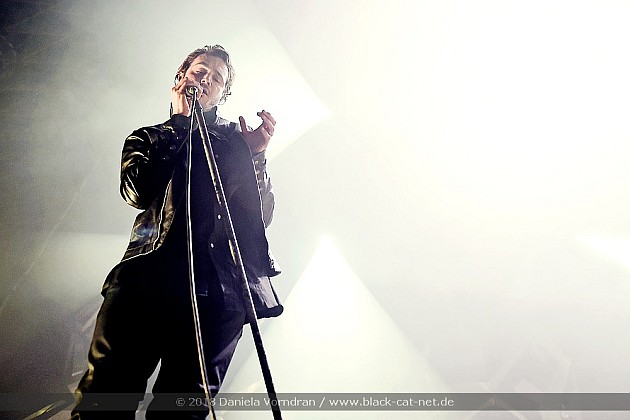 With their second album, 'An End Has A Start' released in 2007, EDITORS proved that they are a band willing to outgrow their early influences, which were quite clearly 1980s Post-Punk such as ECHO & THE BUNNYMEN and esp. JOY DIVISION, and to actually evolve. And indeed there was quite some evolution in the sound of the band over the next few albums, in particular starting with rather electronic 'In This Light and on This Evening' album from 2009, which featured the hugely successful dance single 'Papillon'. EDITORS manage to re-invent themselves a little from album to album while keeping their trademarks alive. Their biggest trademark, however, is singer Tom Smith's unique and instantly recognizable voice, which has range from a rich, sonorous baritone to a heart-rending, high pitched cry. http://www.editorsofficial.com / https://www.facebook.com/editorsmusic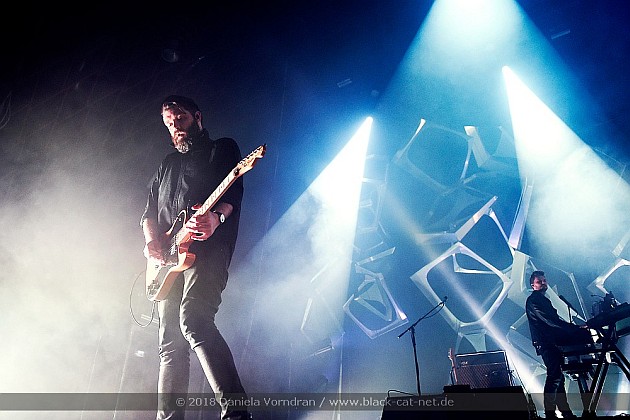 Music & Performance

So this spring EDITORS embarked on a tour in support of their sixth album 'Violence', which was released just weeks before the start of the tour. Singer Tom Smith described the new album as "brutal", and the album title doesn't promise too much cheerfulness and lightness, either. But while there is still all the gloom 'n doom EDITORS are infamous for, especially in the lyrics, the music has its light and uplifting moments. Will EDITORS go further down the route of stadium acts such as U2 or COLDPLAY? And will they succeed to blend the guitar-driven Indie Rock anthems of their early days with the often pretty electronic newer material into one coherent live performance?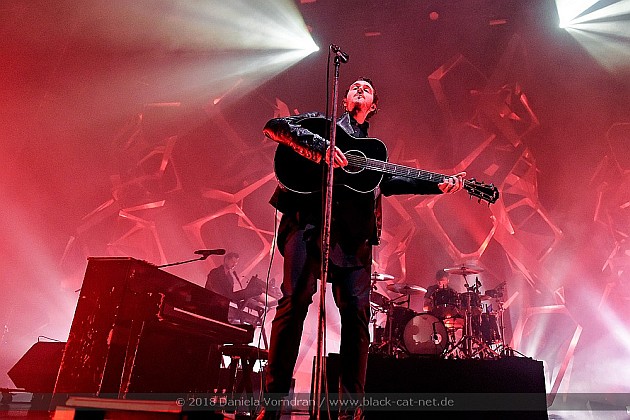 Their show in Münster, only the seventh gig of the "Violence" tour, would have to prove this. The demand at least was massive, and pretty soon after the presale started the gig was moved from the Jovel Music Hall to the 6,500 capacity Halle Münsterland, in fact just on the other side of the street. Some fans weren't too happy about this relocation as they hoped for an intimate club gig and now they got kind of an arena show. Well, those people probably were never at a sold out show at the Jovel Music Hall since this is anything but intimate, rather intimidating! It has the charm, and acoustics of a car dealer's building - most likely because it was exactly that before it became a music hall. So I seemed to be one of the few who were happy with the relocation.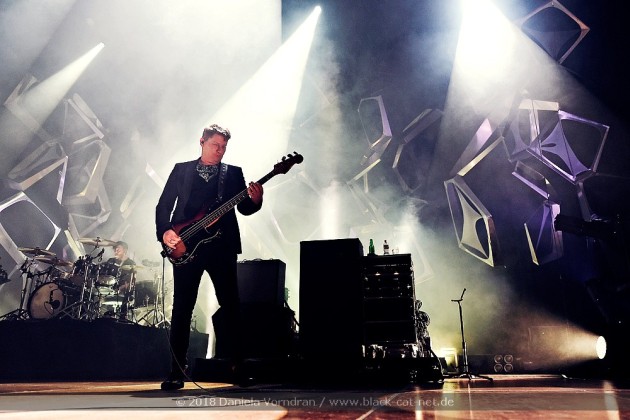 Although the Halle Münsterland wasn't completely sold out and there were still many tickets available in front of the venue, the place felt nevertheless pretty packed. After the support slot of PUBLIC SERVICE BROADCASTING there was a 40-minute break for changeover but when the lights were dimmed it was the first "wow" moment, as when the huge black curtain fell down it cleared the sight for the magnificent stage setup. As a backdrop there were weirdly shaped metal structures hanging from the ceiling which would do quite interesting stuff when reflecting the various lights of the magnificent light show. One big advantage that EDITORS moved their gig from a club to an arena: They could bring their full equipment and stage setup! A big plus, for sure!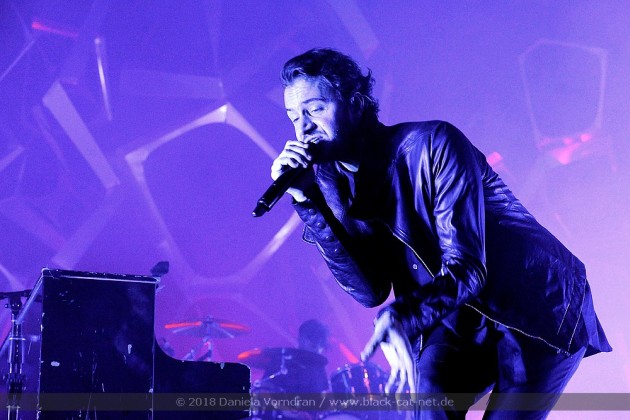 EDITORS started their show with 'Hallelujah (So Low)', an epic monster of a song which feels like a natural born opener (would have preferred it as the opener of the album, too, but that's just me) but somehow it didn't sound as strong live as its studio counterpart. At least where I stood in the crowd the sound lacked oomph; well… it was simply not loud enough. Not really a problem, the FOS technicians found the volume button soon enough and a few songs in the sound was fine. The first couple of songs were taken from the new album 'Violence' and the 2013 album 'The Weight of Your Love', the only album in EDITORS' discography which I think is a little underwhelming. But 'A Ton of Love' and 'Formaldehyde', two of the better songs from this album, just worked fine live and got a good response from the crowd. The band was doing their thing on stage, not communicating too much with the audience except for Tom Smith repeatedly saying how great it would be to see so many people on a Saturday night - as if there were many better things to do on a Saturday night as attending an EDITORS show!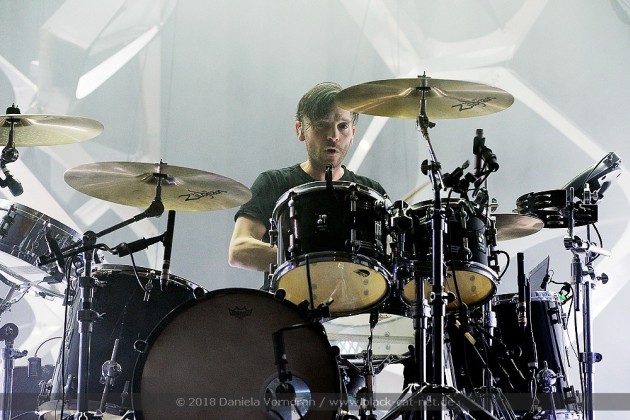 Next came an early highlight, a terrific rendition of the new album's title track merging directly into 'No Harm', which was one of those genius moments you hope for when going to a gig of a band which such a live reputation! But it was the mid-set trio from the debut album 'The Back Room' - 'Lights', 'Blood' and 'Munich' - and the subsequent 'An End Has A Start' which sent the fans into a frenzy, something really snapped when EDITORS dug out those classics. Great stuff, on the other hand the contrast to the synthy, brooding stuff such as 'In This Light and on This Evening' and 'Eat Raw Meat = Blood Drool' was quite significant, when you're honest. EDITORS returned to some songs from 'Violence' before they finished their main set with the crowd-pleasing 'The Racing Rats' and emotional version of 'Ocean Of Night'.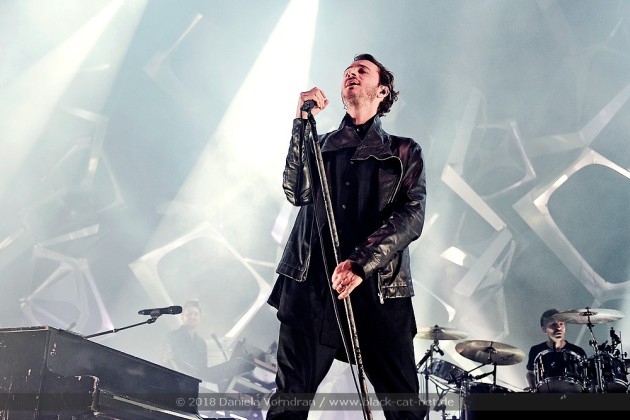 EDITORS were generous and came back for a five-song encore. Including three more songs from 'Violence'! A surprising move, to be honest, but as someone who is a bit tired of big bands doing "best of" sets tour after tour with only or three or four new songs thrown in, I really appreciate that EDITORS put an emphasis on the new stuff and performed a total of eight out of nine songs from 'Violence'. 'Papillon' was of course part of the encore to and did to the audience exactly what you would expect - the whole arena lost it and went bananas, with thousands of arms in the air and lots of dancing everywhere. The touching 'Marching Orders' finished the night and a show that was worth every single cent. Okay, I would have loved to hear some of my personal old faves like 'Smokers Outside Hospital Doors' and 'All Sparks', as well. But I guess you can't have everything!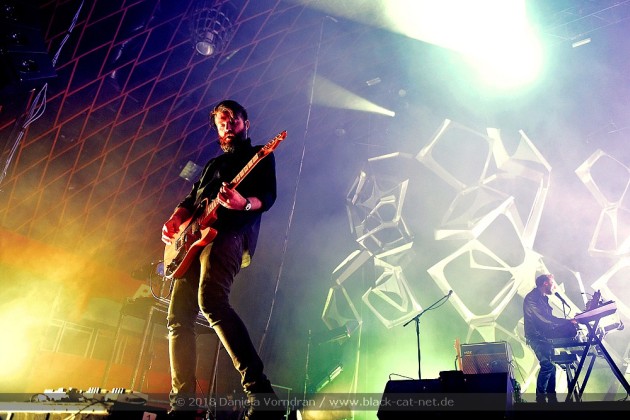 In the aftermath there were a few mixed reviews on the show but I for one wouldn't think twice to go again.
Setlist

01. Hallelujah (So Low)
02. A Ton of Love
03. Darkness at the Door
04. Formaldehyde
05. Violence
06. No Harm
07. Lights
08. Blood
09. Munich
10. An End Has a Start
11. In This Light and on This Evening
12. Eat Raw Meat = Blood Drool
13. Nothingness
14. Belong
15. Sugar
16. The Racing Rats
17. Ocean of Night
---
18. No Sound but the Wind (Tom solo)
19. Cold
20. Magazine
21. Papillon
22. Marching Orders
Rating

Music: 10
Performance: 9
Sound: 9
Light: 9
Total: 9.3 / 10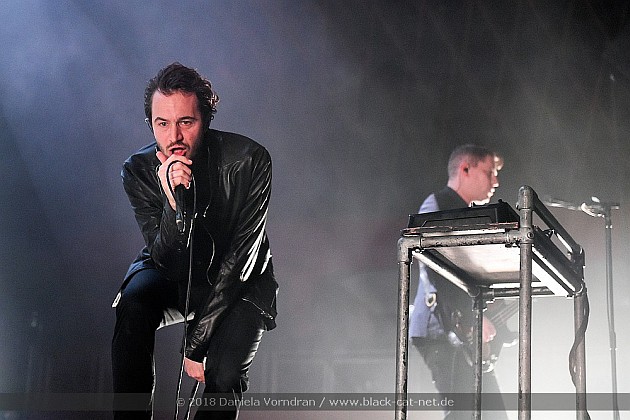 All pictures by Daniela Vorndran (
http://www.vorndranphotography.com
/
http://www.facebook.com/blackcatnet
)