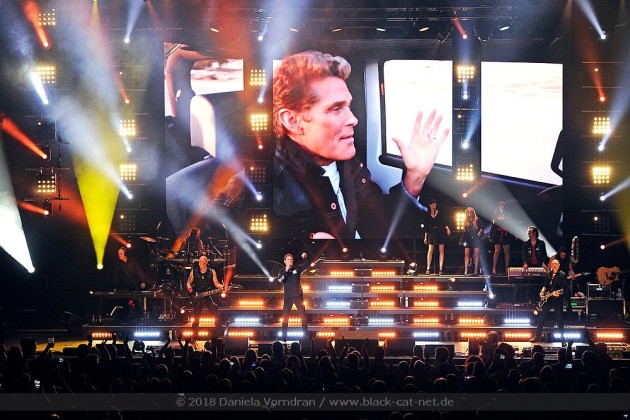 König-Pilsner-Arena, Oberhausen, Germany
25th April 2018
David Hasselhoff - 30 Years "Looking For Freedom"

DAVID HASSELHOFF
and Germany - wasn't there a running joke in Anglo-Saxon countries? Well, "THE HOFF" isn't quite the superstar here as you might think if you are American but he is star enough to play a series of shows in Germany, Austria and Switzerland to celebrate 30 years of his biggest hit 'Looking For Freedom'. The anniversary is actually next year but he tours it already, anyway. And we were at his show in Oberhausen, anyway.
What did the "darkness" in Reflections Of Darkness stand for, again? DAVID HASSELHOFF's music is as dark as a sunny day on Malibu beach, a very sunny one, and as lightweight as pink cotton balls. "THE HOFF", as fans call him, rose to fame as an actor in legendary TV series of the 1980s and 1990s such as "Knight Rider" and "Baywatch". But you know this already, as DAVID HASSELHOFF is said to be the most watched man on television. No idea if this is correct but there's no doubt that especially his role as Michael Knight in his intelligent and talking supercar KITT made him a childhood hero of many who are today in their mid-thirties to mid-forties.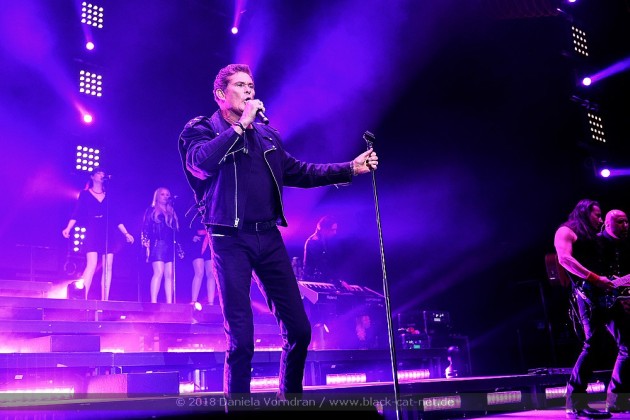 At one point DAVID HASSELHOFF, or probably rather his management, thought it was a good idea to become a singer, as well, to generate another source of income with record releases. This led to the PR stunt of "THE HOFF" singing 'Looking For Freedom' at the Berlin Wall in 1989, and chances are that DAVID HASSELHOFF isn't the only American who thinks the wall came down because of "THE HOFF"... In fact his performance at the Brandenburg gate next to the wall was two months after the fall of the border fortification which separated East and West, on New Year's Eve 1989 to be precise, and back then it was little more than a curiosity and a showcase of the New Year's Eve party. His success as a singer began four years earlier when his debut album 'Night Rocker' peaked at No. 1 in Austria (and not Germany, mind you!) in 1985 while he was selling only seven copies in the US, according to his own words. In Austria he had a few more albums and singles topping the charts while in Germany the single 'Looking For Freedom' stayed his only No. 1 hit. However, the running gag that DAVID HASSELHOFF was big in Germany, often as a hint to the alleged bad taste of German audiences, was born.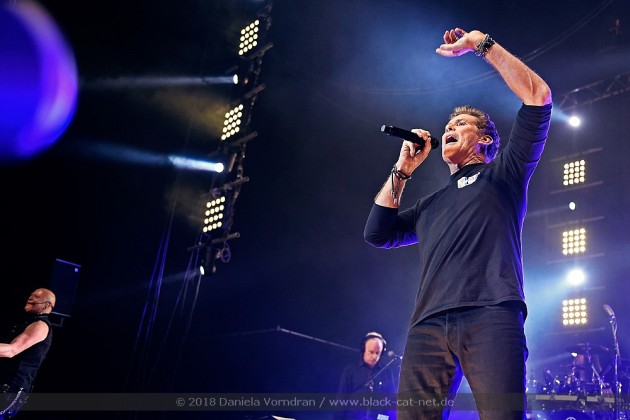 But there's at least some grain of truth to it, as "THE HOFF" had some quite successful record releases here in the early 1990s. Successful enough to go on tour some 30 years later to prey on the past and ask about 70 Euros for a ticket. Well, that's a bit bold if you ask me, and the presales probably would have been better if the prices were half as high. Who pays so much money for a concert which feels more like a stag night than anything? Well, it turned out that DAVID HASSELHOFF attracted quite a mixed crowd in Oberhausen! From families with their kids and garden-variety fourty-somethings to bearded hipsters who think it's ironic to listen to "THE HOFF" to tattooed metal heads (surprisingly, a great many of them!) to actual stag parties in "Baywatch"-themed outfits. And t-shirts with prints saying "Don't Hassel The Hoff" and "David Hasselhoff saved my life" or simply "The Hoff" seemed to be particularly popular among the crowd. http://davidhasselhoffonline.com / https://www.facebook.com/davidhasselhoff/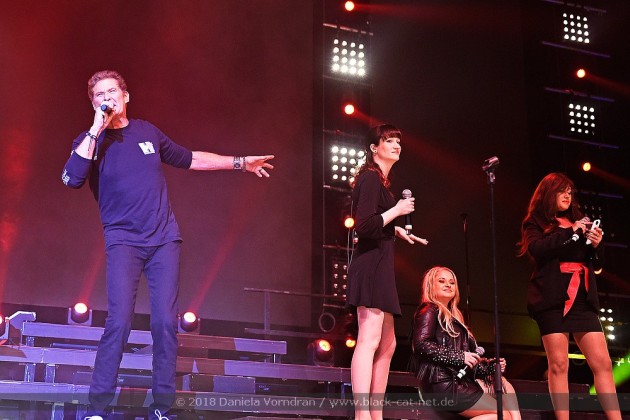 Music & Performance

The arena in Oberhausen was far from being sold out, in fact they moved the stage to the middle of the venue to make the place look more packed and yet there were still many empty seats, even entire rows, in the upper ranks. There were about 3,000 people in this 12,650 capacity arena but thanks to the trick to move the stage and thus only using one half of the venue, and having seats on the floor as well, it looked packed enough. Before the show started, there was music from tape on low volume, and it's strange to say that this tape also featured DAVID HASSELHOFF's 'Looking For Freedom' and 'True Survivor'. Weird! The reaction from the crowd to it was zero but as soon as the lights went out the audience went nuts! The playback intro featured the themes of 'Knight Rider' and 'Baywatch', complete with adequate footage on three huge screens in the back of the stage. In front of the screens was a centre-stage staircase with illuminated steps, and as soon as DAVID HASSELHOFF appeared on the top level there was a massive roar from the fans. "THE HOFF" brought no less than nine musicians with him, all placed on the sides of the staircase and including three backing singers and two tattooed guitar players which looked as if "THE HOFF" kidnapped some ageing Metal band.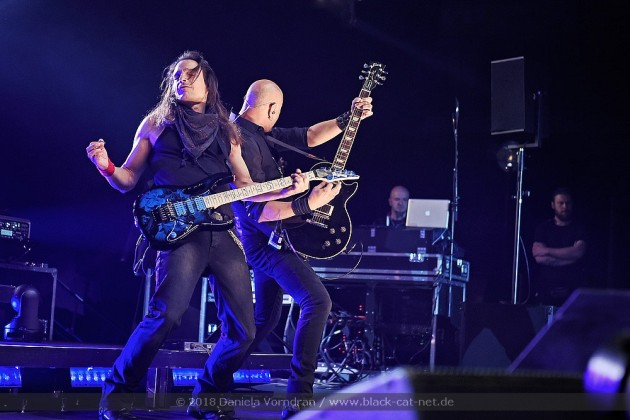 The show started with a long medley, which felt a bit odd, and jumped directly to the full version of a pretty Hard Rock-ish version of 'Jump In my Car'. It took a few songs until DAVID HASSELHOFF came out of his shell and finally addressed the crowd, but as soon as he warmed up he turned out to be a quite talkative entertainer. And a quite self-ironic one! But this shouldn't be a surprise, as "THE HOFF" loves to parody himself as he proved with self-parodic appearances in movies and TV show and last but not least with his song and video clip 'True Survivor' for the over-the-top 1980s homage/ parody short film "Kung Fury". And indeed 'True Survivor' was the best song of the night by a mile, even if the keyboarder was a little off tune. But at least the two kidnapped Metal guitarists could finally leash it out, eventually. As for the other songs, the three screens did not only show footage of the live performance but also scenes from the video clips of the respective songs, and it was fun to see Nazis, a Karate Kid impersonator, a T. Rex and Adolf Hitler on screen at such a show. Thanks to "Kung Fury"!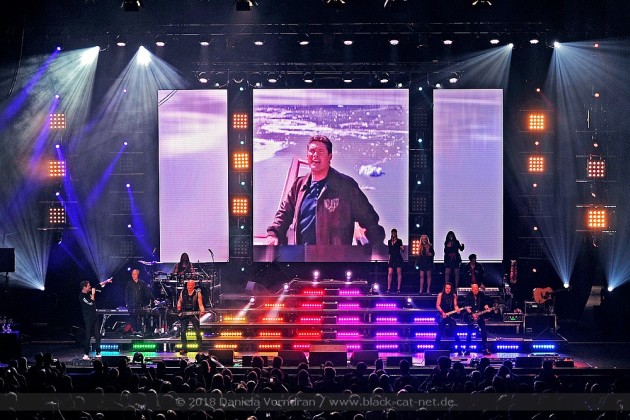 After ten songs there was a 20-minute break, which seemed to confuse some attendees. Is the gig already over? Of course not, 65-year old DAVID HASSELHOFF probably needs such a break and after all it gives the audience the opportunity to take selfies in front of the KITT replica in the foyer or to buy overpriced food and drinks. Talking about drinks, as a matter of fact the Arena Oberhausen flagged their beer stalls with "DRINK'S" - yes, a plural with an apostrophe! - in huge metal letters, and the grammar Nazi in me just wanted to scream and burn the place down! Where's quality control when you need it?? And while we're at it, why do they play the tape with 'Looking For Freedom' and 'True Survivor' AGAIN during the break?? That's just WEIRD!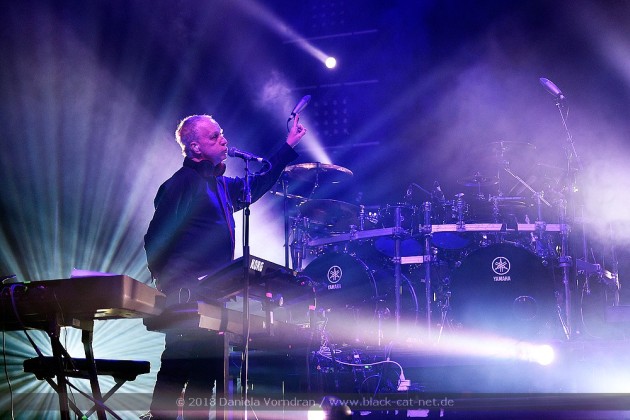 The second part of the show started with a playback of 'Guardians Inferno' complete with video on screen, another self-parodic, ironic dig at himself by "THE HOFF". And it bought the old man some time before he re-entered the venue with the ballad 'This Is the Moment'. He didn't simply come back on stage again but rather entered through a side door and walked, accompanied by bodyguards, through the crowd. And the crowd loved it! Back on stage at the end of the song, the second part of the gig was dominated by balladry stuff, often as cheesy as it gets and at times quite nice cover versions which allowed DAVID HASSELHOFF to demonstrate that he's actually a pretty good singer who still has a strong voice after all those years. But at least parts of the audience didn't want ballads but would rather having a party instead, so they were shouting "David Hass-el-hoff! Sha lala la la!" even during songs! Regarding the crowd's enthusiasm it felt in a way like a DEPECHE MODE concert, but with bad music. And you never knew if the adoration for the star was actually heartfelt or if people were poking fun at their king of trash...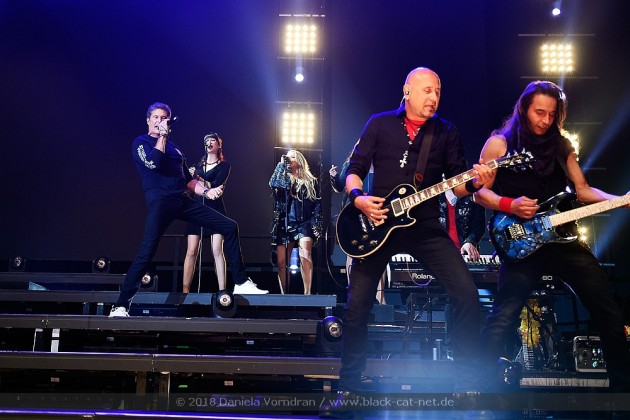 With the theme from "Baywatch", 'I'm Always Here', the party was eventually back in full action for the finale with 'Crazy For You' and 'Do The Limbo Dance'. Any good taste was out of the window long ago, anyway, so why not having some good ole fun? DAVID HASSELHOFF and his band soon returned for a three-song encore which featured - sacrilege! - DAVID BOWIE's 'Heroes' (haha, Berlin Wall reference, haha - got it?) and then, finally, the song why everybody was here: 'Looking For Freedom'! But by this time we already headed for our car before we would run danger to bump into a stag party or a bunch of "Baywatch" cosplayers at the car park.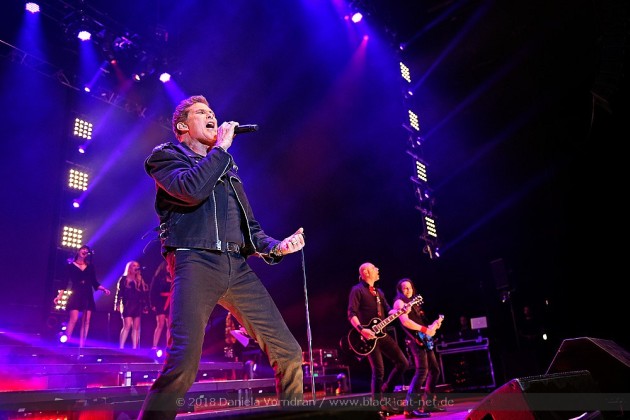 The bottom line? Still a better live show than BLUTENGEL! Actually better than quite a number of live acts of the "dark scene" which are just as cheesy but who take themselves oh so seriously. In the end their cheese is just darker, so to say, and HASSELHOFF at least understood that it helps to have the tongue firmly in cheek every now and then and when you do things over the top you have to do it right and go all the way! It was a night full of simplistic songs with simplistic lyrics but fun enough to clap along and sing along but at the end of the day DAVID HASSELHOFF was not half as bad as I suspected when the chief editor of Reflections of DARKNESS harassed me ruthlessly to attend the gig with her. After all there were some fine moments like the epic 'True Survivor', some well-sung semi-decent ballads and lots of giggles and fun. With this experience behind me I can call myself a true survivor, too!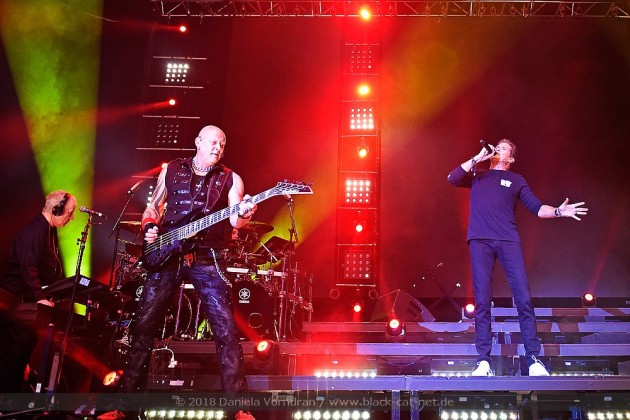 Setlist

01. Intro
02. Hey, We Wanna Rock the World / Move to the Beat of Your Heart / Hot Shot City
03. Jump in My Car
04. Is Everybody Happy
05. Lonely Is the Night
06. Night Rocker
07. Hooked on a Feeling
08. True Survivor
09. More Than Words Can Say
10. Live Until I Die
11. It's a Real Good Feeling
-break-
12. Guardians Inferno (from tape)
13. This Is the Moment
14. Sheltered Heart
15. Flying on the Wings of Tenderness
16. Gipsy Girl
17. You've Lost That Lovin' Feeling
18. Take Me Home Country Roads
19. Sweet Caroline
20. After Manana Mi Ciello
21. I'm Always Here
22. Crazy for You
23. Do the Limbo Dance
---
24. Wir zwei allein
25. Heroes
26. Looking for Freedom
Rating

Music: 4
Performance: 8
Sound: 8
Light: 9
Total: 7 / 10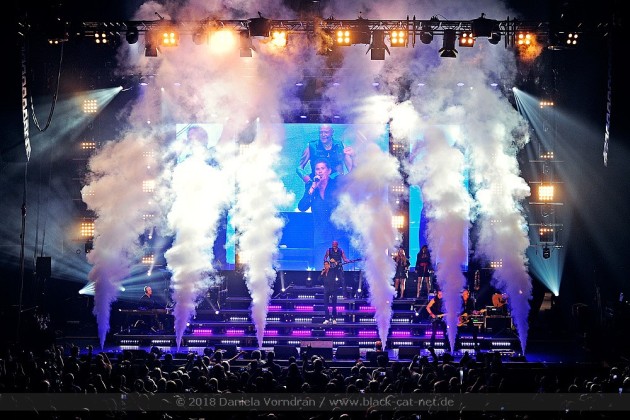 All pictures by Daniela Vorndran (
http://www.vorndranphotography.com
/
http://www.facebook.com/blackcatnet
)