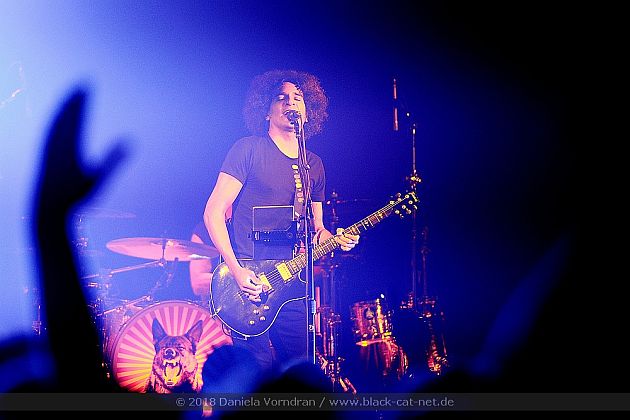 Live-Music-Hall, Cologne, Germany
4th July 2018
Alice in Chains & Mother's Cake

The iconic co-founders of Grunge Rock, ALICE IN CHAINS, played a gig in the relatively small Live-Music-Hall in Cologne, and for ticket scalpers Christmas came early this year, as many people desperately tried to get a ticket to the sold-out show ahead of the concert in front of the venue. However, this manifests that there is a pretty solid demand to see the band even after all these years, and after they tragically lost their iconic singer Layne Staley in 2002 in a drug overdose. Not many bands survive the death of their singer, but ALICE IN CHAINS seem to have found their mojo again.
Mother's Cake
The three-piece Progressive Rock band from Austria was accompanying ALICE IN CHAINS on the European leg of their tour. The band has released three studio albums and one live album so far, and they are releasing another live album named 'Live at Bergisel' this summer, which probably underscores their preference for playing hot and sweaty live shows. Their musical influences range from anywhere between THE MARS VOLTA and RED HOT CHILI PEPPERS to LED ZEPPELIN and BOOTSY COLLINS. www.motherscake.com / https://www.facebook.com/motherscake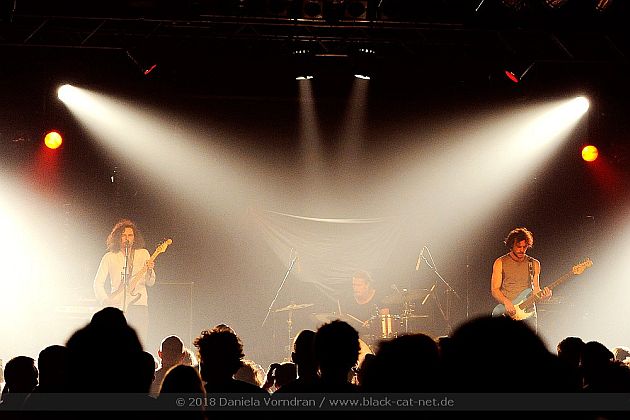 Music & Performance

A little earlier than originally expected,
MOTHER'S CAKE
started their set around 7:45pm and did their best to lure the fans from the outdoor area of the Live-Music-Hall into the hot venue. Singer Yves Krisner and his two band mates, a bass player and a drummer, obviously packed a punch of sheer joy and energy to entertain the growing crowd. Their funk-infused rock and instrumental skills (the bass player threw in slap base solo that would have made Flea from the RED HOT CHILI PEPPERS blush) did not fail to impress the audience, which grew more and more excited. At the end of their 45 minutes set, the band certainly had won over many new fans.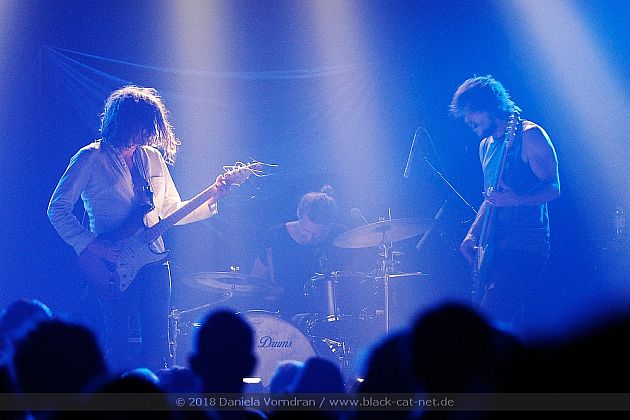 Setlist

01. Creation's Finest
02. Realitricked Me
03. H8
04. Streetja Man
05. The Killer
06. Isolation
07. Runaway
Rating

Music: 8
Performance: 8
Sound: 6
Light: 6
Total: 7 / 10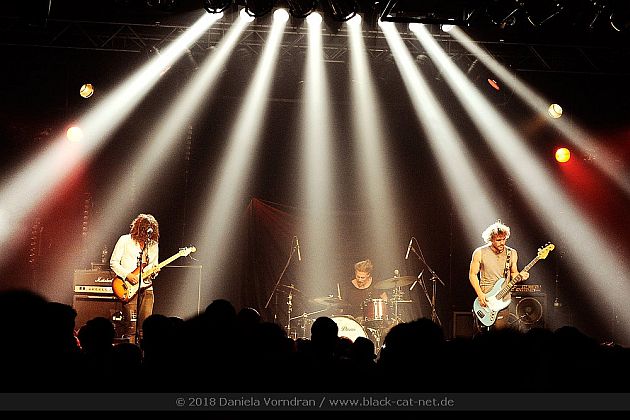 Alice in Chains
The band from Seattle, Washington, certainly was the heaviest (music-wise) among the bunch of Rock bands that sprung up in the early 90ies in that dark, rainy part of the United States to create a genre that became known as Grunge music. They also were among the most successful, selling over 20 million records during those years. However, success and the accompanying fame unfold their dangerous perils also on musicians, with
ALICE IN CHAINS
' front man Layne Staley being no exception, who lost the battle against substance abuse in 2002. Four years later in 2006, William DuVall took over as lead singer, and the band released two more albums until 2013. The release of the band's sixth album, titled 'Rainier Fog' is scheduled for end of August this year. Find out more about the band via https://www.aliceinchains.com or https://www.facebook.com/Aliceinchains.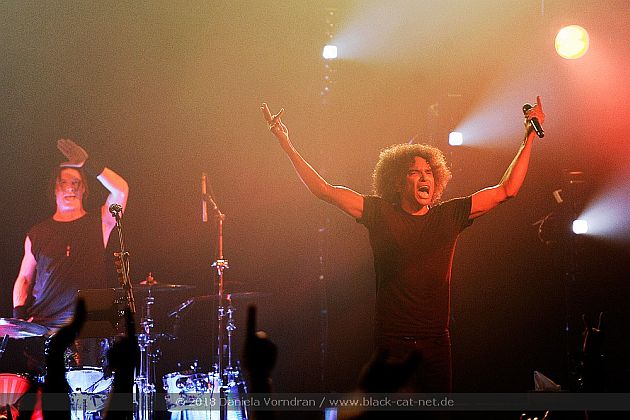 Music & Performance

Finally, after 35 excruciating minutes of waiting time in the suffocating heat inside the hall, around 9:30pm it was time for band of the evening. The four band members took the stage and opened their set with 'Bleed the freak' from the 1990 debut album 'Facelift'. This immediately made the present old-school fans feel relieved that the band would not deny the existence of its repertoire of older songs. Of these, ALICE IN CHAINS played plenty. A double whammy of two songs from the second album 'Dirt' from 1992 hit the fans in the form of 'Them Bones' and 'Dam that River'. However, only the band knows why - of all instances at these two songs - singer William DuVall decided to focus on his vocal duties and put away his guitar. This is not to say that lead guitarist and band mastermind Jerry Cattrell was not up to the task, but these two songs could have benefitted most from the added heaviness of a rhythm guitar.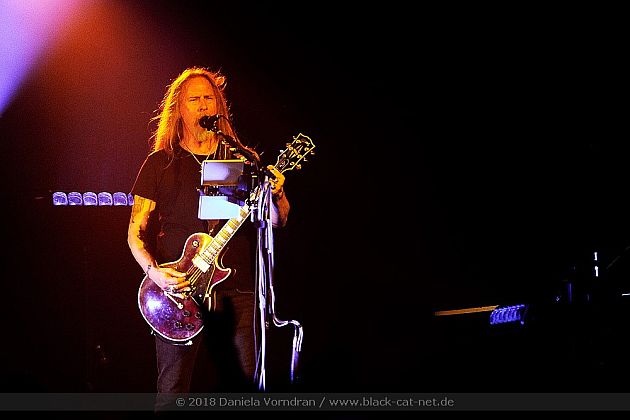 A clear highlight in the setlist was the ballad 'Down in a hole', during which William grabbed an acoustic guitar to perform the song in such an intimate way, which sent shivers down the spines of the audience, despite the sweating temperatures. In general, it was a pleasure to see/ hear, how the two singers, William and Jerry, were splitting the vocal duties, and by that, bringing back to life those iconic songs from the long-gone Grunge days. However, a look at the audience revealed that ALICE IN CHAINS have not only drawn fans from the 90ies to their concert, but a lot of younger ones, too. During one particular heart-warming episode, Jerry smiled and waved at a young kiddo, sitting on her father's shoulders to view the gig at the back, and motioned for them to come to the front.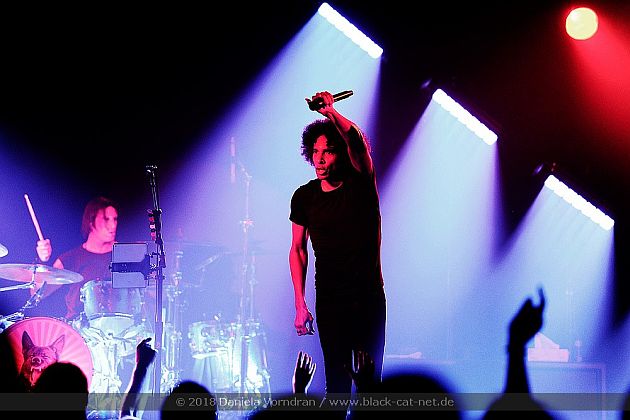 The audience made way for them, and Jerry and William both gave her plecs and thanked them for coming, saying that this was "the cutest shit they've ever seen", jokingly apologizing for using such a language afterwards. After a good 70 minutes of playtime, the band waved goodbye and disappeared, only to re-appear a few minutes later for a four-song encore. Although everyone was soaking with sweat and painfully deprived of oxygen, the chosen songs led the crowd to mobilize whatever energy was still in the tank. The virtual curtain then fell around 10:45pm, after the final chords of 'Rooster' had been played.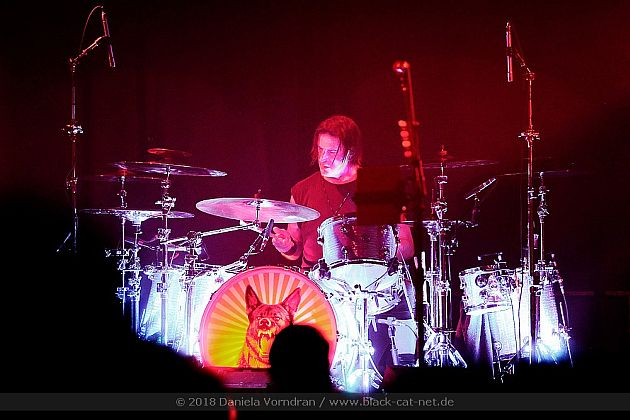 All in all, it has been one of those magic music nights, which - despite the tropical climate inside the Live-Music-Hall - made it utterly clear that ALICE IN CHAINS not only have a great past but also a bright future.
Setlist

01. Bleed the Freak
02. Check My Brain
03. Again
04. Them Bones
05. Dam That River
06. Hollow
07. Last of My Kind
08. Down in a Hole
09. No Excuses
10. Stone
11. We Die Young
12. Nutshell
13. Heaven Beside You
14. It Ain't Like That
15. Man in the Box
---
16. The One You Know
17. Got Me Wrong
18. Would?
19. Rooster
Rating

Music: 9
Performance: 9
Sound: 8
Light: 8
Total: 8.5 / 10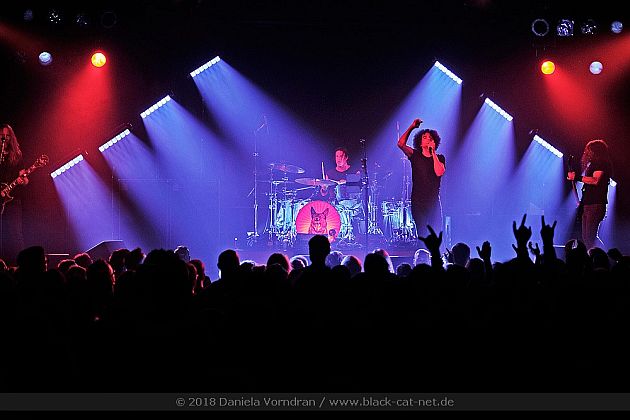 All pictures by Daniela Vorndran (
http://www.vorndranphotography.com
/
http://www.facebook.com/blackcatnet
)