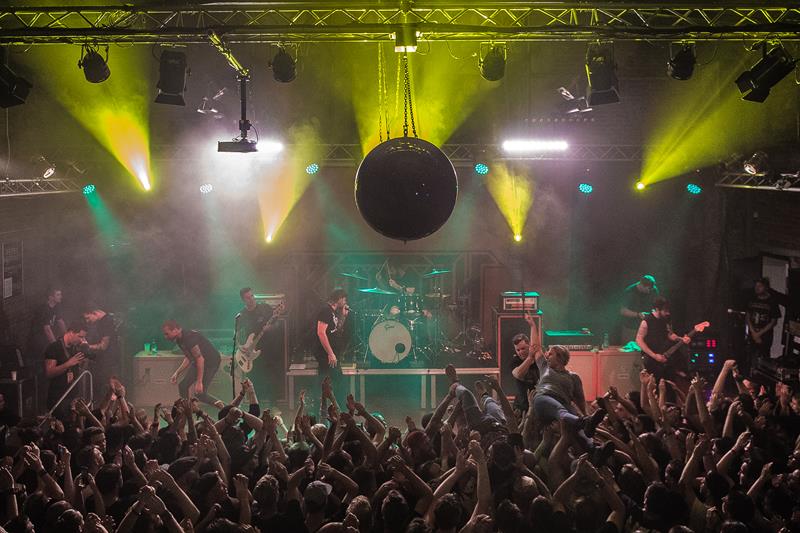 Kulttempel, Oberhausen, Germany
20th August 2018
Beartooth - European Tour 2018 - Support: Skywalker, Loathe

Hardcore band of the hour, the Columbus Ohio formation BEARTOOTH, has thrown in a few club shows in between their festival appearances here in Europe. The first show announced in Oberhausen's Kulttempel sold out in 22 hours. Luckily, the band and the venue were able to schedule another gig right on the day before this one, so those quick enough to secure a ticket had the pleasure of seeing this band perform songs from the new yet unreleased album 'Disease' in a really intimate surrounding.
Skywalker
Support act SKYWALKER were up first on the roster. SKYWALKER is a Czech Hardcore band from Prague, which has released a few singles on Youtube and Spotify. www.skywalkerband.com / https://www.facebook.com/skywalkerband
Music & Performance

Shortly before 8pm, the band entered the crowded stage of the Kulttempel, gathered round the drummer, started their set with some sort of fist bump ritual, and kicked off their set with the song 'Venom'. The four-piece band celebrated their form of melodic Hardcore with an extremely positive attitude.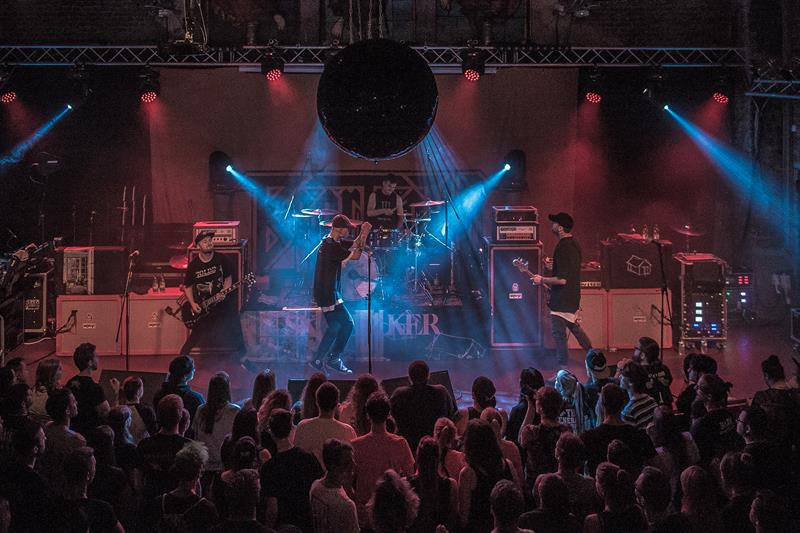 Singer Jay - wearing an OASIS Shirt - implored the audience to "rock the fuck out and bang your heads" but also to "keep it positive" and take care. In between the songs he also addressed the topic of mental health, once again asking everyone to be supportive and never give up. This positive message was also very much reflected in their music, which did not fail to entertain the excited crowd of the sold-out Kulttempel. Especially the song 'Sugar', which Jay dedicated to his love and to the audience, has some real catchy melody hook lines, so it is going to be interesting to see SKYWALKER going places.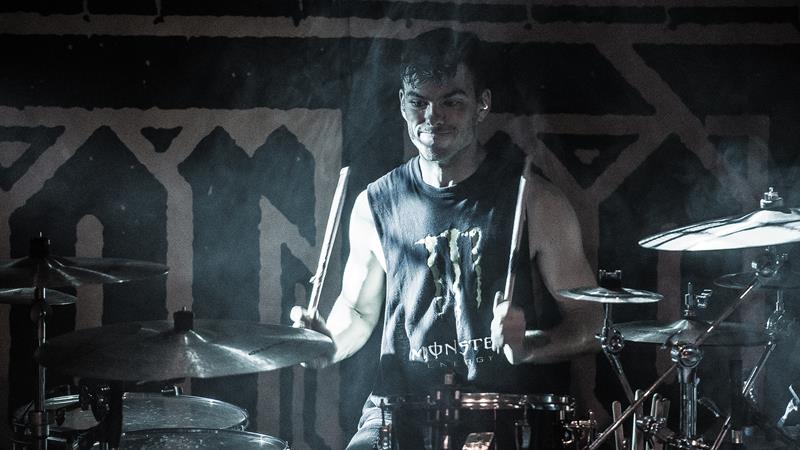 Setlist

01. Venom
02. Survival
03. Drug
04. Island
05. Sugar
06. Blood
07. Caffeine
Rating

Music: 8
Performance: 7
Sound: 8
Light: 6
Total: 7.5 / 10
Loathe
The band LOATHE from Liverpool, UK was a different story - in terms of music and appearance. LOATHE have been formed in 2016, have released their debut album 'The Cold Sun' in 2017 and this year they have released a 4-track EP called 'This is as One'. Their music can be described as Metalcore with certain progressive (read 'electronic') elements thrown in, sometimes bordering on Deathcore. www.loatheasone.com / https://www.facebook.com/loatheasone
Music & Performance

After an incredibly short stage break of 15 minutes, LOATHE entered the stage. Singer Kadeem France - wearing a face mask and a hoodie - sat silently on the edge of the stage staring at the crowd, while his four band members started off with a song.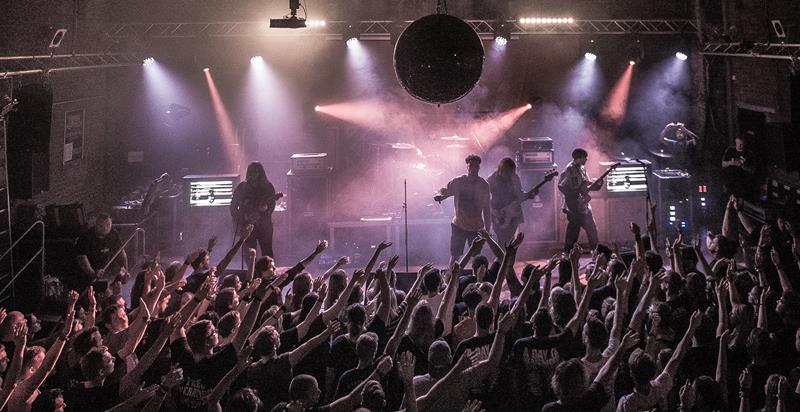 What followed can only be described as some dystopian, post-apocalyptic assault on your nerve endings. Singer Kadeem screamed his lungs out, the down-tuned guitars of his two fellow guitarists kept churning out thrashing Djent riffs, while bass and drums assisted in providing epic breakdowns and sometimes awe-inspiring, complex rhythm patterns. This impression was underlined by two old-school TV sets, which kept displaying flickering black & white video material, which was amazingly in synch with the live performance, so someone obviously learned to follow those clicks in the earpiece.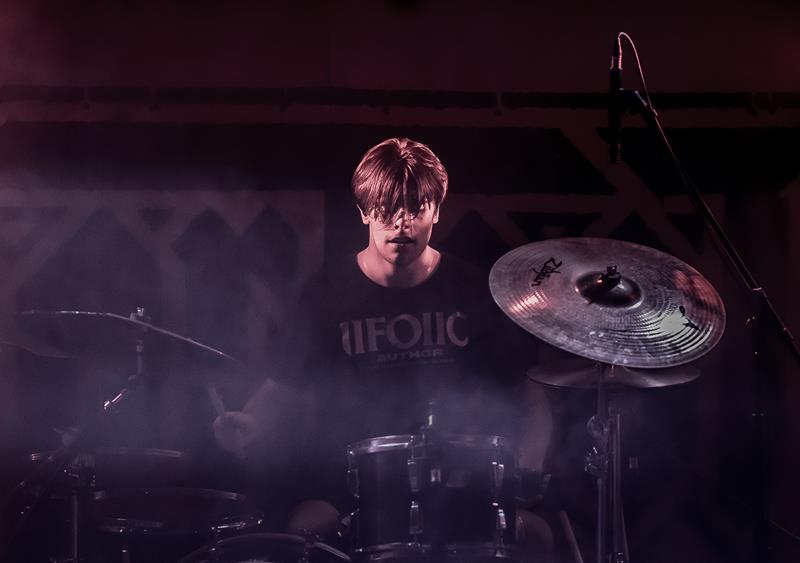 While appearing equally impressive and progressive, LOATHE put on a little too much for my liking, as the whole arrangement felt rather cold and aggressive, and appeared to lack some cohesion. However, only few people seemed to mind, and gave LOATHE solid applause during and after their 30-minute set.
Rating

Music: 6
Performance: 7
Sound: 7
Light: 6
Total: 6.5 / 10
Beartooth


BEARTOOTH have only been around since 2012, and they have released their debut album 'Disgusting' in 2014, which was followed by the immensely successful second long player 'Aggressive'. There is a new release right around the corner called 'Disease', which is due for release end of September.www.beartoothband.com / https://www.facebook.com/BEARTOOTHband
Music & Performance

During the stage break of a good 30 minutes, you could feel the level of anticipation rise by the minute. This culminated in the audience singing along to SYSTEM OF A DOWN's 'Chop Suey' from the bottom of their hearts. At a quarter to 10pm it was finally time for the band of the evening: vocalist Caleb Shomo and his bandmates stormed the stage and broke out into the opener 'The Lines' from their debut album.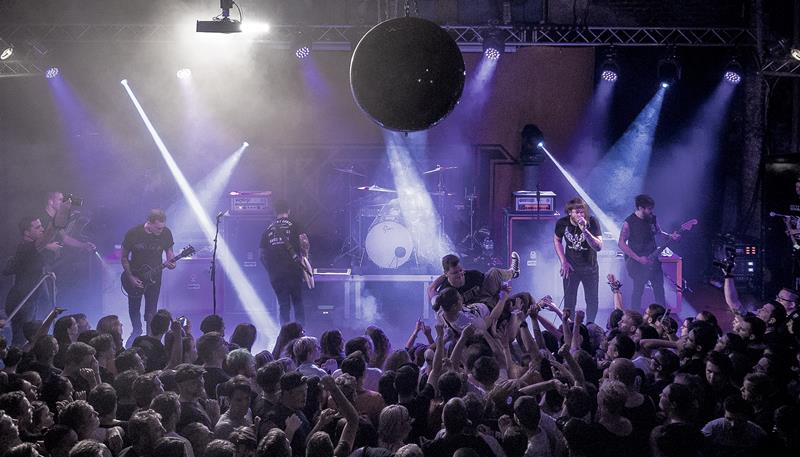 The crowd immediately responded by firing up the mosh pit, and BEARTOOTH were more than up to the task to keep things going. The energy levels they unleashed in the small and rather confined space of the Kulttempel certainly did not fail to impress. The crowd kept things crazy - but in a solid, responsible way. Crowd surfers were carried onto the stage, and security did not have a hard time escorting them back down. Circle Pits were opened and people went wild, but at least no one's nose got bit off from what I saw. This positive aura was also underscored by Caleb's messages between the songs: He introduced every band member in a unique way, got the crowd to sing Happy Birthday for drummer Connor Denis, and urged everyone to continue to show love and support to everyone exhibiting signs of mental health struggles. Last but not least the music live performance and song selection were epic. Time flew by as the band drew a best of-selection from their two albums, as well as three songs from their new upcoming album.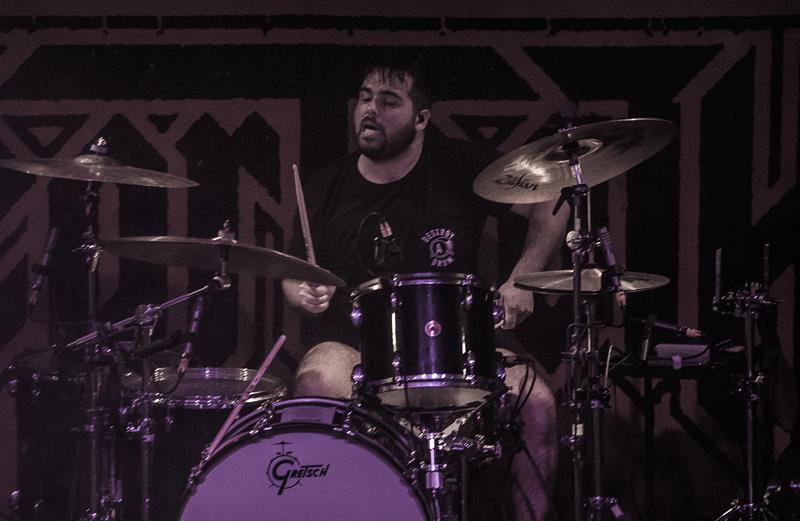 The end of the main set came a little early after only a good hour of playtime, but fans kept clamouring for more, so the band returned for one encore song. So after 'I have a Problem' hundreds of sweaty kids spilled into the warm summer night with the blessed feeling of having witnessed an up close and personal show with their idols.
Setlist

01. The Lines
02. Beaten in Lips
03. Infection
04. Censored
05. Sick of Me
06. Bad Listener
07. Always Dead
08. Aggressive
09. Hated
10. Rock Is Dead
11. Disease
12. Body Bag
13. In Between
---
14. I Have a Problem
Rating

Music: 9
Performance: 9
Sound: 8
Light: 7
Total: 8.5 / 10
All pictures by Andreas Gey (Kommodore Johnsen)