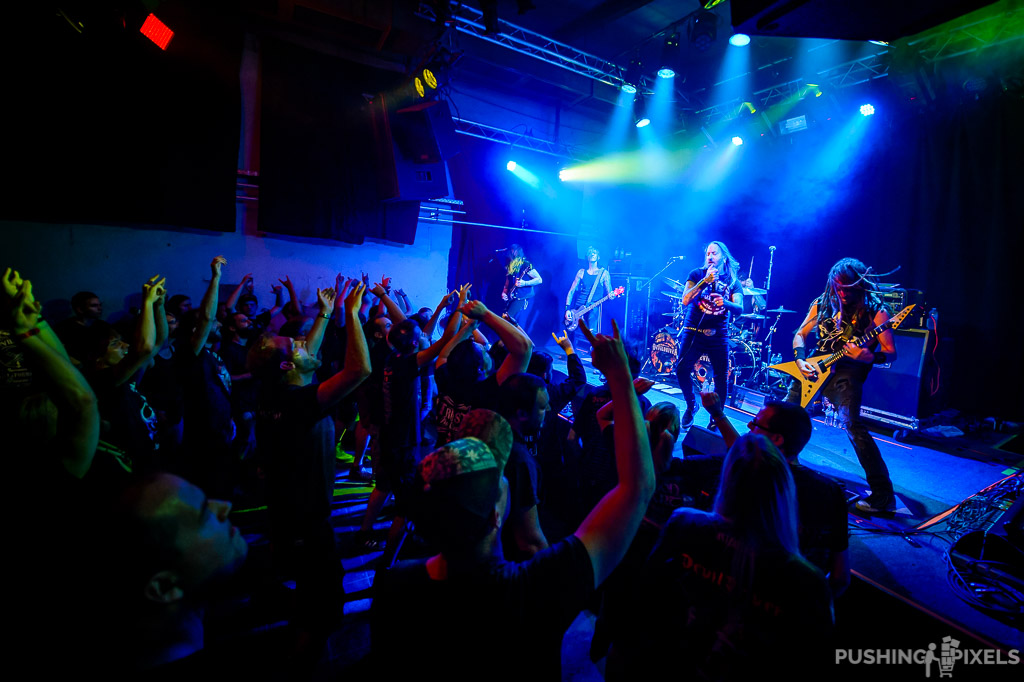 Gebäude 9, Cologne, Germany
23rd August 2018
Devildriver - "Outlaws 'Til the End European Tour" 2018 - Support: Lost Society

Californian Metal band DEVILDRIVER brought their tour to Cologne to play a headline show at the intimate venue Gebäude 9 on a warm summer evening. Onto their summer tour, they brought their recent and eighths release, which is called 'Outlaws 'Til The End: Vol. 1', and it was released on July 6th, 2018.
Lost Society

Support act of the evening were the Thrash Metal band LOST SOCIETY from Jyväskylä, Finland. They have released three studio albums since their inception in 2010, of which the last one is called 'Braindead', which the band put out in 2016. www.lostsocietyfinland.com / https://www.facebook.com/lostsocietyfinland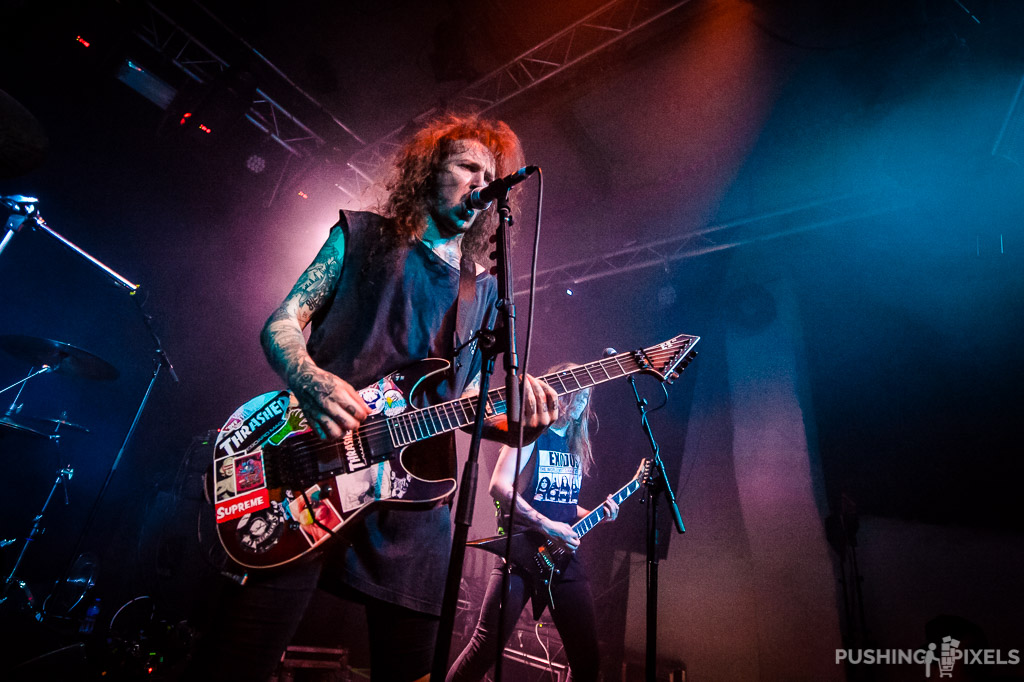 Music & Performance

A quarter past 8pm, the four members of LOST SOCIETY went on stage and immediately kicked off their set with the song 'Braindead' from their most recent album. Despite the confined space of the Gebäude 9 stage, the three musicians in front did their best to stir up the crowd. Singer Samy Elbanna made it very clear that he planned to not leave the stage until he saw "what a crazy German moshpit" looked like, and a good dozen people in the front obliged. When LOST SOCIETY began playing the venue was still half-empty, and most people were standing in the back or outside to cherish the air of a warm summer evening. But over the course of the 45-minute set, more and more people were pulled inside to listen to their music. In terms of musical inspirations LOST SOCIETY made no secret of where these came from: Late 80ies/ Early Nineties Thrash Metal bands like KREATOR, MEGADETH, PANTERA, or ANTHRAX.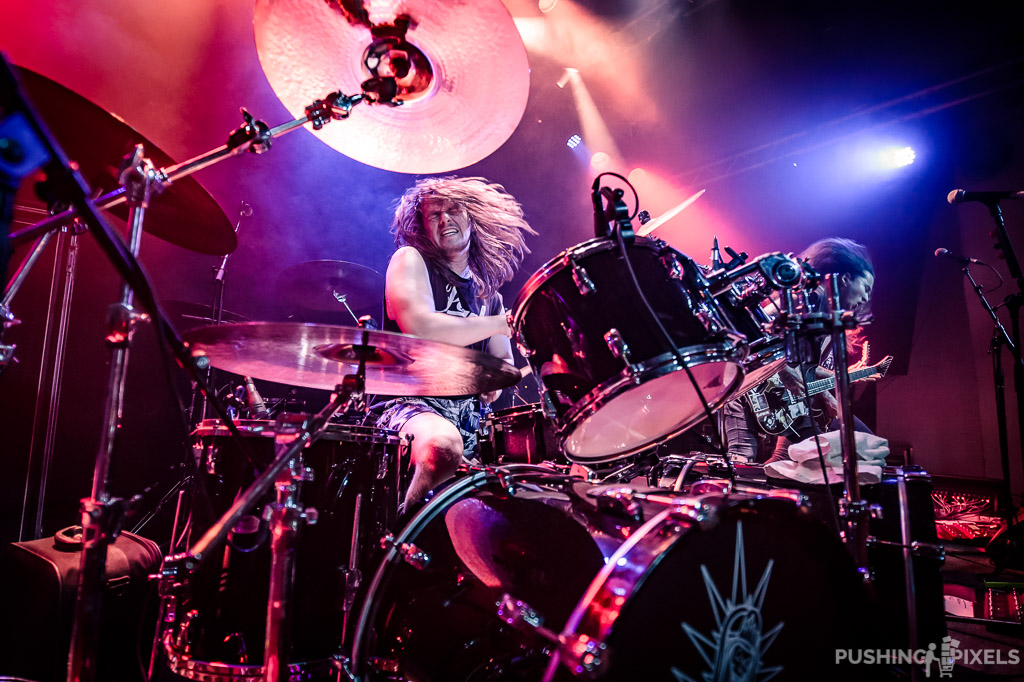 And yes, they revered their idols by also adding things like simultaneous moshing and choreographed guitar solos, which were worshipped by their loyal supporters in the pit. At some point the pit crew also organized stage dive/ crowd surf moves for a die-hard fan, so things were heating up in the warm venue very quickly.
Setlist

01. Braindead
02. Diary of a Thrashman
03. Hollow Eyes
04. KILL (Those Who Oppose Me)
05. I Am the Antidote
06. Terror Hungry
07. No Absolution
08. Riot
Rating

Music: 7
Performance: 7
Sound: 7
Light: 7
Total: 7 / 10
Devildriver

Originally only a side project of Singer Dez Fafara, DEVILDRIVER rose to the forefront from the ashes of Dez's previous band, COAL CHAMBER, which was dissolved beginning of this millennium in 2003. DEVILDRIVER have released a total of eight studio albums over the last fifteen years, of which the last one is called 'Outlaws 'Til the End'. The last album however is a little different from the other ones, as it contains reinterpretations of country hits, featuring collaborations with different artists from a Country and Metal background, such as Hank Williams III and Buron C. Bell (ex-Fear Factory). www.devildriver.com / https://www.facebook.com/devildriver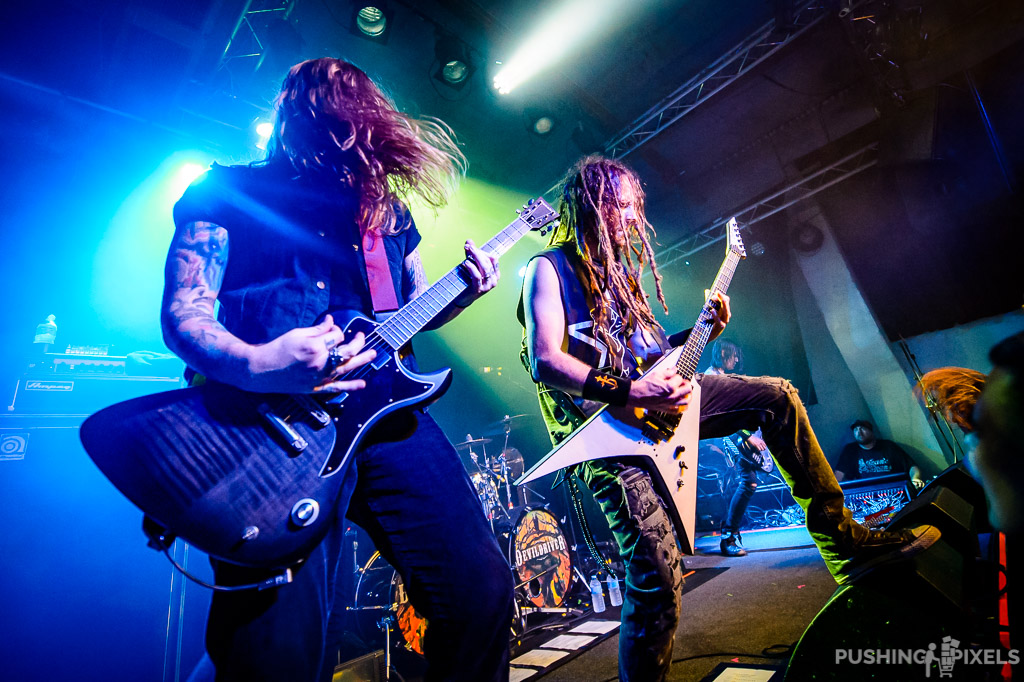 Music & Performance

Shortly before half past 9pm, singer Dez and his four band mates went on stage to perform 'End of the Line' from their second album 'The Fury of Our Maker's Hand' from 2005, and their well-oiled musical groove machine was firing on all cylinders. It was a pleasure to see how Dez used his presence to hold sway over the packed audience. He and the rest of the band did not shy away from interacting with their fans but instead reached out for high-fives and fist-bumps during and in between the songs. The set list of the evening was a good best-of collection of the last fifteen years. However, despite naming the tour according to their last album, they limited their repertoire to the seven earlier albums without playing a single track from 'Outlaws 'Til the End'.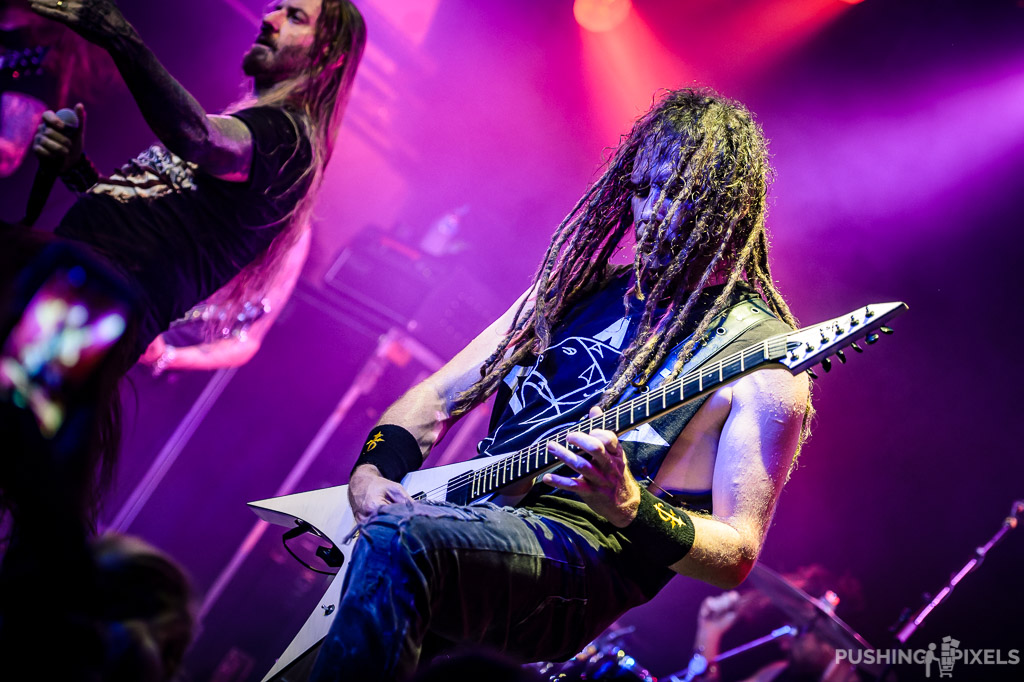 Fans did not seem to mind, as they greeted each new song euphorically. Ahead of the cover of the AWOLNATION song 'Sail', Dez used his time to give a speech about the pitfalls of medication for kids having attention deficit disorder (or ADD), highlighting the benefits of medical Marijuana, and called on the fans to fight for its legalization also in Europe. The song proved to be a crowd favourite and turned up the energy levels once more. Towards the end of the set, Dez made it clear, that DEVILDRIVER do not believe in encores, so as he announced the last song 'The Mountain', he encouraged everyone to give their last, and the crowd happily obliged. Summarizing, DEVILDRIVER may not be the biggest Thrash Metal force around, but from a fans' perspective, this proves to be a good thing, as their raw energy and positive attitude can be felt much more direct in smaller venues than in larger arenas.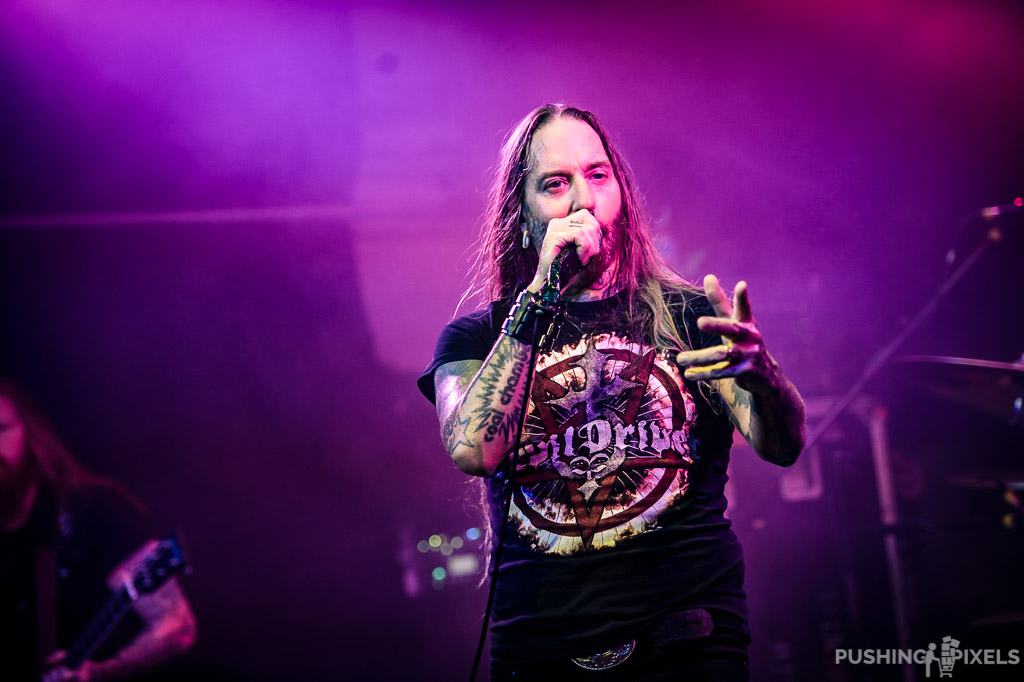 Setlist

01. End of the Line
02. Hold Back the Day
03. Grin Fucked
04. Cry For Me
05. Wander
06. Fighting Words
07. My Night Sky
08. Sail (AWOLNATION cover)
09. Hangman's Noose
10. I Could Care Less
11. Clouds over Cali
12. Ruthless
13. The Mountain
Rating

Music: 8
Performance: 9
Sound: 8
Light: 7
Total: 8 / 10
All Pictures by Markus Felix