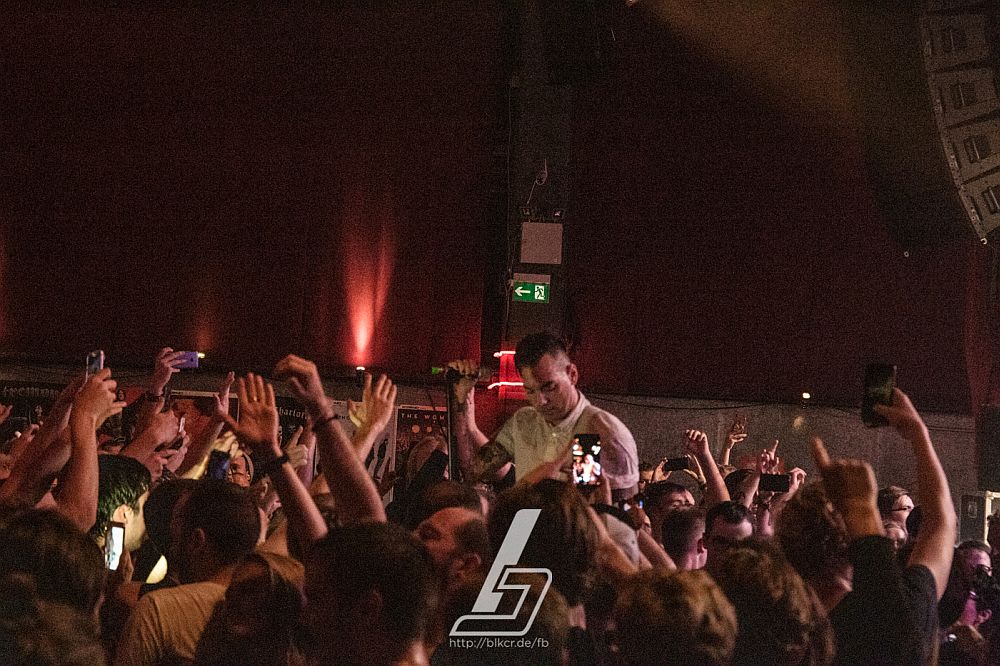 Live Music Hall, Cologne, Germany
21st October 2018
Anti-Flag and Silverstein - "European Tour 2018" - Special Guests: Cancer Bats, Worriers

Now that's what I would call a good deal. Four excellent bands for the price of the same number of over-hyped Latte Frappuccino's. And instead of having these sugary drinks add to your waistline, you actually had the opportunity to do some serious workout in the form of mosh pit, circle pit, and crowd surfing participation instead. The only challenge was to get there early, as the shows were scheduled to start already at half past five in the afternoon.
Worriers
First up on the roster were WORRIERS, a melodic Punk band from Brooklyn, New York. Centred around singer, guitarist and songwriter Lauren Denitzio, the band has released two albums since their beginnings in 2011: 'Imaginary Life' in 2015 and 'Survival Pop' in 2017. https://www.facebook.com/worriersmusic / www.worriersmusic.com
Music & Performance

Quite early at 5:30pm in the afternoon, the four members of WORRIERS went on-stage. In terms of music, it was a mellow start into the evening. The quartet from Brooklyn played a very melodic - and less punk-oriented - version of what's best described as Indie Rock.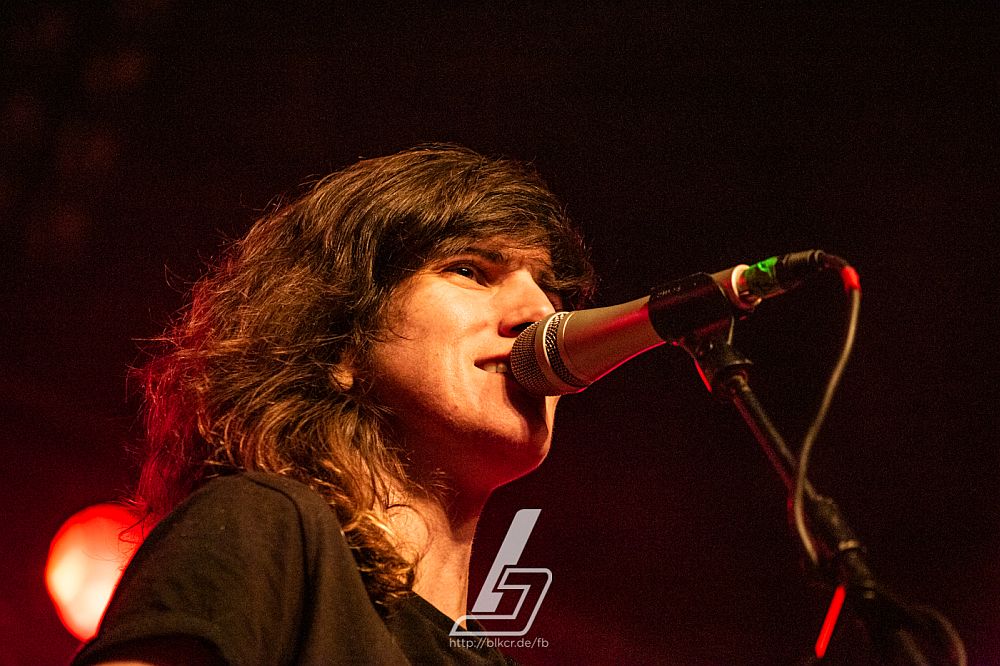 Nevertheless, in the song breaks, the band took a clear stand against racism, sexism, and discrimination in any form. However, when guitarist Lou Hanman decided to show off his German language skills to yell "I hate the police", the response was rather mute. The thirty minutes performance went by very quickly, and WORRIERS were sent off with polite applause, as the music was probably a little too lightweight for the billing. Fans of AGAINST ME! Or THE VACCINES should check out the band.
Rating
Music: 6
Performance: 6
Sound: 6
Light: 6
Total: 6 / 10
Cancer Bats
Next up were CANCER BATS, a Hardcore Punk band from Toronto, Canada. The band was founded in May 2004 by singer Liam Cormier and guitarist Scott Middleton. In 2006 CANCER BATS released their debut album, 'Birthing the Giant', which firmly put them on the place of the North American music scene and landed them support gigs for bands such as BILLY TALENT or BULLET FOR MY VALENTINE. The most recent album of the band is called 'The Spark that moves' and has been released in spring this year. For more information go to https://www.facebook.com/cancerbats / www.cancerbats.com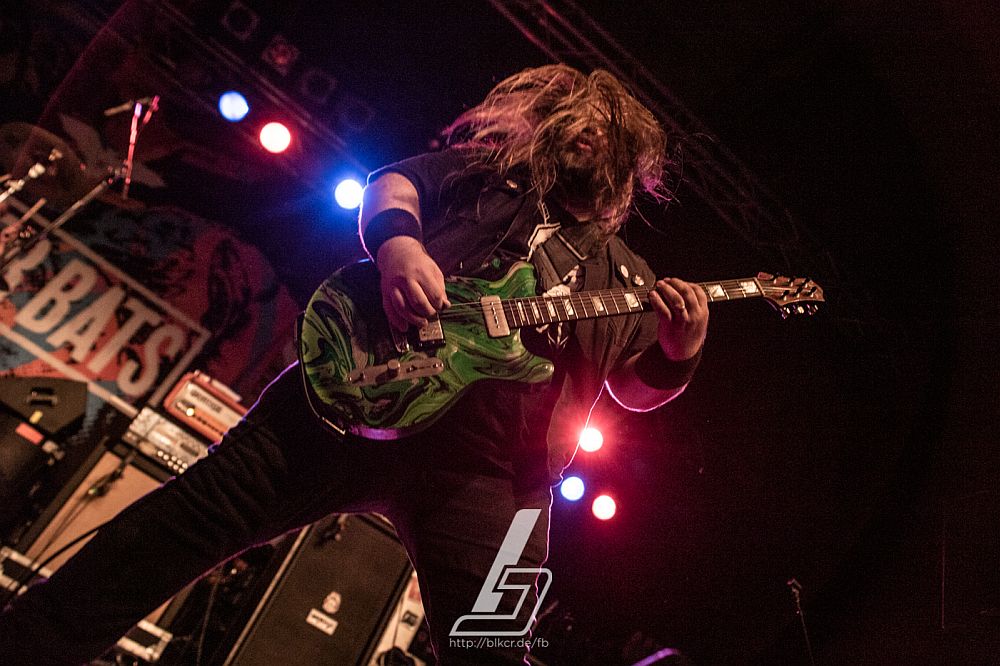 Music & Performance

In the meantime, more and more people arrived in the nearly sold-out Live Music Hall. After a refreshingly quick stage break of only 15 minutes, CANCER BATS went on stage at 6:15pm to perform the opener 'Gatekeeper' from their most recent album 'The Spark That Moves'. From the first moment on it became clear that the Canadian quartet were cut from a different cloth. Front man Liam Cormier developed a great stage presence and impressed with an enormous display of energetic screaming and whirling across the stage. Guitarist Scott Middleton put the right amount of heavy metal riffing into the mix, while Mike Peters on drums and Jaye Schwarzer on bass provided the flawless foundation for the groove machine to work. Early on in the set, front man Liam grinningly greeted the crowd with a resounding "good morning" referring to the fact that the show was scheduled so early, barely giving everyone enough time to get up.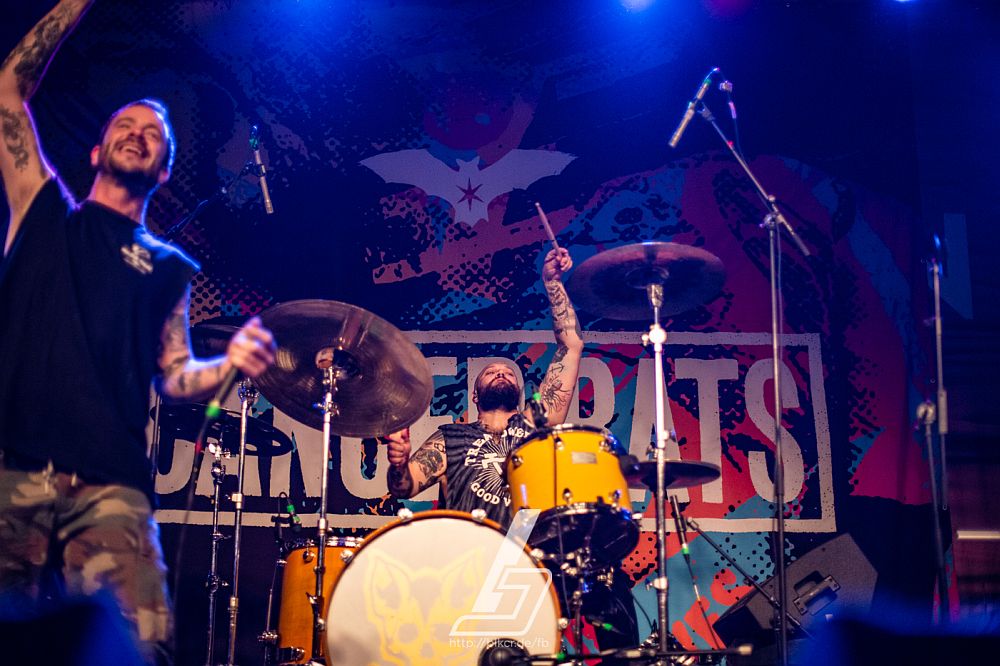 However, he showed real appreciation for everyone to show up. So, it did not take long for the space in front of the stage to fill and the first circle pit to appear. Towards the end of the set, CANCER BATS fired up the crowd with an extremely heavy interpretation of the BEASTIE BOYS' anthem 'Sabotage', for which they recruited ANTI-FLAG singer and bass player Chris #2 to support them. Two more songs rounded off CANCER BEATS' very entertaining set of thirty minutes, and the band left the stage of a notably warmed-up hall.
Setlist

01. Gatekeeper
02. Brightest Day
03. Road Sick
04. Pneumonia Hawk
05. Hail Destroyer
06. Fear Will Kill Us All
07. Lucifer's Rocking Chair
08. Sabotage (Beastie Boys cover)
09. Pray for Darkness
10. Bricks & Mortar
Rating

Music: 8
Performance: 7
Sound: 7
Light: 6
Total: 7 / 10
Silverstein
Post Hardcore, Screamo pioneers SILVERSTEIN from Ontario, Canada were scheduled to play next. SILVERSTEIN have released a total of nine studio albums over their 18-year lifespan. Their latest studio output is called 'Dead Reflection' and was released in July 2017. SILVERSTEIN have racked up a loyal following by extensive touring and consistently delivering energetic live shows. https://www.facebook.com/silversteinmusic / www.silversteinmusic.com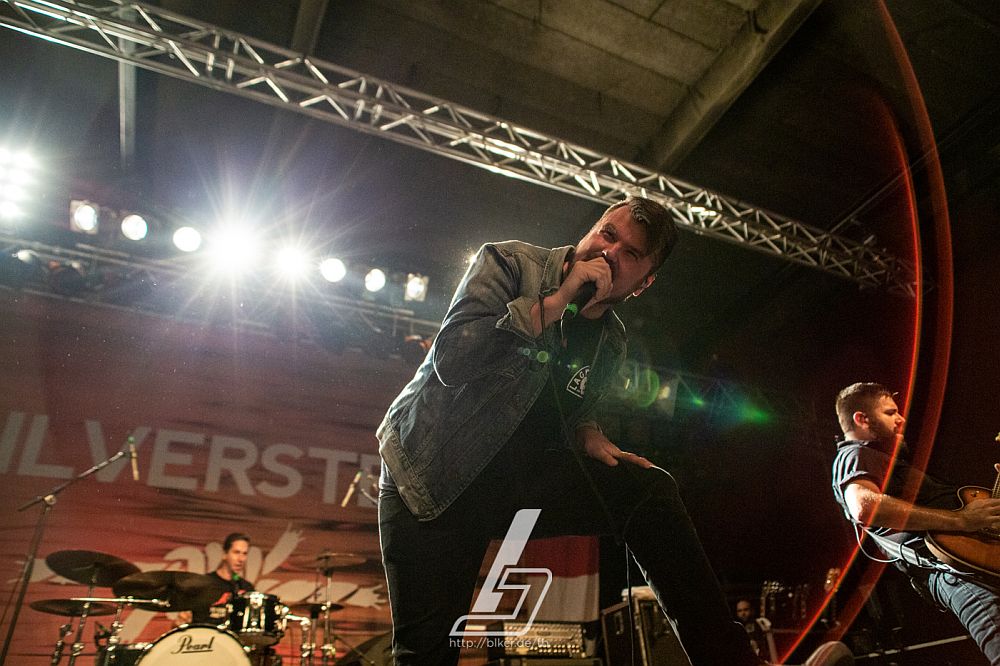 Music & Performance

At 7 pm it was time for the first headliner of the evening. And SILVERSTEIN came out firing. The opener 'Ghost' from their latest studio album, 'Dead Reflection', came with everything the crowd needed: Two brilliant guitars, brutally precise drum and bass work, as well as Singer Shane Told's voice with plenty of opportunities to sing along. With such a huge back catalogue of songs to choose from, SILVERSTEIN pulled a good selection to keep the crowd busy. Clearly, there was no shortage of energy in the room, which unfolded in countless circle pits and a steady stream of crowd surfers, which kept the security occupied. Moreover, the band members seemed to feed on the energy the crowd reflected, as Shane's interactions with the audience grew more intense, getting the crowd to chant and sing along with them.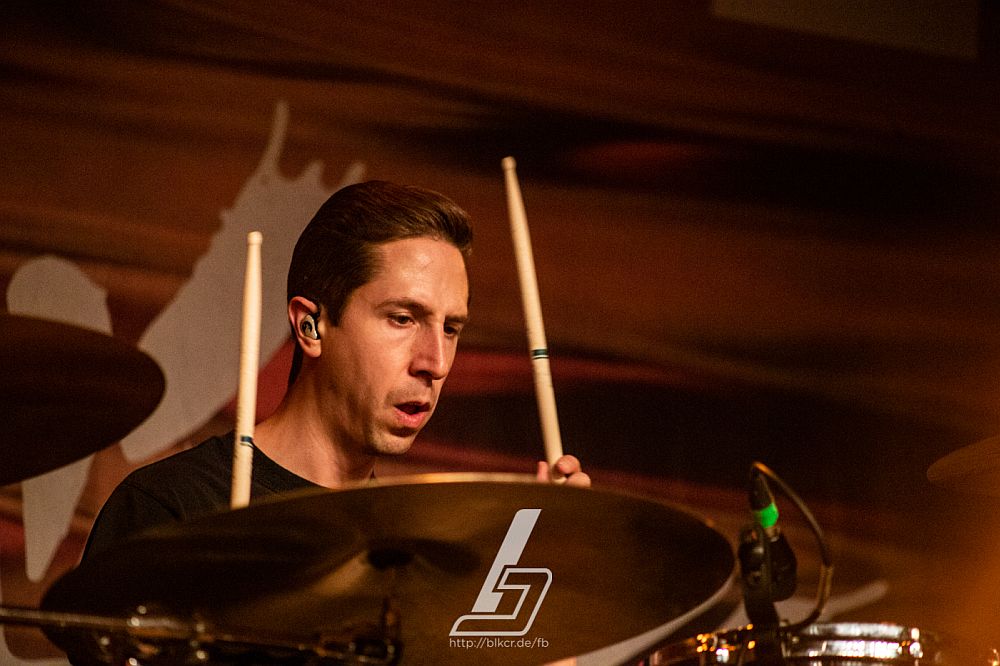 An absolute high note of the hour-long set was the early band hit single 'My Heroine', during which the whole auditorium sang the chorus a-capella with a heart-melting intensity. Judging from the number of people wearing the band's merchandise, a good lot of those present came to see their Canadian idols, and they were certainly not disappointed.
Setlist

01. Ghost
02. Massachusetts
03. Milestone
04. Whiplash
05. Retrograde
06. Stand Amid The Roar
07. Vices
08. Sacrifice
09. Your Sword Versus My Dagger
10. Smile In Your Sleep
11. My Heroine
12. The Afterglow
Rating

Music: 8
Performance: 8
Sound: 9
Light: 7
Total: 8 / 10
Anti-Flag

Punk veterans ANTI-FLAG from Pittsburgh, Pennsylvania, have earned a solid reputation for playing politically charged punk rock, and they have been doing so since the early 90ies. Since then, they have released twelve albums, of which the latest is aptly called 'American Fall', not counting the most recently released 'American Reckoning', which contains acoustic versions of some the band's most popular works. www.anti-flag.com / https://www.facebook.com/anti.flag.official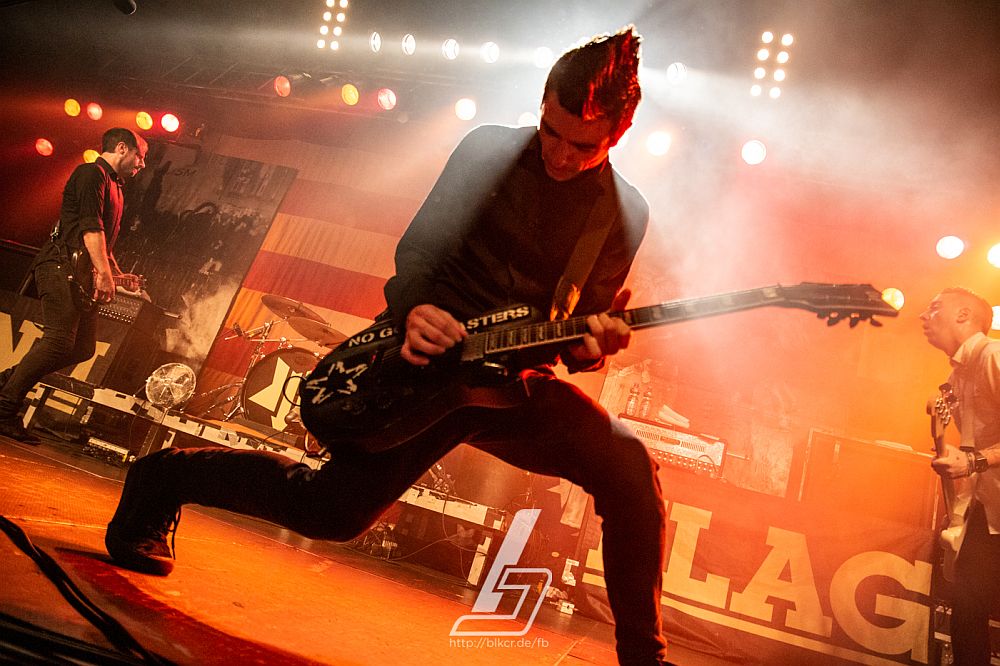 Music & Performance

Once again, the changeover was relatively brief, with the stage having been decorated with two huge posters showing police brutality on one and fierce resistance on the other side, as well as a giant American flag hung up upside down in the back of the stage. So when Joey Ramone's voice resounded over the speakers with the anthem 'Blitzkrieg Bop', the approx. 1,300 members of the audience knew what time it was. ANTI-FLAG came on, and - with the song 'Die for the Government' from the same-titled debut album from 1996 - chose one of their iconic anthems from their early days as an opener. Just when you thought that, after the SILVERSTEIN gig, the energy level of the audience would be exhausted, this was your time to be proven wrong. ANTI-FLAG - despite their relative limitation in terms of musical spectrum - did not exhibit any kind of fatigue fighting for the good cause one three-chord song at a time even after three decades of operation.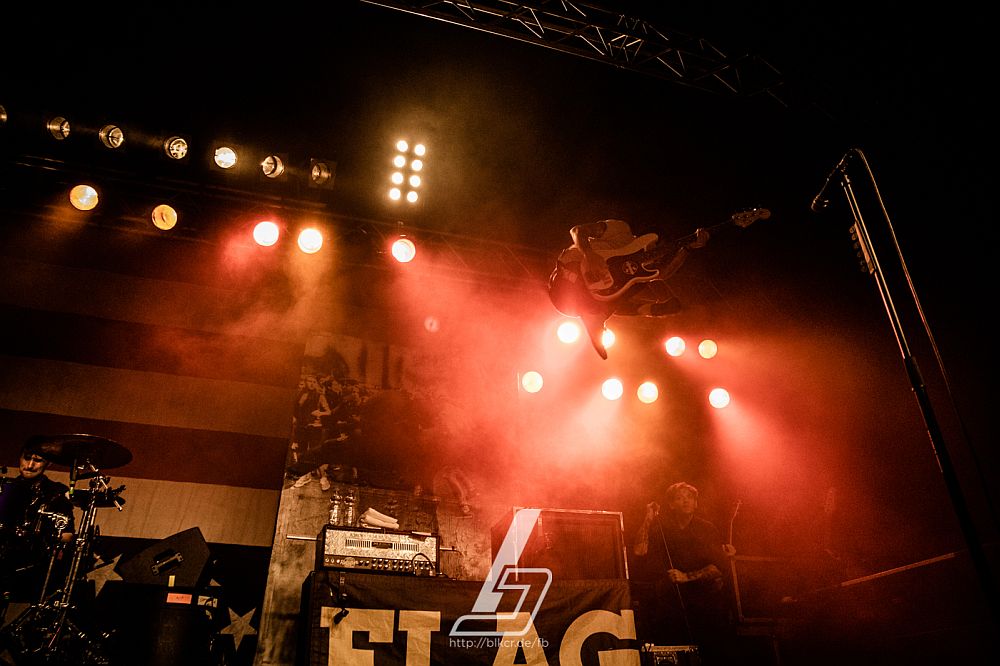 Especially bass player and co-vocalist Chris (#2) Barker used every opportunity to climb onto the drum kit or one of the speakers to jump back onto the stage in spectacular ways, whenever his vocal duties permitted it. Notably, ANTI-FLAG dedicated some of their stage time to raise awareness for the work of the charities and political organizations, which were also present during the concert, such as Amnesty International, Hardcore Help, Viva Con Agua, Sea Shepherd, and "Kein Bock auf Nazis". Aside from that, Singer Justin Sane implored the audience to keep the Punk spirit alive and to support each other in the fight against the resurgent fascism across North America and Europe. Rarely have I seen a politically charged show similar to this one, which was also so positive and dedicated to simple fun. For example, when Justin announced the reason that drummer Pat Thetic stayed home to wait for the first ANTI-FLAG baby, he grinningly stated: 'We don't reduce, we reproduce!' to the cheers of the audience.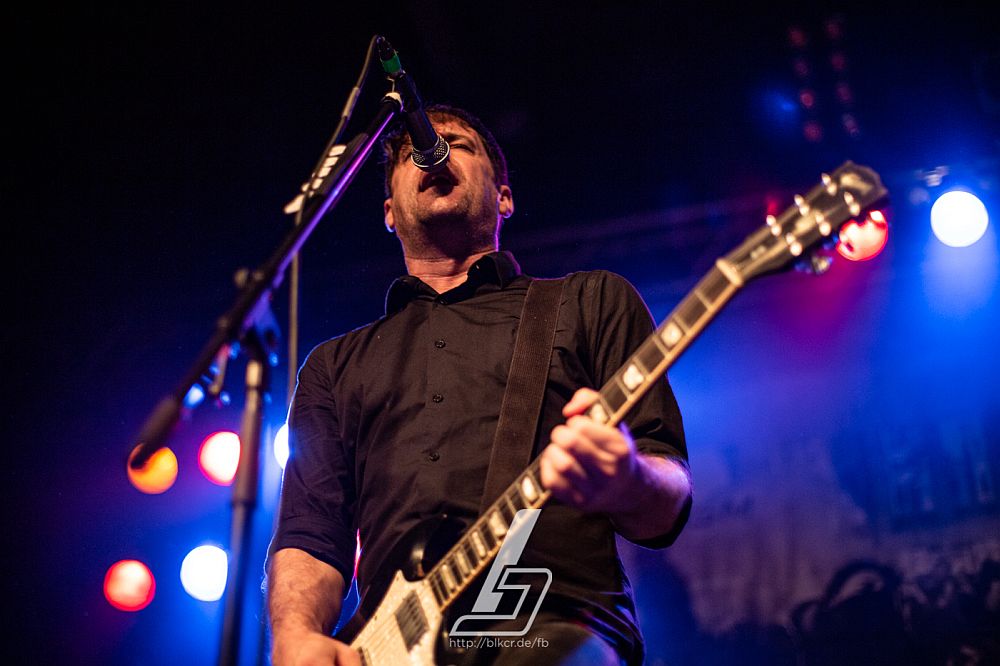 ANTI-FLAG left the stage after roughly 70 minutes of playtime, and after having played a four-song encore, to the rather unusual tone of Whitney Houston's 'I will Always Love You', which cleared the Live Music Hall very effectively.
Setlist

01. Die for the Government
02. I Came. I Saw. I Believed.
03. Broken Bones
04. Underground Network
05. Cities Burn
06. Racists
07. Fuck Police Brutality
08. Trouble Follows Me
09. Turncoat
10. All of the Poison, All of the Pain
11. The Criminals
12. 1 Trillion Dollar$
13. This Is the End (For You My Friend)
14. American Attraction
15. Death of a Nation
---
16. The Press Corpse
17. When The Wall Falls
18. Drink Drank Punk
19. Brandenburg Gate
Rating

Music: 8
Performance: 9
Sound: 8
Light: 7
Total: 8 / 10
All Pictures by Thomas Eger