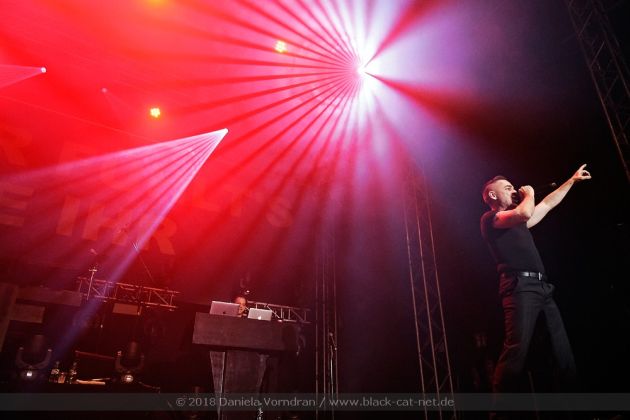 Turbinenhalle 2, Oberhausen, Germany
2nd November 2018
And One - "World Vibration Tour 2018/19"- Support: Reakton

Good Vibrations by AND ONE! On a cold Friday night the "Bodypop"-heroes stopped in Oberhausen for their only North Rhine - Westphalia show of the "World Vibration" tour. Approx. 1,500 people filled the Turbinenhalle 2. Before the party started we got to witness the 30 minute set of support REAKTON.
Reakton

We know nothing about this duo - except the fact that the last names of the two guys behind laptops and keyboards are Wässer and Theel. They released one album called 'Weltall:Erde:Mensch' in 2014 - since then nothing new happened, no shows took place. On the "World Vibration" tour, REAKTON replaced FUTURE LIED TO US who had to cancel their appearances due to health problems. www.reakton.de / www.facebook.com/Reakton-1453744011542755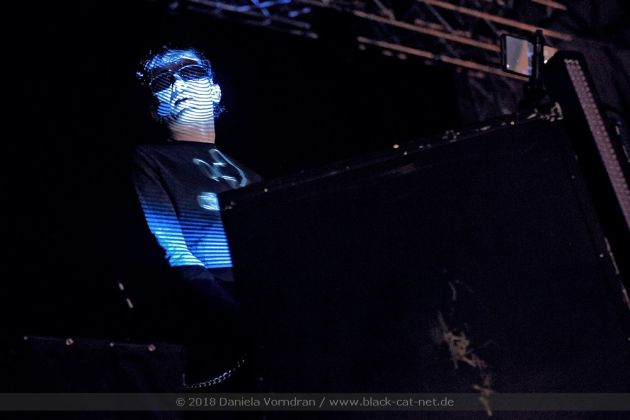 Music & Performance

It was dark. So dark that you couldn't see anything of the stage set-up or the faces of the two protagonists. There was nearly no light - but a sound that is a total copy of KRAFTWERK. Lyrics, beats, synths - everything reminds of the works of Ralf Hütter, Florian Schneider, Wolfgang Flür and Karl Bartos. Unfortunately the show lacked of power and wasn't captivating at all. Consequently the atmosphere was mediocre and everyone seemed just to wait for the main act.
Rating

Music: 7
Performance: 2
Sound: 7
Light: 1
Total: 4.3 / 10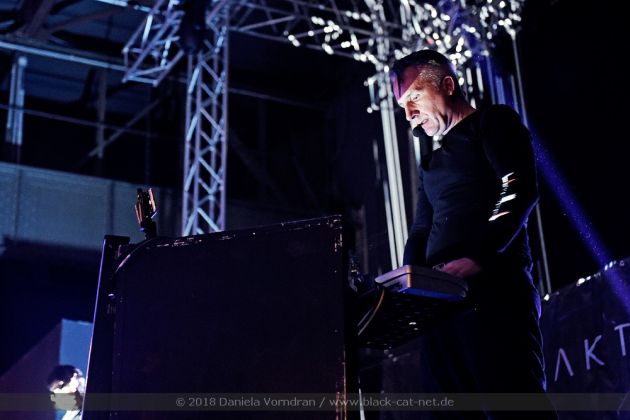 And One

After Chris Ruiz and Gio van Oli left the band in 2011, AND ONE consists of Rick Shah, Joke Jay, Nico Wieditz and of course Steve Naghavi. The group released their debut single 'Metalhammer' in 1990. The first album, 'Anguish', followed one year later. Up to the mid-nineties the band released one album every year and of course several singles. The song concept is still the same: significant bass line, typical synthesizers and Steve Naghavi's great voice. The last release was the album trilogy 'Magnet', 'Propeller' and 'Achtung 80' in 2014 - since then fans are waiting for new stuff. http://www.andone.de / https://www.facebook.com/ANDONEoffiziell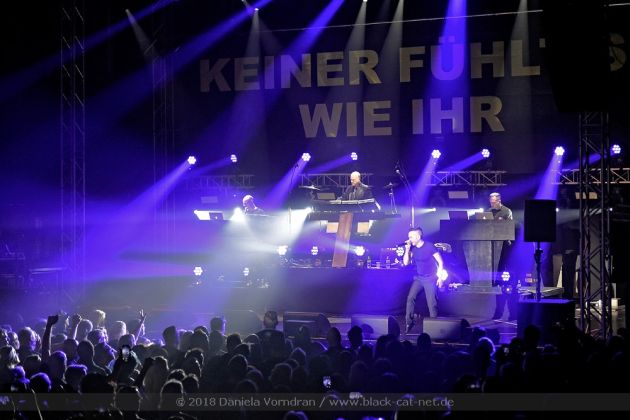 Music & Performance

AND ONE started their set with two crowd pleasers. 'Krieger' and 'Get You Closer' are two of their biggest hits - immediately the audience was on fire, lots of people clapped, danced and sang along. After that strong opening the Berlin-based band delivered a good mixture of older and newer tracks. Lots of them, for example 'So klingt Liebe', 'Für' or 'Traumfrau', are real classics. This time the quartet reduced the amount of the "not so serious-songs" to a minimum: Only 'U-Boot-Krieg in Ostberlin' made the cut. Joke Jay had a lot of fun with this tune and showed some funny dance moves.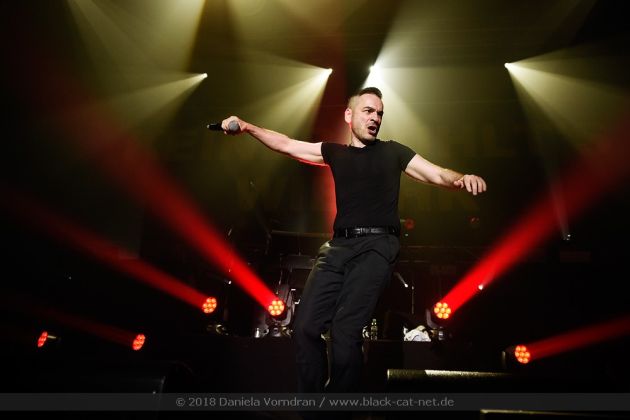 Another funny moment should follow. Steve Naghavi didn't talk that much this time. But at a point later in the show he wanted to do some promotion for his 2019 solo-tour with one gig in Cologne - unfortunately he forgot the date and everybody laughed at him. "Very professional", Joke Jay mocked with a smile on his face. In fact the concert will take place at Carlswerk Victoria on 12th April 2019. But other than that, Naghavi and his band mates played a really good show. It was an entertaining evening with a good and loud crowd.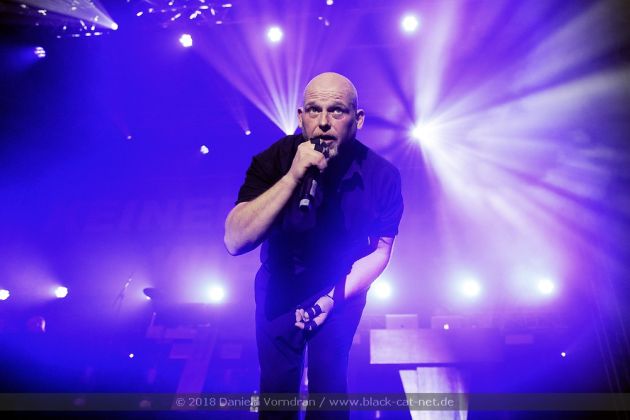 The only drop of bitterness: After 'Shouts Of Joy' the gig concluded in an quite abrupt way. In comparison to other AND ONE shows there was something missing at the end. No 'Pimmelmann', no 'Klaus', no spontaneous DEPECHE MODE cover versions, just a funny reminder of the happenings at Amphi 2018 when Naghavi started the scandalous "Give me an A... D… O... L... F" chant. But before it was too late for Steve to finalize his "joke", Rick Schah, Joke Jay and Nico Wieditz pulled the singer from the stage. The audience laughed loudly - probably there are way more people understanding Naghavi's humour at an AND ONE solo show than at full-packed festival.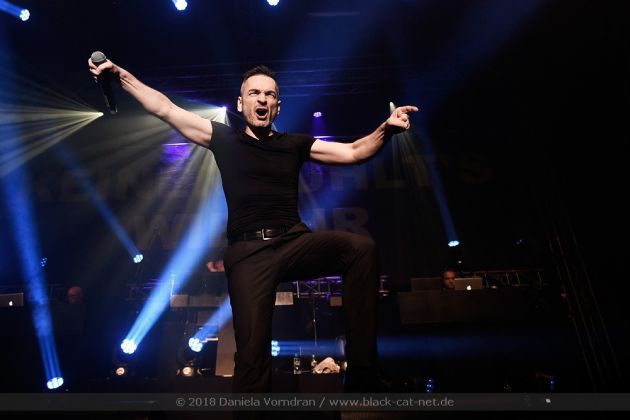 Setlist

01. Krieger
02. Get You Closer
03. Shining Star
04. Bodynerv
05. Back Home
06. Sternradio
07. U-Boot-Krieg in Ostberlin
08. So klingt Liebe
09. Für
10. Traumfrau
11. Unter meiner Uniform
12. Keiner fühlt's wie wir
13. Love You To The End
14. Body Company
15. Seven
16. Killing The Mercy
17. Deutschmaschine
18. Most Of The Tears (Joke Jay on vocals)
19. Second Voice
---
20. An alle Krieger
21. Steine sind Steine
22. Panzermensch
---
23. Sometimes
24. Techno Man
25. Military Fashion Show
26. High (Joke Jay on vocals)
27. Shouts Of Joy
Rating

Music: 9
Performance: 8
Sound: 8
Light: 7
Total: 8 / 10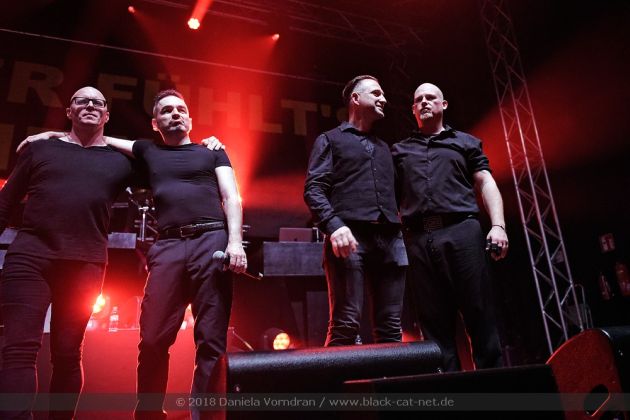 All pictures by Daniela Vorndran (
http://www.vorndranphotography.com
/
http://www.facebook.com/blackcatnet
)