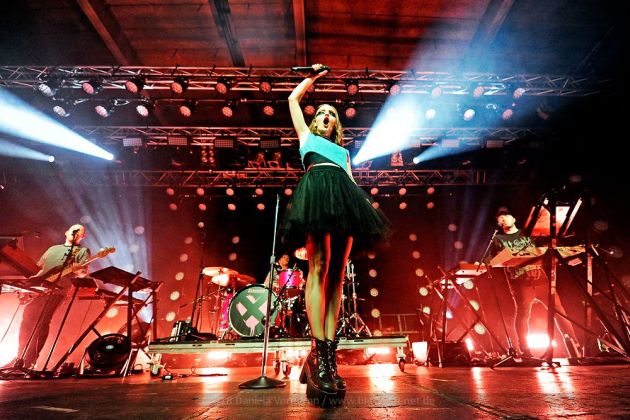 Live Music Hall, Cologne, Germany
6th November 2018
Chvrches - Tour 2018 - Support: Let's Eat Grandma

With their "difficult" third album, 'Love Is Dead', Scottish trio CHVRCHES has embarked on an extensive world tour. After a North American leg, gigs in Australia, Japan and South Korea and a number of festival appearances in Europe this summer, the tour finally hit Germany again this autumn.
Let's Eat Grandma

Childhood friends Rosa Walton and Jenny Hollingworth from Norwich, England, are LET'S EAT GRANDMA. Their band name is taken from a grammatical joke you might have seen already on social media ("Let's eat, grandma") and that's certainly not the only striking thing about the duo. Being both only 19 years old, they are still in their teenage years but already have two albums out. Their last full-length, 'I'm All Ears', was released this summer and even entered the UK Top 30. Quite notable for an act which produces experimental, free-spirited Pop but LET'S EAT GRANDMA derive a lot of their charm from the lightheaded, playful attitude of its teenage protagonists. http://letseatgrandma.co.uk / https://www.facebook.com/thelegofgrandma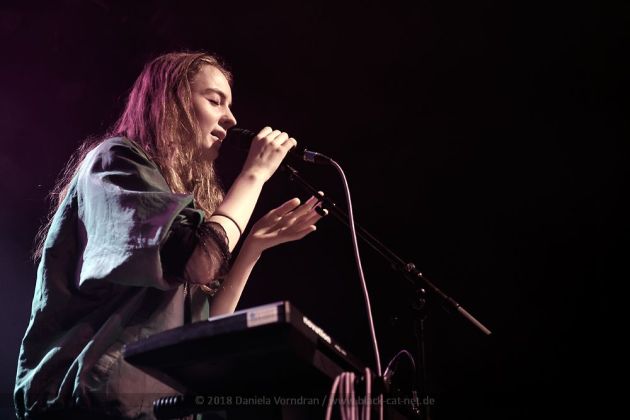 Music & Performance

We only learned that there's a support act at all when arriving at the venue, as there was no information at all, neither on the venue's website nor on Facebook nor anywhere else. At last the cashier at the door knew and was happy to give information. For so little advertising LET'S EAT GRANDMA received a pretty warm welcome from the Cologne crowd. Completed by a live drummer, the stage was a huge playground for Rosa Walton and Jenny Hollingworth. Switching between saxophone, guitar, percussions and of course lots of synths, and sharing vocal duties, it was a kittenish, carefree and very feminine performance including clapping games and leaving the stage to hop and dance between the spectators.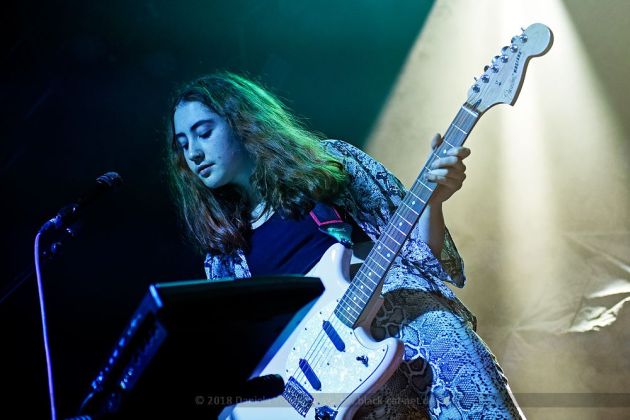 The music was often dreamy, sometimes eerie but still set the crowd in a good mood so that LET'S EAT GRANDMA certainly gained quite a few new fans in Cologne. And they are surely a very apt support act for the female-fronted CHVRCHES!
Setlist

01. Whitewater
02. Hot Pink
03. Falling Into Me
04. I Will Be Waiting
05. Sink
06. Deep Six Textbook
07. Donnie Darko
08. It's Not Just Me
Rating

Music: 8
Performance: 9
Sound: 8
Light: 7
Total: 8 / 10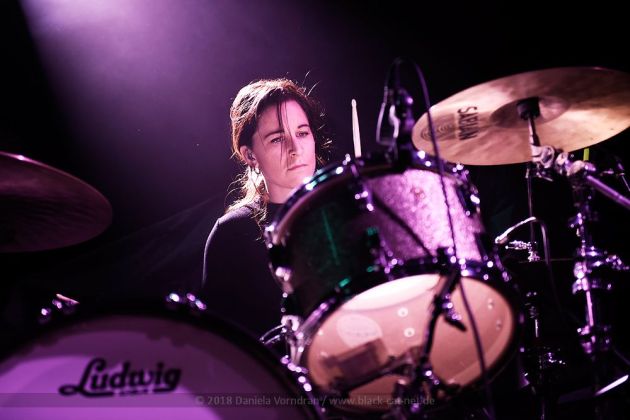 Chrvches
Charismatic singer Lauren Mayberry and the two multi-instrumentalists Iain Cook and Martin Doherty from Glasgow have been at the forefront of modern Synth Pop since their breakthrough in 2013. Coming from a Rock background, Cook and Doherty were late bloomers in regard to electronic music when they started CHVRCHES, which may explain their unusual, yet highly catchy and poppy synth sound. Instead of emulating old heroes of the genre, they created their own unique sound and by recruiting outstanding singer Lauren Mayberry they found the perfect formula for success. The rest is history! https://chvrch.es / https://www.facebook.com/CHVRCHES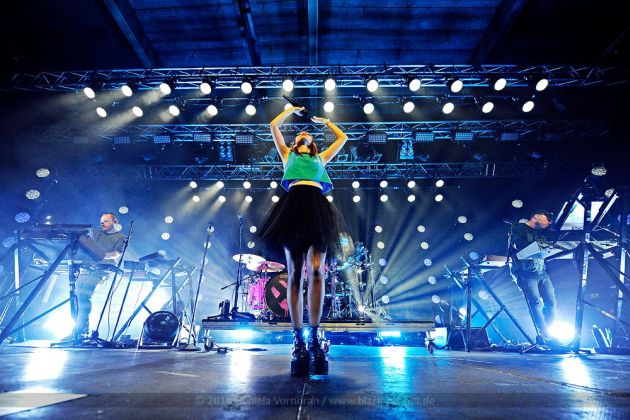 Music & Performance

Last time CHVRCHES made a stop in Cologne they played at the E-Werk, which is to a considerable degree larger than the Live Music Hall, which they played this time around. Unlike the previous albums, 'Love Is Dead' received mixed reviews and some lamented that CHVRCHES would try to force their way deeper into the mainstream, which seems to be backed up by the use of outside producers like Dave Stewart of EURYTHMICS fame, Greg Kurstin (SIA, PINK) and Pop mentor Steve Mac who helped ONE DIRECTION and ED SHEERAN to gain massive success. 'Love is Dead' might be a bit more predictable and straightforward than its predecessors but it was still a huge success. No surprise that the Live Music Hall was hopelessly sold out! And no matter if you love 'Love is Dead' or not, CHVRCHES still have a reputation of being one of the most bewitching, exciting live acts around.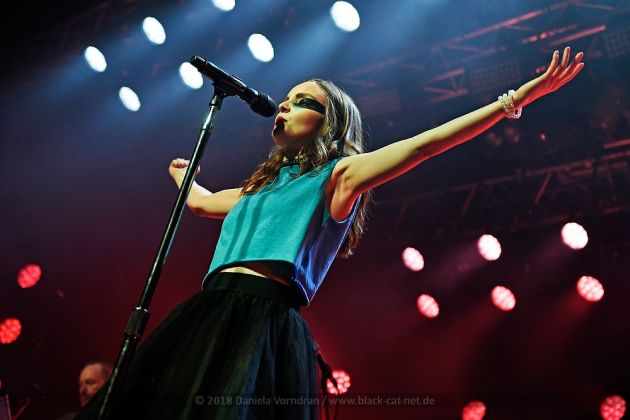 There was a bit of delay before CHVRCHES finally entered the stage, and when they started the venue was so packed and the air so sticky and hot that it became uncomfortable already. Once you headed for the bathrooms (or for a smoke, for that matter) there was hardly a chance to return to the front, and in case you simply don't like hot, sticky air and being stuck in the middle of a tight crowd you had no chance than watching the show form the back of the venue. Which I did. I felt pity for the smaller persons in front of me as they certainly couldn't see a single thing except heads and backs of other people. Being a tall boy I at least had a good view but the sound at the rear end of the Live Music Hall was pretty muffled and low volume. Oh well! Fans near the stage obviously had a great time when CHVRCHES started with 'Get Out' from the recent album, followed by the now-classic 'Bury It' and 'Gun'.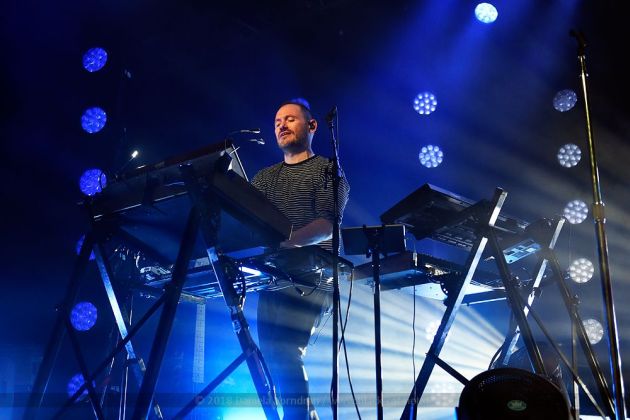 Lauren Mayberry was all smiles and proved that she's a pretty confident performer for long now. After going through a few songs she also indulged a bit of banter with the crowd and their band mates, displaying some Scottish taking-the-piss humour. CHVRCHES enhanced their live sound by incorporating a live drummer and Cook and Doherty didn't just stick to their walls of synth gear and played more percussions and Doherty would occasionally roam the stage with a guitar. He also got his moment in the spotlight when he sang two songs while Mayberry switched to playing the keys. Somewhat their "Martin Gore moment", if you know what I mean, and a nice change as Doherty brings a different vibe to the performance. The setlist was the right balance between new and old and the lavish and intricate light show turned out to be the secret star of the show. I was quite impressed by it, it was perfectly synchronised with the music, but aside from this it wasn't not nearly as enchanting and sweeping as last time I saw CHVRCHES.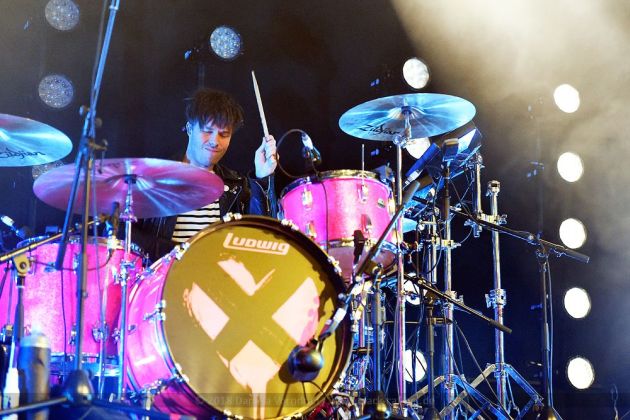 Mind you, this was less the fault of the band but rather due to the Live Music Hall, which turned out to be a pain in the neck when so crowded. Next time they should book a bigger venue, and I guess next time a show at this venue is sold out I rather stay at home. Looking forward to see CHVRCHES live again at some other place, anyway!
Setlist

01. Get Out
02. Bury It
03. Gun
04. We Sink
05. Graffiti
06. Graves
07. God's Plan
08. Under the Tide
09. Miracle
10. Science/Visions
11. Really Gone
12. Deliverance
13. Forever
14. Recover
15. Leave a Trace
16. Clearest Blue
---
17. The Mother We Share
18. Never Say Die
Rating

Music: 9
Performance: 9
Sound: 7
Light: 10
Total: 8.8 / 10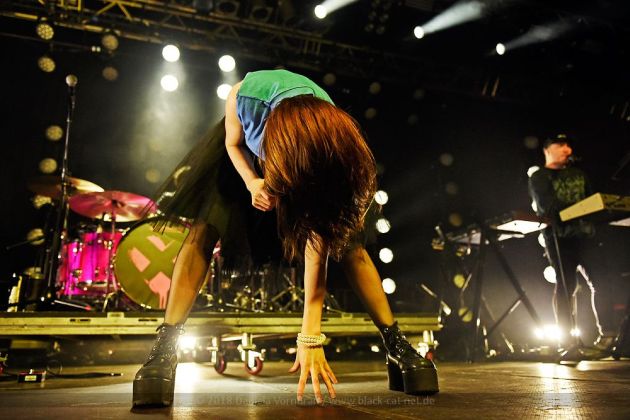 All pictures by Daniela Vorndran (
http://www.vorndranphotography.com
/
http://www.facebook.com/blackcatnet
)