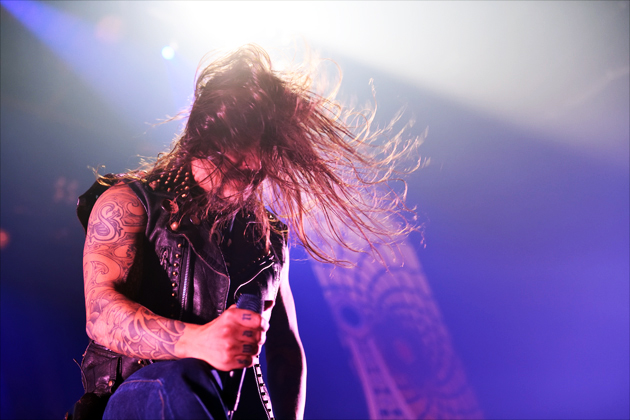 Helsingin Jaahalli, Helsinki, Finland
10th November 2018
Amorphis - "Queen of Time Tour" - Support: Myrkur

Just a week before Helsinki Ice Hall was hosting a major Grand Prix in figure skating, it was turned now into a concert venue. Two things though remained the same - relative cold air and high emotional level.
Myrkur

Coming from Denmark, MYRKUR is an atmospheric Black Metal / Dark Folk project by former Pop and Indie Rock musician Amalie Bruun. Since 2014, this project was both raising debates about the "trueness" of the music and, at the same time, winning over fans across the Metal stage. A mixture of unusual Folk harmonies, heavy arrangements, and distinctive melodies seem to have a universally positive effect on the audience. MYRKUR also got has an acoustic "Folkesange" program that can be described as a very enchanting Dark Folk. MYRKUR seems to target gigs that could get the project most audience: the band was playing festivals such as Finnish Tuska, Norwegian Midgarsblot, German WGT and Wacken, and opening for bands such as THE SMASHING PUMPKINS, SÓLSTAFIR, and, this time, AMORPHIS. A wide range of musicians from Black Metal and Dark Folk were seen as guests on its recordings and concerts. Second album, 'Mareridt', came out in 2017, and critics had some hard time pinning a genre tag to it. Decibel wrote that "black metal's just one of many textures manipulated by Bruun", and that her compositions "owe as much to Nordic folk music as they do to ULVER." (Wikipedia).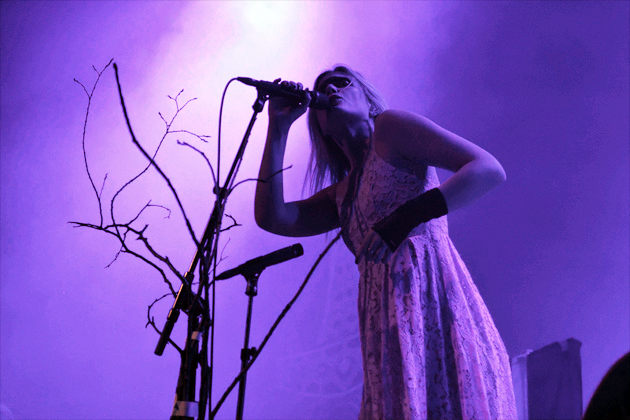 Music & Performance

Despite Amalie's last shows in Finland be in colder-than-usual venues, it is her music that gives me massive chills. A unique composing style, far away from recipes used for commercial tracks, a combination of acoustic solos, Metal arrangements, a setlist made from own songs and Northern Folk ballads reimagined, MYRKUR is definitely a very special treat. I am certain that some part of the audience cared about MYRKUR appearance more than about the headliner. A 50-minutes trip in the very own dimension with the only downside being a rather dark front light that hid Amalie completely - it would not hurt to see the face of the performer at least sometimes. Amalie always has a very strong stage presence - a lot of emotional movements, maybe borrowed from performing less extreme music - but this day these movements are slowed down and aimed to give more of mysterious impression to the minor and otherworldly songs she performs. A live debut of the most recent track 'Juniper' highlighted the performance, with an online release happened the following week.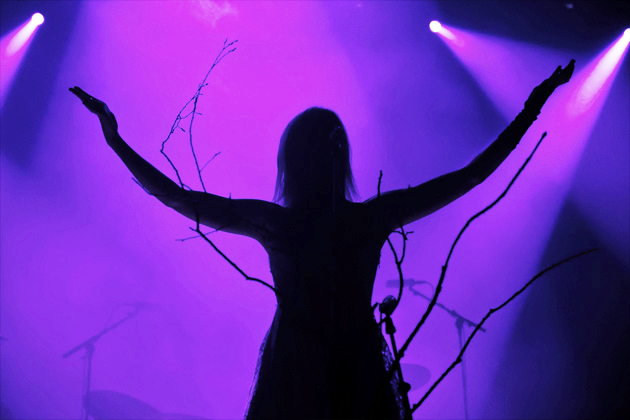 Setlist

01. The Serpent
02. Ulvinde
03. Dybt i skoven
04. Onde børn
05. Vølvens spådom
06. Jeg er guden, i er tjenerne
07. De Tre Piker
08. Elleskudt
09. Juniper (live debut)
10. Skøgen skulle dø
11. Måneblôt
12. Villemann og Magnhild
Rating

Music: 9
Performance: 9
Sound: 9
Light: 4
Total: 7.8 / 10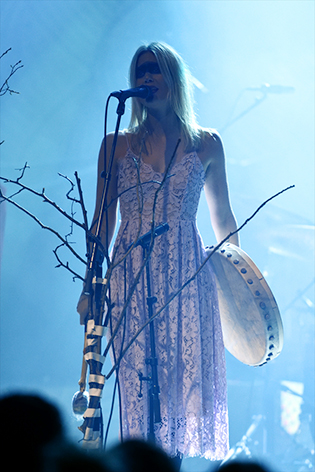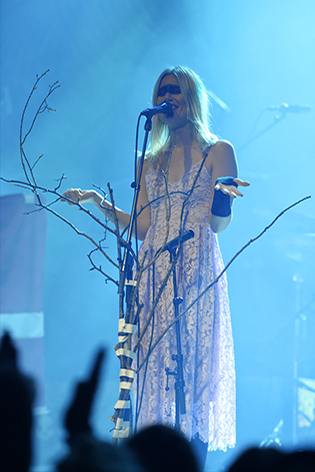 Amorphis

Existing on the Finnish Metal stage since 1990, presently AMORPHIS is touring with this year's release, 'The Queen of Time'. The record came out rather solid and featuring collaboration with Anneke van Giersbergen, Chrigel Glanzmann from ELUVEITIE, Albert Kuvezin, Jørgen Munkeby and an orchestra with choir.
Music & Performance

Seeing AMORPHIS gig not on a festival is rather uncommon for me. Usually, AMORPHIS would play large clubs with average light and sound, and the Ice Hall, which is used for first-rate events, gave the band and the singer Tomi Joutsen an opportunity to unleash the full performance potential and behave like really big shots (their 1980-ties outfits help).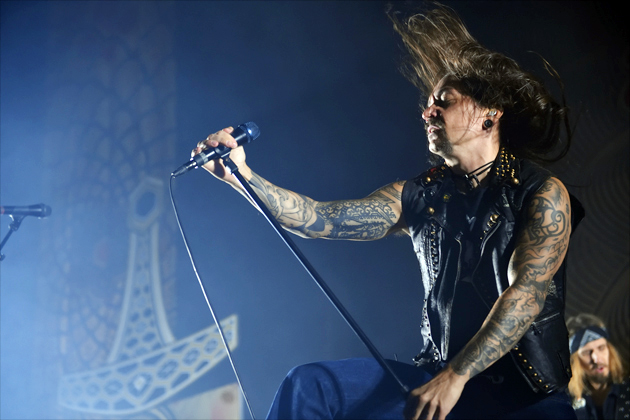 Unlike very dim MYRKUR gig, AMORPHIS was lit very well, the sound was very adequate, and the setlist was composed of many personal favorites of mine - striking, energetic songs that also constitute a lot the latest release. Sadly, 'Amongst stars', the very song that is in massive rotation on local Finnish Radio Rock, was not played as there was no Anneke present to perform it live. The crowd was full of mid-age people, and I have spotted a Greek and a pair of a Japanese woman, not to mention many Russians who often come for large events across the border. Traditionally, the show was mainly done by Tomi, while the rest of the band mainly focused on playing and moving around a bit. An impersonation of some sort of Folk spirit came on stage at some point, I would guess a reference to some historical shows of the band. Despite the many guest musicians on the latest record, there were neither guests on stage nor any chance for Amalie to join the band for some part - which I was a little bit hopeful for. But nevertheless, a solid gig, after which it would be difficult to imagine the band in some venue of less caliber.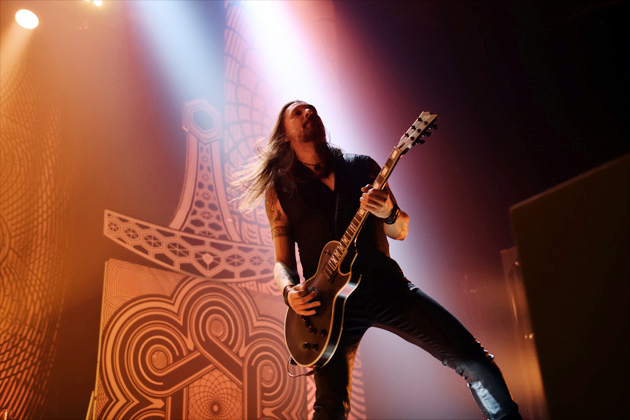 Setlist

01. The Bee
02. The Golden Elk
03. Sky Is Mine
04. Sacrifice
05. Message in the Amber
06. Silver Bride
07. Bad Blood
08. Wrong Direction
09. The Smoke
10. Daughter of Hate
11. The Castaway
12. Heart of the Giant
13. Hopeless Days
---
14. Death of a King
15. House of Sleep
16. Black Winter Day
Rating

Music: 9
Performance: 9
Sound: 9
Light: 8
Total: 8.8 / 10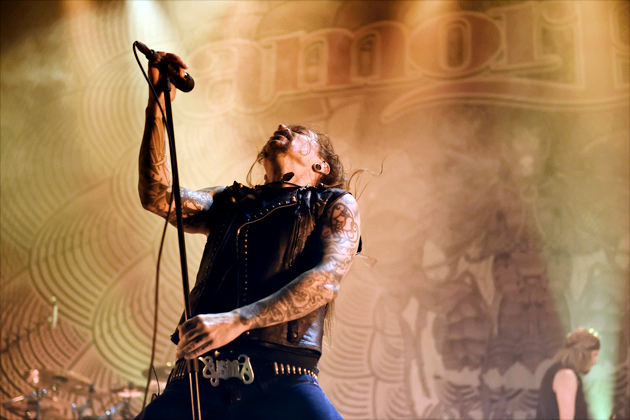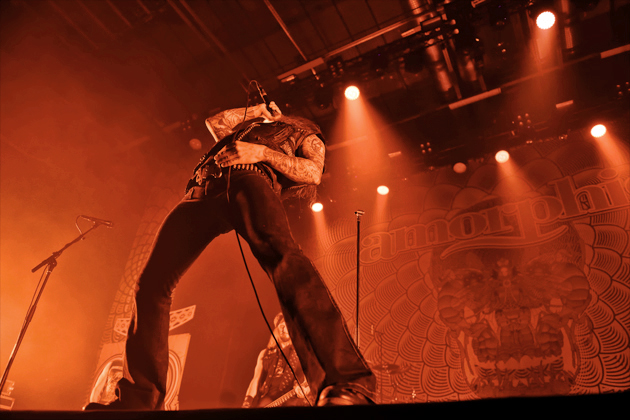 All Pictures by Askar Ibragimov