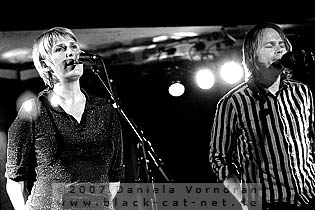 Gleis22, Münster, Germany
29th April 2007
Chumbawamba, Bettina Schelker

CHUMBAWAMBA are THE British Agit-Pop band par excellence. During their 25
th
jubilee tour, they also showed up at the Gleis22 in Münster. Anyone knows their danceable Indie hits 'Timebomb' or 'Tubthumping', but nearly no one knows their calmer side. Totally acoustic they presented their own songs as well as English Traditionals and Rebel songs. Support was the Swiss song writer Bettina Schelker.
Bettina Schelker


Bettina Schelker is a song writer, singer and guitar player. Besides her appearances as solo artist, she is also touring with MENSCHENSKINDER as guitar player and singer as well as playing shows with FLOATING STONES. Bettina Schelker has many faces. She's not only a talented musician, but also an athlete – she's Swiss middleweight boxing champion and played handball as well as football on national level. She did not only open for CHUMBAWAMBA but also such well-known artists as MARLA GLENN or BOB GELDOF.
http://www.foundagirl.com/
/
www.myspace.com/bettinaschelker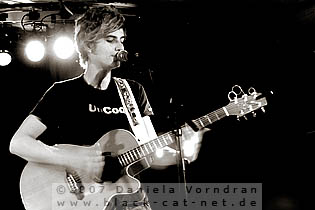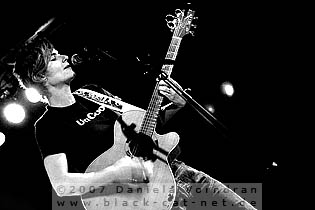 Music

The support act Bettina Schelker was basically her with an acoustic guitar. She was a good choice to open the evening. With her sultry, blackberry voice and the catchy guitar play combined with poetic lyrics, she hypnotized her audience. The lyrics of her songs are taken right out off life and anyone can find him-/herself within the songs which are in German, English or Swiss-German. Her voice had a very warm and velvet tone and reminded my several times of singer Tracy Chapman. The sound in this small club was very good and supported her voice, which stood alone in the whole room, very well. All songs were performed by her alone except last one 'The honeymoon is over' which is also the title track of the new album and was produced in co-operation with CHUMBAWAMBA. For this final track, Neil and Phil of CHUMBAWAMBA joined the singer on stage with another acoustic guitar and with the accordion.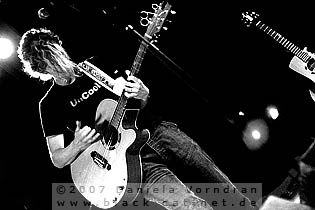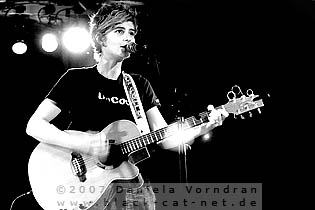 Performance

This evening's concerts took place in a rather small club. Benches where built up as I realized when entering the room… so that would be a seated concert. Right at the entrance I was told that beverages were only sold in the breaks in-between the concerts to not disturb the performances. Strange at first sight but I think it helped the performances a lot, they were quiet and calmer than usual concerts. Bettina was given about 45 minutes for her performance which she carried out alone besides the last song, as mentioned before.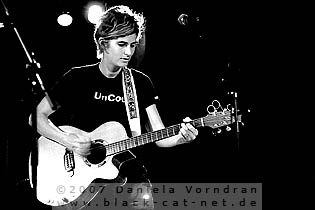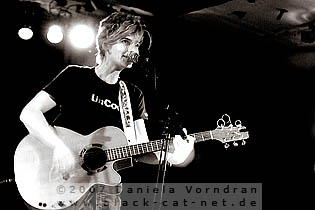 The show was not built on expressive movement or a great light show but on the music itself – even though Bettina had some kind of emotional release when she jumped with her guitar at the end of 'Meinst Du mich'. She also told some jokes and stories about the songs performed – i.e. 'Atem' was written in Australia when she had left Switzerland because she had the urge to discover the sense of life by travelling through Australia. She said with a smile that she did not find it but that song came out. Peak of the show was surely last song when more people were on stage and Neil and Phil of CHUMBAWAMBA kind of lead over to the next performance.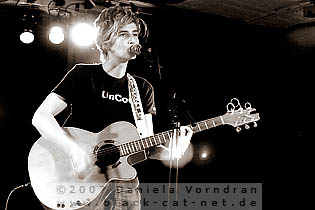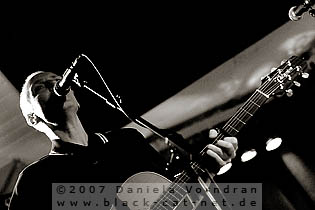 Setlist
01. My Baby can't keep a secret
02. Zurück
03. Durst
04. Talk
05. Me
06. Meinst du mich?
07. Nicht aller Tage Abend
08. Atem
09. The Honeymoon is over
Rating
Music 8
Performance 7
Light 3
Sound 8
Total 6.8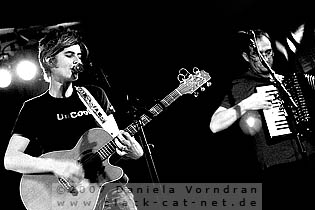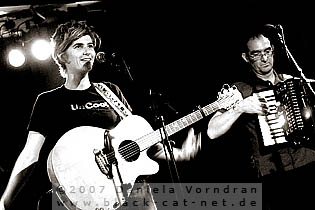 Chumbawamba


Founded back in 1982, the band released several albums under different line-up under the years. The commercially most successful album was 'Tubthumper' in 1997 leading to CHUMBAWAMBA's final break through. The song 'Tubthumping' - which was the title song for soccer championship in 1998 - is still the best known song. Latest album was 'A Singsong and a Scrap' released end of 2005 followed by the live album 'Get on with it' in 2006. CHUMBAWUMBA are Boff Whalley (vocals and guitar), Lou Watts (vocals and keyboard), Jude Abbot (vocals and trumpet) and Neil Ferguson (bass) accompanied by faithful accordionist Phil Moody.
http://www.chumba.com/
/
www.myspace.com/acoustichumbawamba
/
www.myspace.com/chumbawambamusic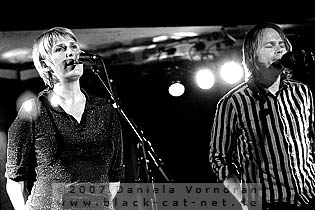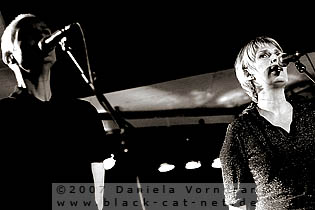 Music

If you speak about CHUMBAWAMBA you also have to think and speak about politics because politics are always a big issue in the band's songs. Musically, the band developed from strong Punk influenced songs more to a "lovely" variety of sounds reminding more of Pop songs. Lyrically, the band remains with its strong critics against capitalistic and imperialistic power due to its left-winged and anarchistic songs. The lyrics reach from typical "English Rebel Songs" over the issue of Margaret Thatcher to current Prime Minister Tony Blair or US president Georg W. Bush. And still the "poppy" sound is remaining living on different influences coming from African and Scottish Folk or American Pop as well as English Punk.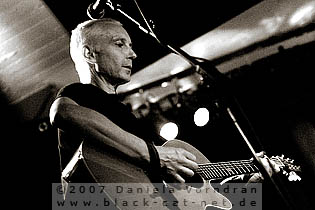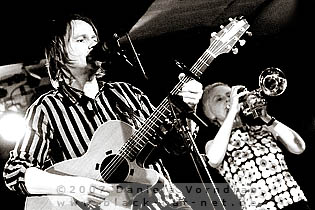 The show in Münster - as well as the whole tour - was announced as an evening of English Traditionals and Rebel songs. So, the evening had an acoustic show in stock for the listeners. No rock show, but an evening with a-capella songs and songs based on acoustic guitars, trumpet or accordion. The voices and the anarchistic lyrics of the songs were standing in the centre. It was different and people who were expecting a Rock show were probably disappointed. Presented songs included i.e. 'Bankrobber' performed c-capella, 'Stitch that', Fade away', 'Jacob's Ladder' where the Iraq war was an issue, 'The day the Nazi died', You can', 'Timebomb' or 'Enough is enough'. Some technical problems with the monitor speakers were just been joked about – they said after none out of ten German shows there shouldn't been any technical problems anymore but it seems there still are. Anyway no one of the attendees really heard any problems I think.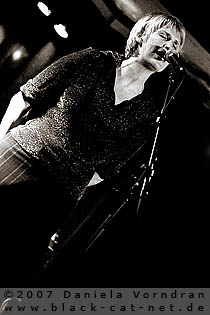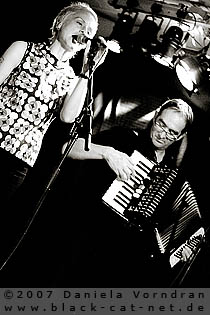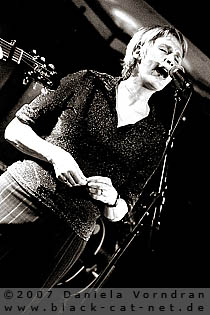 Performance

The CHUMBAWAMBA show consisted of two divided parts whereas the first one grasped nine songs. Like during Bettina Schelker, no big show was needed to transport the content of the songs which were welcomed with honest applause. Several smaller and bigger stories according the presented songs were told by Boff and Jude - who was making most of her statements on German. Most of those statements had ironic hints and good old English humour what made the audience laugh more than once. Still there were jokes about Margaret Thatcher - what seems a bit old fashioned - as well as about Mr. Blair at the end of part one when Jude announced 'Tony Blair' as a "farewell song for the current chancellor - soon he's gone". This concert evening was one of the calmer kind - but not less exciting than a great rock show.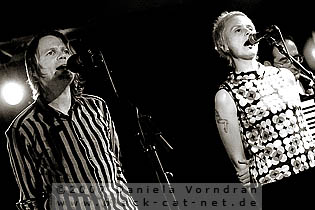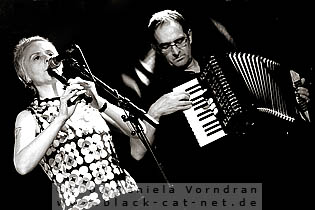 Rating
Music 9
Performance 8
Light 3
Sound 8
Total 7.7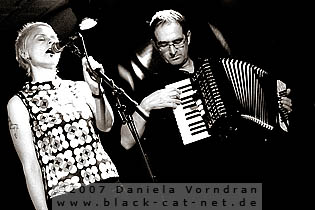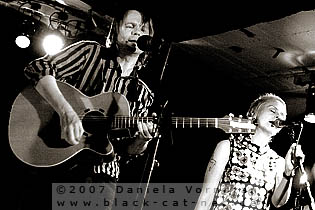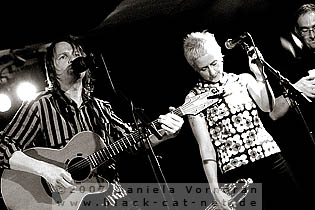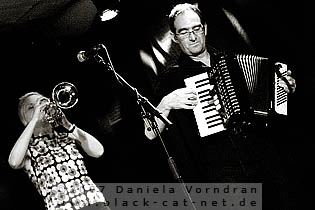 All pictures by Daniela Vorndran (
http://www.vorndranphotography.com/
/
http://www.black-cat-net.de/
)
{jos_sb_discuss:17}