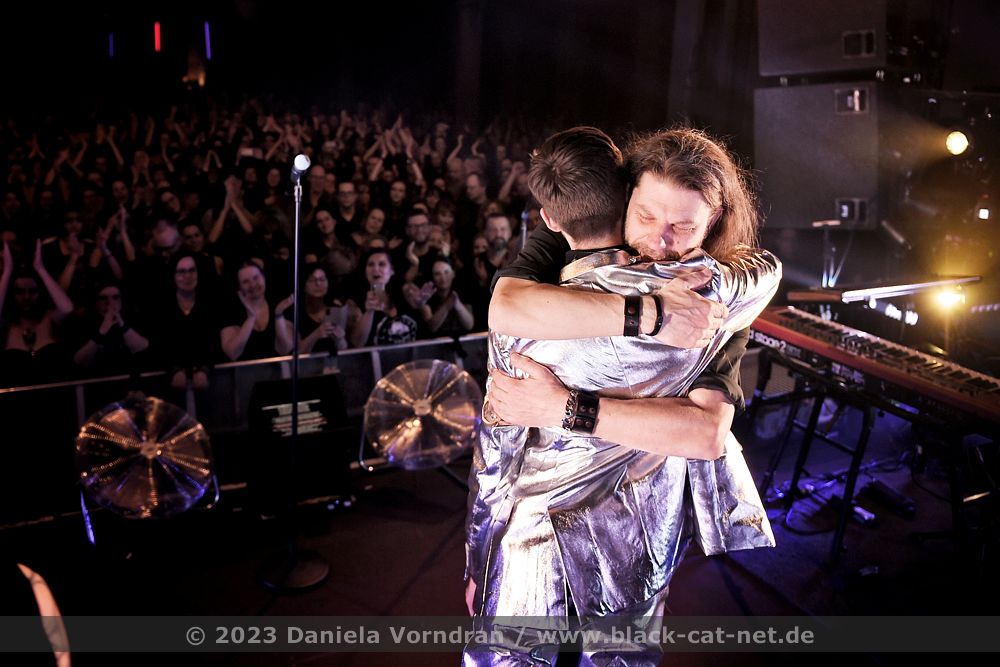 Täubchenthal, Leipzig, Germany
17th March 2023
Diary of Dreams - "Melancholin" Tour 2023 - Special Guest: Sea of Sin

We may dream again. Adrian Hates and his musical companions are finally back on the stages of Germany with a new chapter in the diary of dreams. After two years of pandemic and the destruction of Hates' studio by the flood of 2021, fans had to wait a long time for the new album and an accompanying tour. On 10th March, DIARY OF DREAMS finally started their live tour with special guest SEA OF SIN in Wuppertal. I had the pleasure of joining them in Leipzig last Friday.


The doors of the Täubchenthal - a wonderful club with a great ambience, which is always a pleasure to visit - open punctually at seven. The space in front of the stage fills up pretty quickly. Despite the good ventilation, it might get quite warm tonight with over 900 fans in the house. And there's not much room for dancing and moving this night. Some even see the concert from the aisle. They could actually have found space at the gallery. But unfortunately, it remains closed because additional security forces would have been needed. It's sad, because it is almost uncomfortably cramped sometimes. But maybe it's also a bit because you're no longer used to these crowded rooms after the rather "understaffed" concerts in the post-corona phase.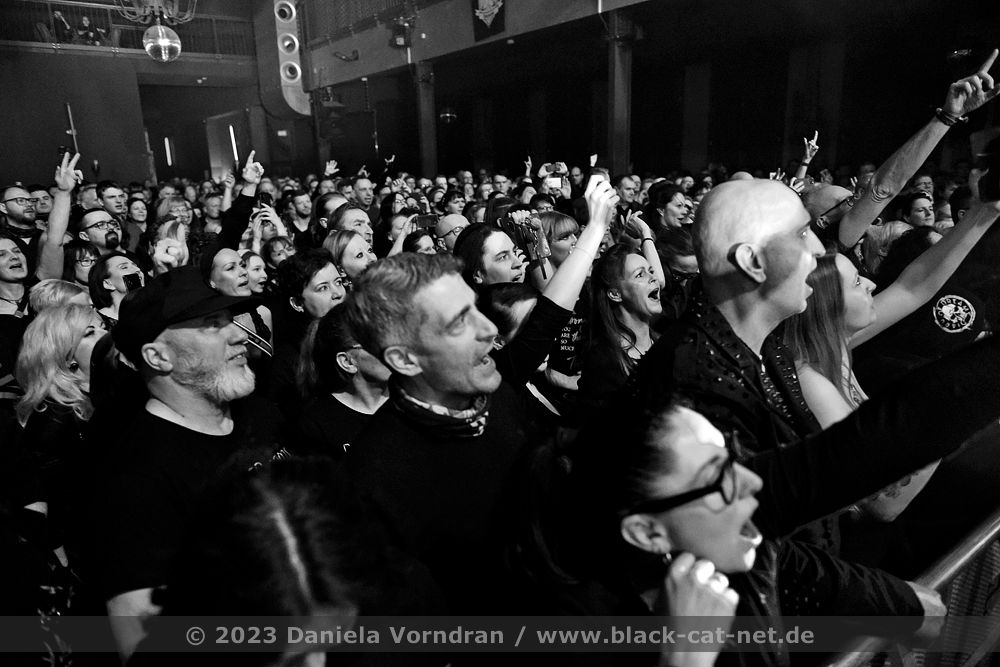 First of all, I have to admit that I'm a little disappointed with the audience at the beginning of this evening. While SEA OF SIN performing, many stand around disinterested or even talk loudly with each other. I find that extremely annoying and don't think it is particularly fair to the people in the front rows. They are definitely interested in the special guests. Not to think about the artists on stage. I really feel sorry for them at times. I don't know anything like that from Leipzig. Up until now the audience in Leipzig has always been very open and respectful towards lesser-known bands. At least in my experience. Of course, most come to see their favourite band. But even if you aren't interested in the support band much, you should give the artists a chance or at least not disturb the show.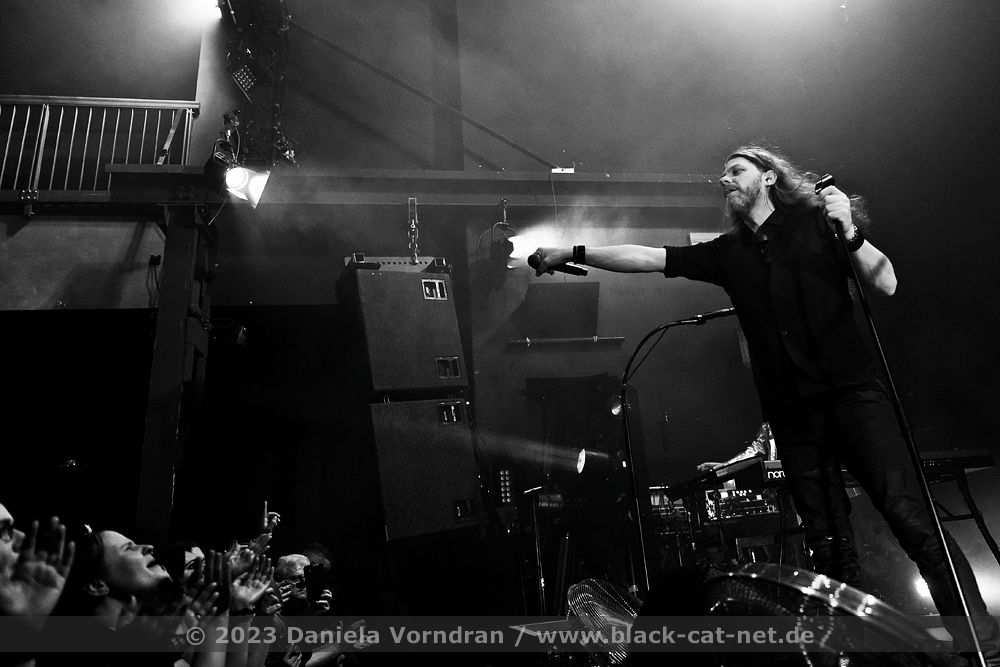 After all, the people of Leipzig flip the switch with the main act of the evening and so are able to restore their good reputation. But first things first but not necessarily in that order.


Sea of Sin

Klaus Schill (synths, guitars, production) and Frank Zwicker (vocals & words) started their career in the middle of the nineties. Due to a few setbacks and adverse circumstances, the two musicians initially gave their lives other priorities. But music never really let go of them. And when Klaus did a remix for the CAMOUFLAGE duet with Peter Heppner 'Count On Me' in 2017, it was clear that they wanted to try a comeback. This came in 2018 with 'Future Pulse'. A new beginning with completely remastered versions of the previous work and the first new song 'Star' after almost 20 years. After the album 'Unbroken' (2019) Frank and Klaus have focused on releasing singles and according remixes in the years of the pandemic. The next album 'Tired Of Chasing Ghosts' will be released on 21th April, what will be celebrated with an album release party on 29th April in Hamburg. With the new songs SEA OF SIN are consistently developing their former New Wave, Synth Pop sound towards guitar-supported Electro Pop. https://seaofsin-official.com / https://www.facebook.com/seaofsinGER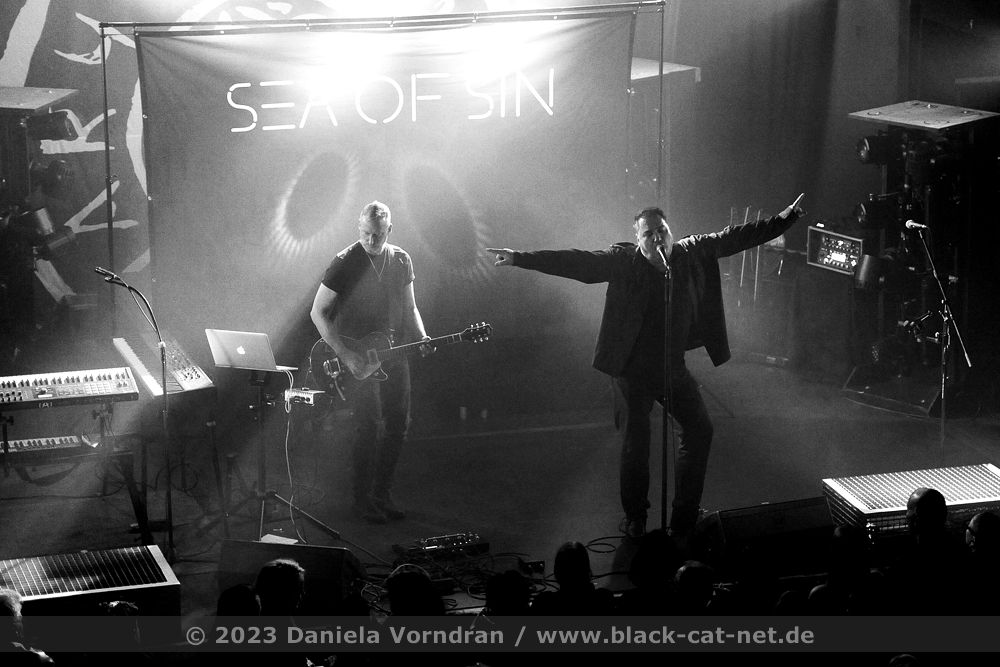 Music & Performance
SEA OF SIN enter the stage shortly before eight and give us a wonderful mixture of their previous work and new material. As mentioned at the beginning, the Leipzig audience is still not in the matter. Klaus and Frank do difficult to get the audience on their side, but don't let on something. After all, a few at the front seem to want to get involved with the duo. After a short intro, the two start with 'Truth' from their debut album 'Watch out!' (1995). The catchy opener makes dance along and applaud at least some in the front rows. Regrettably, the song can't release much energy. Maybe one of the new songs would have worked better as opener, e.g., 'Synchronize' or 'Shine a light', which unfortunately wasn't in the set. It's relatively dark on stage and at times the musicians can be guessed more than seen even from the very front. The sound is also not ideal and a bit spongy. I'm standing in front right next to the speaker and I'm glad to have my earplugs with me. It drones quite much from time to time. All in all, I can only guess why the spark in Leipzig doesn't really want to jump over.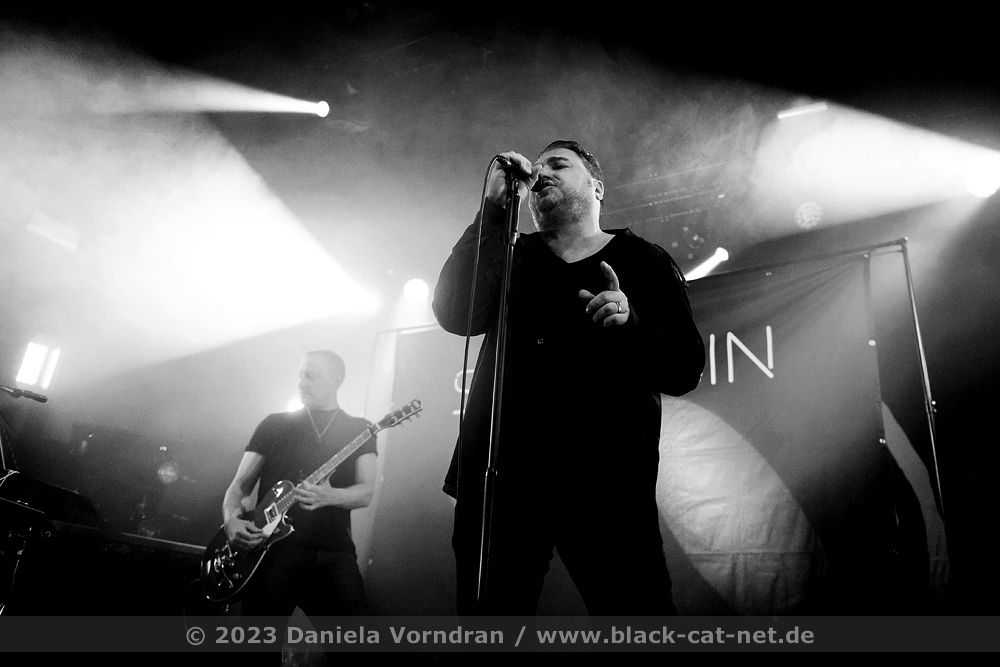 Even the slightly faster 'Contamination' from the album 'Unbroken' (2019) and 'Synchronize', which comes next, can't fully convince the Leipzig audience. There is only dancing in the front, even if there is only little room for it. Frank tries to get the audience to clap along, which he at least partially succeeds. With 'I Live My Life' it goes back to the year 1995 and slowly the people of Leipzig seem to be thawing a bit and a few more people dance along. With 'High and Low' follows my highlight of the set. The band released a video for the title two weeks ago, which of course can be viewed on YouTube. A very catchy, melodic song to dance along to, which some people do. The track gets more applause and even a few cheers can be heard. 'Unspoken Words' and 'What Are You Waiting For?', both from the album 'Unbroken' (2019), gradually bring a little more movement into the room. And some folks clap along with 'What Are You Waiting For?'.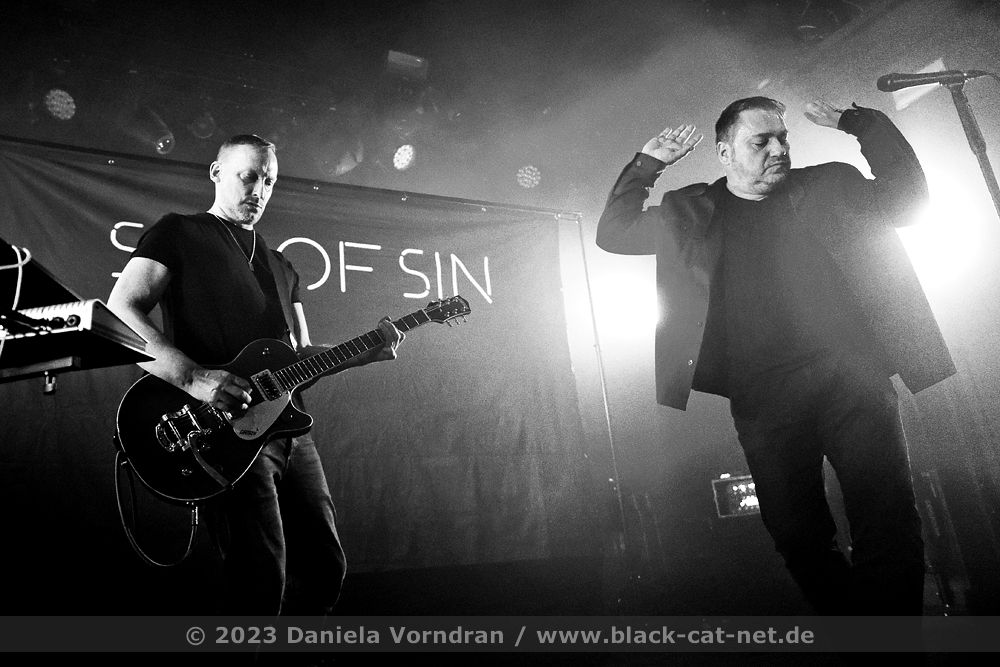 With the last song 'Beyond Sadness' Frank and Klaus draw the bow back to the first album. But before that, Frank would like to thank Lana, who has been doing their merch by choice since the start of the tour. The duo doesn't have a label behind them, do everything themselves and are therefore are very grateful for the support. If some haven't had enough, they're welcome to drop by the merch afterwards and chat a little with Frank and Klaus. Even if the last song gets a lot of applause, the two of them won't be satisfied when they say goodbye to the stage at half past eight. Despite everything, I really liked their performance and I was probably not alone. Later on, there are some people at the merch. They not only chat with the two, but also take one or the other CD with them.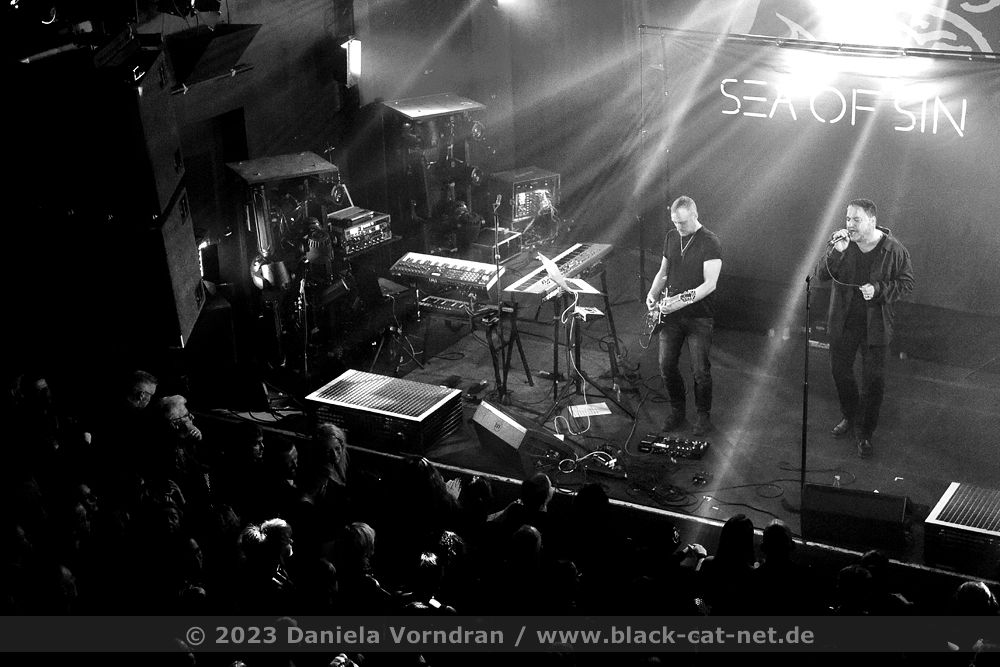 Setlist
01. Truth
02. Contamination
03. Synchronize
04. I Live My Life
05. High and Low
06. Unspoken Words
07. What Are You Waiting For?
08. Beyond Sadness

Rating
Music: 8
Performance: 8
Light: 7
Sound: 7
Total: 7.5 / 10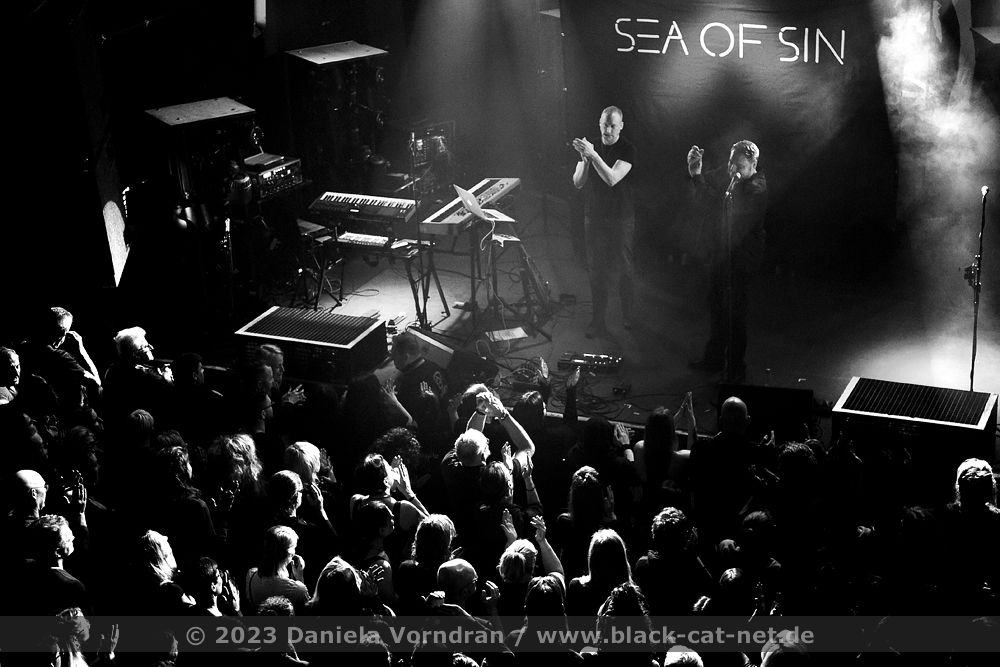 Diary of Dreams

About three decades of music history have made DIARY OF DREAMS well-known and a fixture in the black scene. With 'Melancholin', the band around mastermind Adrian Hates has finally released their 14th chapter of the diary of dreams after more than five years. The album not only took the hearts of the fans by storm but also made a big impression on the critics. Now we can finally experience what power and energy Adrian Hates (vocals, lyrics, music), Hilger Tintel (guitar), Dejan Nikolic (drums) and Felix Wunderer (keyboard) will give the new songs live on stage. As already mentioned, more than 900 fans came tonight who finally want to open a new live chapter in the diary. And as I can already reveal, their expectations will not be disappointed. https://www.diaryofdreams.de / https://www.facebook.com/officialdiaryofdreams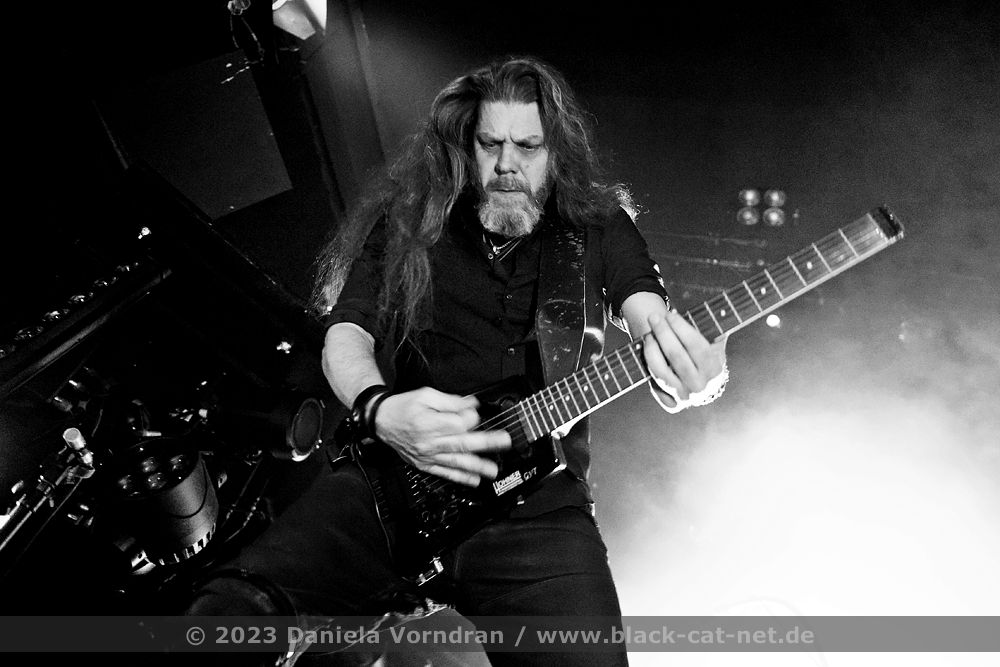 Music & Performance
The change-over goes quite quickly and then we have to wait a bit until DIARY OF DREAMS enter the stage punctually at 20:50. When the intro to 'Mein Werk aus Zement' starts, Leipzig is there as I know and appreciate it. When Hilger and Felix come out, they are greeted with loud cheers and applause, which almost gets louder when Dejan and Adrian follow them onto stage. The bombastic album opener is the perfect prelude to a fantastic concert and is celebrated right away. Leipzig restores their honour right from the start. So, we are greeted accordingly by Adrian. "Have a wonderful good evening, Leipzig! The madness…" What an incredible, energetic and emotional set DIARY OF DREAMS pull out of the hat. With six songs, the focus is of course on the current album 'Melancholin'. And the new songs are sung along and celebrated just as hard as the classics from the past 23 years.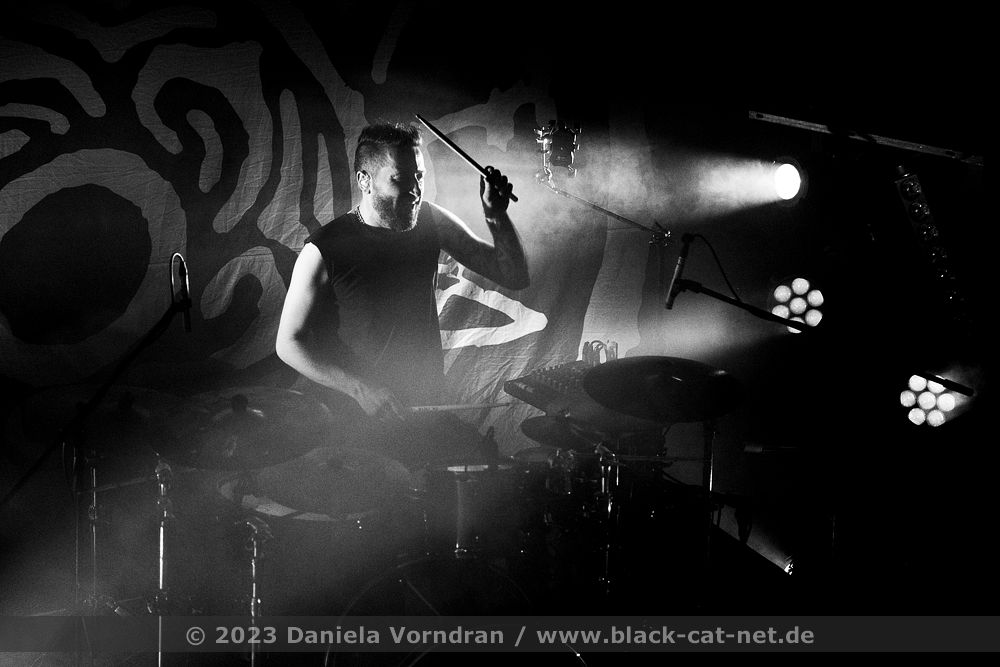 And just as we switch back and forth between the chapters of the diary of dreams, Felix and Hilger keep changing their positions from one side of the stage to the other. During 'Epicon' and 'Menschfeind', Adrian keeps holding his microphone to us and really drives the audience on. He gives us thumbs up for the performance. At 'Gedeih & Verderb' nobody stands still and the floor really vibrates. Unfortunately, a fan has to be reminded to turn off the flash on the cell phone by the security. It's a shame that this has to be said again and again. I'm sure nobody has anything against it, if someone takes a photo or a small video from time to time. But please without flash! It dazzles and disturbs the artists on stage. And please be considerate of the other fans. After all, they paid for the show and not for constantly looking at other people's displays.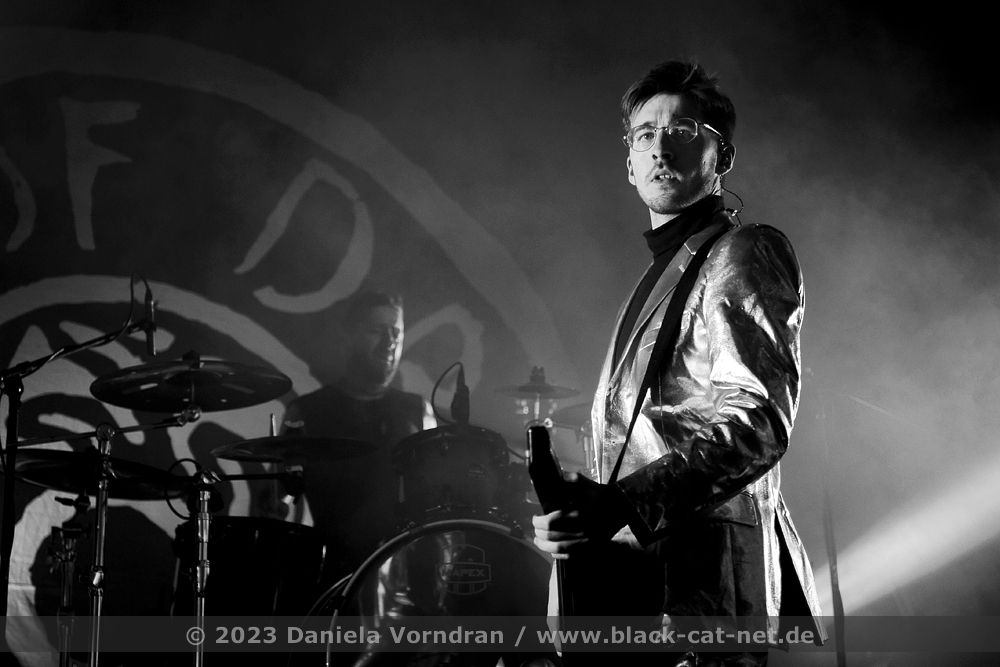 Then "will be married". Appropriately, the stage for 'the Wedding' is lit up in red and Adrian directs the loudly singing audience. With the guitar that Adrian is handed for 'Ikarus', he somehow doesn't get along. "Look at the device. It is a real beauty. Yamaha donated it to me before the tour and asked if I would like to play it. And what am I ass doing? I keep playing my old, shitty paddle. Because I just love it so much. And now a string broke, as a punishment or for punishment or whatever, because I didn't do it." Luckily Adrian doesn't need a guitar for the song that comes next. But first he dedicates us "a sip of this exclusive droplet" for being there. For this tour, DIARY OF DREAMS have "dug up something" that they hope will make us happy. In view of the cheering that is triggered with the first notes of 'King of Nowhere', Leipzig is probably more than just pleased. The applause then turns directly into rhythmic clapping and the entire hall is in motion again. Leipzig totally freaks out. Rightly so. Adrian really drives the crowd and Felix and Hilger swap places again.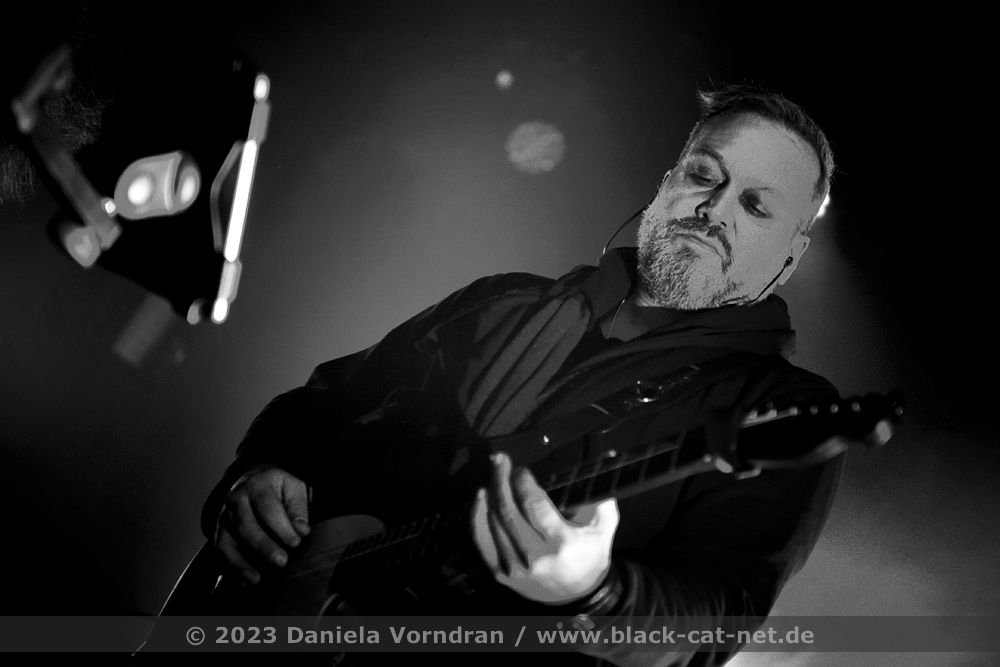 For the next song, Adrian needs the guitar again and is curious to see whether it will work with the Yamaha. Hilger extra screwed other tuning pegs on top. The originals "were kind of silver with some sort of flokati junk on top (Adrian laughs)." With 'Beyond the void' they try something new again "and then we'll have a look how you react to it." This, of course, triggers a lot of cheering. "Well, that was all right." And the Yamaha also worked to some extent. "Thanx to the Yamaha and thanx to you!" And then there are "those numbers that you can't let go of." 'Listen and scream' would be one of them and this song from the last album 'hell in Eden' also gets heavy applause and cheers. However, Adrian is not completely convinced of the Yamaha. "On the next number of all things..." But Adrian manages it. And we manage the "little change of scenery" to 'She and her darkness' too.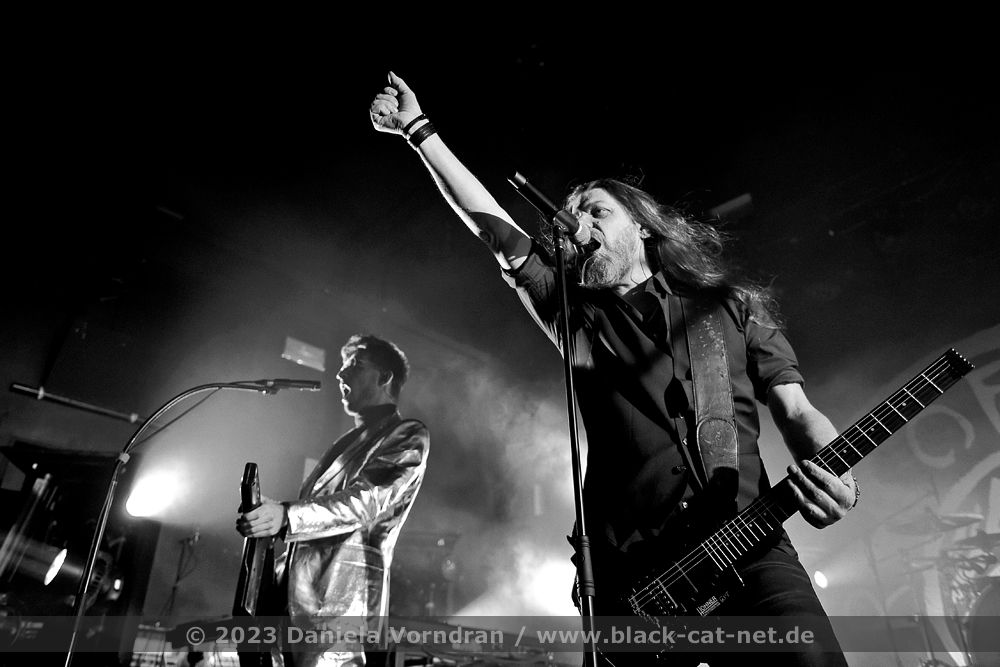 The two following songs 'Viva la bestia' and 'Sister Sin' are also sung along loudly. Adrian seems very satisfied and is all smiles. "Thanks a lot! If you want to do a personality study of me, it's very easy. The next song provides all the details." And then 'the Secret' starts, with Adrian finally having the old paddle again (Editor's note: in the meantime, Eike has put a new string on it and tuned the guitar again). I have to mention that the colour play of the spotlights sets the song in scene very well. Starting in blue and orange, the light then changes into different colour combinations that create an almost magical atmosphere. When Adrian exchanges the guitar for a sip of wine again, he takes the opportunity to introduce Eike - "the man with the many guitars". Eike is "our man behind the scenes making sure my distress paddle works again. Thank you, Eike! Thanx to you. Let's go back a bit to the old days. Are you up for it?" Of course, we are. And 'kindrom' is also extremely celebrated and sung along loudly. Adrian holds out the microphone to us again with a smile on his face. The following 'decipher me' is celebrated heavily too.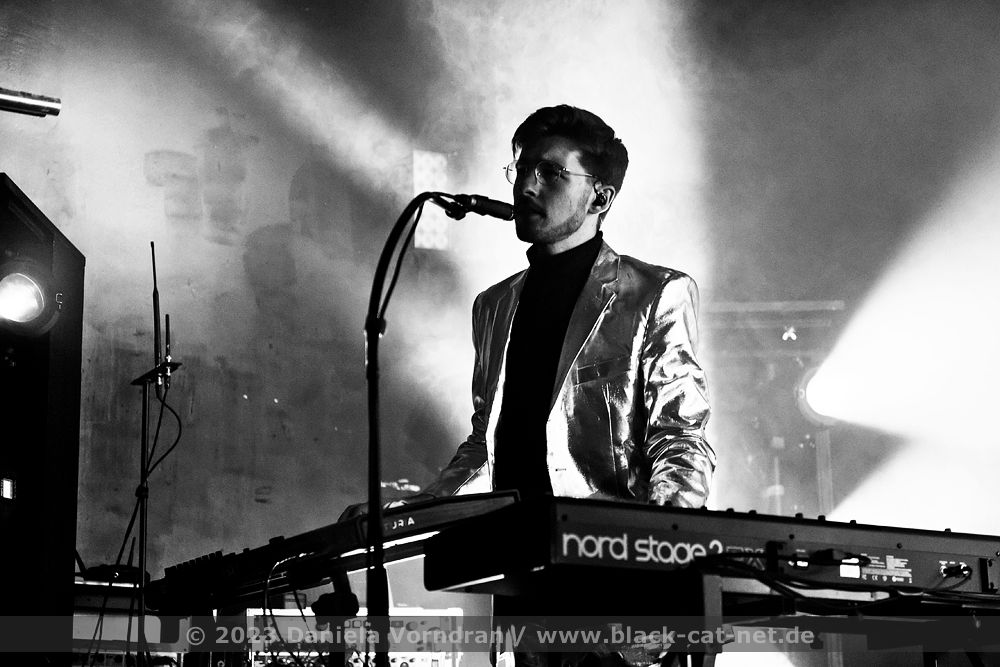 "I dedicate the next song retrospectively to the last three years. They really made me happy. We saw each other a lot. I was able to work so beautifully in the studio. All those things I like to do galore. And now I see you here. Like in former times, without a mask. And we celebrate that with an old song." What else could come after this slightly ironic announcement than 'the Plaque'. The regular set then ends shortly before half past ten with another classic, namely 'the Curse' from 2002. Again, the audience sings along loudly and Adrian encourages us to sing even "louder". With a "Thank you! Many, many thanks, dear Leipzig residents. We thank you!" the musicians leave the stage to sustained applause. It doesn't die down until Hilger and Felix come back. Felix stops for a moment and encourages the crowd to cheer even louder. Then follow Dejan and Adrian, who thanks us again and then has to laugh because someone is calling "undress!". He heard "geile Sau" yesterday, today "undress – it's getting better and better." But Adrian prefers not to. "Friends of the night! You don't want something that ugly. We just do what we can. OK? Thank you very much."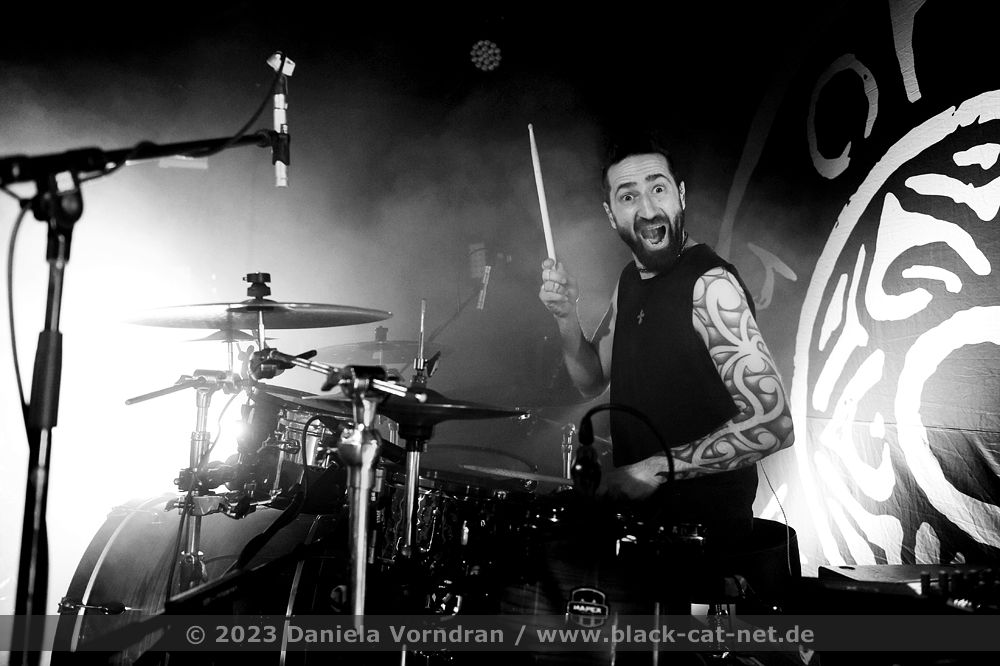 The first encore, 'The Fatalist', not only gets the people of Leipzig singing and cheering loudly, but also happy-looking faces. "Thank you, Leipzig. Thanx very much!" And then Leipzig freaks out again to 'Undividable', so that the whole hall seems to vibrate. Also, this time the applause lasts until the musicians come back. This time Dejan is the first on stage and brings two bottles of water, which he throws directly into the audience. Hilger and Adrian also distribute water to the guests. "I was a little thirsty. And Dejan had a good idea. I thank you from the bottom of my heart. Thanks very much! We're not quite done with you guys yet. We are now traveling back a good, good 23 years. But it has to be worth it for all of us. Do you remember that?" The oldest song played tonight, 'Butterfly Dance' from the album 'One of 18 Angels' (2000), gets everything moving again. The gentlemen say goodbye with a heartfelt "Thank you!" by Adrian, and Felix waves to us again. When he comes back after a short time, he puts his hand to his ear and listens.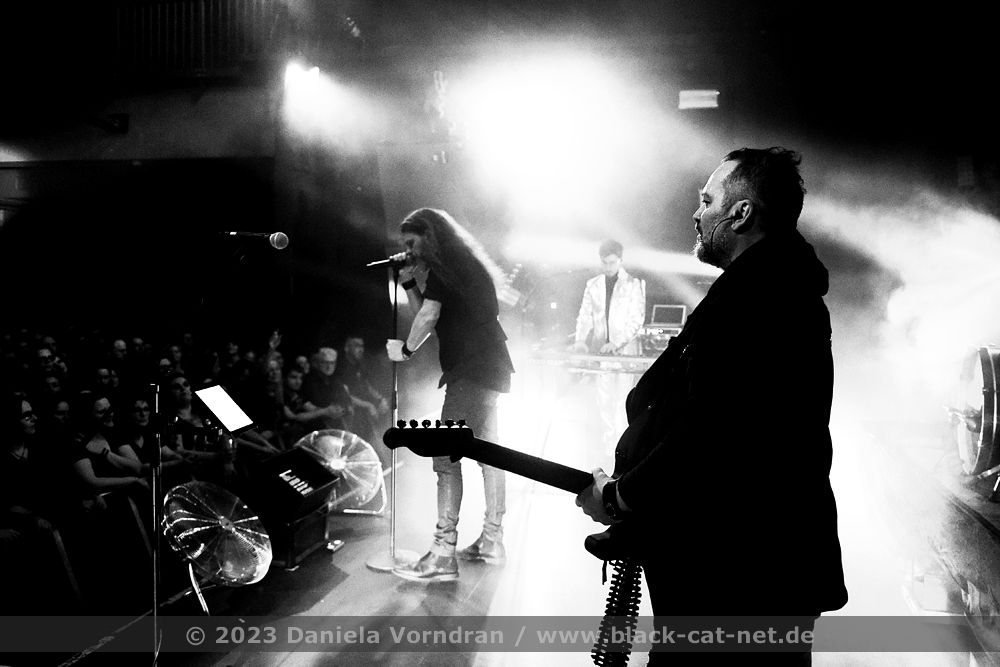 Apparently, he likes what he hears and applauds us. Then Adrian gets "shoved out" by Dejan. And Adrian expounds that is "not nice. Mainly because he (Dejan) doesn't have to go out now. Or may not?" Then Adrian explains to us that there are things that "you don't want to play anymore. 'Cherry Cherry Lady' for example, you just don't want to play anymore. But the kapellmeister, the silver lightning (allusion to the glittery silver suit that Felix is wearing), he came up with something." And Adrian thought "fair enough, exceptionally, but for the last time 'Traumtänzer'." Felix takes a seat at the piano. As a farewell, he and Adrian perform the song from 'Freak Perfume' (2002) in an acoustic version that really gets under the skin. And especially when Adrian holds the mic up to the audience, who sings along loudly and intones the chorus alone while Adrian conducts. Hilger is now also on stage, filming with his cell phone. The memory of this magical moment still gives me goosebumps. The madness. Thank you, Leipzig - simply amazing!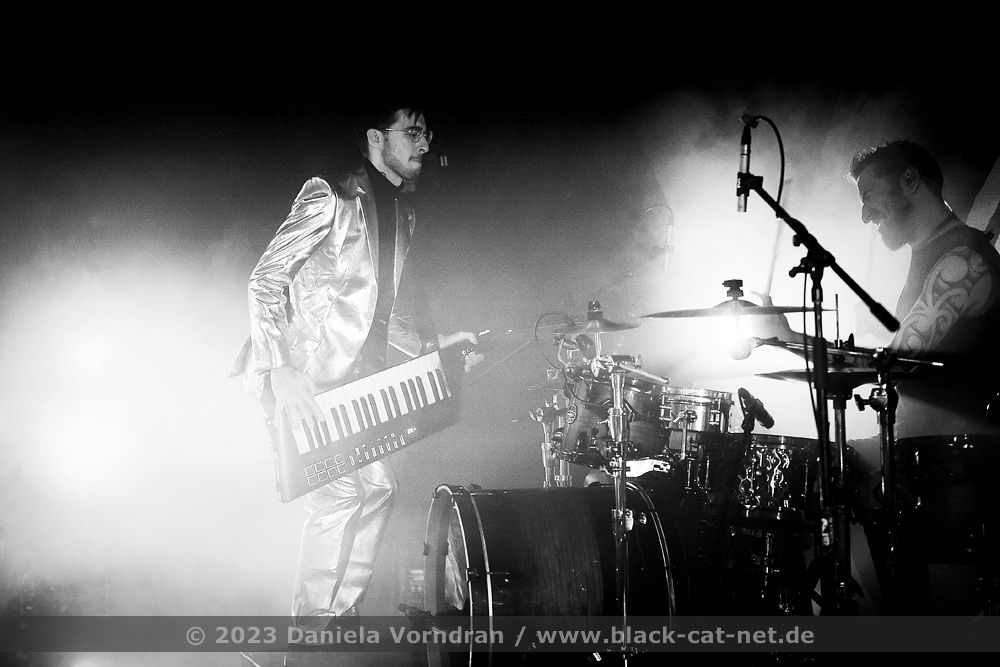 Before DIARY OF DREAMS say goodbye to the stage after two hours, everyone bows again. Both on and in front of the stage you can see bright shining faces. A wonderful concert, full of magic and emotions. And in the end with an incredible atmosphere, as I know it from Leipzig and love it so much. Even today, I am therefore happy to leave the final word to the artists, in this case Adrian: "Thank you very much, dear Leipzig residents. My second home of my heart. Thank you very much. Bye, see you soon."

Setlist
01. Mein Werk aus Zement
02. Epicon
03. Menschfeind
04. Gedeih & Verderb
05. the Wedding
06. Ikarus
07. King of Nowhere
08. Beyond the void
09. listen and scream
10. She and her darkness
11. Viva la bestia
12. Sister Sin
13. the Secret
14. Kindrom
15. decipher me
16. the Plaque
17. the Curse
---
18. the Fatalist
19. Undividable
---
20. Butterfly Dance
---
21. Traumtänzer (acoustic version)

Rating
Music: 10
Performance: 10
Light: 9
Sound: 9
Total: 9.5 / 10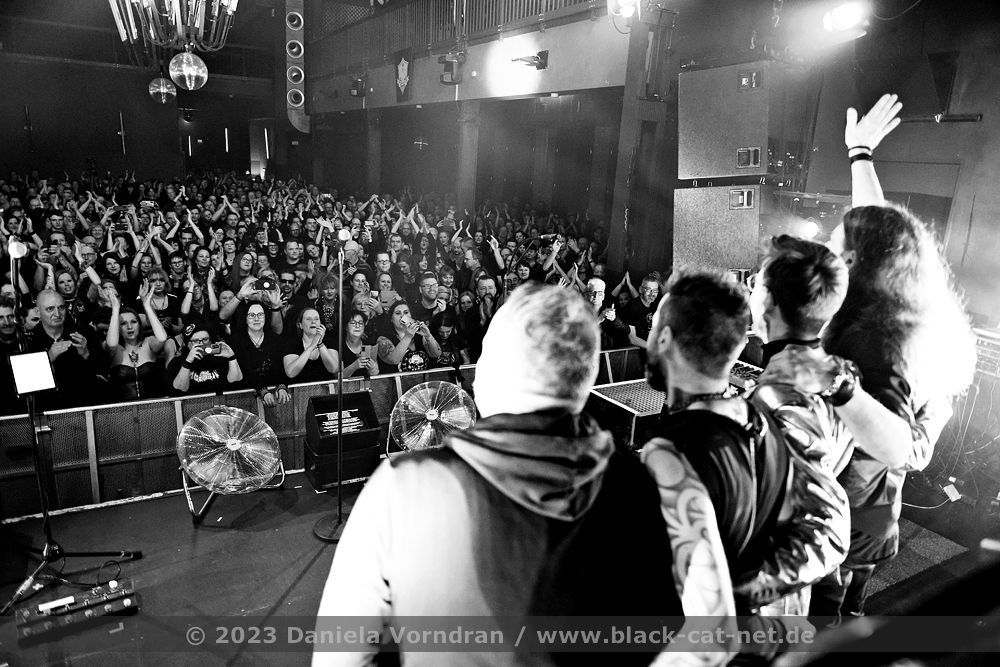 All pictures by Daniela Vorndran (http://www.vorndranphotography.com / http://www.facebook.com/blackcatnet)