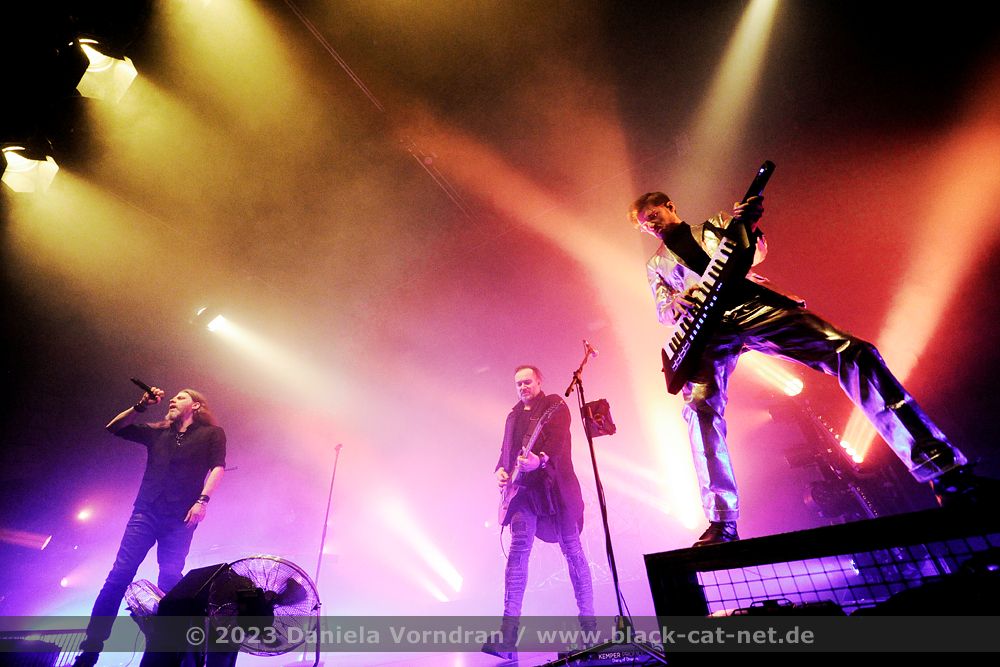 Batschkapp, Frankfurt, Germany
19th March 2023
Diary of Dreams - "Melancholin" Tour 2023 - Special Guest: Sea of Sin

My concert season 2023 started directly with the last show of the current tour. Together with SEA OF SIN as special guests, this tour took DIARY OF DREAMS over ten different stations across Germany. Today, the Batschkapp in Frankfurt was final meeting place for all fans of dark, melancholic music. So much can be revealed in advance: it was a great evening and a worthy conclusion to the tour!



Sea of Sin

SEA OF SIN originated in the 90s. Their debut album 'Watchout!' was already extremely successful in the international Synth Pop scene, and they even managed to get Heiko Maile from CAMOUFLAGE to produce the 'Illuminate EP'. Then it was quiet for a long time about SEA OF SIN. It took until 2018 for the long-awaited comeback with the album 'Future Pulse'. Various placements in the top 10 of the German Alternative Charts (DAC) were a reward for the successful reissue of older songs. The fan community had to wait another year until completely new songs were released with the next album, 'Unbroken'. The maturation and development process of Frank Zwicker (vocals and lyrics) and Klaus Schill (guitars, synths and production) was unmistakable, and so it was not surprising that 'Unbroken' as a new entry landed directly at number three in the DAC, even then 2nd place, leaving big names like CHEMICAL BROTHERS, IGGY POP, GORILLAZ and SCHILLER behind. Let's wish the band that the brand-new album 'Tired of Chasing Ghosts' will get off to a very successful start. The new album will be released on April 21, 2023 and is available exclusively from Poponaut. Presenting itself as a special guest of DIARY OF DREAMS has definitely served the desire to make itself accessible to a wider audience. In any case, what I heard there made me very curious. If you want to learn more about SEA OF SIN, visit their website and social media accounts: www.seaofsin-official.com / https://www.facebook.com/seaofsinGER/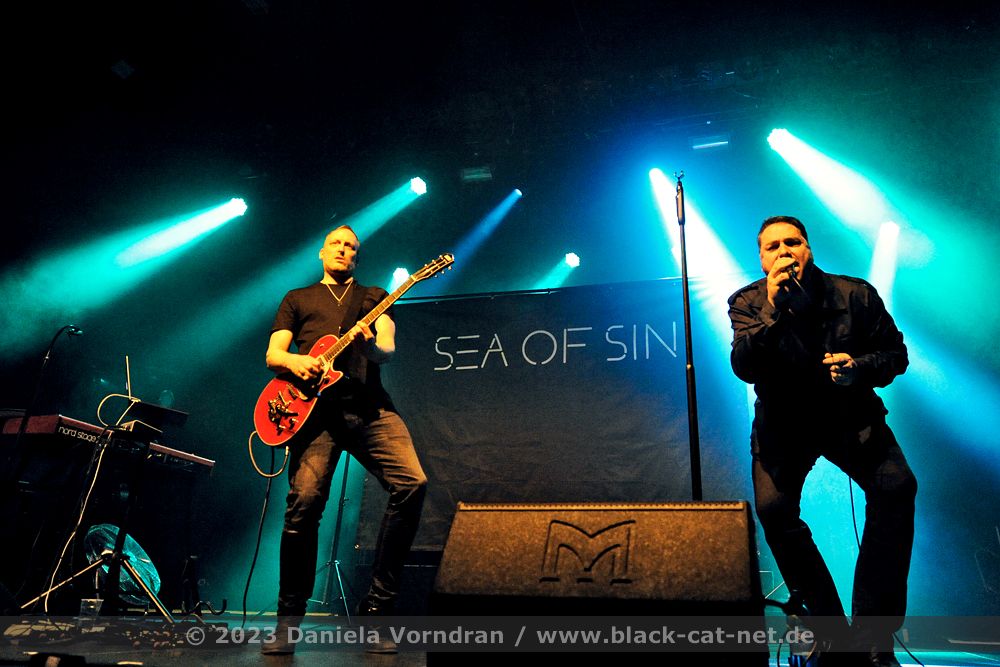 Music & Performance
Exactly at 7:55 p.m. Klaus Schill, responsible for guitar, synthesizer and production at SEA OF SIN, entered the stage, immersed in atmospheric light emerging from the creative repertoire of the venue's light crew. We quickly hurried from the bar into the now really well-filled area in front of the stage. Singer and songwriter Frank Zwicker followed his band mate on stage, and my hope that the audience would welcome the band appropriately was fulfilled. I can well imagine how difficult it can be to get the attention of people, who are of course there for the main act, but the apparently very open and curious audience left no doubt from the start that SEA OF SIN are welcome and will be given the attention they deserve. I've known the name SEA OF SIN for a long time, but I it took until now to get a connection to their music. It was 'Synchronize' that got me in flames - once you've heard this song, you can't get it out of your head.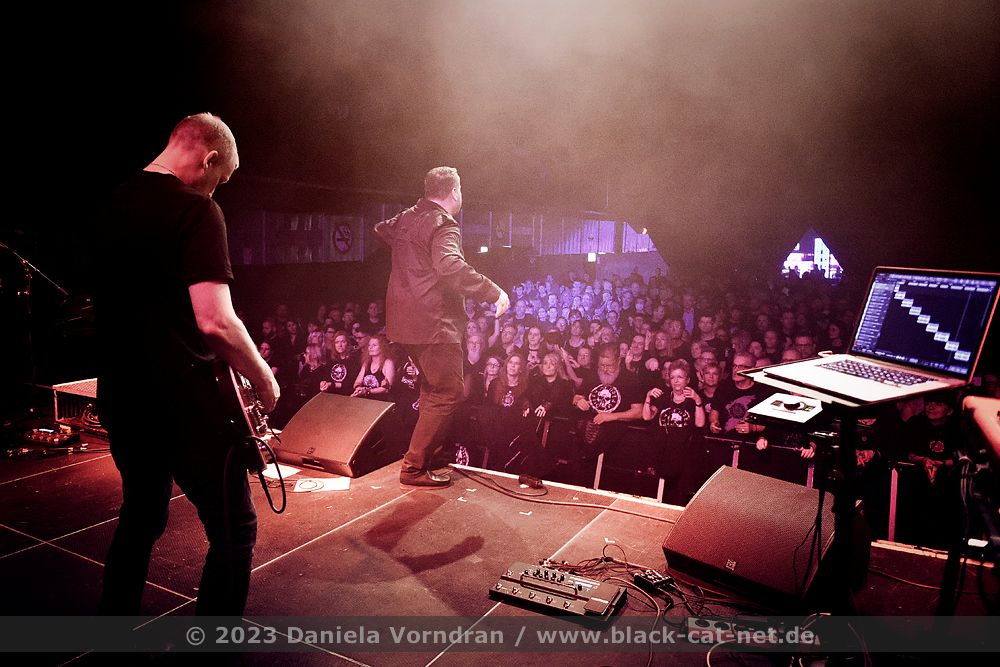 However, the opener of the evening was chosen with 'Truth', a SEA OF SIN oldie from the very first album 'Watchout!' from 1995, which struck me in a very atmospheric and thoughtful way, and it is the right thing to attract the immediate attention of melancholic people like we, the dreamers, are. Loud talking stopped, the bar area emptied, the audience was hooked. The end of the song merged with loud applause, and that definitely broke the ice. The relief was obvious to the two men from SEA OF SIN. Frankfurt had taken them in its arms. It's so important how the audience reacts to the first song, especially if you only have a set of about 35 or 40 minutes. After a short welcome, including thanks to the great work of the lighting technician, who put SEA OF SIN in the right light, they continued with the second song of the evening.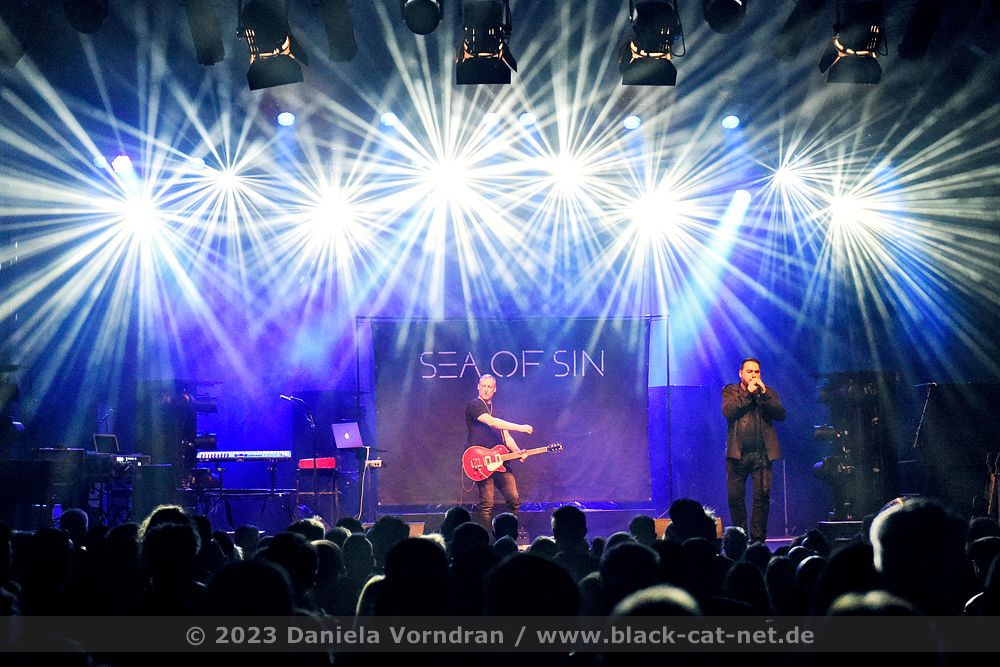 'Contamination' kicked off the 2019 album 'Unbroken', an album title reflecting SEA OF SIN's motto: "Fall down, give a little shake, get up and keep going." Upbeat, danceable, with an immediately catchy chorus, this song was emblematic of the relief about the connection between the band and the audience. I was really happy that the crowd decided to give the band the attention it deserved. Unfortunately, I've also experienced it differently in the past with other special guests, and for me as a highly empathetic person it's really a stab in the heart when the audience is so distant from the opening act. SEA OF SIN definitely avoided such a disgrace that evening. It was easy to hear from the intensity of the applause, the shouts and whistles that the entire crowd of people was participating.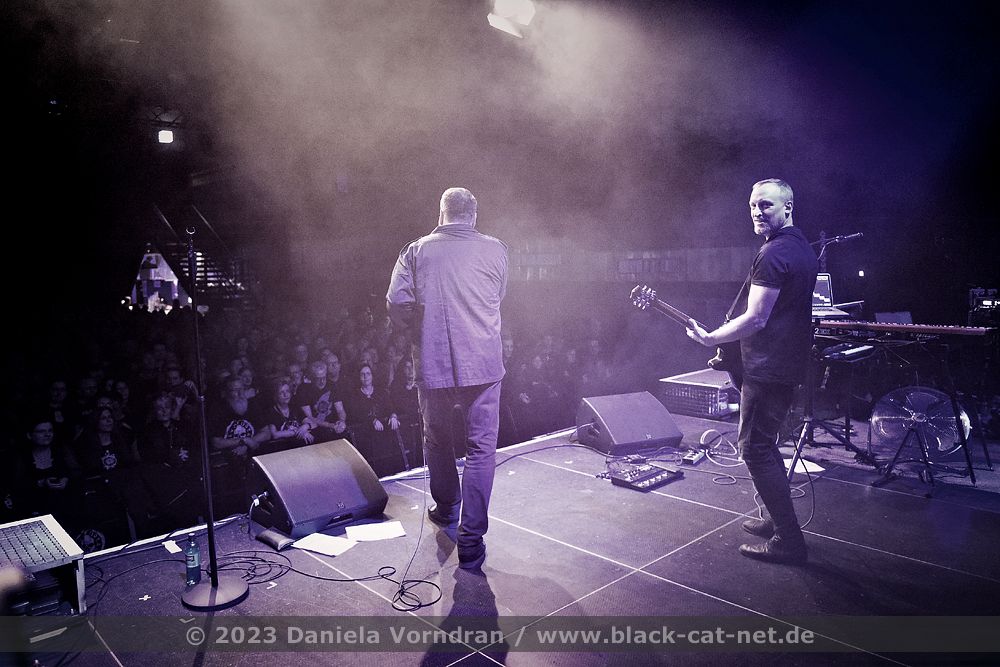 Next in line was the song I couldn't get out of my head for days: 'Synchronize', the first song SEA OF SIN released in 2022, filled the room with its sound. Frank's great voice came into full effect. The sequence of titles was chosen cleverly, you slowly approach it and already with the third title you have the crowd on your side with a very danceable beat and a chorus that goes straight to your ears. Song number four was again a trip back in time. 'I live my life' from the year 2000 invited you to meditate and gently rock to the rhythm. It then picked up a little more speed with 'High and low', a single released in September 2022, which was my favourite of the SEA OF SIN set after 'Synchronize'. The influence of music from the 80s and 90s is unmistakable in SEA OF SIN, and as the band told Sonic Seducer in a May 2019 interview, the aesthetic of this sound suits their compositions best.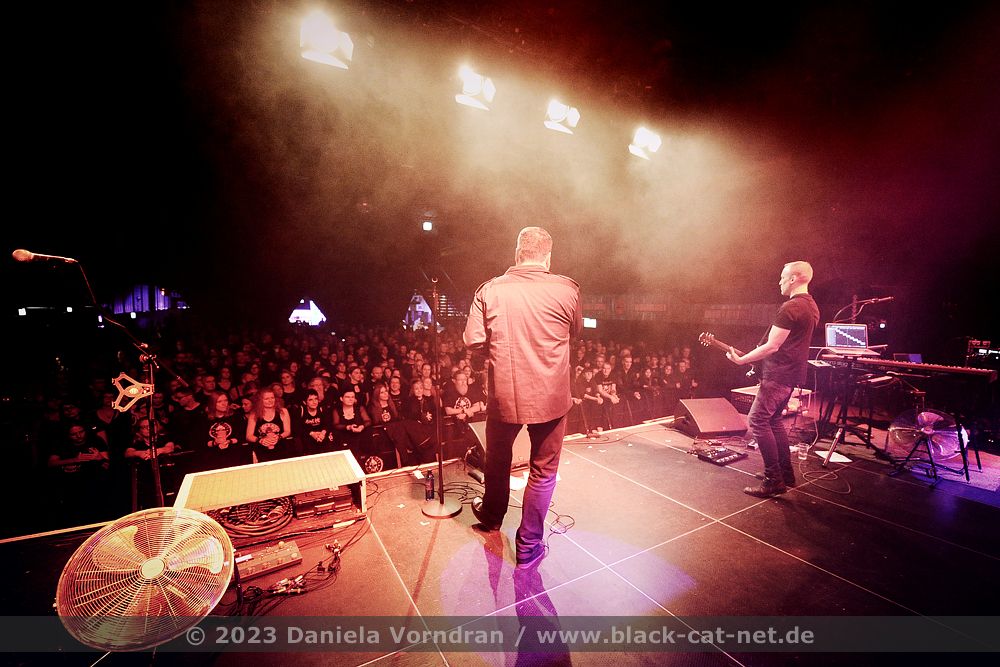 SEA OF SIN don't want to confuse the fact that a certain melancholy runs through all the songs with general sadness. "Melancholy is often a characteristic of empathetic and reflective people," says Frank Zwicker. Empathetic and reflective? Anyone who likes music by DIARY OF DREAMS and is aware of the nature of Adrian Hates know these two traits, and it cannot be denied that empathetic and reflective people in particular like to hang out together. Maybe that's why SEA OF SIN were in very good hands in the DIARY fan crowd. The two following songs 'Unspoken words' and 'What are you waiting for?' brought the recently released album 'Unspoken' into focus again. Great, soulful songs that were performed with passion on stage.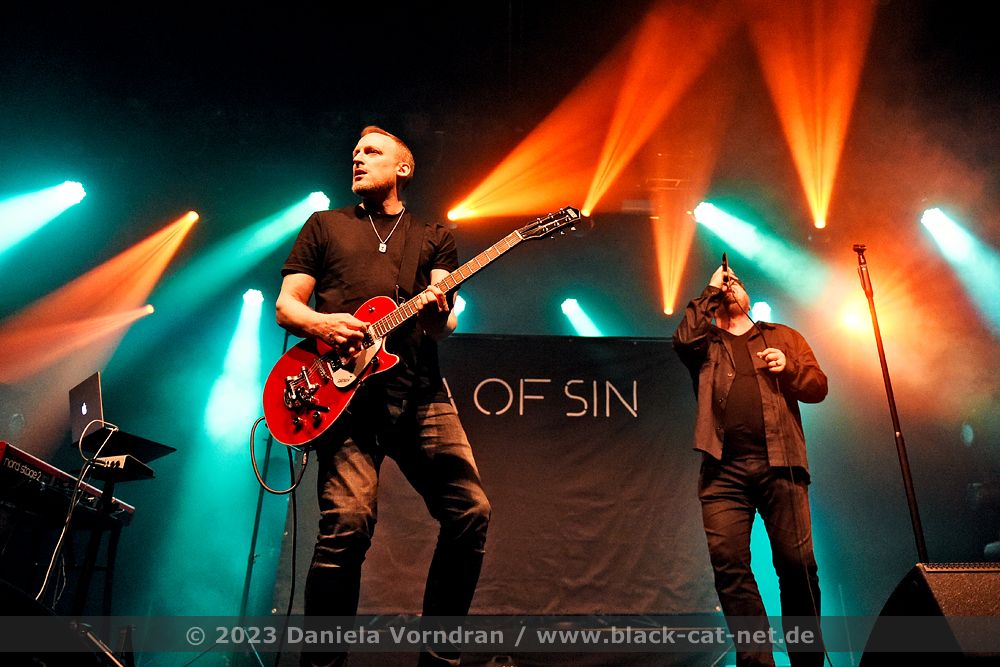 Before the last song sounded, Frank pointed out that the band can be found at the merchandising stand after their performance and that they would be happy if one or the other would come there after the show. The audience responded with applause, and I hope enough have heeded that call. The final song of the set, 'Beyond Sadness', catapulted us all back to 1995, when VANGELIS' 'Conquest of Paradise' was the undisputed leader of the charts. It feels like just a few years ago, in fact it is 28. You're welcome to think about what you've experienced in these 28 years and which ups and downs you've gone through. Whatever happened, never lose sight of the life beyond sadness. The performance of the special guests SEA OF SIN came to an end melancholy and dreamily, and much to my delight the final applause was grandiose and well deserved. We really had fun and felt very entertained. It never hurts to broaden your own horizons.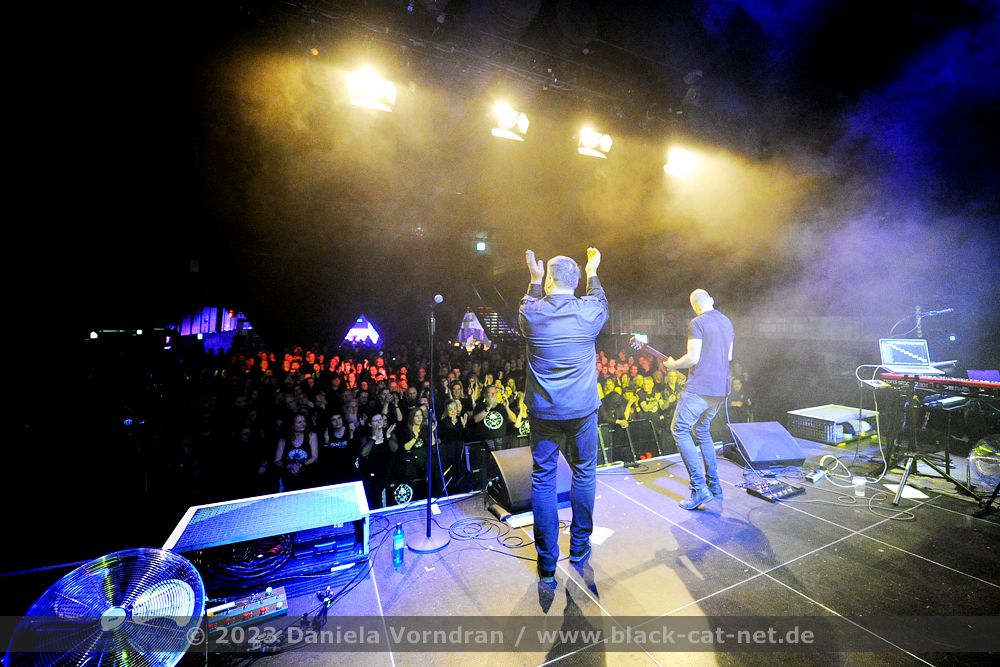 Finally, Frank once again thanked everyone who made this performance possible and he would be happy if one or the other would come to the merch stand, where you could buy various merch items and of course also talk to the band. It was short past 8:30pm when SEA OF SIN left the stage, obviously satisfied, and made room for the helpers from DIARY OF DREAMS, who were now preparing the main act's performance. Thank you SEA OF SIN for the great warm-up and getting to know your songs, I'll definitely be there as a new fan!

Setlist
01. Truth
02. Contamination
03. Synchronize
04. I Live My Life
05. High and Low
06. Unspoken words
07. What Are You Waiting For?
08. Beyond Sadness

Rating
Music: 10
Performance: 10
Light: 10
Sound: 10
Total: 10 / 10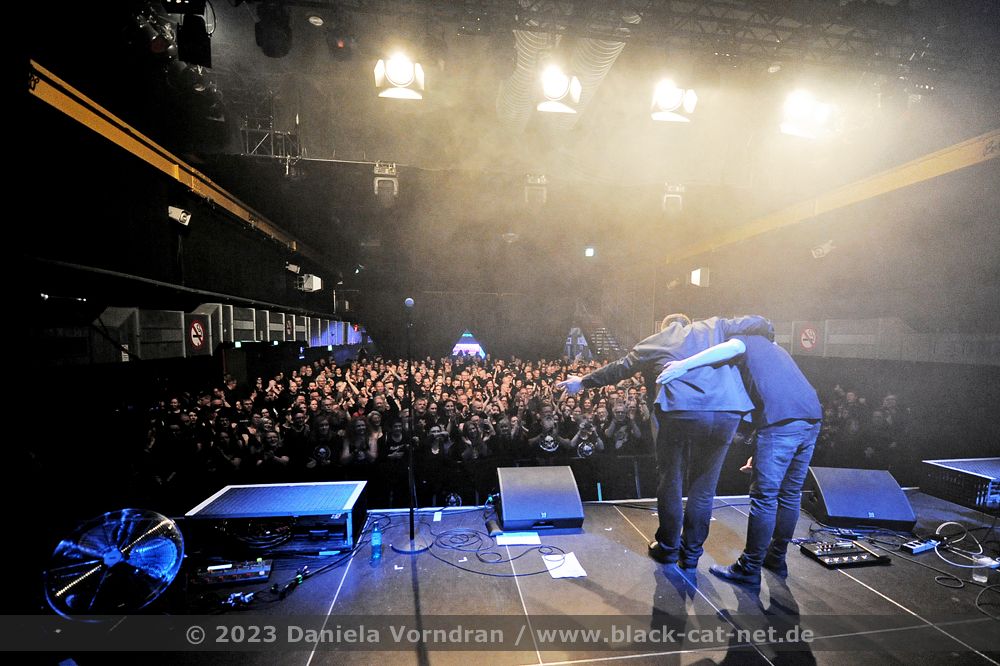 Diary of Dreams

Never before in the band's almost 30-year history has there been a longer wait for a new album. The fan community had to wait a whole seven years for the next chapter, but what took a long time ended extremely well in this case. No pandemic, no financial worries, no health problems and no flood could prevent 'Melancholin' from seeing the light of day. The best friend who is also his worst enemy, the creative pessimist who never get rid of the noise inside of him, never breathes deeply and for whom there is no antidote and no cure. Mr. Adrian Hates himself unleashed the beast: on February 24, 2023, he released ten songs that definitely set new standards. With an unprecedented intensity, self-reflection, longing and deep love he tells of better and worse, a fragile world made of porcelain, secrets beyond the void and tearful sadness.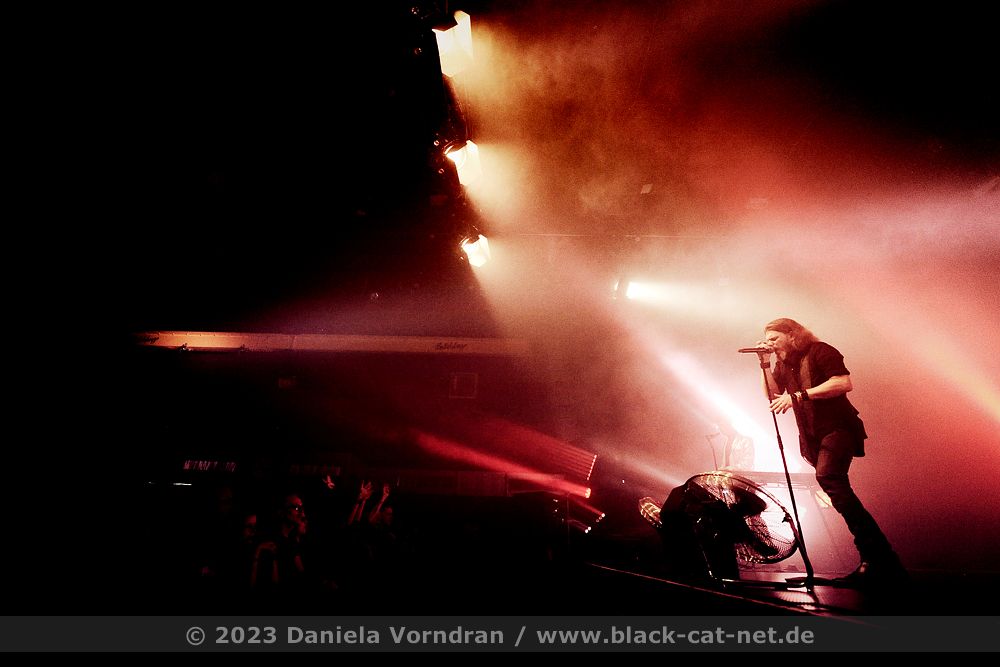 It is impossible to grasp this album in all its depth on the first listen, nor on the second or third. 'Melancholin' is therapy and healing in heart-broken moments, it warms, opens doors to long lost feelings, it comforts and holds your hand when no one else does. It's like a distant light that guides you through darkest days back into the light. Times of misery, desperation and almost getting lost have become a work of art that has rightly been number one in the German Alternative Charts for the third week in a row now. DIARY OF DREAMS is Adrian Hates, Dejan Nikolic, Hilger Tintel and Felix Wunderer. Website: www.diaryofdreams.de / https://www.facebook.com/officialdiaryofdreams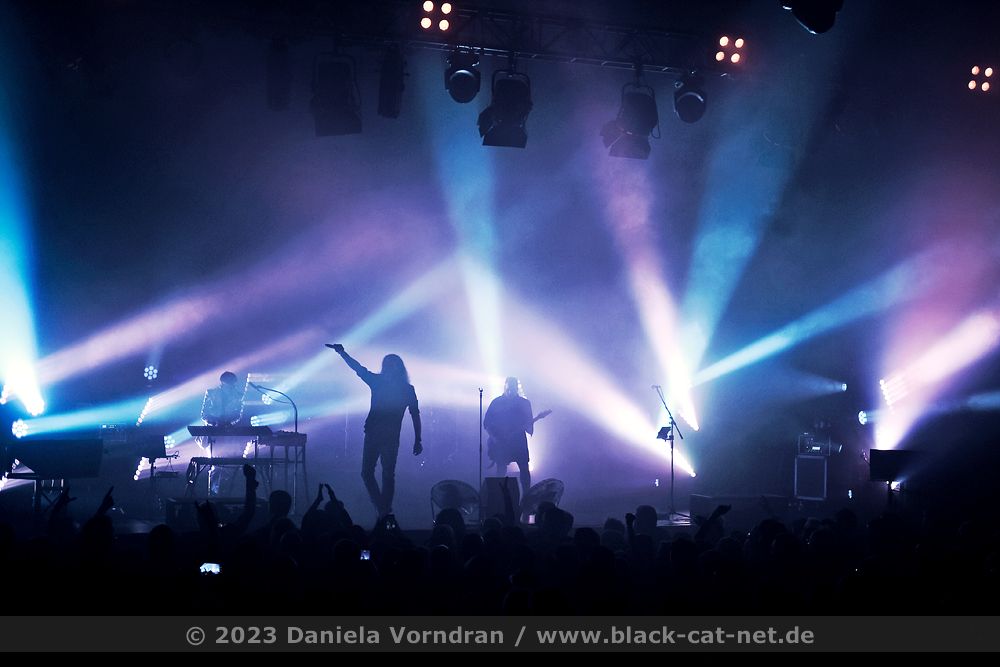 Music & Performance
I've written a few live reviews of DIARY OF DREAMS concerts, but none of them was about a concert with newly released songs, wasn't about a new album and all the impressions that are involved. There have been so many great comments all across the DIARY OF DREAMS social accounts that it would go beyond the scope to list them all, but I've added three particularly great ones at the end of this review. Many thanks to Stefan, Ramona and Ash for allowing me to use your comments here! I myself still find it incredibly difficult to grasp the album in all its beauty and depth, which has a lot to do with that my last three years were more about surviving than experiencing and I still haven't been able to completely switch off the mode of just functioning. Many of you will know what I mean. Letting go and enjoying, that's what 'Melancholin' can hopefully teach me again.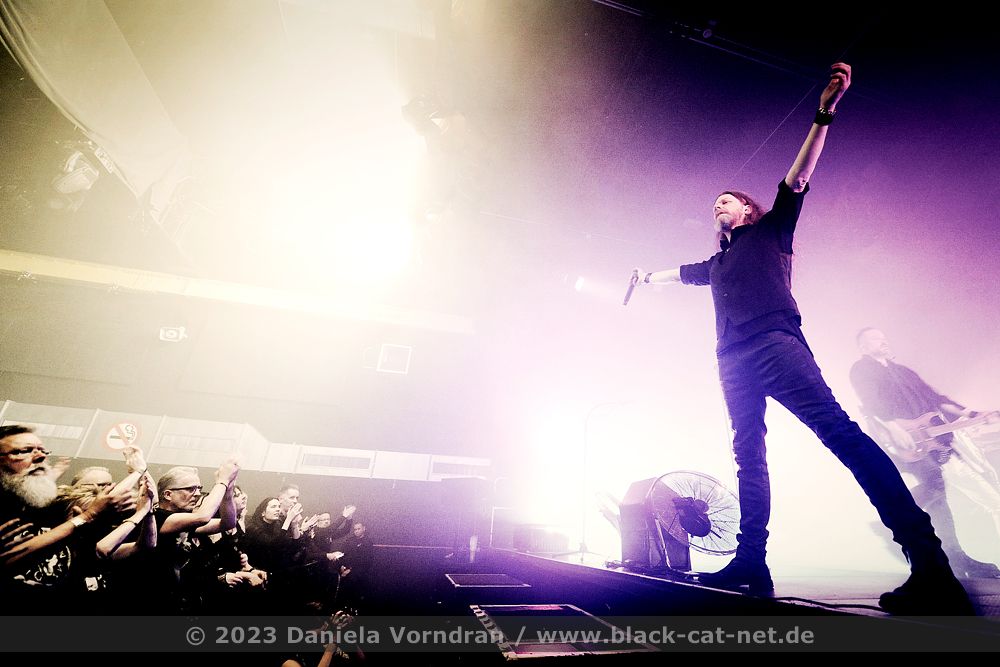 Before I get started with the actual concert evening, here are a few innovations that I noticed: From now on Felix not only delights us with his keyboard magic, but he now also takes over the part of the background vocals. He is doing great, like everything he does on stage as the youngest of the band. His very own style, including unusual outfits, is well received by the audience. If you read the booklet for the new album carefully, you will see that Felix also played his part in the production of the new album. We are all very happy that you are part of DIARY OF DREAMS! The newly elaborated, bombastic light show also needs to be mentioned. Can it get more professional? I don't think so! In terms of social media, DIARY OF DREAMS have expanded their presence to TikTok.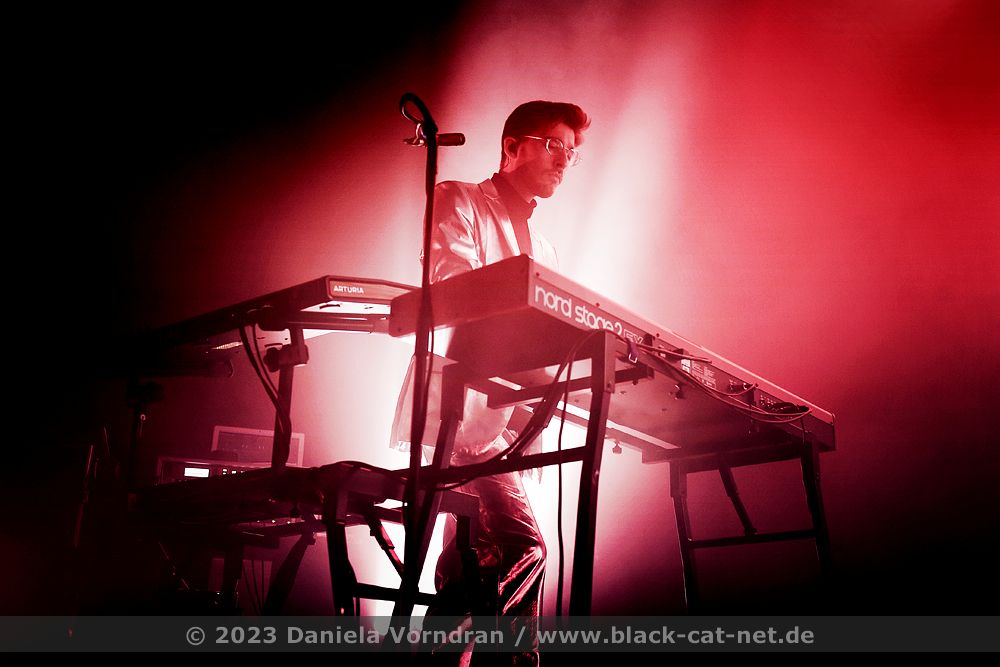 There are lots of new merch items in the shop, which of course were also available during the tour. Hilger presents himself in the new, stylish outfit by Schnittmuskel. If you also want to dress unusually, just drop by here. Unfortunately, Tanja is no longer part of the live crew, because of various reasons she stepped back from merchandising. We welcome Lana as new team member and wish Tanja all the best for the new adventures ahead of her. Special attention has to be paid to Adrian's vocals: they definitely mark a whole new level. What a masterpiece! This powerful vibration pierces deep into the heart. The longing for finally finding peace in life is unmistakable. Even people who don't listen to DIARY OF DREAMS that often have told me that they immediately noticed the change in vocals and that it sounds just wonderful. I totally agree!




Let's come to the main event of the evening. The six huge light consoles on stage promised great things. The master of light, Vadim, had come up with lots of ideas and he built those consoles himself. There were 500 tickets provided for sale in advance, obviously most of them were sold, because the Batschkapp was really full of dreamers. At 8:50 p.m., the wait was finally over. The first powerful tones of 'Mein Werk aus Zement' could be heard, its forceful sound right at the beginning is nothing but perfect to open the show. One after the other, the men of DIARY OF DREAMS entered the stage wrapped in semidarkness, of course accompanied by loud applause and frenetic cheering. The first number of the new album was thrown at the audience with full force, and with just as much energy, the audience responded with dancing and cheering.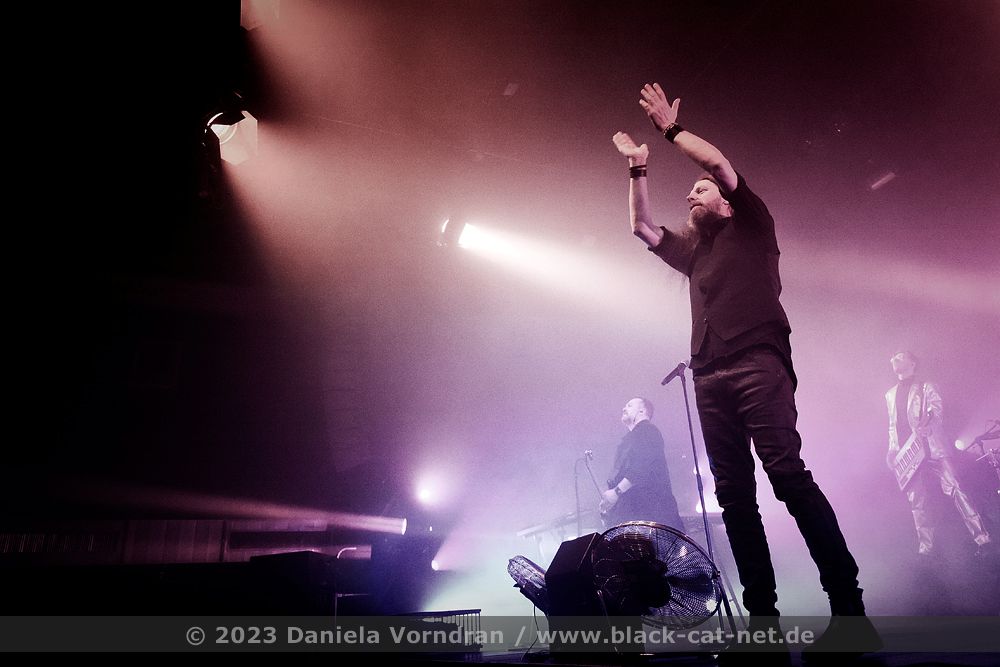 As usual, Adrian greeted the audience between the first and second song. Before the epic chaos could be unleashed, he spoke to us with a deep, challenging voice: "We're back!" followed by the ironic hint, that he'll see if he can even make it tonight. After ten days on the road with a night's sleep in a moving bunk, it was understandable that various physical strength reserves were almost exhausted. I then found myself in a sea of raised arms and hands clapping to the pounding bass of 'Epicon'. It's absolutely impossible to get away from this song. I like to call it "the bomb" because once it is dropped, the force of the explosion is unstoppable. The crowd was on fire, and Adrian then commented on the mood as "very good". That was the red thread for the entire evening. Head waiter Eike then brought a glass of wine for refreshment onto the stage. Smartly dressed in a long waiter's apron as a little prank on the last tour evening, he acted suspiciously professional. Dear Eike, please do not apply in the catering area, because we need you here!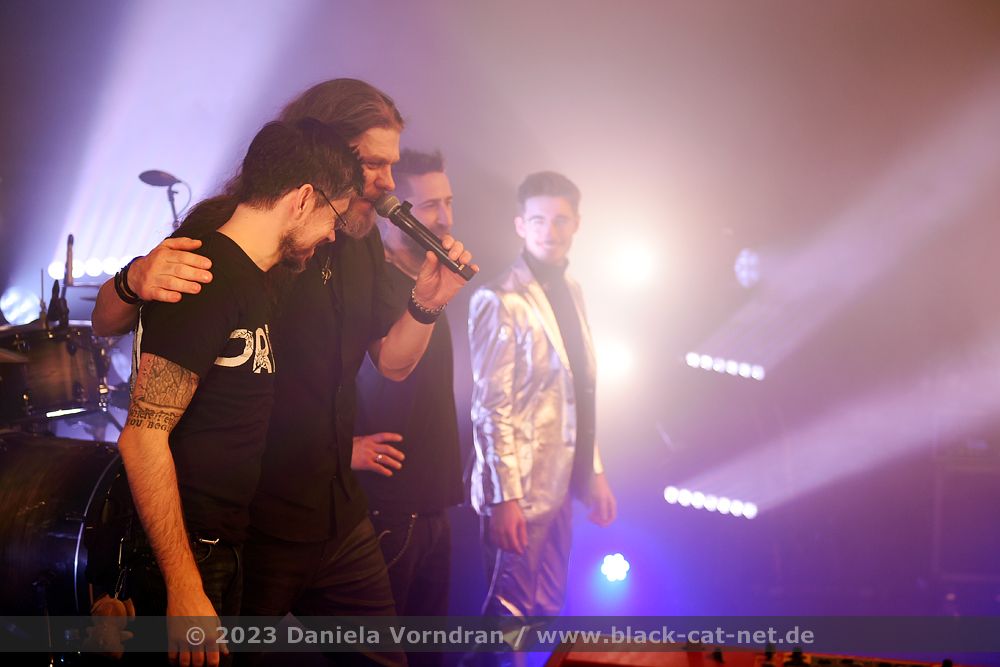 Next in line was 'MenschFeind'. "This song is for all of us! Thanks again to SEA OF SIN for the warm up. It's going to be a great evening!" In fact, there was no longer any doubt about that. With 'Gedeih & Verderb' there was the second number of 'Melancholin', which immediately picked up the tempo. "Trink! Trink!" invited all the dreamers in the room to sing along. It's amazing how you experience a new song live for the first time, but the band and fans immediately form a well-rehearsed unit. There was no reluctance, the audience gave Adrian what he wanted - intense, immediate feedback! This song was also celebrated from the beginning to the end. The subsequent journey back in time to the 'if' long-player from 2009 with one of my favourite songs 'the Wedding' was no less frenetically received. The temperature in the room had already risen by a few degrees, but thanks to the well-functioning air conditioning, there was always fresh air to breathe.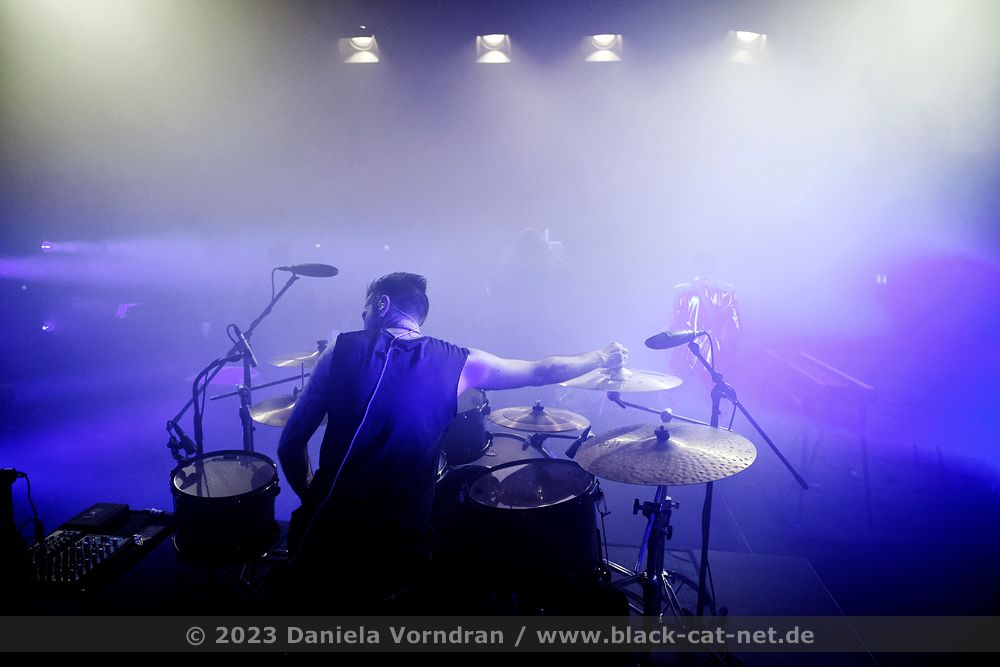 With the next track 'Ikarus', quieter tones pervaded the location, which gave our dancing bodies a short breather, but sent the mind on a thoughtful journey. Each of us has experienced betrayal and disappointment, and again and again we have to ask ourselves who to trust and who not to trust. It is better to stay away from people who are consumed with envy and who float with the tide. 'Ikarus' puts it in a nutshell: "If you twist yourself and don't understand yourself, let me be alone." And as usual - loud, jubilant applause for this great song as well. Adrian once said: "It causes me goose bumps to stand there on stage, sing this song and look into the audience."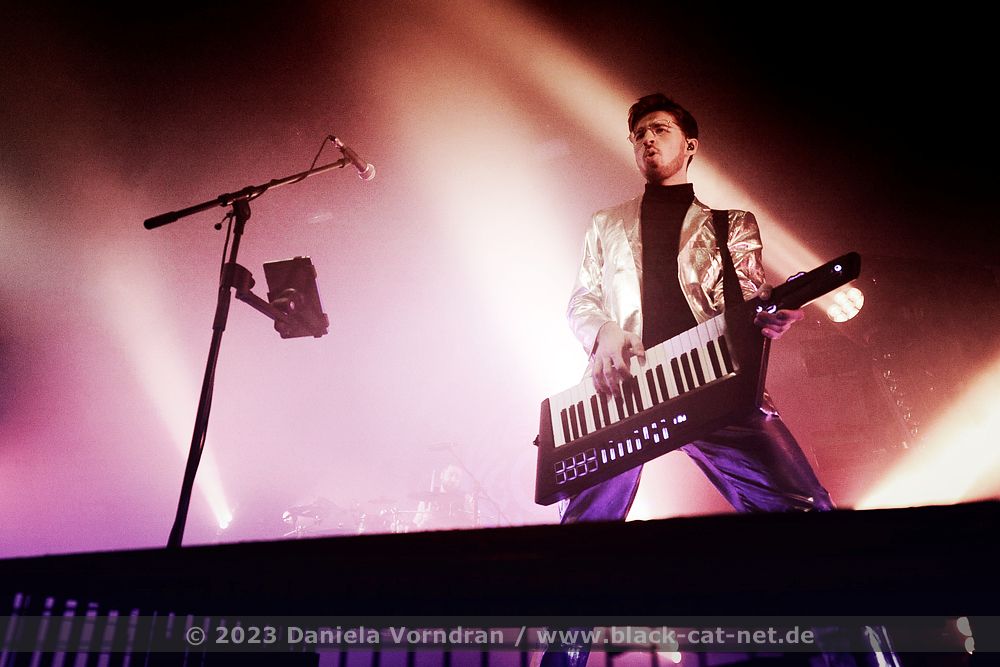 The next song was introduced like this: "We dug and rummaged and found this. Found him." Found who? The 'King of Nowhere' of course, one who is nowhere at home. With the feeling of not belonging to this world, of not finding a place where you can really be yourself, the constant doubting, the fear of change, life as a curse and a blessing at the same time, the writer of this song is not alone. We can all hear and feel you! With the first notes of the song, Adrian walked to the edge of the stage, raised his arms, clenched his fists and looked at the crowd. There was not much to be misinterpreted - you could tell from his look that there was enormous gratitude for this sublime moment. All the drudgery and toil of the last three years just evaporated as they did during the other nine concerts before. Tonight was the final night and it couldn't have gone any better.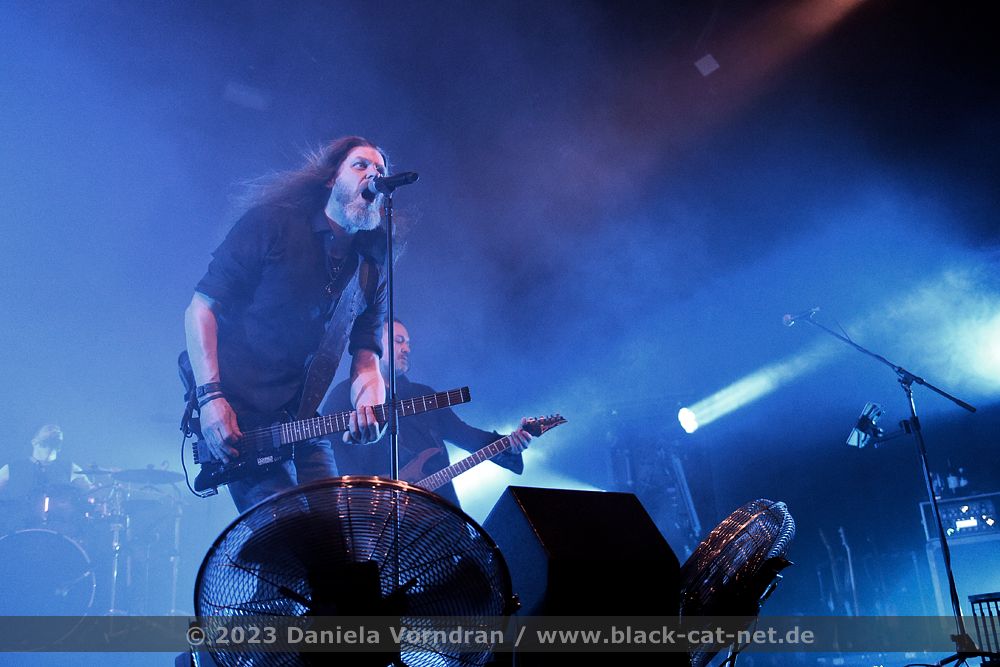 But what about the new songs? The next one came promptly and there was great hope that this time it wouldn't have to be cancelled due to technical problems like the night before in Dresden. My absolute favourite track from the new album, 'Beyond the void', was about to fill my heart with joy. "Let's see if it works today." Yes, it worked! What a beautiful song, so powerful, longing, questioning, accusing. What have we done to you that you punish us like this, test us like that, and put so much burden on us? As always, there are many possible interpretations. Everyone can apply these questions to their very own circumstances. When I listened to 'Beyond the void' for the first time, I instantly knew that this is my goose bumps song.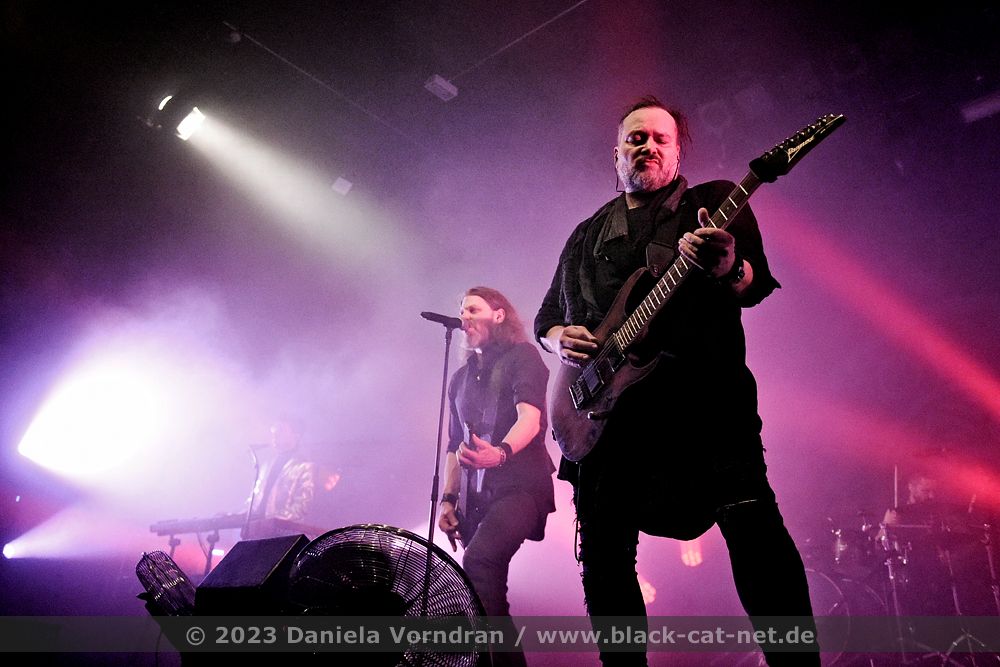 There are songs that even a DIARY frontman can't let go of. Number nine of the set list was 'listen and scream' from the previous album 'Hell in Eden'. I was hoping for 'Charma Sleeper' that night, but with such a selection of songs and ten concerts in a row, it's impossible to have a different set list for each venue. The transition to the next song was heavy in every way, but obviously, it was intended that way, as the centre mic voiced, "I like heavy transitions." According to Spotify, 'She and Her Darkness' is by far the most streamed DIARY song. Understandable, because this beautiful ballad ultimately brings everyone to their knees. Then it always gets very quiet in the room, swaying bodies dominate the scenery, couples hug, one or the other eye becomes glassy, fills with tears of longing, gratitude or pain, because each of us has its own baggage to carry. The last notes of the song were choked a bit due to a health incident in the front rows, but with immediate help and fresh water, circulation was restored.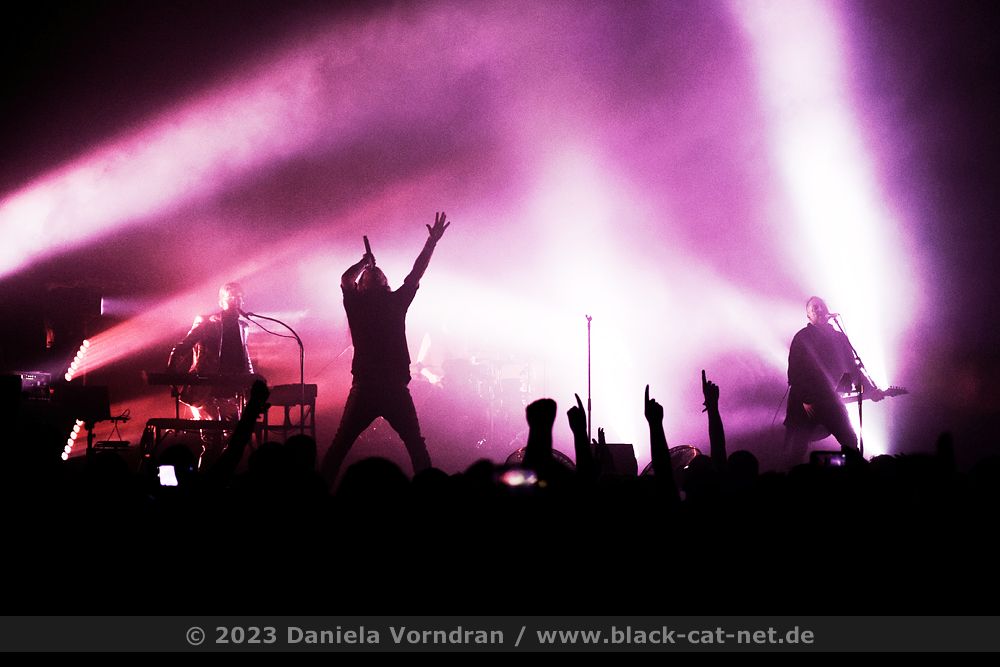 The next song in line was 'Viva la bestia', the second release from the new album, obviously a new live hit, because the mood was excellent, which Adrian also spoke to the crowd at the end of the song. Despite a comment about his own performance level, it was neither visible nor audible that he had reached his own capacity and could no longer quite do as he wanted. We're all getting older, no one expects you to do gymnastics at 50 like you do when you were at 20. After a short detour back to the album 'Hell in Eden' with 'Sister Sin', the current long player was interpreted again. "If you want to discover me, listen carefully to this song. It's me." Of course, this meant 'the Secret', the first release of 'Melancholin'. Adrian sings about himself more openly than ever before and is no longer afraid to focus on his fragile self. The song says: "Look, this is me, I'm my best friend and my worst enemy, I'm fragile, tired, insecure, scared of people, feel paralyzed, alien in my body, I want to run away and all of that I can't change." Not only is this a liberation for himself, it's a whole new level to connect with his loyal fan base. We all hide a secret deep down inside of us, so let's help each other to free ourselves from that burden.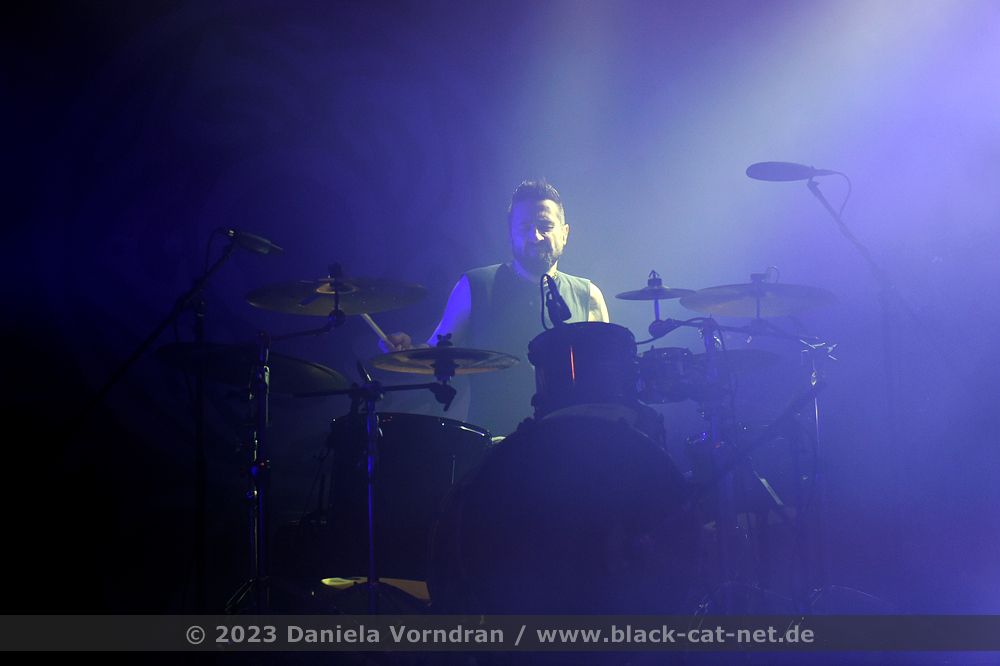 Afterwards, with 'kindrom', war was declared to all the psychos in the world, and the crowd obviously had the same intention, because the energy level could not have been higher. A great song to throw the refrain back and forth in a mutual exchange of blows. 'Decipher me' then cooled down the emotions with its club song like mood. To underline how "really good" the last three years have been, more precisely like the plague, of course 'the Plague' waited to happen. It was now clear that the concert was slowly come to an end, and with 'the Curse' in a new edition there was actually the last number before the first encore. "Well, I found the concert really good so far," Adrian let us know, and with a short and loud "Thank you!" the band left the stage.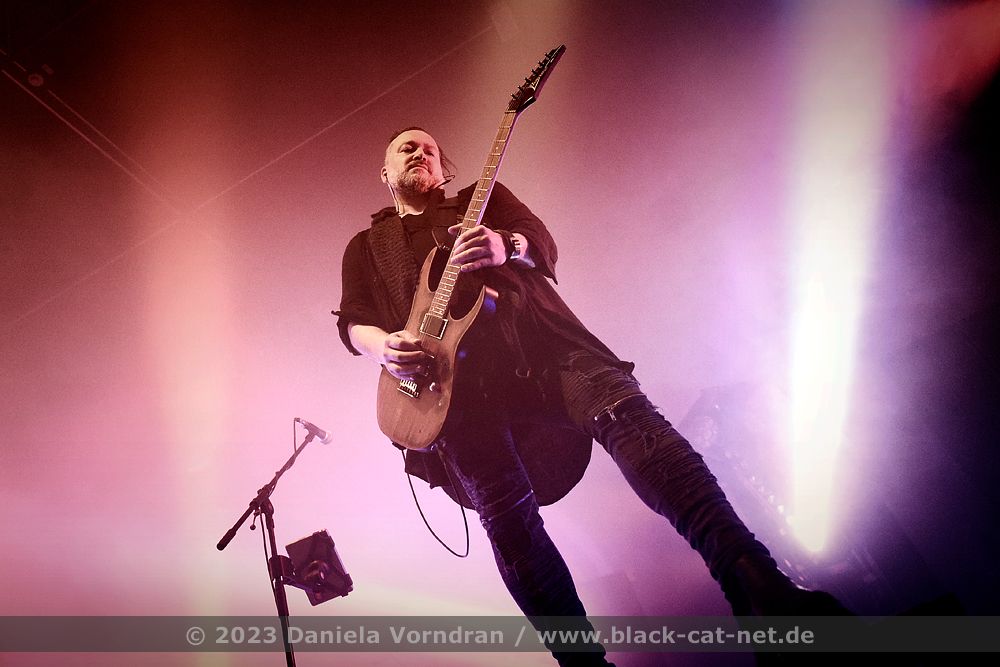 After a short moment of making noise, the audience managed to get Dejan, Felix, Hilger and Adrian back on stage. It became hot off the press with 'the Fatalist', a very danceable song from the new album, followed by a song that is the best example for the extraordinary interconnection between DIARY OF DREAMS and their fans. 'Undividable' always releases an irrepressible energy. When this song is played, you know exactly why you love this band so much. As expected, the first encore of the night was over, the stage emptied, was floated with darkness. Time for us to make some noise again! Felix reappeared a short time later in his stylish silver suit and let us know that we need to be louder to get the band back on stage, and the audience immediately reacted. In return, Dejan, Hilger and Adrian appeared in the spotlight accompanied by thunderous applause. Which song could be next?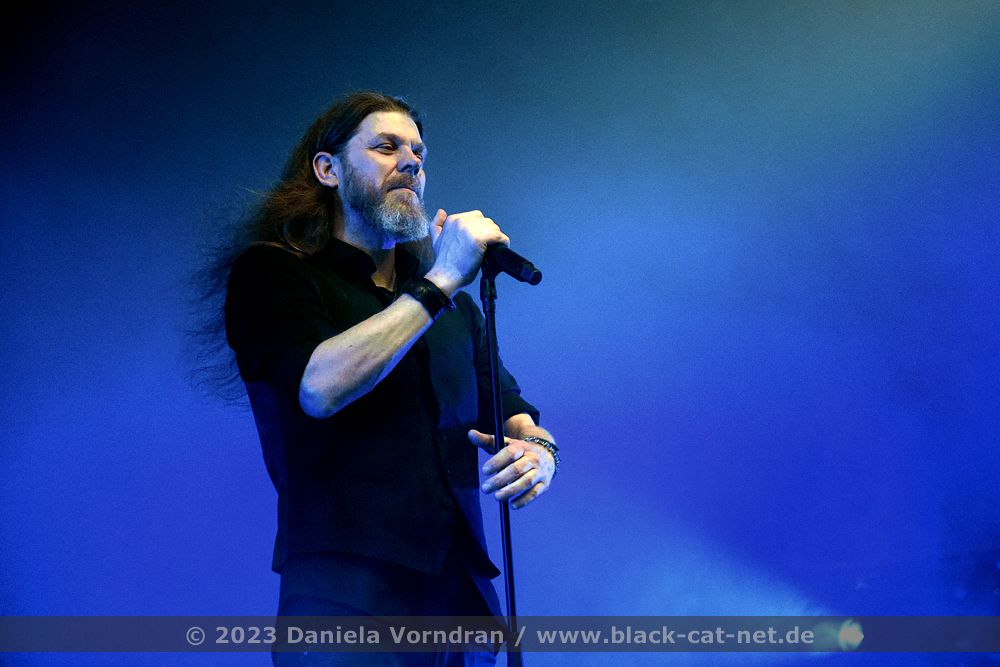 Adrian's cryptic message went like this: "23 years ago - I looked the same as I do today (laughed) - I wrote something that still haunts me to this day." At first, I thought of 'Traumtänzer', but to my great joy it was 'Butterfly: Dance!' - a song I adore so much. The dreamers exploded in a final thrill and sung along from the bottom of their hearts. The last encore of the evening revolved around a song that put Felix in a special spotlight. It only took him on the piano and Adrian on the microphone to present us the 'Traumtänzer' in an acoustic version. But before it started, Adrian told us about completely surreal moments, about six years of hard work on the current album, and he took the moment to thank everyone who was involved in the creation and who supported him through all the tough years. And without us fans, he emphasized, the album wouldn't even exist.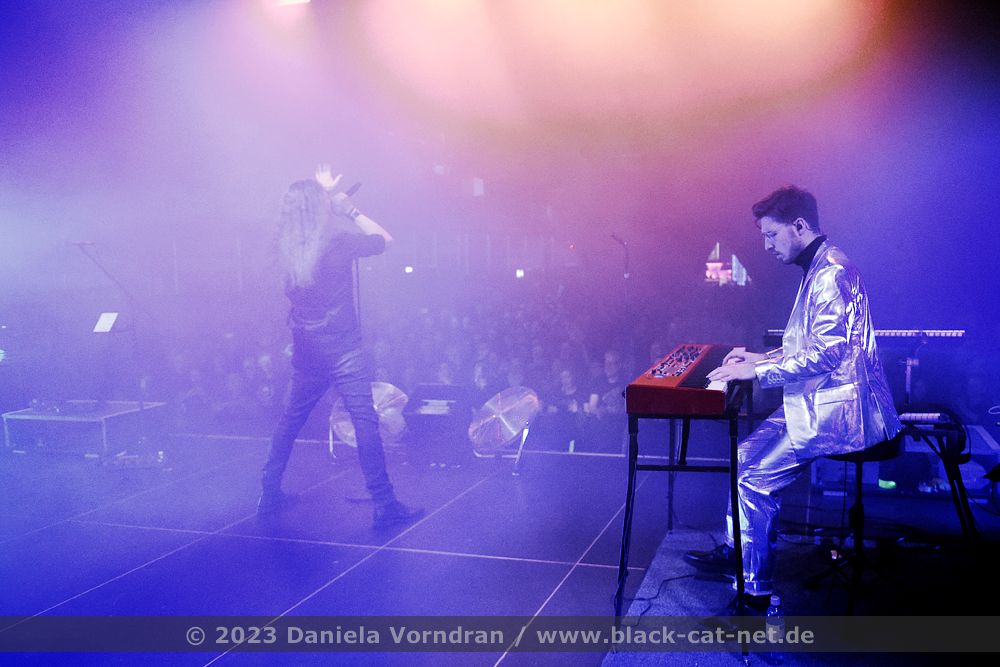 Then the man in the silver outfit started to play, and he played and became one with Adrian's singing, and then the singing of the audience also merged with the two artists on stage. It was an enchanting final with soft tones ended in an emotional chorus. Here at the Batschkapp, the tour now came to an end with thunderous applause, and the band bowed visibly touched and grateful to their audience. Time for Adrian to let the cat out of the bag: now, this is officially the most successful tour DIARY OF DREAMS have ever done. What a milestone! Congratulations! Since Dejan somehow came up short here: even if you are always in the background on stage, you are always a force on your instrument and definitely the best drummer in the world!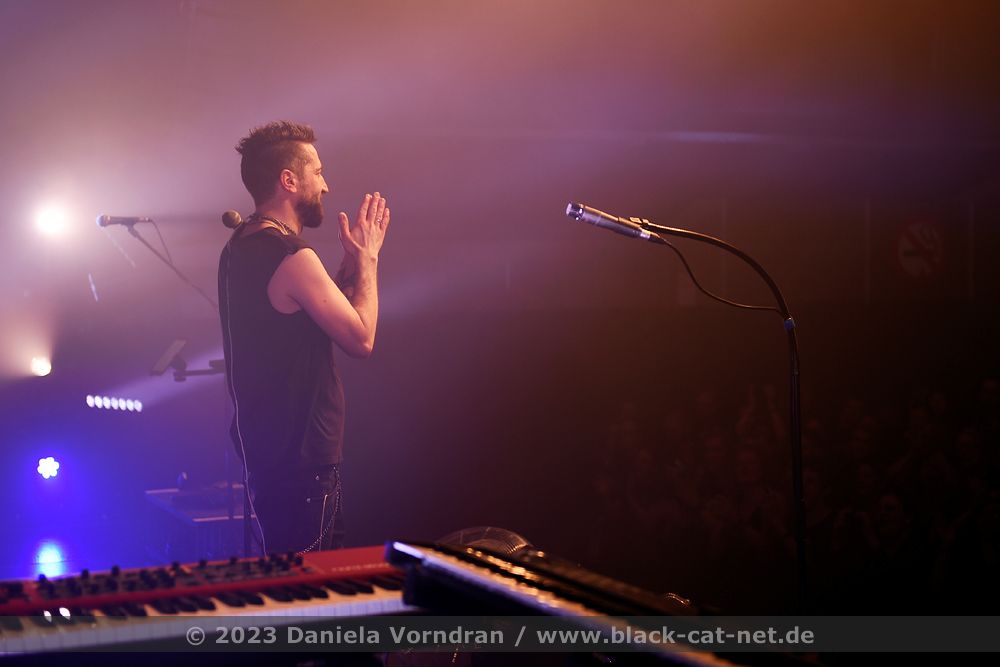 Reactions to the new album 'Melancholin'
The following comments were originally written in German but have been translated into English for this concert review. These words represent hundreds of comments that fans from all over the world have posted about the new album on social media.

"The album is a true masterpiece! I've been listening to your music since the beginning! You always deliver extremely high quality, but with 'Melancholin' you have set your own monument! Simply beautiful and yet powerful! Every note and every word hit the heart! I will definitely order the album as vinyl as well! Thank you that you exist!" (Stefan Licht)

"I'm lost for words. I'm emotionally touched like with no other album before. The whole album reflects my current situation and my feelings and thoughts. I will shed many tears on March 10 in Wuppertal, but it will feel very liberating. Thank you thank you thank you!" (Ramona Eberhardt)

"The album really blows my mind! Just listened to it twice in a row and it sucked me emotionally into its beautiful dark 'Melancholin' depth. Damn, I'm still at a loss for words. You have created a new masterpiece there. I'm blown away." (Ash Corvida)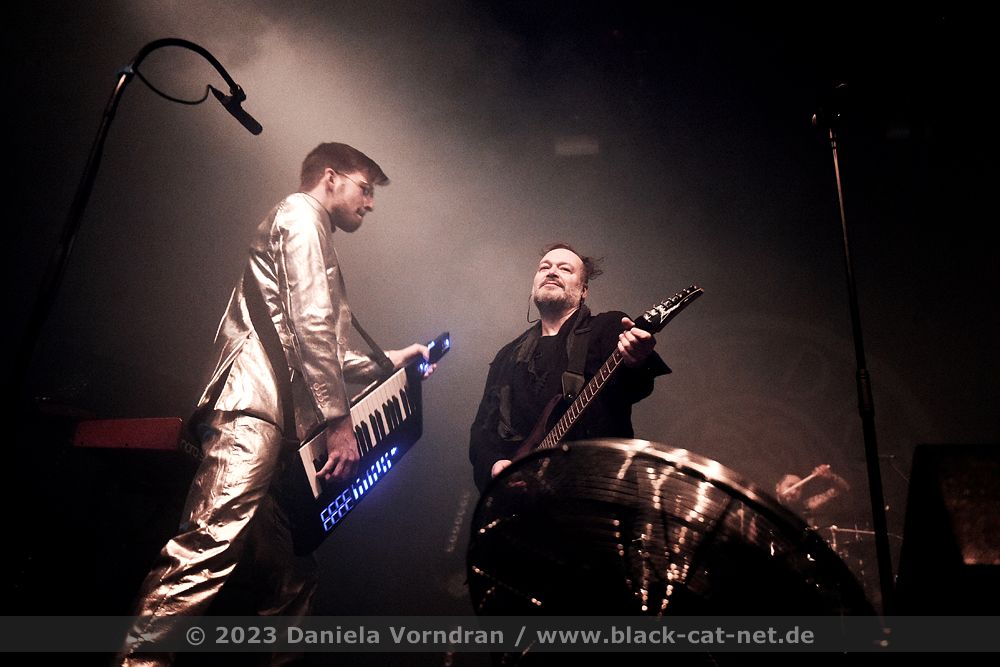 Setlist
01. Mein Werk aus Zement
02. Epicon
03. MenschFeind
04. Gedeih & Verderb
05. the Wedding
06. Ikarus
07. King of Nowhere
08. Beyond the void
09. listen and scream
10. She and her darkness
11. Viva la bestia
12. Sister Sin
13. the Secret
14. kindrom
15. decipher me
16. the Plague
17. the Curse
---
18. the Fatalist
19. Undividable
---
20. Butterfly:Dance!
---
21. Traumtänzer (acoustic version)

Rating
Music: 10
Performance: 10
Light: 10
Sound: 10
Total: 10 / 10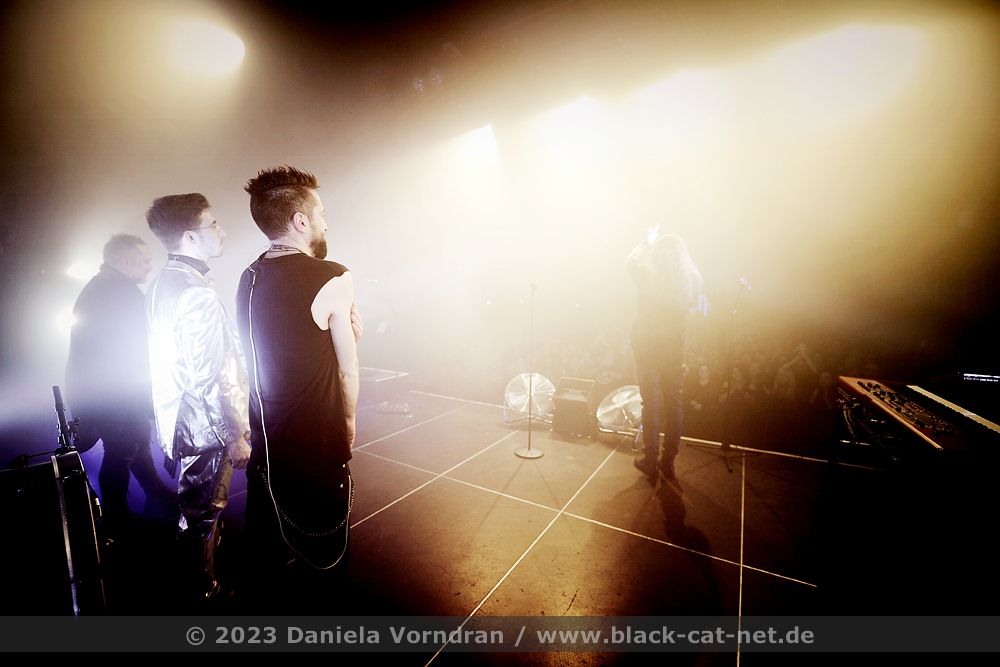 All pictures by Daniela Vorndran (http://www.vorndranphotography.com / http://www.facebook.com/blackcatnet)