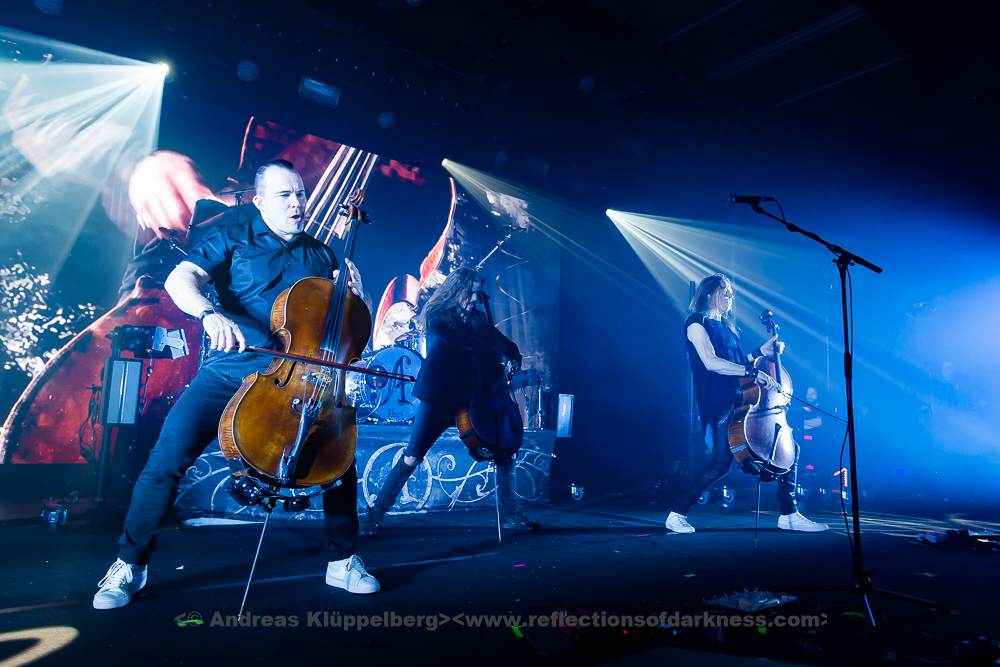 Carlswerk Victoria, Cologne, Germany
13th March 2023
Apocalyptica & Epica - "The Epic Apocalypse Tour 2023"

APOCALYPTICA - three men with cellos. No other band combines the classical string instrument cello with Rock music up to Heavy Metal. If they then go on tour together with one of the best Symphonic Rock bands, EPICA, it can only be a brilliant evening.



Epica

The audience saw a large stage on which a second higher stage was enthroned in the back area. On the front of the second stage the fans saw in big letters the word "Cologne". A few minutes later the band enter the stage. A few minutes later, the band appeared on stage in the bright stage lights. On the upper floor, drummer Ariën van Weesenbeek and keyboardist Coen Janssen found their place with their tools. Singer and the face of the band, Simone Simons, appeared in a long dagged leather dress. With her voice, she immediately enchanted the fans, who had even travelled from the neighbouring Netherlands and Belgium.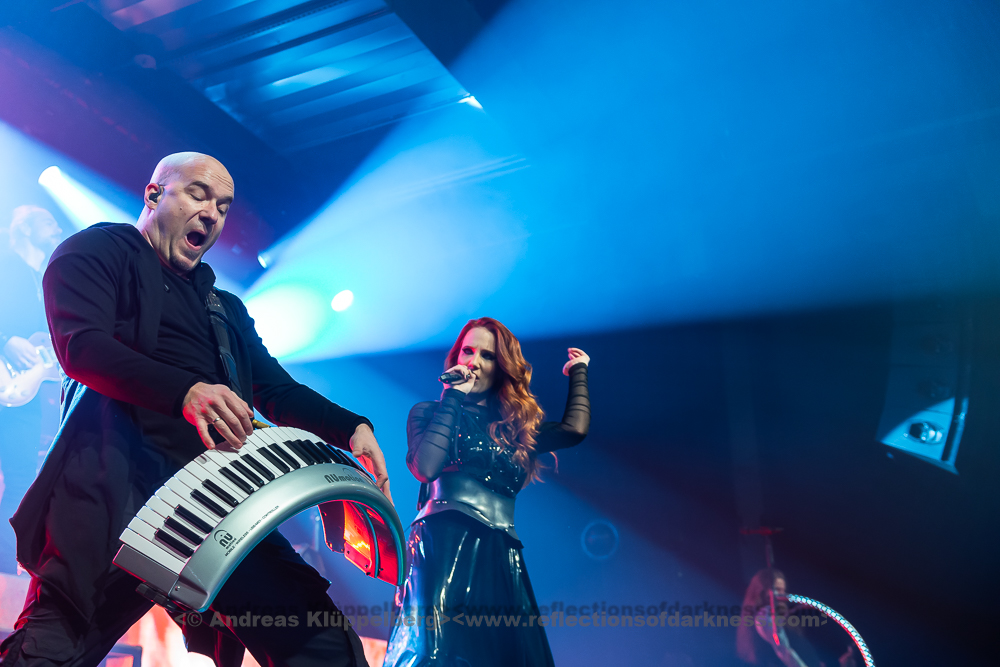 Always at the front of the stage was guitarist Mark Jansen, who also took over some vocal parts alongside Simone Simons. While Simone thrilled with her soprano, Mark Jansen took over the lower notes with his growling. Coen Janssen on the keyboard was visibly having fun. He made all kinds of faces, jumped at his keyboard and pushed his keyboard on wheels across the upper stage. At times he exchanged his stationary keyboard for a portable version. The special feature of this one was that it was shaped like a large semicircle. He pressed the keys while singer Simone thrilled the fans with her bright red hair and fairy voice. https://www.facebook.com/epica / https://www.epica.nl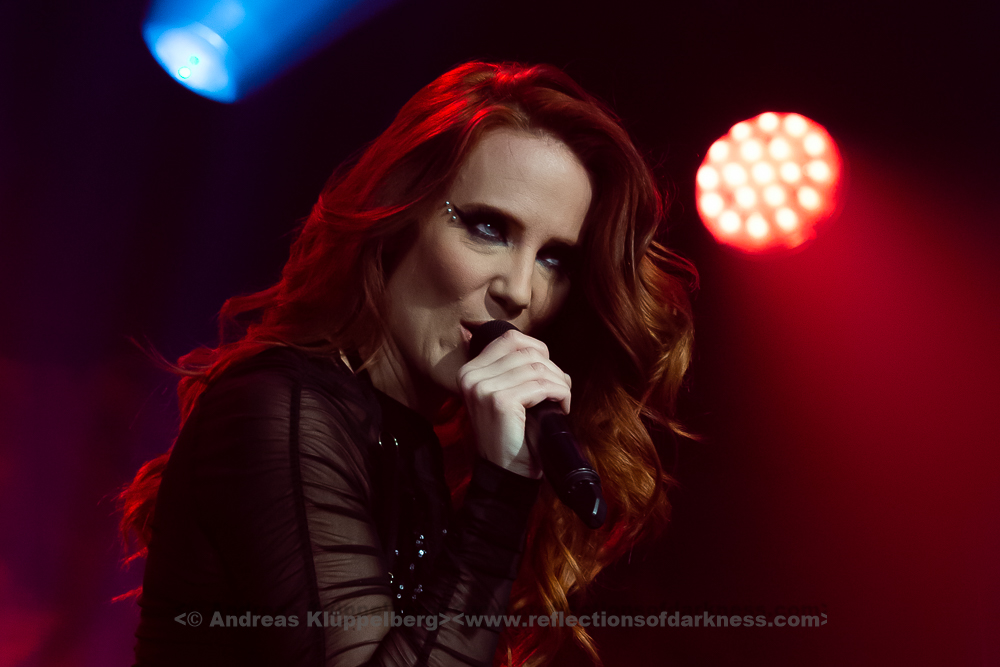 Setlist
01. Abyss of Time - Countdown to Singularity
02. The Essence of Silence
03. Victims of Contingency
04. Unleashed
05. The Final Lullaby
06. Fools of Damnation
07. The Skeleton Key
08. Rivers
09. Code of Life
10. Cry for the Moon
11. Beyond the Matrix
12. Consign to Oblivion

Rating
Music: 8.5
Performance: 8.5
Light: 9:5
Sound: 9
Total: 8.9 / 10


Apocalyptica

After EPICA's elaborate stage was dismantled and an elaborate drum kit set up instead, it didn't take long for APOCALYPTICA to start their show. So three black-clad gentlemen with real cellos entered the stage and went straight into full throttle. Drummer Mikko Sirén had already sneaked up behind his drums. Those who had never seen APOCALYPTICA live at this point would certainly have been amazed at what they could do with these instruments. Videos and pictures of the band were shown on a huge bright LED video wall on stage. Eicca Toppinen and Perttu Kivilaakso let their hair swirl, while Paavo Lötjönen flirted with the fans at the edge of the stage with his smile.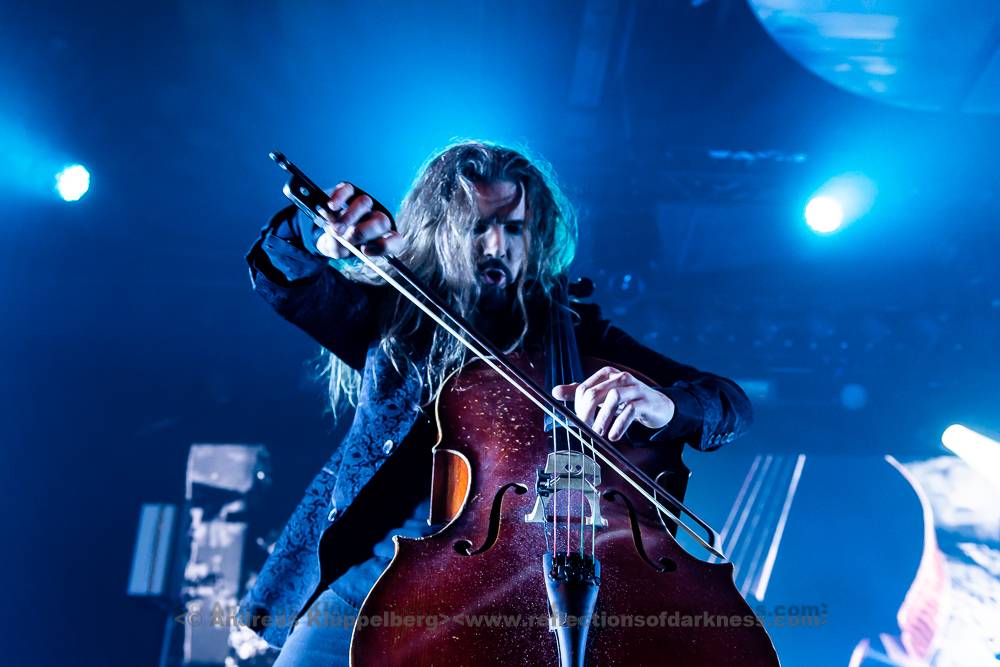 APOCALYPTICA like to get guest musicians with whom they then record songs. Nina Hagen (German Punk singer) and Sandra Nasić (singer of the German band GUANO APES) have already performed with them. For the song 'Rise Again' from their current album, the Finns brought Simone Simon from EPICA on stage this time. For this, the three cellists of APOCALYPTICA took extra seats on chairs. Simone in a long black glitter dress sang the song very soulfully with her soprano voice, which gave you goose bumps. One guest said "the voice of an angel". Besides many of APOCALYPTICA's hits, the cover versions 'Nothing Else Matters' and 'Seek & Destroy' by their favourite band METALLICA were also included. APOCALYPTICA closed the evening with the song 'In the Hall of the Mountain King', an Edvard Grieg cover. Here the Finns once again showed that they are masters of their instruments. https://www.apocalyptica.com / https://www.facebook.com/Apocalyptica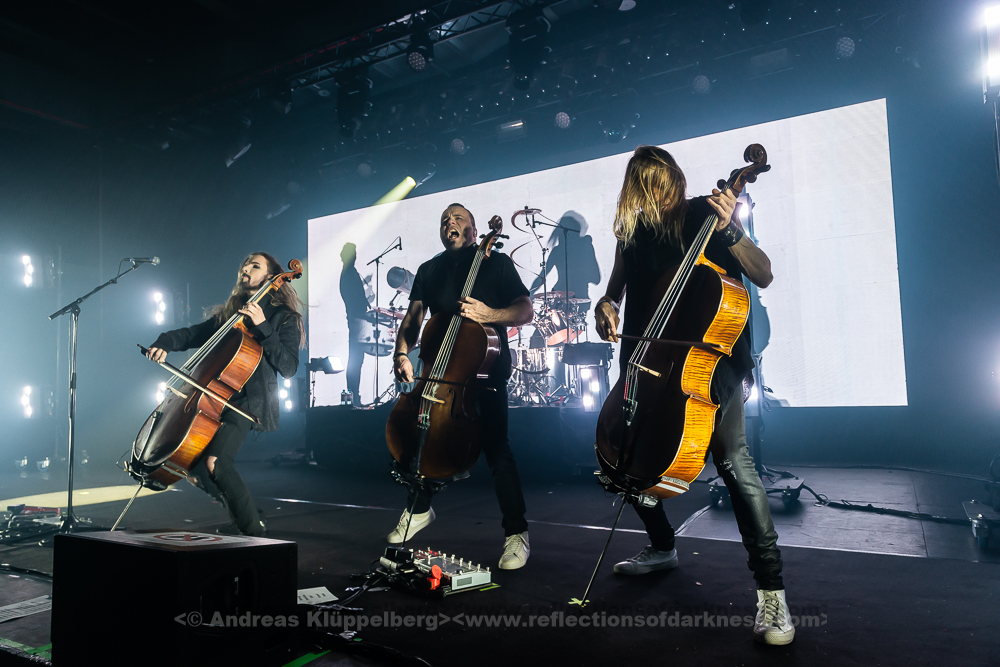 Setlist

01. Ashes of the Modern World
02. Grace
03. I'm Not Jesus
04. Not Strong Enough
05. Rise
06. En Route to Mayhem
07. Shadowmaker
08. I Don't Care
09. Nothing Else Matters (Metallica cover)
10. Inquisition Symphony (Sepultura cover)
11. Seek & Destroy (Metallica cover)
---
12. Farewell
13. In the Hall of the Mountain King (Edvard Grieg cover)
Rating

Music: 8.5
Performance: 8.5
Light: 9.5
Sound: 9
Total: 8.9 / 10
All Pictures by Andreas Klüppelberg
See also (all categories):