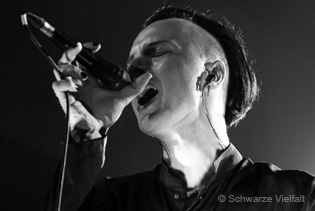 Werk II, Leipzig, Germany
13th October 2007
Dreadful Shadows, Eminence of Darkness


I really was looking forward to the concert of my favourite band DREADFUL SHADOWS for a very long time. Seven long years - this precisely is the time that has past since their break off in the year 2000. To be honest, I already know this fantastic band since 1995, and I have visited their concerts many times before - but nevertheless I really was not able to predict what to expect in Werk II. At 7.30 p.m. we reached the location Werk II. Strangely there were only a few people waiting at the entrance. So it happened that only a few minutes later we stood in front of the stage already. Then the location filled up and at 9.00 pm the support-band opened the evening.



Eminence of Darkness

The band was formed in 1997 by Mario Bergmann and Stefan Bloedorn, later Juliane Richter and Lars Schulz joined them. Now they are playing without Stefan Bloedorn, but Enrico Bergmann is supporting them as a guest and live musician. They released their first album 'Raindrops' in 2004, for which they worked with Carlos Peron. Their second and last album 'Displace the trace' came out in 2006.
http://www.eminence-of-darkness.de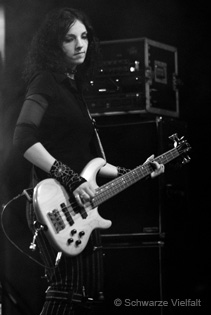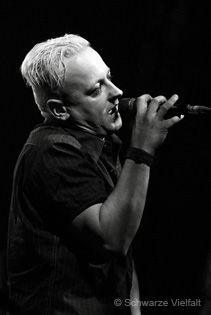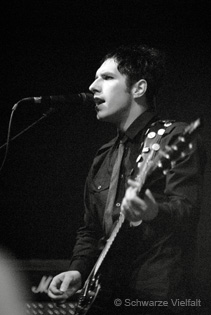 Music & Performance

I would describe their music as a mixture between melodic rock and electronic influences - slightly reminding to the music of PLACEBO. Especially, the singer and bassist Juliane surprised me because of their expressive voices. It was really magical! There were only these three persons on the stage, but it indeed was a successful preparation for the following main act.
Rating

Music 6
Performance 6
Sound 4
Light 4
Total 5.4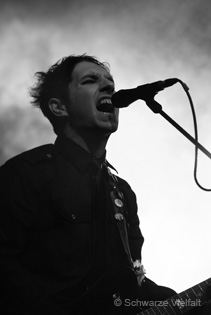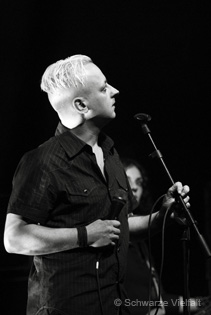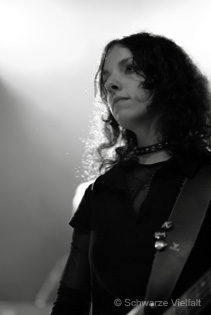 Dreadful Shadows

The band was formed in 1993 and released four fulltime-albums and an EP. Additional some singles came out. They worked together with Gitane DeMone (former member of CHRISTIAN DEATH) for their album 'The cycle'. In 2000 - at the reach of their greatest success - they decided to split up. They played their last tour, where they gave out the special 'Apology'-CD, which is a collection of some of their hits and special cover songs. At the end the band was set with Sven Friedrich (vocals, keyboard, acoustic guitar), André Feller (guitar), Norman Selbig (guitar), Jens "Jenne" Riediger (bass) and Ron Thiele (drums, backing vocals). After the split of DREADFUL SHADOWS, some members formed successful new bands like ZERAPHINE and THANATEROS. In 2007 they surprised all of their fans announcing special concerts. They are still marking, that this won't be a come-back, but only some concerts with the former members.
http://www.dreadful-shadows.de/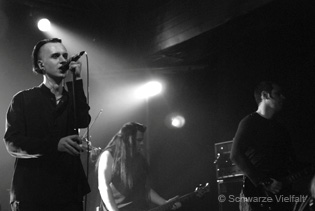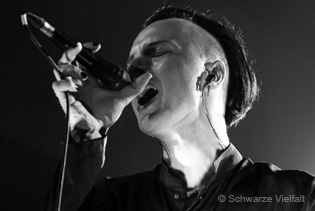 Music & Performance

They entered the stage, performing the first song 'Futility'. It definitely demonstrated an unexpected power and everybody could feel that they really enjoyed playing together again. They blew the audience just like a hurricane if you want to say so. After all I must say that I think Sven, Norman, Ron, Andre and Jenne played like they never did before! Juliane from EMINENCE OF DARKNESS was the additional female voice. I guess that this definitely was a big challenge for her, to represent a singer like Gitane Demone. In fact it can be said that she persuaded with her ability by no means. The other guests, complementing this awesome concert, were Mutti's Stolz (violin) and Benni Cellini (cello). These two certainly not only know the DREADFUL SHADOWS for a long time already, but more they are members of the band LETZTE INSTANZ, which is good friend with the Shadows, too.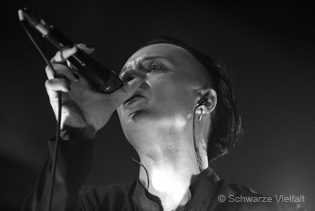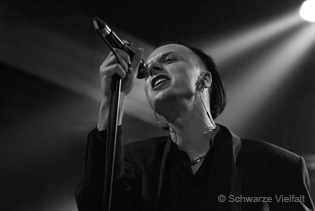 DREADFUL SHADOWS played a various selection of songs from all their albums. For example songs like 'Dusk', 'Chains' and 'Burning the shrouds' were performed, but also previous songs from the album 'Estrangement' and their EP 'Homeless'. The audience could even enjoy songs like 'Condemnation', 'Everlasting words' and 'True Faith' what really knocked them off their feet. Some of them were dancing, others were screaming but most of them sang along with the band. For me it was amazing, that their lyrics are still up to date, and a lot of people still know them. Compared to previous gigs I have seen, this one seemed to be more powerful and enthusiastic and therefore I must confess that the memories of the last concerts in the year 2000 are already starting to slowly fade away.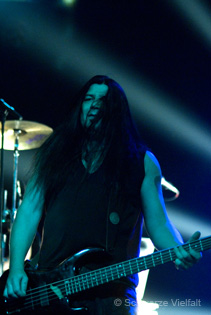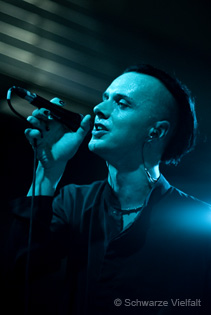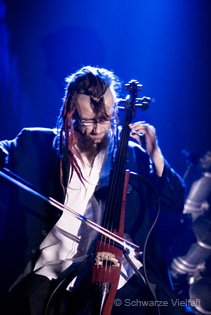 At the end of their show the guys around Sven Friedrich gave three additions. Amongst others they played a great cover version of the song 'Lullaby' of THE CURE. The fans rewarded it with a big applause and after the last song 'Funeral Procession', the band finally left the stage for this evening. After all they played for 2 hours and left a lot of pleased fans. This was a melancholic moment for a lot of them, because the end of the tour unfortunately is foreseeable. Anyway, DREADFUL SHADOWS persuaded on this evening with their well known ability to drag the public along with their music and performance. Now, I can only advise everybody to watch one of the last concerts!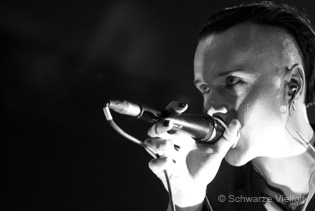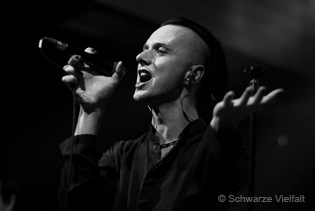 Setlist

01. Futility
02. New Day
03. The Drowning Sun
04. Dead Can Wait
05. A Sea Of Tears
06. Dusk
07. Awakening
08. Vagrants
09. A Better God
10. The Vortex
11. Chains
12. Burning the Shrouds
13. Desolated Homes
14. Craving
15. Figures of Disguise
16. Everlasting Words
17. Intransigence
18. Mortal Hope
19. Condemnation
20. Cyber
21. True Faith
22. Twist in My Sobriety
23. Lullaby
24. Beyond the Maze
25. Funeral Procession
Rating

Music 10
Performance 9
Sound 8
Light 7
Total 8.9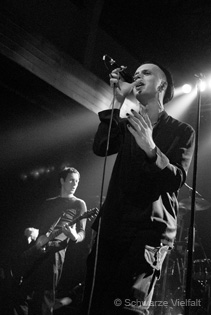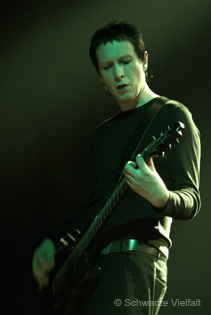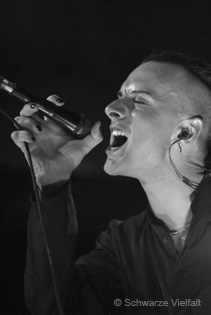 All pictures by Thomas Köhn
{jos_sb_discuss:17}