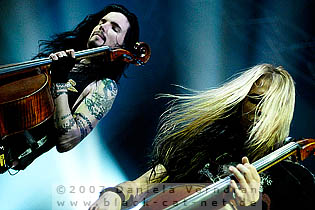 Gebläsehalle, Hattingen, Germany
23rd October 2007
Apocalyptica, Sturm und Drang, Stam1na

There are not many rock bands on this planet who do not want to be called unique. But only a few deserve this title. APOCALYPTICA from Finland are one of those few. Founded in the early 90s, the band was following its own individual path over the years. First, they presented METALLICA or SLAYER songs on cello during student concerts followed by a gig in a well-known Heavy Metal club which was a total success. Kari Hynninen of Zen Garden Records was in the audience during that night and offered the band a record deal right away. More than one million copies of the first album have been sold. After several albums and co-operations with famous artists such as HIM, now finally the time has come for a new chapter in the band's history.
On 23rd October, APOCALYPTICA played at the Gebläsehalle in Hattingen. It was the first time for me that I visited this venue: a very nice industrial surrounding which stood quite in contrast to the classical instruments the band was using. The venue filled up quite slowly during the two support bands - STAM1NA and STURM UND DRANG - but was quite full later when the main act started.
Stam1na
First band of the evening was STAM1NA, a metal band from Finland. After having released the self-titled debut album in spring 2005, the band's second album 'Uudet Kymmenen Käskyä' charted on rank three in Finland and was in the top40 for whole 17 weeks! It also received the "Emma Award" (Finish Grammy) as best Metal album of the year. At the moment Stam1na is preparing their third studio album to be released in the beginning of 2008. STAM1NA are Antti Hyyrynen (vocals, guitar), Pekka Olkkonen (guitar), Teppo Velin (drums) and Kai-Pekka Kangasmäki (bass) accompanied by an additional keyboard player on stage.
http://www.stam1na.com/
/
www.myspace.com/stam1na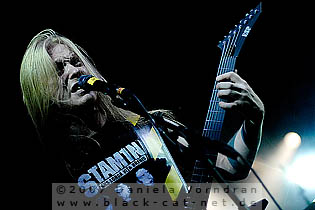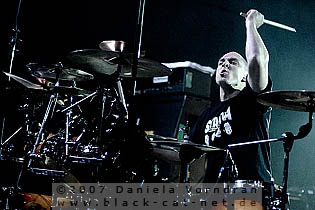 Music

With STAM1NA opening the evening you got something faster and trashier than with the two following bands. Finnish music papers claim the band to be one of the biggest hopes of Finnish Metal. And indeed the band impressed with its uncompromising attitude and unquestionable talent. STAM1NA are anything else than modest and reserved when it comes to their music. It is fast, loud and full of power. The name of the second album ('Uudet Kymmenen Käskyä') means "The Ten New Commandments" in English and is related to the bible. Out of this album, thee songs have been played during the evening in Hattingen: 'Merestä Maalle', 'Vapaa Maa' and Kaksi reittiä yksi suunta'. Besides that, two songs of the debut album - 'Paha Arkkitehti' and 'Kadonneet Kolme Sanaa' - have been played. The set was completed by a very new song to appear on the upcoming album: 'Sokea Hullu'. Not only did the band prove its phenomenal playing skills on the recent album but also live, treating their instruments to the extremes - supported by the good acoustics in the venue.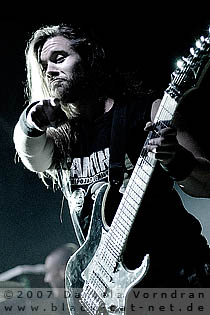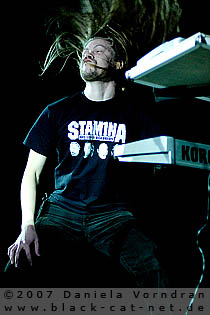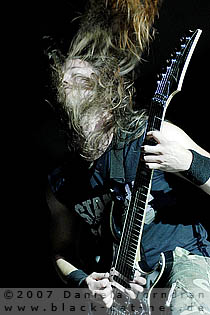 Performance

When the five-piece, dressed up in their own band shirts, entered the stage on the evening it very fast became sure that this would be a hard and fast set with a lot of moshing heads. The band immediately started shaking the hair and banging the heads without any exception and so did several fans in the front rows. The band was in a very good mood and especially singer Antti was talking a lot… mostly in his special German which was not always understood by the audience or caused one or another laugh. Also the band stated that it is a privilege to open for APOCALYPTICA or they promoted their merchandising stuff. Generally it was a very nice interaction with the audience. As for the illumination of the stage during STAM1NA's performance - it was a bit boring because only white lights have been used. But so, you could see at least the band's action pretty well.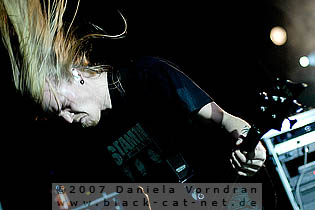 Setlist
01. Paha Arkkitehti
02. Merestä Maalle
03. Vapaa Maa
04. Kaksi reittiä yksi suunta
05. Sokea Hullu
06. Kadonneet Kolme Sanaa
Rating

Music: 7
Performance: 8
Sound: 8
Light: 5
Total: 7.2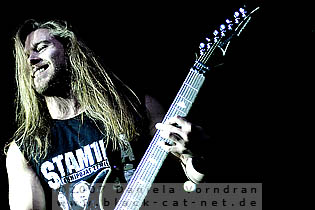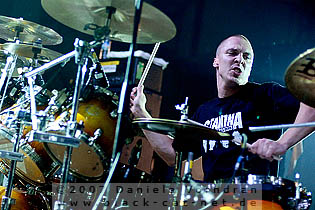 Sturm und Drang

STURM UND DRANG ("Storm and Zeal"), also from Finland - the native land of heavy music, were the second band of the evening. This five-piece lend its band name from a German epoch in literature started by young German writers, including Johann Wolfgang von Goethe, who protested cultural environment and society in general. They recently have released the album 'Learning to Rock' (May 2007); first demos for it have been recorded in autumn 2005 and have been sent to Helsinki Music Company where they couldn't believe their ears. After a gig with Swedish THE HELLACOPTERS, HMC's A & R manager Asko Kallonen was convinced by the potential of the band and so got their record deal. In May 2007 the band signed a European deal with GUN-Records - same company which helped fellow Finnish band HIM to the international stardom. STURM UND DRANG are André Linman (vocals, guitar), Jeppe Welroos (keyboards), Calle Fahllund (drums), Alexander Ivars (guitar) and Henkka Kurkiala (bass).
http://www.sturmis.com/
/
www.myspace.com/sturmis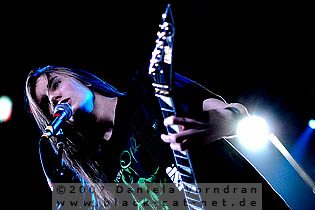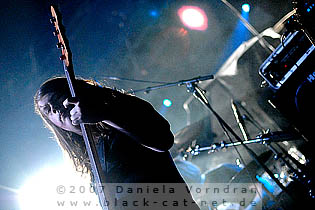 Music

When the five guys entered the stage I first had to smile; they looked so terribly young - and in fact they are as young as they look with an average age of just 16 - that I could not imagine that they could present anything good. But with the first chords and first lines of singer André I had to change my mind completely. They really could play! And they really could sing! I did not really expect such a good voice in this age. Yes, still there are things to improve especially when it comes to the higher notes, but it was really great what we got presented!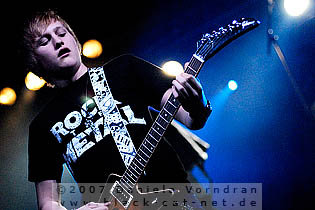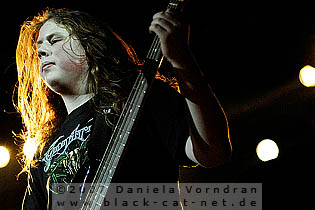 Musically, you could label the band as old school heavy rock; it was pure eighties hard rock, if you ask me. So it is not really a surprise that the first album 'Learning to rock' has been praised and the band was named as the biggest sensation of 2007 in Finland. Their debut album can nothing else than be called fresh, easygoing and virtuous. The presented songs of the album, such as the title track or 'Rising sun' were just great rock pieces. But the band also did not shrink away from playing a cover of one of the really big names: IRON MAIDEN's 'Fear of the Dark'.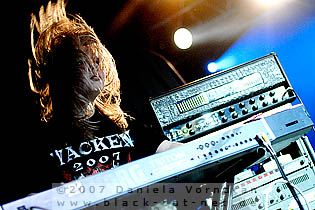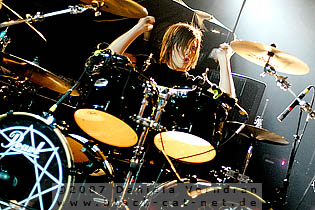 Performance
No matter of the young age of all band members - they already know ho to rock! Not only that I was surprised about the musical skills of the band, I also was impressed by the professional performance those five guys delivered, even though they seemed still to be a bit shy what especially applies to guitarist Alexander. All the others were banging their heads and drummer Calle was really expressive. It was really fun to watch them. Also the light show became a bit more varied than during the opening act illuminating the stage in different shades of blue and pink combined with bright front light so you could watch the band's expressions. Well done guys!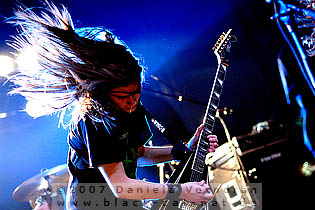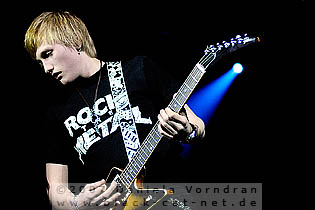 Setlist
01. Intro
02. Broken
03. Learning to Rock
04. Rising Sun
05. Indian
06. Fear of the Dark (Iron Maiden)
07. Forever
Rating

Music: 8
Performance: 8
Sound: 8
Light: 7
Total: 7.9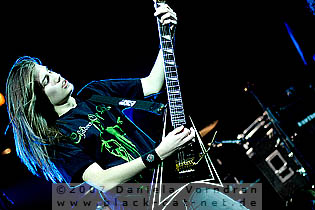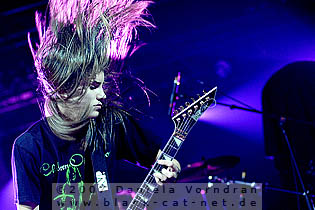 Apocalyptica

The new long player 'Worlds Collide' has been released on 14th September 2007. The first single out off it, 'I'm not Jesus' features a collaboration with Corey Taylor (SLIPKNOT, STONE SOUR) and got massive airplay in radio and music television before it even was released. Once again APOCALYPTICA proves with the new release that rock music is more based on your attitude than on the instrument you play. The classically-trained cellists attempted to fuse together the seemingly disparate worlds of classical music & hard rock. After several released, APOCALYPTICA still stand (or, more accurately, sit!) as a major force in the world of popular music; a quartet who has sold almost two million albums worldwide, played in well over 20 different countries (Mexico, Russia & Japan included), recorded with guest vocalists such as German 'punk godmother' Nina Hagen, picked up high-profile awards for video & export achievements, remixed/reworked tracks for other name artists (Bush - Letting The Cables Sleep), Special guested with Metallica (twice!) and still found time to record a new album. APOCALYPTICA are Eicca Toppinen (cello), Perttu Kivilaakso (cello), Paavo Lötjönen (cello) and Mikko Sirén (drums) accompanied live by former member Antero Manninen (cello).
http://www.apocalyptica.com/
/
www.myspace.com/apocalyptica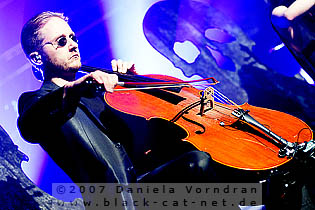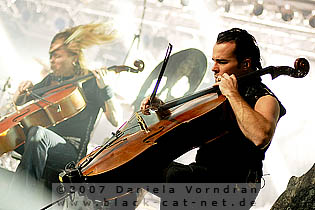 Music

Does Rock music need a voice? Does a live show of a Rock band need one? APOCALYPTICA proved once again that there is no need for a voice! The presented set in Hattingen was a mixture between lots of songs from the recent album 'Worlds Collide' - placed in the main set - and several of the well-known hits. After the intro, the set started with the title track of the new album followed by the current single 'I'm not Jesus' as third song. As stated by the band, usually this song - besides several others - has vocals on CD (the vocals on CD are delivered by Cory Taylor of SLIPKNOT and STONE SOUR), but as it is also common for the band, there are no vocals during a live show of APOCALYPTICA. Followed by 'Fight Fire with Fire', the band continued with two more new songs: 'Grace' and 'S.O.S.' for which the vocals on CD were delivered by wonderful Christina Scabbia of LACUNA COIL. This song is just pure melancholy and yearning.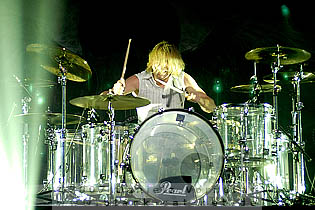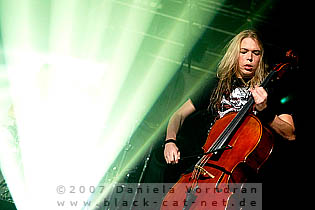 After two older songs - 'Somewhere around Nothing' and 'Seek & Destroy' - another new track followed, namely the song 'Helden' which is the German tongued version of DAVID BOWIE's 'Heroes', sung on CD by Till Lindemann of RAMMSTEIN. After 'Burn' from the recent album we got 'Betrayal' followed by the melancholy ballad 'Bittersweet', of course on stage without the voices of Ville Valo (HIM) and Lauri Ylönen (THE RASMUS). Two more songs, on of them was the trash number 'Last Hope', and then already the METALLICA classic 'Enter Sandman' marked the end of the main set. With just four more songs as encore - within METALLICA's 'Nothing Else Matters' - the set ended with 'Seeman' which originally was sing by famous German Punk queen Nina Hagen.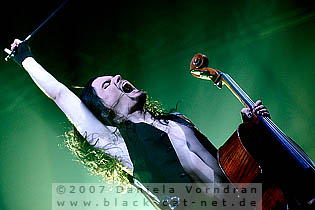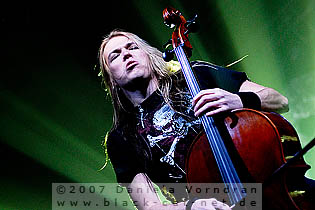 Through the whole set, the four guys on the cellos proved that they are real perfectionists... using their instruments in every position... even lying on the floor or raised the cellos high above their heads. Mikka maltreated his drums sitting or even standing behind them... trying to go with the speed of the music and of course he succeeded very well. With such great musical skills you did not really miss the singers you had on CD. For the Metallica songs for example the crowd was singing along with the music. The great sound in the venue just completed the perfect concert impression.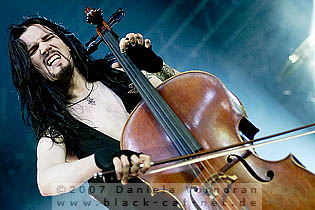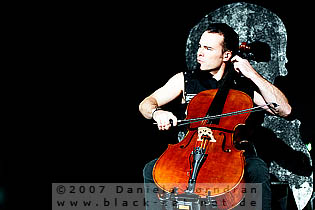 Performance

Like already known from the last German tour in 2005, we got again five people on stage, meaning the APOCALYPTICA line up was completed live by fourth cellist Antero. The stage design looked again quite impressive with those four skull chairs, placed in couples on both sides of the stage framing the drum set which was placed on a podium in the middle. A big backdrop was hung up in the background presenting the current CD cover motive. During the intro, just some white spots were breaking through the smoke illuminating the chairs and the drum set and all band members took their places.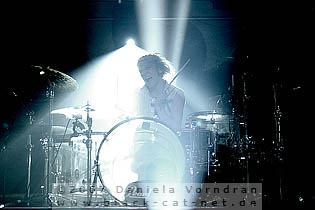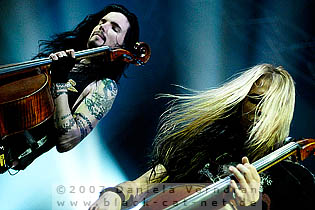 You think banging your head in enormous speed is not possible when sitting on a chair? Go to see APOCALYPTICA. They will prove you wrong. But well, they do not only bang their heads when sitting on their chairs but also when playing their instruments standing on the rim of the stage. During the whole show, the energy the band presented on stage was floating through the hall and very soon, the audience got infected clapping along and cheering. But besides all those fast and powerful songs you also got some calmer moments, i.e. with the wonderful 'Bittersweet' where you could see several hugging couples. The powerful show was supported by a great light show. This evening indeed had anything you could expect of a rock concert. Happy people around me proved it very well!
Setlist
01. Worlds Collide
02. Refuse / Resist
03. I'm not Jesus
04. Fight Fire with Fire
05. Grace
06. S.O.S. (Anything but love)
07. Somewhere around Nothing
08. Seek & Destroy
09. Helden (David Bowie - Heroes)
10. Burn
11. Betrayal
12. Bittersweet
13. Last Hope
14. Hall of the Mountain King
15. Enter Sandman (Metallica)
---
16. Nothing Else Matters (Metallica)
17. Life Burns
18. Inquisition Symphony
---
19. Seemann
Rating

Music 9
Performance 10
Sound 8
Light 10
Total 9.3