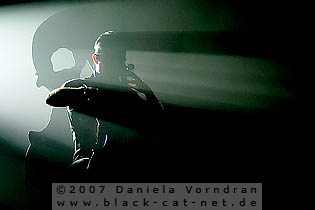 Columbiahalle, Berlin, Germany
29th October 2007
Apocalyptica, Sturm und Drang, Stam1na

It was the first time I visited an APOCALYPTICA concert. I had planned it before, but somehow these plans never came to fruition. Perhaps because it's not my all-time favourite band and the concerts aren't cheap. Perhaps they're not my favourite band because I only own CULT, to which I cannot listen too often. Perhaps because I was afraid of encountering a hall full of metal heads (even though I have no problems with being in the mosh / survival pit of a RAMMSTEIN concert). Each one of these ideas proved ridiculously wrong. An evening with APOCALYPTICA is worth every single euro, even if it's more than you can actually afford.
The music is brutally fantastic and genius. And, there was no hall full of metal heads; there was a hall full of APOCALYPTICA fans who did not simply consist of one type of people. I could have figured. The music of APOCALYPTICA is simply too unique to have its audience reduced to metal heads only. The Berlin fans were definitely devoted; the Columbiahalle was already completely filled when STAM1NA started. And who knows how many more fans saw the concert that night: the whole night cameras were around for a live broadcast on the Internet.
Stam1na

STAM1NA, a metal band from Finland, received the national variant of the Grammy Award for their recent second album 'Uudet Kymmenen Käskyä' which reached no. 3 in the Finnish charts and lasted in the charts for 17 weeks. At the moment, they are working on their third studio album (planned for release early 2008). The band members are: Antti Hyyrynen (vocals, guitar), Pekka Olkkonen (guitar), Teppo Velin (drums) and Kai-Pekka Kangasmäki (bass).
http://www.stam1na.com/
/
www.myspace.com/stam1na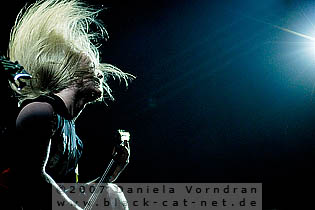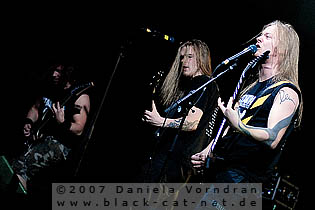 Music

STAM1NA entered the stage all wearing their own band-shirts. Cute. The music, however, was not cute at all. They were LOUD, HARD, and FAST. Straight-forward, quick staccato chords, double bass drum, and screaming vocals; what more can one want? Since I am not a metal fan, I am honestly am not able to give a band like this proper musical credits, which they undoubtedly deserve. In Finland they are called the hope of Finnish heavy metal, which I believe immediately. Even though it is not my taste and knowledge, I can still tell you that it was really good musicianship going on there on stage. If you are a fan of loud, hard, and fast guitars then STAM1NA will most probably be a delight to your ears. As for me, I will not become a fan of STAM1NA, however, I must note that their last song was definitely memorable.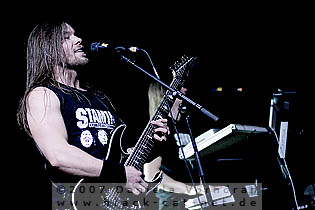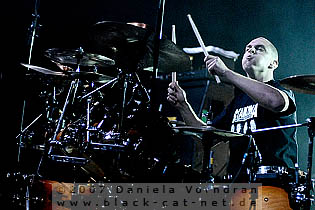 Performance

STAM1NA opts for the "Most Sympathetic Band of the Year Award". During their short 20 minutes performance, singer Antti Hyyrynen talked to the audience in his best but still very broken German, which cannot but cause a lot of sympathy for trying. At the start, he even promised the audience to read a poem in German if they were good, and a few songs later we were indeed treated to his most poetic German thoughts, which was received by loud cheering and good-willed laughing. During the songs it was all straight-forward head banging and generally not much going on on stage, but given the limited amount of space that can be understood. Generally, STAM1NA succeeded in receiving good responses from the audience for their music. Just too bad that the lights were boring: straight-forward white front-lighting.
Rating

Music: 6
Performance: 6.5
Lights: 5
Sound: 6
Total: 6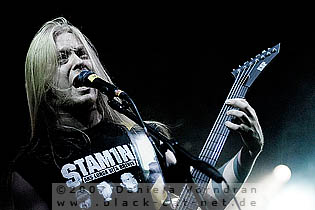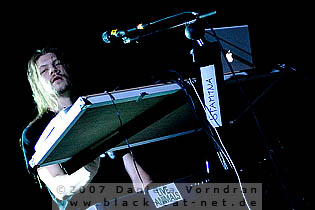 Sturm und Drang

STURM UND DRANG are André Linman (vocals, guitar), Jeppe Welroos (keyboards), Calle Fahllund (drums), Alexander Ivars (guitar) and Henkka Kurkiala (bass). Named after a German literary and musical movement of roughly 1760-1780 where extreme emotions could be freely expressed as a reaction to the imposed rationalism of the Enlightment, STURM UND DRANG (conventionally translated as Storm and Stress, more literally as Storm and Urge) show their individuality by creating fresh, virtuous, and passionate rock music. Their debut album 'Learning to Rock' (2007), released on the same label that rocketed HIM, caused them to become Finland's next sensation. Here in Berlin, they proved why.
http://www.sturmis.com/
/
www.myspace.com/sturmis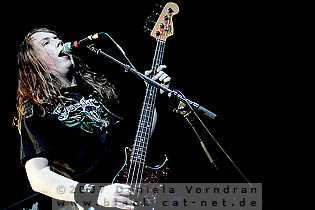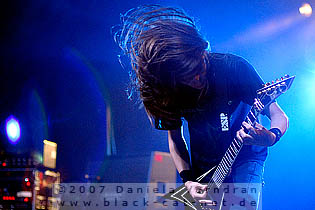 When STURM UND DRANG entered the stage, I guess everybody was wondering what was happening. The looks of the guys who entered the stage surprised everyone. Yes, it is still possible to surprise fans of a cello metal band (which is not a usual combination either). These handsome guys were not dressed up in extreme clothes or covered in corpse-paint. Naah, that would be normal. Well, what about cross-dressers then? Well, that would be relatively surprising indeed, but that's not it either. They were dressed normally, and wore no make-up at all. The thing that astonished I daresay every single one in the crowd that had not seen STURM UND DRANG before was their age: Three 15-year olds and two 16-year olds. Wow. If you are that age and have already managed a support tour with the giant APOCALYPTICA, then you've got to have real talent. Or have family ties with APOCALYPTICA.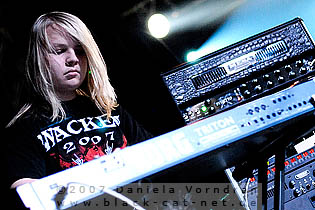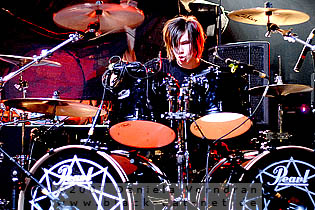 Music

Now that was one thought that didn't last long. As soon as STURM UND DRANG started off, it was clear that this was a case of real talent. This was melodic hard rock, played by very virtuous musicians, suitable for many different ears. The voice of singer André Linmann is in one word beautiful. Now that is definitely the "Surprise of the Year 2007 Award". Their cover of IRON MAIDEN's 'Fear of the dark' was a near perfect cover version, definitely proving their musical virtuosity. There is surprisingly little to criticize musically; except for the fact that a few times Linmann stopped playing riffs to communicate with the audience.
Performance

During the whole set, these guys were moving around the stage head banging, and making every possible rock-move. At times it seemed a bit over the top, like head banging at slower songs. But overall, they were passionate, devoted, and moving hard, so that the whole show was a joy to behold. The good looks of Linmann will definitely appeal to many female fans. That is, if they are on the right side of the stage, since his hair was hanging on one side during the whole concert, covering half of it. The lighting during this show was more varied and slightly more coloured, though nothing spectacular.
Rating
Music: 8
Performance: 7.5
Lights: 6.5
Sound: 7
Total: 7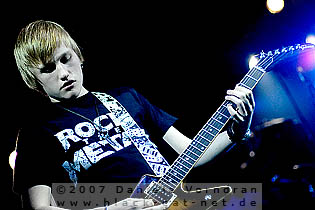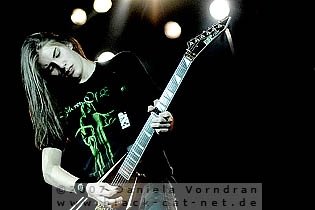 Apocalyptica

For those who don't have a clue about APOCALYPTICA at all: this is a loud, melodious metal band that does not contain any guitars. These guys are all about cellos. And yes, cellos can rock. The Finnish band was founded in the early 90s and now consists of cellists Eicca Toppinen, Paavo Lötjönen, and Perttu Kivilaakso, with Mikko Sirén on drums. They have gained overnight major success with their 1996 album 'Plays Metallica by Four Cellos' and since then their career has only gone upwards. Their latest album 'Worlds Collide' (released September 14th) has entered the Finnish charts at no. 8, and in the German and Swiss charts at no. 10. The song 'I'm not Jesus' sung by SLIPKNOT / STONE SOUR singer Corey Taylor was a major hit worldwide. APOCALYPTICA's music still contains truly original cover versions, but original material has the overhand. Also, their exciting collaborations with guest musicians are still a pervasive element in their music. 'Worlds Collide' is the reason why APOCALYTICA visited Berlin.
http://www.apocalyptica.com/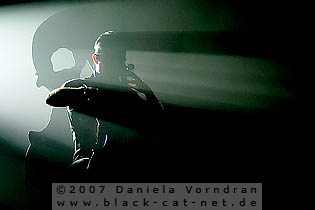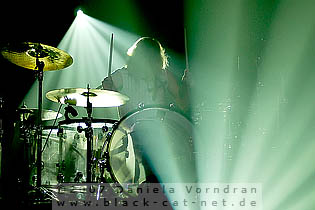 Music

At the start of APOCALYPTICA's show the sound wasn't very well balanced; the drums overruled the cellos. Fortunately that didn't last too long. Once the sound was right as well, the songs could be heard in their full glory. And what glory that is. Beautiful, bombastic, passionate, powerful and very rich; that is APOCALYPTICA. Mostly, songs from the new album were played. When they started playing 'Helden', a Bowie cover ('Heroes') recorded in German with RAMMSTEIN's Till Lindemann, hopes were up for a surprise guest appearance in his hometown. Of course, that didn't happen. As expected, they played some METALLICA songs as well. The end of the set came way too soon even though they had played quite a while. The songs 'Nothing else matters' and 'Seemann' (recorded with Nina Hagen) were played in the encores, and then it was really over. Whoever thinks that cellos are only classical instruments, that rock songs are supposed to have vocals and guitars and that cover songs are poor substitutes for own compositions, is very, very wrong. APOCALYPTICA make rock music by their own rules.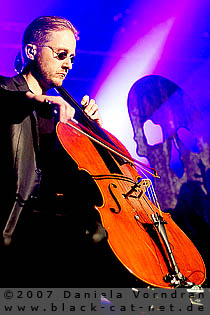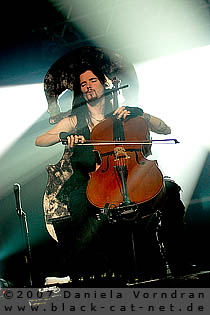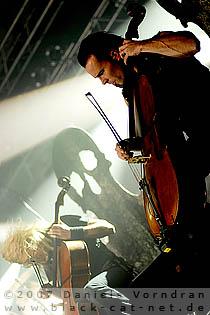 Performance

The show started off with four APOCALYPTICA thrones on stage and a small drum stage in the middle, lighted beautifully to build up excitement. Joined by fourth cellist Antello, APOCALYPTICA entered the stage. And set it on fire. These guys really live for their music. They completely surrendered themselves to their instruments, the music, the stage, and the vibe. Instruments went where they could and how they could, while they were still played perfectly well. Now that is what I call real virtuosity. APOCALYPTICA was so full of energy that is was no problem infecting the entire audience with it within a few minutes, thereby increasing the energy-level even more. The wonderful lighting only added up to this <insert ANY superlative> concert experience. There is no more left to be asked from a rock concert.
Rating

Music: 9
Performance: 10
Lights: 9.5
Sound: 8.5
Total: 9.3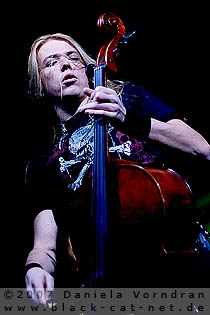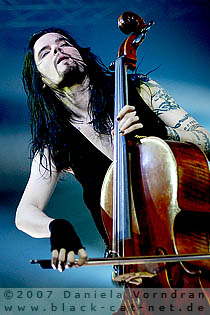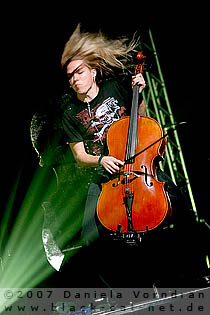 All pictures from the show in Hattingen on 23rd October 2007 by Daniela Vorndran (
http://www.vorndranphotography.com/
/
http://www.black-cat-net.de/
/
www.myspace.com/vorndranphotography
)
{jos_sb_discuss:17}